Coronavirus Update: Global death toll crosses 30,000, two-thirds in Europe
The global death toll due to the novel coronavirus has crossed the 30,000-mark, with two-thirds of them in Europe.
The worldwide number of officially confirmed fatalities from the novel coronavirus rose to 31,412 on Sunday. More than two-thirds of the deaths from coronavirus have now been recorded in Europe.
Over 667,090 declared cases have been registered in 183 countries and territories since the epidemic first emerged in China in December. Of these cases, at least 134,700 are now considered recovered.
The United States has the highest number of infected people with 124,686 diagnosed cases, 2,191 deaths and 2,612 recoveries. Cases there have soared from 41,511 on Monday, making it the country with the fastest progression rate. Since 1900 GMT Saturday, Uruguay, New Zealand and Mali have announced their first deaths.

By continent, Europe has listed 363,766 cases and 22,259 deaths to date, Asia 104,596 cases and 3,761 deaths, the Middle East 46,596 cases and 2,718 deaths, the US and Canada together 130,120 cases with 2,250 deaths, Latin America and the Caribbean 13,544 cases with 274 deaths, Africa 4,267 cases with 134 deaths and Oceania 4,208 cases with 16 deaths.
Here are key things you need to know about the coronavirus pandemic:
Meanwhile, the deadly virus has claimed the lives of 3,177 people in China and 2,517 people in Iran. In France, the death toll has crossed the 2,000-mark while over 1,000 people have died in UK.

In US, the deadly virus has claimed the lives more than 2,000 people and affected more than 1,21,000 people across the globe.

As regards the total number of cases, the US was followed by Italy (92,472), China (81,999), Spain (72,248), Germany (56,202), Iran (35,408), France (33,450) and the UK (17,301).

Meanwhile, a total of 137,283 people have recovered from the infection with the bulk -- 62,098 -- of them from China's Hubei, the site of the disease outbreak, followed by 12,384 in Italy, 12,285 in Spain, 11,679 in Iran, and 6,658 in Germany.

Amid the alarming situation, several of the countries – including US, Iran, most of Europe – have imposed a lockdown to control the spread of the virus.

Meanwhile, the World Health Organisation (WHO) has said that a dire lack of protective gear for health workers battling the COVID-19 pandemic is one of the most pressing threats in the fight to prevent deaths.

"The chronic global shortage of personal protective equipment is now one of the most urgent threats to our collective ability to save lives. This problem can only be solved with international cooperation and solidarity. We must also make a promise to future generations, saying: 'never again'," said WHO chief Tedros Adhanom Ghebreyesus.

He said the WHO had shipped almost two million individual items of personal protective equipment (PPE) to 74 countries and was preparing to send a similar amount to a further 60 countries while urging the G20 countries to use their "industrial might and innovation" to produce and distribute the tools needed to save more lives.
Spain reports record-high 838 deaths in one day
Update 7:01 a.m. EDT March 29: Spain has reported that 838 people died from coronavirus in one day, marking a new, grim daily record for the country, officials said Sunday.
According to The Associated Press, Spain saw more than 6,500 new coronavirus infections in the past 24 hours, bringing its total number of cases to 78,797.
The country's 6,528-person death toll is the second-highest worldwide, the AP reported. Italy has reported the highest number of deaths, with 10,023, according to Johns Hopkins University.
Italy marks 10,000 deaths; Spain faces deadliest day
Italy's death toll rose above 10,000 after 889 Italians died Saturday from COVID-19, authorities said. The daily number was down from Friday's record of 969 deaths.
"History does not wait, we must live up to it," Prime Minister Giuseppe Conte said. "The coronavirus emergency response must be strong, vigorous and cohesive. I will fight for Italian citizens until the last drop of sweat."
Officials in Spain announced a daily record of 838, bringing that nation's total to more than 6,500.
Trump backs off quarantine proposal
New York Gov. Andrew Cuomo ripped suggestions by President Donald Trump that he might institute a ban on New Yorkers' travel to other states amid the coronavirus outbreak. "It would be a federal declaration of war on states," Cuomo said. Late Saturday, Trump apparently backed off the idea. He tweeted that "a quarantine will not be necessary" and that he has was opting instead for the CDC's travel advisory.
Governors in Texas, Florida, Maryland and South Carolina have ordered people arriving from the New York area – including New Jersey and Connecticut – and other virus hot spots to self-quarantine for at least 14 days upon arrival.
Netherlands rejects 600K defective masks made in China
Health authorities in The Netherlands rejected approximately 600,000 Chinese-made masks from hospitals after learning they did not adequately protect health workers from the coronavirus. Dutch health authorities that represented about half of a recent shipment of 1.3 million masks, according to NOS, the Dutch public broadcaster.
"Due to shortages, we can find ourselves in a situation where the only protective equipment that is available does not meet the highest standards. This is an issue in all countries," the Dutch Ministry of Health, Welfare and Sport said in a statement to NOS.
Canadian PM Trudeau's wife recovers from virus
The wife of Canadian Prime Minister Justin Trudeau has recovered from coronavirus, she announced Saturday.
Sophie Gregoire Trudeau took to Facebook on Saturday night to share the news.
"I wanted to give you all an update: I am feeling so much better and have received the all clear from my physician and Ottawa Public Health," she wrote. "From the bottom of my heart, I want to say thank you to everyone who reached out to me with their well wishes. And to everyone who is suffering right now, I send you all my love."
Gregoire Trudeau tested positive for COVID-19 after she traveled from London back to Canada, her husband's office said on March 12.
Trudeau and the couple's three children have been self-isolating and have not noticed any symptoms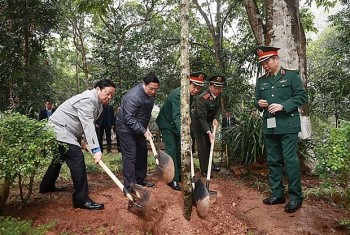 National
The Prime Minister launches a tree planting festival in Ba Vi on New Year of Cat.