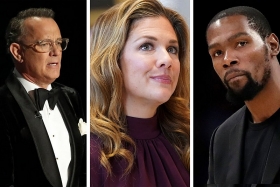 From left, Tom Hanks, Sophie Grégoire Trudeau and Kevin Durant. Photo: The New York Times, AFP, AP.
Among the more than 553,000 cases recorded globally are government officials, celebrities and sports personalities as authorities around the world grapple to contain the spread of the virus.
High-profile events including the annual Met Gala - often referred to as fashion's biggest night out - will not take place. The gala has been postponed indefinitely from its scheduled first Monday of May, according to the Metropolitan Museum of Art in New York in the United States.
The Cannes Film Festival due to be held in France in May has also been postponed, with organizers now looking at June or July dates.
Hollywood actor Tom Hanks and his wife, actress and singer Rita Wilson, British actor Idris Elba, and Sophie Gregoire Trudeau, wife of Canadian Prime Minister Justin Trudeau, are some of the best-known faces to be infected so far.
Government official and spouses:
In Spain:
Carmen Calvo: Spain's deputy prime minister tested positive for coronavirus on March 25, the Spanish government said.
Begona Gomez: Spanish Prime Minister Pedro Sanchez's wife tested positive, officials in his office said late on Saturday. While Begona Gomez tested positive, the health of both she and the prime minister was fine, the officials said. Spain said it would place the entire country under lockdown as the number of diagnosed cases exceeded 6,000.
Quim Torra: The local leader of Spain's Catalonia region said on March 16 that he had tested positive for the coronavirus and that he was going into self-isolation in a government building.
Irene Montero: The Spanish minister tested positive on March 15 and has been put under quarantine along with her partner, Deputy Prime Minister Pablo Iglesias.
In the UK:
Prince Charles: the Prince of Wales and heir to the British throne tested positive for the coronavirus on March 25. The 71-year-old is displaying mild symptoms "but otherwise remains in good health" said a spokesoman for the Clarence House royal residence, adding that he was self-isolating at a royal estate in Scotland. Prince Charles's wife, Camilla, the Duchess of Cornwall, has also been tested but does not have the virus.
Boris Johnson: The prime minister of the United Kingdom said on March 27 that he tested positive for coronavirus and was self isolating. His top health minister also tested positive for the infection.
"Over the last 24 hours I have developed mild symptoms and tested positive for coronavirus. I am now self-isolating, but I will continue to lead the government's response via video-conference as we fight this virus.Together we will beat this. #StayHomeSaveLives," the prime minister wrote on Twitter.
Matthew Hancock: Britian's Health Secretary Matthew Hancock announced on March 27 he tested positive for the coronavirus.Hancock said he would be self-isolating and working from home.
Nadine Dorries: A minister in the United Kingdom's health department was the first British politician to test positive on March 10.
Burkina Faso:
Oumarou Idani: Burkina Faso's minister of mines has tested positive.
Stanislas Ouaro: Burkina Faso's minister of education is confirmed to have COVID-19.
Simeon Sawadogo: Burkina Faso's interior minister has the new coronavirus.
Alpha Barry: Burkina Faso's foreign minister tested positive for COVID-19, he said on Twitter on March 20.
Brazil:
Bento Albuquerque: Brazil's President Jair Bolsonaro said on Wednesday that Mines and Energy Minister Bento Albuquerque has tested positive for coronavirus - the second cabinet member to be infected in the country.
Augusto Heleno: Brazil's national security advisor said on March 18 on his Twitter account that he has tested positive for coronavirus, though he did not have any symptoms. Heleno, 72, a retired army general and one of Bolsonaro's closest aides, said he is currently under quarantine at his home while waiting for a second-test confirmation.
Fabio Wajngarten: The press secretary for Brazilian President Jair Bolsonaro tested positive after he returned from a US trip where he met, among others, US President Donald Trump, who later tested negative for the virus.
The USA:
Rand Paul: The Republican of Kentucky is first United States senator to test positive for coronavirus.
Francis Suarez: In the United States, Miami city's mayor confirmed, on March 13, that he has contracted COVID-19.
----------------
Abba Kyari: The Nigerian president's influential chief of staff has tested positive for coronavirus, a source with direct knowledge of the matter said March 24. In his 70s, Kyari is an important figure in President Muhammadu Buhari's government.
Prince Albert: Monaco's Prince Albert II has tested positive for the novel coronavirus, the principality said in a statement on Thursday, adding there were "no concerns for his health". The titular head of the Mediterranean enclave is continuing to work from his private apartments at the royal palace, the statement said.
Antonio Vieira Monteiro: The chairman of the Portuguese unit of Santander, Spain's largest bank, died from the coronavirus on Wednesday, the second victim of the disease in Portugal. Vieira Monteiro, 73, became chairman of Santander Totta in 2019 after seven years as chief executive.
Michal Wos: Poland's environment minister has tested positive for coronavirus, he said in a tweet on March 16 .
Jeremy Issacharoff: Israel's ambassador to Germany has tested positive for the coronavirus, the Israeli Foreign Ministry said in a statement March 17. The Israeli diplomat at the embassy in Berlin was reported to have contracted the virus, following a meeting with a deputy from the Federal Assembly of Germany, whose name was not mentioned.
Friedrich Merz: The 64-year-old politician, who has been campaigning to lead Germany's Christian Democratic Union (CDU) at a congress planned for this year, said on Twitter on March 17 that he tested positive for coronavirus and was under self-quarantine at home.
Kozo Tashima: The head of Japan's football association tested positive for the virus on March 17. Tashima is also deputy head of Japan's Olympic Committee.
Peter Dutton: The Australian home affairs minister is under quarantine in hospital after contracting the virus.
Massoumeh Ebtekar: The Iranian vice president is the country's top government official to be infected by the virus, which has also affected several senior officials in the country. Iraj Harirchi, Iran's deputy health minister, is also stricken. Iran is the epicentre of the coronavirus outbreak in the Middle East.
Sophie Gregoire Trudeau: On March 12, the wife of Canadian prime minister Justin Trudeau tested positive for COVID-19 following a trip to the United Kingdom. Gregoire Trudeau said she planned to remain in isolation for the next two weeks, together with her husband. Her symptoms have been described as mild.
Pere Aragones: The Catalan deputy head of government announced on March 15 that he had also tested positive for coronavirus.
Franck Riester: Earlier this week, the French culture minister said he was staying at his home in Paris after contracting the virus. France has also imposed a partial lockdown to check the spread of COVID-19.
Michel Barnier: The European Union's chief Brexit negotiator said in a tweet that he has tested positive for the virus.
Celebrities:
Tom Hanks and Rita Wilson: The popular Hollywood couple announced on March 11 that they were infected by the coronavirus and were placed in quarantine in a Gold Coast hospital in Australia.
"Hello, folks. Rita and I are down here in Australia. We felt a bit tired, like we had colds, and some body aches. Rita had some chills that came and went. Slight fevers too. To play things right, as is needed in the world right now, we were tested for the Coronavirus, and were found to be positive," Tom wrote on Instagram.
Olga Kurylenko: The French actress, who starred in the Bond movie Quantum of Solance, announced on March 15 that she had tested positive for the coronavirus.
Idris Elba: The British actor and musician said he has tested positive for COVID-19 on March 16 in a video posted on Twitter, and that although he had no symptoms so far he was isolating himself from others.
"This morning I tested positive for Covid 19. I feel ok, I have no symptoms so far but have been isolated since I found out about my possible exposure to the virus. Stay home people and be pragmatic. I will keep you updated on how I'm doing
VNF/Insider/ The NY Times/ Aljazeera