Covid-19 combat: Vietnam's newly mobile disinfectant cabin claimed to sterilize nearly 100% germs
The mobile disinfectant cabin created by researchers from Hanoi University of Science & Technology and the National Institute of Occupational and Environmental Health sprays antiseptic solution that purportedly kills 99.99% of germs.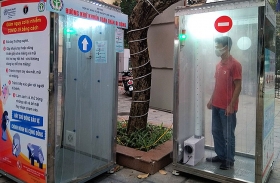 People are sterilized in the newly disinfectant cabin before entering public spaces such as hospitals and schools.
Accordingly, the initiative of creating a disinfectant system came in early February when Vietnam detected the very first infected cases and its completed version was launched one month later.
The cabin works automatically with green light turning on to let the user step into the cabin and undergoes a disinfection period twice within 15 minutes. The antiseptic solution of salt ions can help avoid skin irritation and sterilize the user's nose and throat during inhalation without causing breathing difficulty.
A representative of the Institute said the antiseptic solution can disable germs on some surfaces including clothing or mobile and prevent possible contraction of Covid-19. The disinfectant cabin is considered a solution that helps handle sterilization demands at some public spaces such as schools and hospitals.
The mobile cabin, which is expected to serve as many as 1,000 people daily, is now in the pilot. The group of researchers is planning to multiply the models to the Central Hospital of Tropical Diseases, quarantine areas, and public spaces.
Besides, the researchers are experimenting with ozone heat sterilizer and disinfectant dryer doctors' for medical clothes.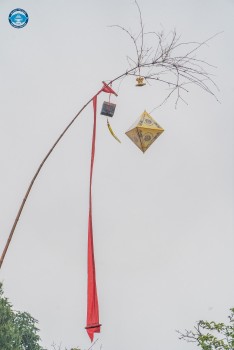 Viet's Home
In the past, the Neu pole (a tall bamboo pole with red garment strips used to ward off evil spirits during the lunar New Year) lowering ceremony at the royal palace of the Nguyen Dynasty was performed to mark the end of the New Year holiday and prepare to enter a new working year.