COVID-19: Japan provides top care for Vietnamese guest workers
Amid the outbreak of novel coronavirus disease COVID-19, Japan has closely co-ordinated with the labour management board of the Vietnamese Embassy in Japan on health care for trainees.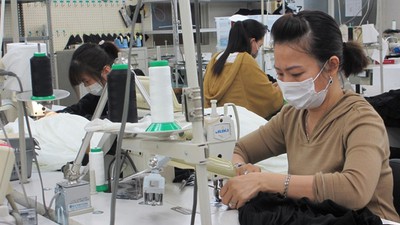 A Vietnamese trainee wears a mask while working at Mishow Ltd. Co in Tokyo. VNA/VNS Photo Dao Thanh Tung
Since the outbreak of novel coronavirus disease (COVID-19), the first thing Nguyen Thi My Loan does every day at Mishow Ltd.Co in Tokyo is to wash her hands with sanitiser. This is a mandatory requirement for all employees at the company.
"I am from Ho Chi Minh City. I have been working at Mishow for two years. Currently, no COVID-19 cases have been reported at the company," she said.
"I have been given a face mask. Every day, I wash my hands with soap distributed by the company every two hours. So we feel secure."
Trinh, another trainee at the same company, said the COVID-19 epidemic had not affected her job much.
"I still work as usual and receive my full salary. To protect myself, I always wear a face mask, wash my hands with soap regularly and avoid travelling in crowded spaces. In addition, I also eat different kinds of food to boost my immune function," she said.
Hiroko Sudo, president cum general director of Mishow Ltd. Co, a knitwear manufacturer in Japan, said the company had adopted a number of measures to protect its staff from COVID-19.
"The company cleans and disinfects places where people are often in contact with in the workshop such as door handles, toilets and handrails. The job is done twice a day," she said.
All employees were asked to wash their hands and disinfect with sanitiser after going out and returning to the company, Sudo said.
She recommended trainees avoid travelling to crowded spaces and only going out when necessary.
Mishow has so far received about 100 Vietnamese apprentices. Of them, 21 are working at its factory in Hachioji, Tokyo.
"To prevent the spread of the disease, trainees who show flu or fever symptoms will be allowed to stay at home," she said, adding that going to hospital for check-ups immediately was not the right choice given the current outbreak of the virus.
Similar actions are also taken by other organisations in Japan.
Mikio Kesagayama, chairman of the board at Tokyo International Communication Committee (TICC), said the company had organised online meetings with its offices in prefectures such as Hokkaido, Sendai, Nagoya and Shiga to understand the situation and form a prevention plan.
"We monitor the health of all staff and trainees. They are required to fill in health declarations every day," he said.
TICC has welcomed 2,000 Vietnamese trainees since 1999.
According to Kesagayama, TICC has asked companies that received trainees to take preventive measures including measuring their body temperatures regularly and recommending they wash their hands and gargle often.
"It is understandable that the Vietnamese Government will take care of its people but once they work in Japan, we will take responsibility for managing and protecting their health," he said.
He also said the Japanese government had a policy to support businesses which were affected by COVID-19 pandemic.
Although there have been no COVID-19 cases among Vietnamese trainees managed by TICC so far, TICC and labour training companies have started interviewing trainees via Skype. For trainees who are about to finish their contracts and return home, they have been advised to take direct flights for safety reasons.
Collaboration
Phan Tien Hoang, an official from Vietnamese Ministry of Labour, Invalids and Social Affairs in Japan, said the ministry had worked with its Japanese counterparts to update the situation and offer the best health care to Vietnamese guest workers.
Masahiro Hirakawa, who is in charge of technical trainee affairs under the Japanese Ministry of Health, Labour and Welfare, said Japanese authorities were providing support to trainees.
The ministry has supplied documents on preventive measures in Vietnamese to trainees, and instructed employers and organisations to equip them with adequate information, he said, stressing that the provision of accurate information was the most important thing.
"We have done our best to make Vietnamese guest workers feel comfortable while they are living and working in Japan. If any of them get sick, they will be referred to a doctor. If the case is serious, we'll send them to a hospital and ask an interpreter to go with them," Hirakawa said.
The trainees could also contact the Organisation for Technical Intern Training (OTIT) if they needed assistance in Vietnamese.
The Japanese ministry has closely co-ordinated with the labour management board of the Vietnamese Embassy in Japan on health care for trainees.
"No Vietnamese guest workers in Japan have been infected by SARS-CoV-2 to date. If any cases are reported, the company they're working for will take them to a local medical facility for treatment," he said.
According to the Government of Japan, there were about 250,000 Vietnamese workers in the country, including 200,000 trainees./.
According to Kyodo News, Japan has seen clusters of infections appearing in parts of the country but it has prevented what a government panel of medical experts has described as an "explosion" of cases.
The number of domestic cases has topped 1,300, with about 700 from the Diamond Princess cruise ship that was quarantined near Tokyo in February. The death toll stands at 26.
On Monday, Japan started asking all travelers from China and South Korea, regardless of nationality, to stay in designated facilities such as hotels for 14 days. It has also invalidated nearly 3 million visas already issued to Chinese and South Koreas as part of temporary steps until the end of March.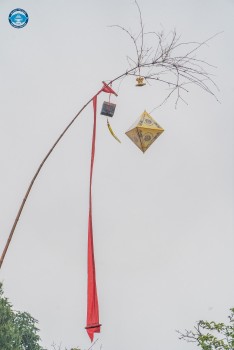 Viet's Home
In the past, the Neu pole (a tall bamboo pole with red garment strips used to ward off evil spirits during the lunar New Year) lowering ceremony at the royal palace of the Nguyen Dynasty was performed to mark the end of the New Year holiday and prepare to enter a new working year.