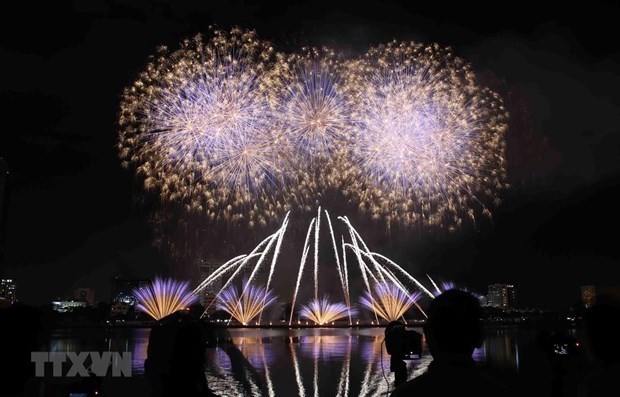 A dazzling fireworks display in the 2018 Da Nang International Fireworks Festival. (Photo: VNA)

The annual festival was initially scheduled to take place this summer.

The success of the festival over years has contributed to improving local people's quality of life, boosting tourism and heightening Da Nang's reputation as a friendly city among international visitors, according to a representative from the city's Department of Culture, Sports and Tourism which organises the event.

However, as the COVID-19 epidemic remains complex while the main sources of supplies for the festivals are in hard-hit areas, so the festival had to be cancelled, he said.

The Da Nang International Fireworks Festival was first introduced in 2008, attracting thousands of spectators every year since then.

Held under the theme of "Stories by the rivers" from June 1 to July 6, last year's DIFF created a truly jubilant festival atmosphere throughout the city, drawing nearly 1 million tourists from throughout Vietnam and all over the world.

On February 20, the Hue Festival 2020, due to be held in April, was also postponed to August 28 because of the same reason./.
VNA