COVID-19 in Southeast Asia: Cambodia closes markets, Vietnam strengthens prevention measures
Cambodia has closed all markets in its capital city of Phnom Penh given a surge in COVID-19 cases, while Thailand's Bangkok shuts parks and gyms after record daily coronavirus infections. Vietnam has also strengthened prevention and control measures although the country has undergone a month without new community cases.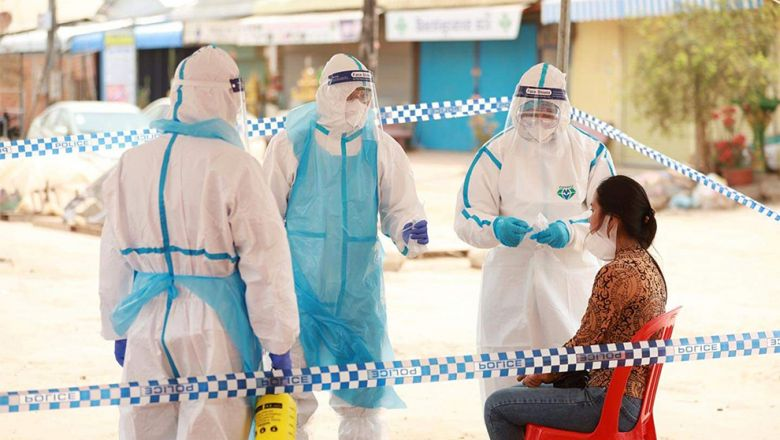 A woman has her sample taken for COVID-19 testing in Phnom Penh. Photo: The Phnom Penh Post
Cambodia closes markets to curb COVID-19, thousands plead for food
Cambodia closed all markets in the capital Phnom Penh on April 24 to contain a surge in coronavirus infections and thousands of families pleaded to the government for food as a two-week lockdown continued.
Cambodia also reported a daily record of 10 new coronavirus deaths on the day, its health ministry said, as infections spike following an outbreak first detected in late February.
The latest figures take the country's overall number of cases to 9,359. Cambodia until recently had one of the world's lowest numbers of infections. It has reported 71 deaths, all in the past two months, Reuters said.
Phnom Penh went into lockdown on April 15 and has declared some districts "red zones," banning people from leaving their homes except for medical reasons.
In a new order issued on late April 24, Phnom Penh City Hall said all markets are to be closed from April 24 until May 7, adding that they have seen rising infections in markets and urging vendors and guards to get tested for COVID-19.
City officials have given thousands of families who can't leave their homes 25kg of rice, a box of soy sauce, a bag of fish sauce and a bag of canned fish, according to the City Hall's Facebook page.
A government Telegram group set up recently for people seeking emergency food aid, has received thousands of requests.
Laos introduces two-week lockdown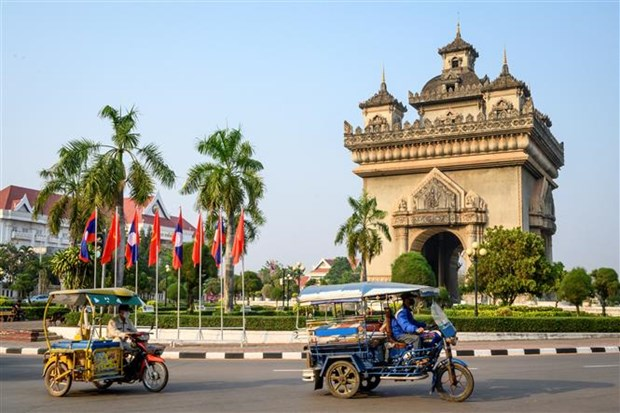 Vehicles pass through Patuxay Monument in Vientiane. Photo: AFP/VNA
Meanwhile, the Lao Ministry of Health reported 88 new COVID-19 cases on April 24, bringing the country's caseload to 247.
Director General of the National Center for Laboratory and Epidemiology under the Lao Ministry of Health, Phonepadith Xangsayarath, told a press conference that among the new cases, 84 were detected in the capital and two each in Champasak and Bokeo provinces.
The government of Laos has closed its borders and announced a two-week lockdown in the capital, Vientiane, as the country weathers a rare outbreak of COVID-19 linked to its neighbor Thailand, according to The Diplomat.
Vientiane will bunker down until May 5, Lao Prime Minister Phankham Viphavanh announced, during which time the city's residents must remain at home unless buying groceries or seeking medical treatment. All gatherings of more than 20 people will be prohibited, and entertainment venues, bars, massage parlors, and gyms will be forced to close.
The government has also banned travel between the capital and the provinces and has moved to clamp down on illegal border crossings from Thailand, which is currently in the midst of its worst outbreak of the virus since the beginning of the pandemic.
This is Vientiane's second lockdown, after restrictions were introduced in April of last year after the discovery of the country's first cluster of COVID-19 cases.
Bangkok shuts parks, gyms after record daily coronavirus infections
People register for Covid-19 tests at the PCT Co laboratory in Bang Phlat district of Bangkok on Friday. Photo: Bangkok Post
Bangkok Post said eight COVID-19 deaths and a record 2,839 new cases, 1,582 of them in Bangkok, were reported in Thailand on April 24, bringing the totals to 129 deaths and 53,022 cases.
The current outbreak since April 1 has now infected 26,998 people and killed 43.
Thailand's capital Bangkok has ordered the closure of public venues and sports premises, city official said on April 24 after the country reported a record daily rise in coronavirus cases and deaths amid a third wave of infections.
The closures, effective from April 26 until May 9, apply to venues including public parks, gyms, swimming pools, meeting halls, internet shops, daycares centres, sports fields, museums and libraries, said Pongsakorn Kwanmuang, a Bangkok Metropolitan Administration spokesman.
Bangkok and 40 provinces have also ordered the wearing of face masks in public mandatory.
The new measures come after the Thai Retailers Association restricted opening hours for shopping malls to between 11 a.m. and 8 p.m. for a week from April 25.
Restaurants in the malls will be allowed to stay open an hour later, while convenience stores will be permitted to operate from 5 a.m. to 10 p.m.
Schools, bars and massage parlours were shut a week ago and will remain closed until next month, while alcohol sales have been banned in restaurants in an effort to increase social distancing, according to Reuters.
Vietnam undergoes a month without new community cases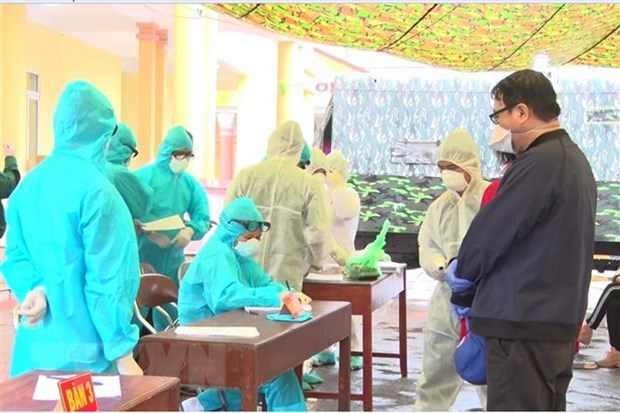 Procedures carried out for citizens to be admitted to a quarantine site. Photo: VNA
Vietnam has gone through a month without new domestically-transmitted cases of COVID-19, with the national count now standing at 2,833.
On April 24 afternoon, the country reported only one imported case, who was quarantined right after his arrivals from Japan.
The number of the recoveries reached 2,516, while the death toll remained at 35.
Among the active patients, 13 have tested negative for the novel coronavirus once, 15 twice and 20 thrice.
A total of 39,191 people who had close contact with or arrived from pandemic areas are being quarantined nationwide.
The ministry said on April 24 that 176,037 people have been vaccinated against the coronavirus, who are medial workers on the frontline of the COVID-19 combat, and members of community-based anti-COVID-19 groups and steering committees for pandemic prevention and control in localities.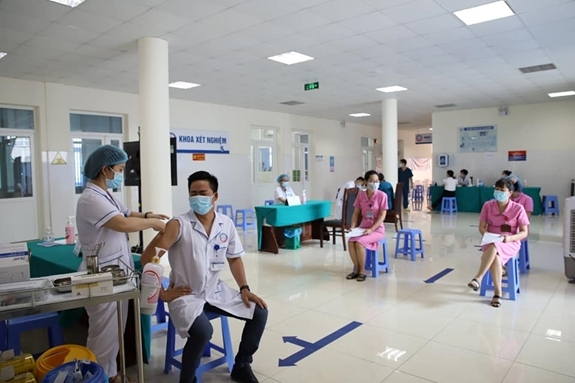 Health workers in Yen Bai province get COVID-19 vaccine shots. Photo: Ministry of Health
The Prime Minister has issued a dispatch on strengthening COVID-19 prevention and control, amid the complicated developments of the pandemic around the world.
He asked ministries, ministry-level and Government agencies, People's Committees of the centrally-run cities and provinces to stay vigilant, uphold the responsibility of leaders while adopting drastic, concerted and effective measures with the principle of active prevention, early discovery, quick quarantine, effective treatment and rapid stabilisation of the situation.
They were also required to inspect the implementation of the Health Ministry's 5K regulations, especially wearing masks in public places, crowd areas and on public transport means.
The PM also ordered the avoidance of unnecessary gatherings. In case such events are held, prevention and control measures must be guaranteed.
The health ministry will continue perfecting prevention and control measures on the national scale, offer instructions to ensure safety in large events, effectively follow the Government's Resolution on the purchase and use of COVID-19 vaccines, actively access sources of vaccines worldwide and step up research and production of vaccines at home.
The ministries of national defence and public security, and the People's Committees of centrally-run cities and provinces were assigned to continue closely controlling immigration in border areas, especially in the southwest.
Quarantine facilities must also be closely monitored to prevent cross and local infections, the VNA said. /.