Deputy PM asks HCMC to impose hefty fine on maskless people in public places
Deputy Prime Minister Vu Duc Dam warns HCMC to strictly punish those disregarding mask mandate in public places, especially when Vietnam is highly vulnerable to illegal entrants.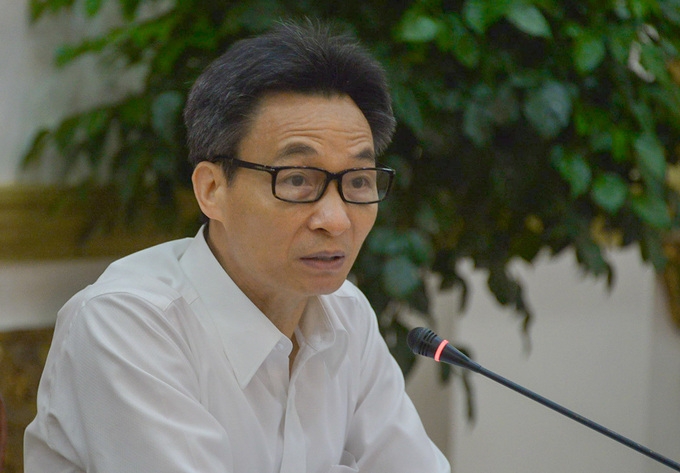 Deputy PM Vu Duc Dam (Photo: VNE)
The Deputy PM, Head of the National Steering Committee for Covid-19 Prevention and Control, was quoted as saying at the meeting on April 23 morning as Asia's weekly Covid-19 cases increases by 34 percent. The Covid-19 situations in neighboring countries, including Cambodia, Thailand, Laos, are getting worse.
The number of illegal entrants detected by authorities, according to Dam, is much smaller than the undetected.
"We should not exclude trespassing. If those illegal entrants go to crowded events or places like bus stations, airports without wearing a mask, the consequence is immeasurable", Dam warned.
He also tasked bordering provinces in the Southwest to strengthen border control. "People might easily lose their guard as the Covid-19 pandemic has been basically contained in Vietnam. Illegal entrants or those who deliberately ignore illegal entrants must face hefty punishment", he added.
According to Municipal People's Committee Chairman Nguyen Thanh Phong, Ho Chi Minh City recorded 108 cases of trespassing in the first 4 months of 2021. The city would take initiative in cooperating with bordering localities to bring out the best preventive and control measures.
Earlier reports from the National Steering Committee show Ho Chi Minh City has recorded 246 Covid-19 cases, of which 222 are Covid-free and discharged from hospitals, 24 are under treatment with stable health. A total of 2,572 people are isolated at quarantine centers, one self-isolated at home.
From March 8 to April 18, the municipal health authorities have vaccinated over 9,100 health workers. On April 19, the city proceeded with the second round of vaccination on 1,022 medical staff.
"Ho Chi Minh city proposes to increase sanctions for those entering illegally. In addition, these people must compensate for the cost people they exposed to have to pay", Mr. Binh suggested.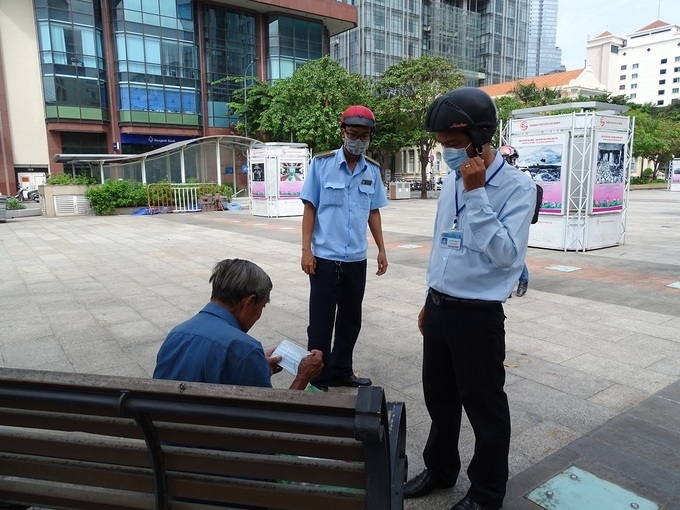 One man fined on the spot for not wearing face mask while walking in Nguyen Hue pedestrian street (Photo: VNE)
Since the onset of the outbreak, Ho Chi Minh city has been mandating face masks wearing in public places as one of the preventive measures. As of October 2020, the city has sanctioned over 4,000 violators for disregarding facemask when out, with the amount of VND 816 million (US $35,382).
According to Decree 117 (effective on September 28, 2020), people who do not wear masks in public will be fined 1-3 million VND (US $43.36 – 129).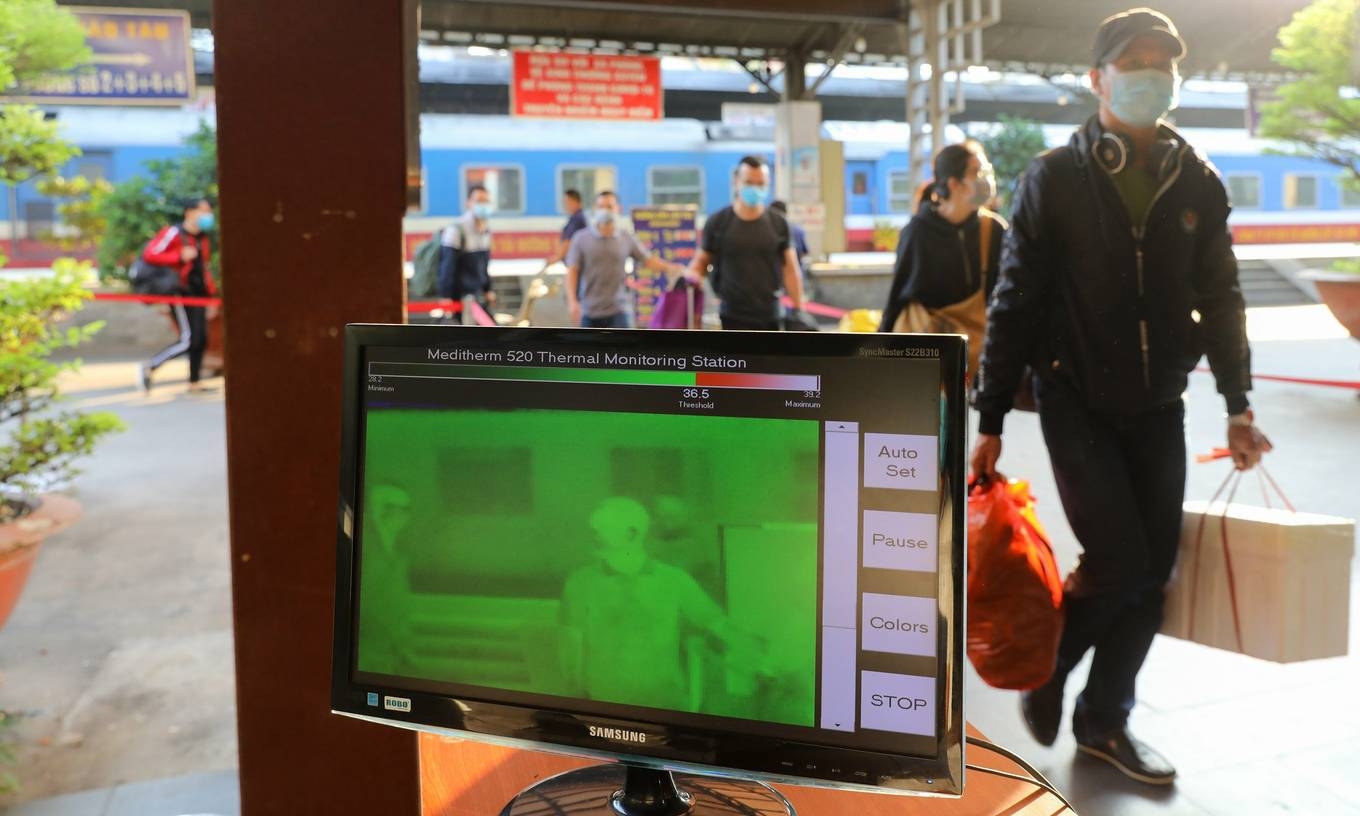 Body temperature scanners are installed at the Saigon Railway Station as a Covid-19 prevention measure, February 18, 2021. Photo by VnExpress/Nhu Quynh.
On April 19, 13 medical experts from Cho Ray hospital are heading to Kien Giang province to help local personnel set up field hospitals and treat Covid-19 patients.
The medical team consists of specialists in resuscitation, artificial kidneys, infection control, according to Dr. Nguyen Tri Thuc, director of Cho Ray hospital.
Once arrived at Kien Giang, the crew will set up one Intensive Care Unit (ICU) for Ha Tien General hospital – the frontline medical facility of Kien Giang in the Covid-19 battle. The ICU will be equipped with ECMO machine (Extracorporeal Membrane Oxygenation) and hemodialysis machine.
The experts also plan to coordinate with local authorities to survey and develop an urgent plan to set up two field hospitals in Ha Tien city and Rach Gia city, each has a capacity of 500 patient beds. The plan will then be submitted to the Ministry of Health for approval.
Health Minister Nguyen Thanh Long stressed that Kien Giang is a Covid-19 hotspot and very vulnerable to imported infections, given its long border with Cambodia (over 56km). He added the Health Min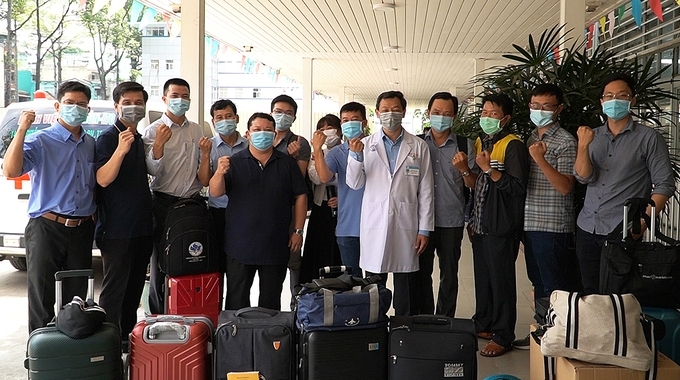 13 medical experts from Cho Ray hospital are dispatched to Kien Giang for Covid-19 support (Photo: VNE)
In addition, the Ministry tasked Ho Chi Minh City Pasteur Institute to work with localities to establish qualified testing laboratories in Ha Tien and provincial general hospital, in a bid to improve productivity and on-site testing capacity.
"We must strengthen Covid-19 prevention efforts at border areas to prevent illegal entry, get ready for unexpected situations", Long said while checking Covid-19 prevention implementation Ha Tien border gate and Kien Giang quarantine center, on April 18.
Four imported cases of COVID-19 were detected from 6 am to 6 pm on April 22, according to the Health Ministry. Meanwhile, 8 imported cases found on the morning of April 23, all of whom were immediately quarantined and treated in Nam Dinh and Ho Chi Minh City.