Covid-19: Local Cases Near 49,000, Vietnam Resolved to Ward off Pandemic
Vietnam is expanding its movement curbs as coronavirus cases has hit record high, with national tally amounting to 48,964 as of July 18 morning.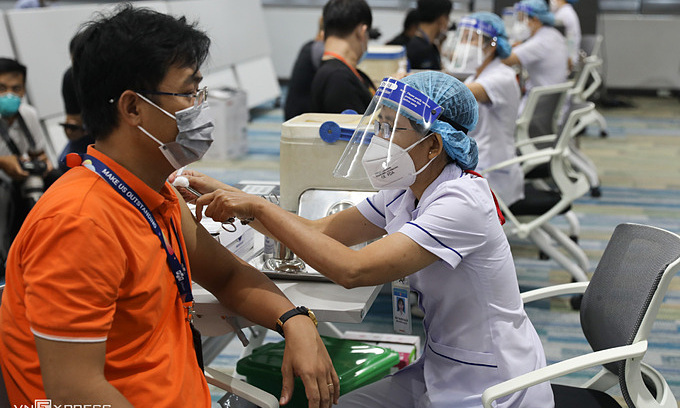 A medical staff vaccinates a citizen in HCMC on June 19, 2021. Photo: VnExpress
Since the new wave started in late April, the country has recorded 47,394 cases in 58 cities and provinces.
After dealing with the hotspots in the northern provinces of Bac Ninh and Bac Giang, Vietnam is now struggling with clusters in the southern region, especially Ho Chi Minh City.
The southern metropolis has been hardest hit, with 1,756 cases reported on July 18 morning, followed by Binh Duong, 281 cases and Dong Nai, 75 cases.
The HCMC Disease Control Center also registered another 626 cases on the Covid-19 national system that have been previously detected in the quarantine centers but yet to be confirmed.
The new cases have raised the tally of the ongoing wave in the country's biggest economic hub to 29,081.
Stepping up measures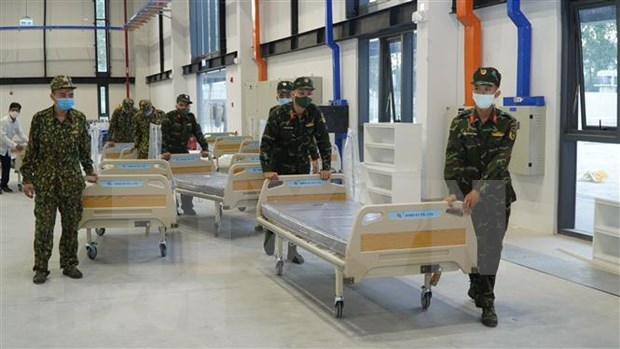 Binh Duong is urgently completing a COVID-19 treatment hospital. Photo: VNA
In a freshly-issued document, Prime Minister Pham Minh Chinh ordered 16 southern localities, including the entire Mekong Delta, to impose 14-day social distancing period, starting July 19, in line with Directive No. 16/CT-TTG.
With the most stringent social distancing regulations, Directive 16 requires people to stay at home and only go out for basic necessities such as buying food or medicines or to work at factories or businesses that are allowed to open.
People must keep a distance of at least two meters. No more than two people can gather at public places apart from workplaces, schools or hospitals. The majority of public transportation will be shut down and there will be no travel to other localities.
The list comprises Binh Phuoc, Tay Ninh, Ba Ria-Vung Tau, Can Tho, Tien Giang, Long An, Vinh Long, Dong Thap, Ben Tre, Hau Giang, An Giang, Bac Lieu, Soc Trang, Tra Vinh, Ca Mau and Kien Giang.
It means the entire southern region, encompassing 19 cities and provinces, will be under strict social distancing.
The other three localities, HCM City and its industrial neighbors of Binh Duong and Dong Nai, have already imposed social distancing order under Directive 16. HCM City and Dong Nai began their two-week period on July 9 while Binh Duong began social distancing in certain areas on different dates since late last month.
For these three, local authorities would decide whether they would follow their own social distancing timeline or restart from July 19, according to the document.
Chinh told a recent meeting of 27 southern localities that the Government is resolved to stamp out the pandemic with top priority given to public health.
Fighting the pandemic is like fighting the enemy, which requires more drastic, more effective, more resolute, and stronger measures, the PM noted.
The leader urged prompt zoning off and testing to control the pandemic, along with treatment for Covid-19 patients to minimise fatalities. He also stressed the need to set up support centres, hotlines, and volunteer groups to help people in need; accelerate vaccinations and ensure the livelihoods of people, while preventing production disruption.
Restrictions imposed in other localities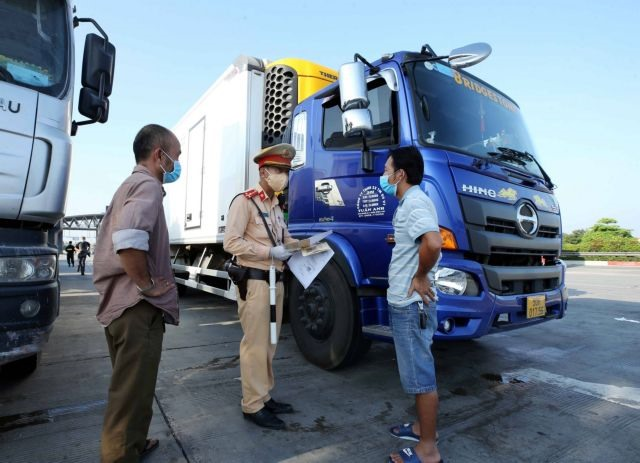 A traffic police officer checks the Covid-19 test results of a truck driver at the checkpoint on Phap Van - Cau Gie Expressway in Thanh Tri district, Hanoi. Photo: VNA
Other big cities like Hanoi and the central city of Da Nang have also taken more stringent measures to prevent the coronavirus from further spreading.
The capital city has set up 22 checkpoints at its major gateways in response to the high risk of Covid-19 transmission from arrivals from outbreak-hit regions.
Local police, in co-operation with traffic inspectors, health staff and civil defence officers of districts and towns are working around the clock to control the flow of all vehicles and people returning to or travelling out of the city.
At gateways connecting Hanoi and northern provinces of Ha Nam, Hung Yen, Bac Giang, Bac Ninh, Phu Thọ, Hoa Binh, Vinh Phuc, Lang Son and Thai Nguyen, people entering the city have their body temporary checked and are required to fill in health declarations.
Earlier, Hanoi decided to ban dine-in services at restaurants and other food and beverage establishments from July 13, though takeaway services can remain operational. Hairdresser salons and barbershops are also closed. The ban on outdoor physical exercise and gatherings in parks, gardens and other public places is also still in place. No crowds of 10 people or more outside workplaces, businesses and schools are allowed.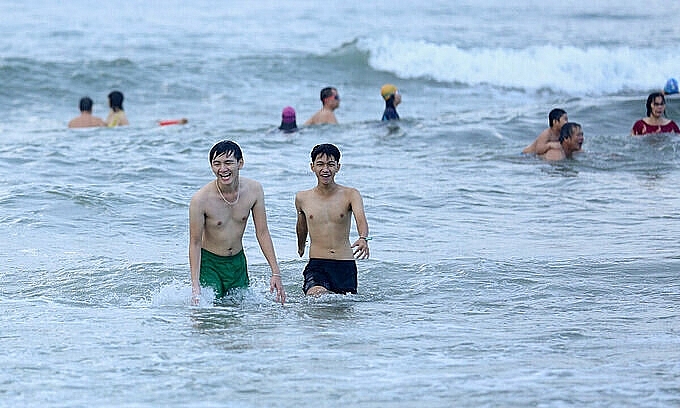 Da Nang closed all public beaches on July 15 afternoon. Photo: VnExpress
Meanwhile, Da Nang closed all public beaches on July 15 afternoon, just five days after reopening them after new Covid-19 clusters were detected.
All outdoor and indoor sports activities are suspended and barber shops are closed.
This is the third swimming ban in less than three months since the fourth wave of the pandemic broke out.
Home quarantine
Deputy Prime Minister Vu Duc Dam, who is also head of the National Steering Committee for Covid-19 Prevention and Control, has agreed with the health ministry's proposal to begin a nationwide home quarantine programme for those who have come into with Covid-19 patients.
Accordingly, the quarantined people must install daily medical declaration applications like Bluezone and update their status regularly.
The health ministry has also lowered the quarantine period for arrivals from the current 21 days to 14 days. The lowered period is applicable to people who have to quarntine themselves at home.
At the same time, the ministry has issued guidelines on shortening the hospitalisation time for patients with no symptoms to partly relieve the increasing pressure on medical staff and facilities.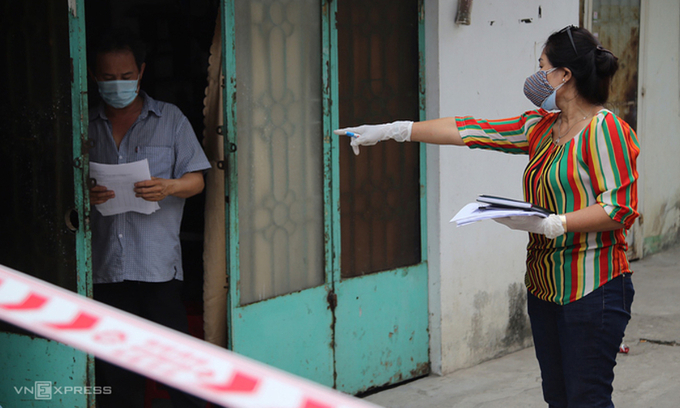 Deputy Prime Minister Vu Duc Dam, who is also head of the National Steering Committee for Covid-19 Prevention and Control, has agreed with the health ministry's proposal to begin a nationwide home quarantine programme for those who have come into with Covid-19 patients. Photo: VnExpress
Vaccination rollout
The health ministry on July 15 conditionally approved the Johnson & Johnson Covid-19 vaccine for emergency use, the sixth to be endorsed in Vietnam so far as the country seeks to expedite its inoculation programme amid its worst outbreak so far.
Previously, Vietnam had approved five other Covid-19 vaccines, namely AstraZeneca, Sputnik-V, Pfizer, Moderna and Sinopharm.
According to the ministry, about 105 million doses from various sources have been committed for use in Vietnam, where the vaccination campaign using the AstraZeneca vaccine began in March.
The US will provide Vietnam an additional three million doses of the Moderna Covid-19 vaccine via the Global Alliance for Vaccines and Immunization, the US Embassy in Hanoi said on July 16.
Last week, the US delivered two million doses of Moderna vaccine through the Covax program.
Those doses are part of the 80 million that President Joe Biden has pledged to donate to various countries.
Meanwhile, Japan has donated Vietnam another 1 million doses of AstraZeneca Covid-19 vaccines.
France said it is to provide support to Vietnam in its efforts to secure much-needed Covid-19 vaccines during a recent phone call between French Prime Minister Jean Castex and his Vietnamese counterpart Pham Minh Chinh.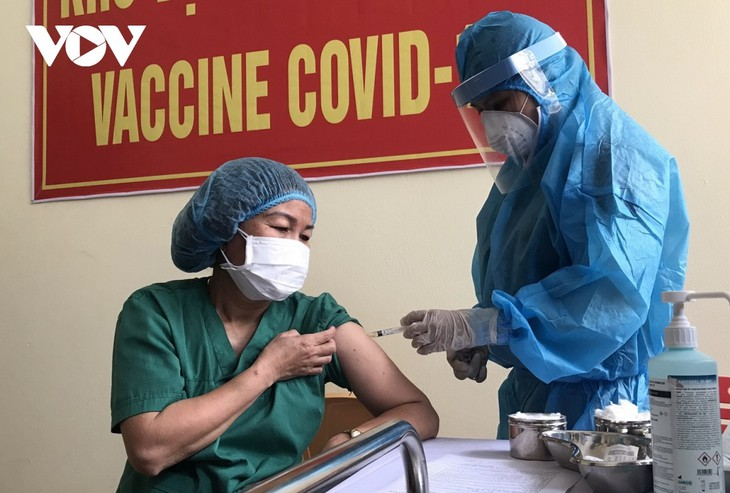 Medical staff at the Da Nang Lung Hospital receive COVID-19 vaccination on March 12. Photo: VoV
Vietnam expects to acquire 124 million Covid-19 vaccine doses from various sources by the end of this year.
The country has recently updated its vaccination target, now aiming to inoculate at least half its population over 18 years of age within this year, and 70 percent of its entire population by April 2022.
Over 27,000 were vaccinated on July 17. So far, the number of vaccinated people is more than 4.2 million.
Vietnamese nationals and foreigners can now register online for Covid-19 vaccines via the Covid-19 vaccination portal:
https://tiemchungcovid19.gov.vn/portal/register-person or via the E-health app for phones using Android and iOS that can be downloaded at: https://hssk.kcb.vn/#/sskdt./.