COVID-19 updates: China reports over 100 new coronavirus infections, highest total since April
China has recorded 101 new coronavirus cases on Tuesday, the highest single-day increase since early April, according to numbers released by the National Health Commission on Wednesday.
It is reported by CNN that among the new cases, 98 were locally transmitted, including 89 in the far western region of Xinjiang where a fresh outbreak has emerged this month. One local infection was also found in Beijing, and the remaining local cases were found in Liaoning.
On Tuesday, China also recorded a further 27 asymptomatic infections, which are not included in the tally of confirmed cases.
This is the first time China has reported more than 100 new infections in a single day since April 12, when the country reported 108 new cases -- most of which were imported.
It is the third consecutive day China has reported the highest daily spike in local infections since early March.
Although China still faces the threat of new outbreaks due to local community transmissions or from imported cases, the country's capability to contain the COVID-19 has been honed thanks to its experience in battling the virus for months, said Zeng Guang, chief epidemiologist for the Chinese Center for Disease Control and Prevention. He added that while more outbreaks are likely, they will not get out of control, reported the Global Times.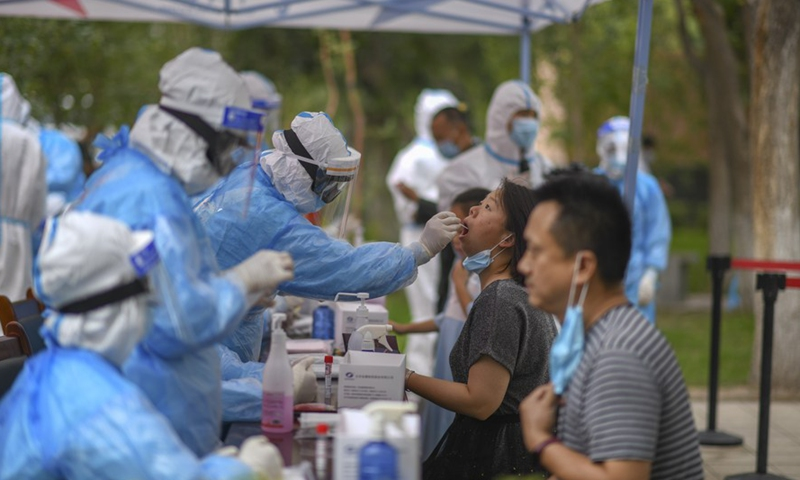 Medical workers collect swab samples for residents at Tianshan District in Urumqi, northwest China's Xinjiang Uygur Autonomous Region, July 20, 2020. Photo: Xinhua
Since the first new outbreak was reported in Xinjiang on July 16, the number of new daily infections have increased.
The sharp rise is expected as the outbreak was first detected in less than 14 days ago, which is one incubation period, Zhang Yuexin, a medical expert who is part of the Urumqi anti-epidemic group and director of the infectious disease department of the First Affiliated Hospital of Xinjiang Medical University, told the Global Times.
Next week is crucial for Xinjiang, because if the number of new cases continues to rise, then it means there are loopholes in the virus prevention measures, and the region needs to adjust its strategy, Zhang said.
The expert also attributed Xinjiang's high daily increase to the city's mass testing program. "The city's testing capacity ranges from 600,000 to 700,000 samples on a daily basis. And there are enough hospital beds to cope with the current outbreak."
After a COVID-19 cluster linked to a seafood processing company was found in Dalian, Northeast China's Liaoning Province last week, the city reported a total of 44 cases, and on Sunday, authorities announced that a citywide testing program would be rolled out.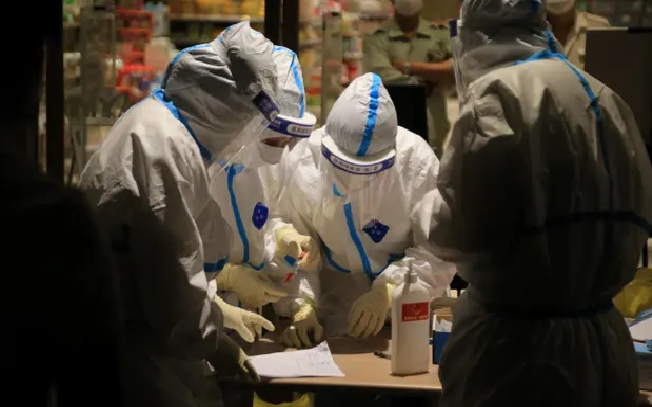 Health workers carrying out coronavirus tests in a shopping mall in Dalian, in China's northeast Liaoning province. Photo: AFP/Getty Images
As of Tuesday, positive cases linked to Dalian have spread to nine cities, including one in Beijing, which had announced the downgrading of its emergency response from Level II to Level III on July 20 after the Xinfadi outbreak was stanched in June.
The patient in Beijing had dined with friends from Dalian, who were later confirmed to be infected with the virus in Jinzhou, Liaoning Province. The woman then drove a private vehicle to Beijing on July 19. Tiantongyuan community, where the patient lives, was sealed off on Tuesday.
"China has entered a 'new normal' virus prevention mode where we need to be cautious about the outbreak whilst trying to minimize the impact on people's normal work and lives," Zeng told the Global Times on Tuesday.
As of Tuesday, mainland China had a total of 86,889 confirmed coronavirus cases and 4,656 deaths from the bug, according to Johns Hopkins University, which has been tracking the pandemic.
COVID-19 updates in the U.S: Florida reports record one-day deaths as concerns grow for other states
The U.S. death toll from COVID-19 was nearing 150,000 on Tuesday as several states set weekly fatality records and Florida reported a one-day record for deaths. Further confirming the Sunshine State's troubles with the coronavirus, the Miami Marlins' season was temporarily suspended after 15 players and two staff members tested positive.
Dr. Anthony Fauci of the president's coronavirus task force said the Marlins' outbreak could endanger the Major League Baseball season, although he told ABC's "Good Morning America" he doesn't believe games need to stop now, informed USA Today.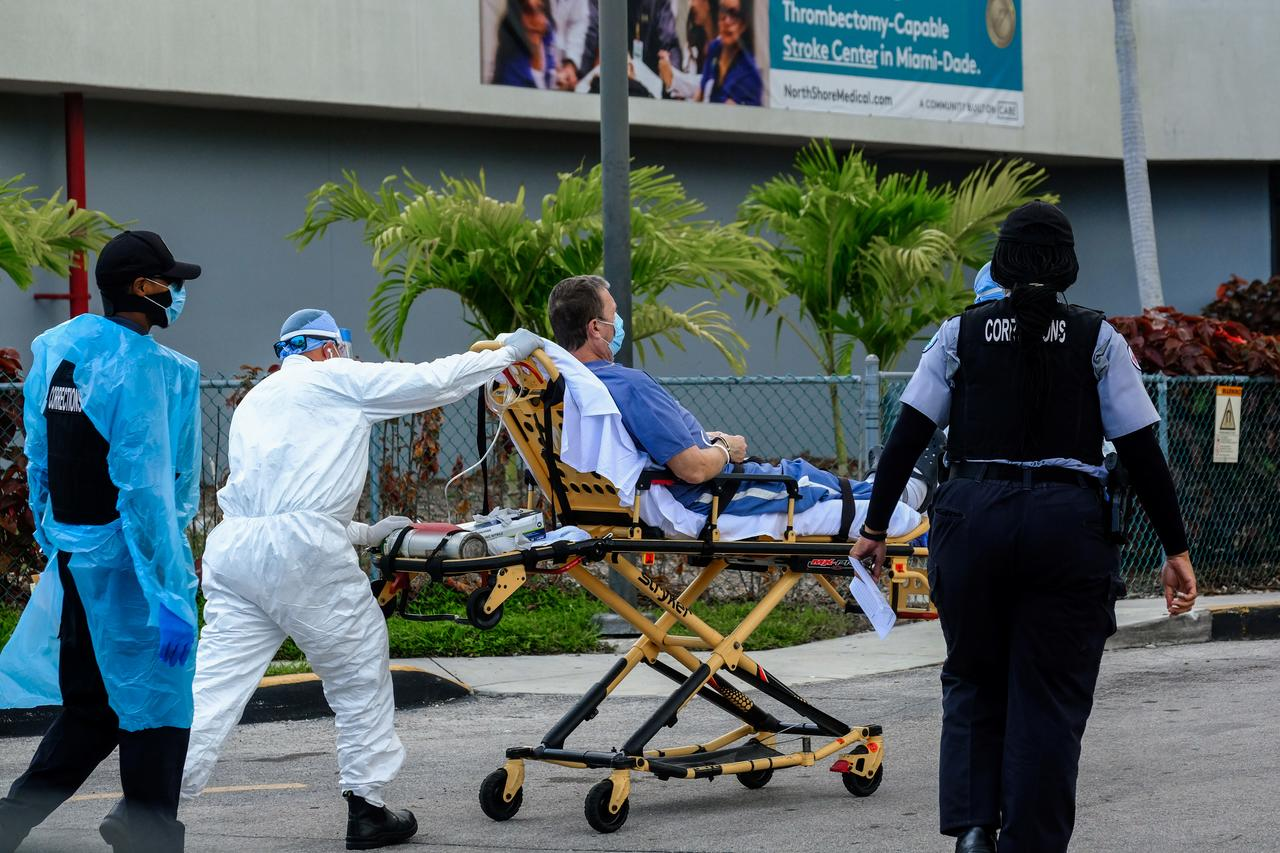 Emergency Medical Technicians (EMT) arrive with a correctional patient at North Shore Medical Center where the coronavirus disease (COVID-19) patients are treated, in Miami, Florida, U.S. July 14, 2020.
Photo: REUTERS/Maria Alejandra Cardona
Florida's 186 deaths raised the toll there to more than 6,000. Gov. Ron DeSantis, who three weeks ago ordered in-classroom learning when schools reopen next month, has eased his rhetoric in recent days. He now wants schools to ensure parents have "the choice between in-person and distance learning" for their kids.
In Tennessee, Dr. Deborah Birx, the White House's coronavirus response coordinator, urged Gov. Bill Lee to shut down bars and limit indoor restaurant dining to help curb an explosion of infections among young people. Lee said no.
Several states on Monday set seven-day records for virus deaths; others set records for new cases. Tennessee set records for both.
India's Coronavirus Tally Crosses over 1500000
More than 950000 patients have recovered so far and the country's recovery rate stood at 64.23 percent this morning. The positivity rate - the percentage of patients who have tested positive for coronavirus - stood at 9.03 percent.
India raced towards the second spot in the list of nations hit worst by the coronavirus pandemic, crossing the 1.5 million mark this evening. The total figure in the country currently stands at 15,24,168.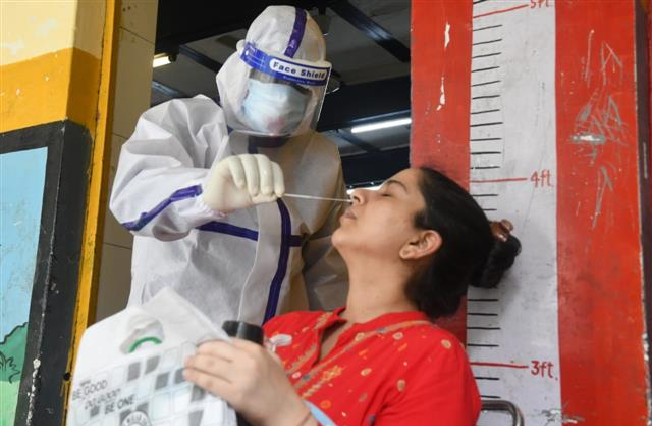 India's coronavirus infection caseload stands at 7,19,665, the ministry's data updated at 8 am showed. Photo: Mukesh Aggarwal
With 5,324 fresh cases, Karnataka crossed the grim milestone of 100000 COVID-19 cases on Monday. The total number of cases now stands at 1,01,465. The coronavirus death tally in the State is now closer to the 2,000-mark (1,953 deaths), according to the bulletin issued by the state government. Maharashtra has reported 3,75,799 virus cases, the highest among states and Union Territories in the country, according to India News.
According to the Indian Council of Medical Research (ICMR), 5,15,472 samples were tested for coronavirus on Sunday and overall 1,68,06,803 samples have been tested so far.
Brazil's COVID-19 death toll tops 88,000
Brazil on Tuesday recorded 921 new deaths from COVID-19 in the past 24 hours, bringing the national death toll to 88,539.
Meanwhile, tests have detected 40,816 new infections, taking the total caseload to 2,483,191, said the health ministry.
Brazil is one of the countries hardest hit by COVID-19, second only to the United States, both in terms of caseload and death toll.
The state of Sao Paulo, Brazil's most populous state, is the epicenter of the national outbreak, with 487,654 infections and 21,676 deaths, followed by Rio de Janeiro, with 159,639 infections and 13,033 deaths, and Ceara, with 165,550 cases and 7,613 deaths.
Bolivia surpasses 72,000 coronavirus cases as the government declares "state of public calamity"
Bolivia's Health Ministry reported 1,146 newly confirmed coronavirus cases for Tuesday, bringing the country's total cases to 72,327.
The ministry also reported 73 new fatalities from the virus, raising the total death toll to 2,720.
This comes as the government announced late Monday a "state of public calamity" due to the economic impact of Covid-19, according to a statement released by the Presidency Ministry.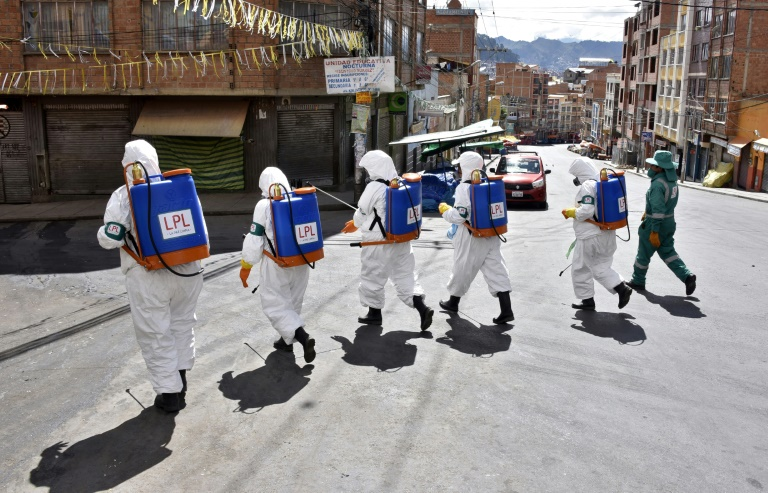 Municipal workers disinfect the streets of La Paz as a preventive measure to slow the spread of the novel coronavirus. Photo: Bangkok Post
"We declare a public calamity across the territory of Bolivia in order to attend the urgent economic needs caused by the negative effects of the coronavirus (pandemic)," the decree read.
Meanwhile, another government official tested positive for the virus. The Mayor of La Paz, Luis Revilla Herrero, announced Tuesday that he and his wife Maricruz tested positive for Covid-19, becoming the 16th government official in Bolivia to have contracted the virus.
Colombia reports highest daily increase in new Covid-19 cases since the pandemic began
Colombia saw a record daily increase in new Covid-19 cases Tuesday as its health ministry added 10,284 new cases.
Colombia's total confirmed cases are 267,385, according to the health ministry. The ministry also recorded 297 new fatalities from the virus, bringing its death toll to 9,074, according to CNN.
Colombia's capital Bogota remains the largest hotspot in the country, with 91,408 cases.