COVID-19 Updates (July 15): Could llama antibodies be the key to coronavirus treatment?
Researchers discovered that a special type of antibody found in llamas could be vital in fighting the coronavirus infection in humans. The World speaks to professor James Naismith, the director of the Rosalind Franklin Institute in the UK, and lead researcher in a new study on llama antibodies.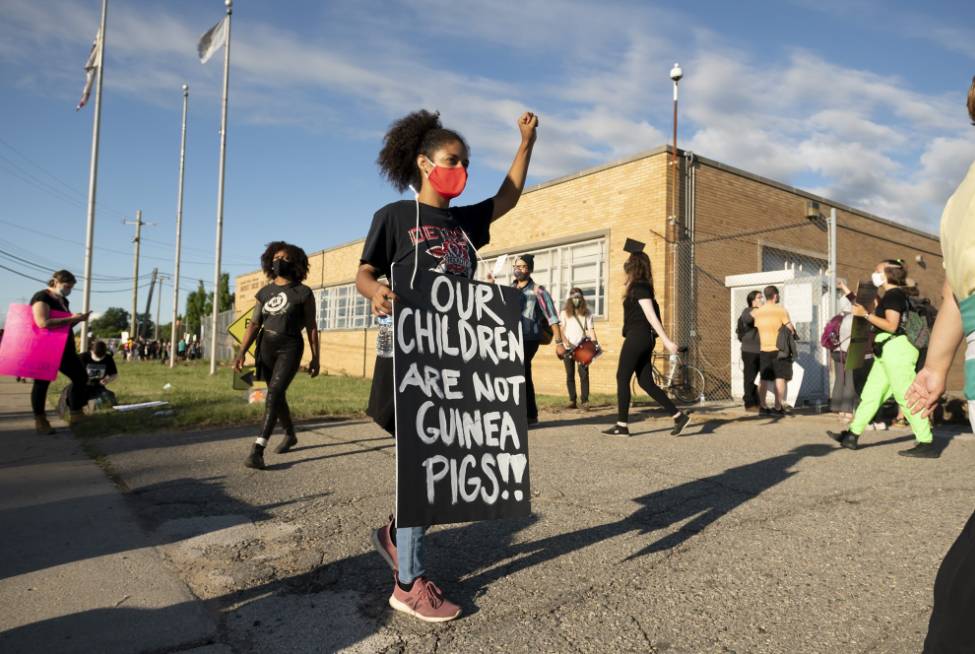 Demonstrators block the driveways of a Detroit school bus terminal to keep buses from running on the first day of summer classes on Monday (Photo: AP)
US cases continue to rise, reopening classrooms sparks protests
The US reports more than 60,000 new cases for the fifth day in a week, reported by Financial Times.
The US reported its fifth one-day increase of more than 60,000 coronavirus cases in the space of a week on Tuesday, led by Texas, which reported a record 10,754 new infections. A further 736 people were reported to have died, according to Covid Tracking Project data, more than double the 327 on Monday. Florida (133), North Carolina (42), Alabama (40), Nevada (19), Utah (10) and Hawaii (3) all had record one-day increases in fatalities.
A further 62,879 people tested positive for the disease over the past 24 hours, according to Covid Tracking Project data, from 58,465 on Monday. That is the third-biggest jump on record and the fifth time the daily increase has topped 60,000 since first crossing the mark on Jul 8.
On July 8, President Trump warned that he would cut federal funding for schools not reopening for direct students, while also criticizing the Centers for Disease Control and Prevention (CDC) for being too rigid with instructions about schools reopening. President Trump believes that the reopening of schools will allow parents to go back to work, playing an important role in the economic recovery.
A teacher in a classroom of socially distanced students on the first day of summer school in Detroit on Monday (Photo: Twitter)
However, in Detroit, a city hit hard by COVID-19, reopening classrooms sparks protests. The city's main public school district made the unusual decision to open classrooms for in-person summer learning starting Monday in hopes of helping children catch up four months after the coronavirus forced schools to close.
According to NBC, while the district says it took safety precautions to prevent the spread of the virus and stressed that no students or teachers were forced to participate in face-to-face instruction, the first two days of classes were met with protests. Activists blocked school buses from leaving a bus depot. A civil rights lawyer, who used the word "genocide" to describe the effect of the district's decision because the student population is 96 percent Black or Latino, says she plans to seek an injunction to close the schools. The head of the city teachers union called in-person summer school a "mind-boggling decision." And some parents expressed grave reservations about whether their children would be safe.
"I'm scared," said Kim Martin, 50, who was picking up her son, Allyn, an eighth grader, from his summer school classes at the Brenda Scott Academy on Detroit's east side Monday. "I don't want my son to get sick. He's an asthmatic."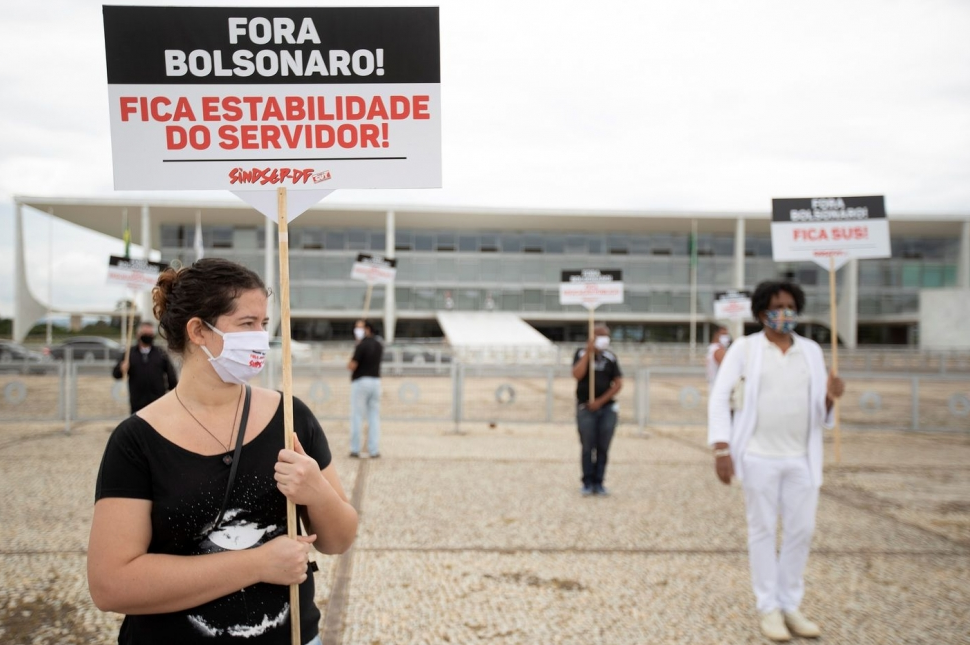 Protests against Brazil President's anti mask-wearing policies (Photo: EPA-EFE)
Brazil: number of new infections suddenly soared again
Brazil recorded 41,857 new cases of the novel coronavirus in the past 24 hours and 1,300 additional deaths, the Health Ministry said on Tuesday.
The nation has now registered 1,926,824 total confirmed cases of the virus and 74,133 deaths, reported by Reuters
Hong Kong Disneyland, which reopened June 18, is closing again temporarily due to the resurgence of COVID-19.
Hong Kong cinemas also will be forced to close again starting Wednesday after a spike in local cases of the coronavirus led authorities to re-implement tighter lockdown measures.
The government will close 12 types of businesses, including gyms, gaming centers and cinemas, and will limit group gatherings to just four people, down from 50. Cinemas initially shuttered on March 28 but began re-opening in early May, with limitations in place.
Continuing its remarkable turnaround in the progression of novel Coronavirus epidemic, India, on Monday, reported less than 1,250 new infections, the first time this has happened since June 1.
There has been an impressive improvement in the Coronavirus situation in Delhi in the last two weeks. Ever since June 23, when Delhi reported as many as 3,947 new cases in a single day, the daily numbers have been steadily going down. At that time, Delhi was one of the fastest-growing states, growing at nearly six percent every day. That growth rate has come down to 1.7 now.
An antibody (blue) binds tightly to the spike protein on SARS-CoV-2 (green, pink and orange) (Photo: the University of Texas at Austin)
FDA's Coronavirus Treatment Acceleration Program
When the U.S. Food and Drug Administration learned of the novel coronavirus (COVID-19) and its potentially devastating effects, we acted swiftly to set the regulatory stage for drug and biologics manufacturers to develop products to treat this serious disease. To meet this urgent need, the FDA created the Coronavirus Treatment Acceleration Program (CTAP) to enable the FDA's Center for Drug Evaluation and Research (CDER) and Center for Biologics Evaluation and Research (CBER) to leverage cross-agency scientific resources and expertise to bear on COVID-19 therapeutic development and review. We're excited to say that there are now more than 510 drug development programs in planning stages, and as of today, the agency has reviewed more than 230 trials of potential therapies for COVID-19.
While the FDA is part of a whole of government approach to COVID-19, CTAP is a distinct component of this effort focusing specifically on therapeutics, not vaccines or devices. Another major initiative of the U.S. government, Operation Warp Speed (OWS), funds and rapidly develops or co-develops vaccines, therapeutics, and diagnostics, while the FDA, through CTAP, regulates therapeutic development. There is a clear delineation between OWS executive actions and FDA regulatory decision-making.
Behind the scenes of CTAP, office leaders within CDER and CBER align our efforts across therapeutic areas, scientific disciplines, and organizational units. Clinical, operations and policy supervisors meet regularly to discuss staffing support, trial design, endpoint selection, and consistency of practice and expectations for COVID-19 submissions. Clinical and biostatistical experts meet regularly to share information, advance our scientific understanding and develop consistent approaches. Senior leadership stay actively engaged on key drug and biologic development and review issues.
When CTAP started, FDA achieved extraordinary turnaround times for certain significant inquiries and proposals, to get key studies going rapidly. For therapeutic development programs with strong rationales and evidence, FDA continues to dramatically exceed standard timelines. They have found that a complete pre-IND submission is the key to expediting comprehensive pre-IND advice, more rapid review of the subsequent IND and more rapid clinical trial initiation.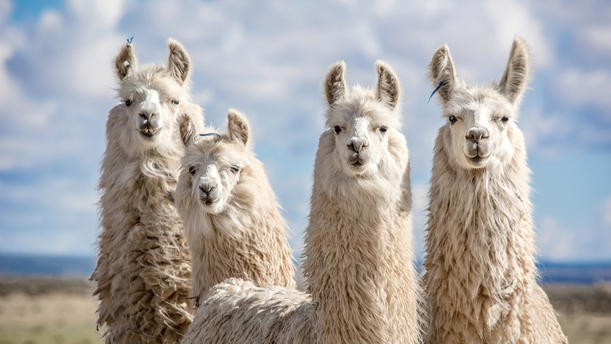 Llama-based antibody treatment 'neutralises' virus (Photo: BioSpace)
COVID-19: Llama-based antibody treatment 'neutralises' virus
The team from the Rosalind Franklin Institute, Oxford University, Diamond Light Source and Public Health England engineered their new nanobodies using a collection of antibodies taken from llama blood cells.
They found that the nanobodies bind tightly to the spike protein of the SARS-CoV-2 virus (the virus that causes COVID-19), blocking it from entering human cells and stopping infection.
In the study published in Nature Structural and Molecular Biology, the team also identified that the nanobodies bind to the spike protein in a new different way to other antibodies already discovered.
Professor James Naismith, the director of the Rosalind Franklin Institute in the UK, is the lead researcher in a new study on llama antibodies.
He spoke with The World about what makes llama antibodies especially suited to fight the coronavirus. "Llamas have an unusual antibody. That's one of the things that we've been able to harness. And we made ... they're called the nanobody, which is part of the antibody. We've been able to use molecular biology and [have] been able to turn what the llama makes into a really powerful agent that kills coronavirus.", quoted by PRI.
According to Science Focus, Similar research into llama antibodies as a treatment for COVID-19 is underway at the McLellan lab in Austin, Texas.
Professor Ray Owens from Oxford University, who leads the nanobody programme at the Franklin, said the researchers are hopeful they can push the breakthrough on into pre-clinical trials.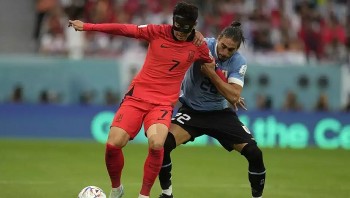 World
Both South Korea and Ghana are searching for their first wins at this year's World Cup. Ghana are facing the prospect of an early elimination from World Cup 2022 Group H when they travel to the Education City Stadium to face South Korea on Monday.