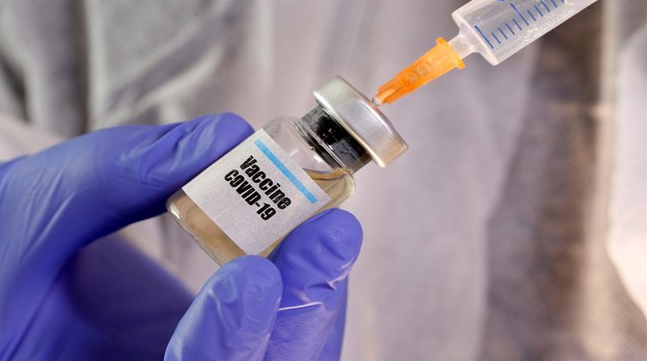 Russia to register world's first coronavirus vaccine (Photo: Reuters)
Russia to register the world's first coronavirus vaccine
Russia is set to register the world's first coronavirus vaccine on August 12. The inoculation has been developed jointly by the Gamaleya Research Institute and the Russian Defence Ministry
However, the clinical trial data and other documents of Russia's COVID-19 vaccine are currently under expert review. The decision on registration will be made based on its results, according to the Russian health ministry.
"The documents that are needed to register the vaccine developed by the Gamaleya Research Institute of the Health Ministry, including clinical trial data, are under expert review. The decision on registration will be made based on the results of the review," the ministry said.
Russia's Deputy Health Minister Oleg Gridnev told the state news agency, Sputnik news that the Phase-3 clinical trial of the COVID-19 vaccine was underway. He also said that senior citizens and medical professionals will be the first to get vaccinated.
According to Business Today, Alexander Gintsburg, director of the Gamaleya National Research Centre, said the vaccine used inanimate particles created on the basis of adenovirus. He added that the vaccine would cause no harm to a person's health.
Meanwhile, the World Health Organisation has urged Russia to follow established guidelines for producing safe and effective vaccines. Besides, US' top infectious disease expert Anthony Fauci has also sounded a note of caution, saying: "I do hope that the Chinese and the Russians are testing a vaccine before they are administering the vaccine to anyone because claims of having a vaccine ready to distribute before you do testing I think is problematic at best".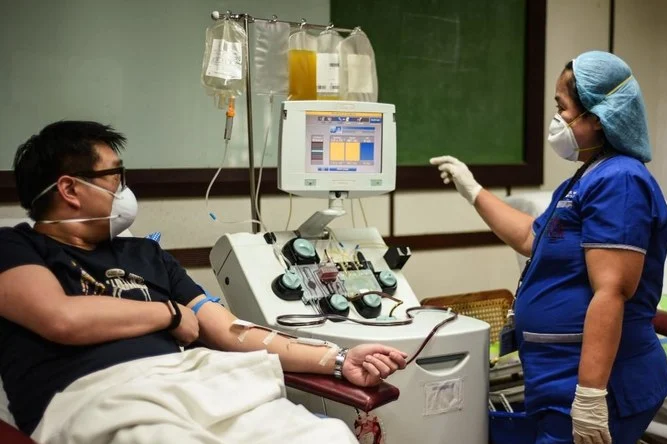 A nurse checks on a patient who has recovered from COVID-19 as he donate plasmas at a hospital in Manila (Photo: AFP)
The global number of people infected with Covid-19 exceeds 20 million
According to Worldometers, as of 6 o'clock on August 10, the number of Covid-19 cases worldwide had exceeded 20 million.
Accordingly, the United States is the worst affected country with 5,196,690 infections and 165,564 deaths from Covid-19.
In Asia, there have been 5,039,737 Covid-19 cases so far, of which 109,600.ca have died. India remains the continent's most heavily affected country with 2,214,137, of which 44,466 deaths. Over the past few days, India has continuously recorded new infections at over 60,000 cases per day.
In Japan, the Tokyo city government recorded an additional 331 new infections on August 9.
Meanwhile, the government of Hong Kong on August 9 recorded 72 new cases of infection, of which 63 cases were community infections.
Indonesia's authorities on morning August 10 recorded 1,893 new cases, bringing the total number of Covid-19 infections to 125,396. The number of deaths increased by 65 to 5,723.
Chinese mainland reports 35 new imported COVID-19 cases
The Chinese mainland reported 35 new imported COVID-19 cases Sunday, bringing the total number of imported cases to 2,169, the National Health Commission said Monday, according to Xinhua.
Of the new imported cases, 18 were reported in Shanghai Municipality, four each in Shandong and Sichuan provinces, three each in Guangdong and Shaanxi provinces, two in Liaoning Province and one in Zhejiang Province, the commission said in its daily report.
Among all the imported cases, 2,037 had been discharged from hospitals after recovery, and 132 remained hospitalized, with one in severe condition, the commission said, adding that no deaths had been reported from the imported cases.
EU allows entry from 11 non-EU countries
Starting from Saturday, the Council of the EU asked the EU member states to gradually lift the travel restrictions for residents of Australia, Canada, Georgia, Japan, New Zealand, Rwanda, South Korea, Thailand, Tunisia, and Uruguay. It also recommended that residents of China be allowed to travel to the EU, subject to confirmation of reciprocity.
British Prime Minister Boris Johnson on Saturday ordered a public relations campaign to ensure schools reopen on time in September.
Schools in Britain closed in March during a national lockdown, except for the children of key workers, and reopened in June for a small number of pupils. The government wants all pupils to return to school by early September, with Johnson calling this a national priority.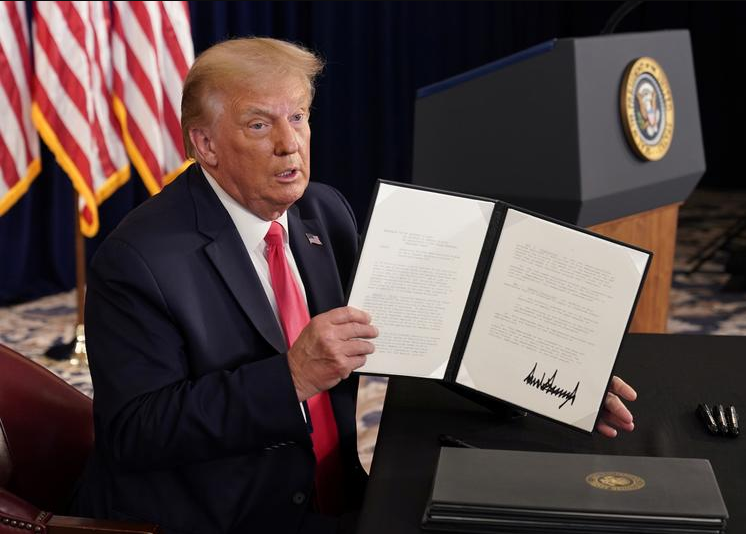 Trump signs coronavirus relief orders after talks with Congress break down (Photo: Reuters)
Trump signs coronavirus relief orders after talks with Congress break down
President Donald Trump signed executive orders on Saturday partly restoring enhanced unemployment payments to the tens of millions of Americans who lost jobs in the coronavirus pandemic, as the United States marked a grim milestone of 5 million cases, reported by Reuters.
Trump said the orders would provide an extra $400 per week in unemployment payments, less than the $600 per week passed earlier in the crisis. Some of the measures were likely to face legal challenges, as the U.S. Constitution gives Congress authority over federal spending.
Trump initially played down the disease's threat and has drawn criticism for inconsistent messages on public health steps such as social distancing and masks.
Trump's move to take relief measures out of the hands of Congress drew immediate criticism from some Democrats.
"Donald Trump is trying to distract from his failure to extend the $600 federal boost for 30 million unemployed workers by issuing illegal executive orders," said Senator Ron Wyden, the top Democrat on the Senate Finance Committee. "This scheme is a classic Donald Trump con: playacting at leadership while robbing people of the support they desperately need."
Valerie Mai