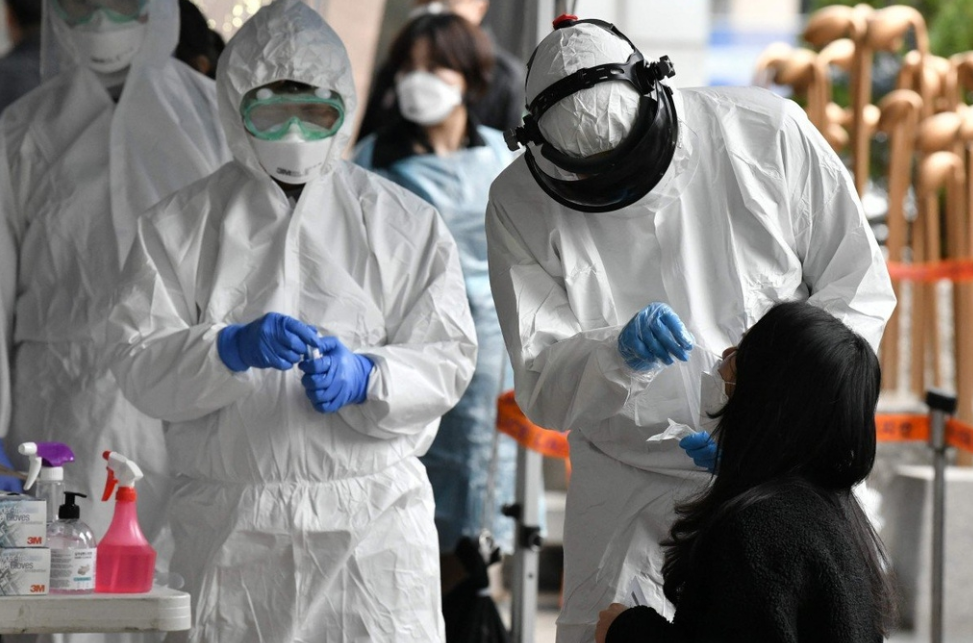 Medical staff took samples for COVID-19 test for people in Hanoi (Photo: Dan Tri)
No new cases recorded in the morning of 11 August
In the morning of August 11, the Ministry of Health did not record any new cases of COVID-19. 433 patients were being treated, of which 389 were confirmed positive. Thus, in the past 24 hours, Vietnam has recorded 6 new cases, of which 01 case in Quang Nam province, 04 cases in Da Nang city and 01 case of immigrant to Ho Chi Minh city who was immediately quarantined. Up to this point, Vietnam has 847 patients in total.
Number of new cases related to Da Nang city since July 25, 2020 are 389 cases. The total number of people in close contact with patients and coming back from the epidemic area put under medical monitoring (quarantine) are 182,267, of which 5,139 people are isolated in the hospitals; 28,408 people are isolated at other establishments, and 148,720 people are quarantined at their own home or accommodation.
As reported by the Sub-Committee for Treatment of The National Steering Committee for Disease Control and Prevention of COVID-19, in 10 August 2020, 04 patients were declared cured at Da Nang Lung Hospital including patient. Among these are 3 patients from Da Nang city and 1 patient from Quang Ngai province. Da Nang Lung Hospital will arrange transportation to take this patient home in Ba To district, Quang Ngai province, the rest in Da Nang city will also be assisted car arrangement.
Till now, 399 out of 847 cases of COVID-19 have been declared cured in Vietnam, accounting for 47.1% of the total number of COVID-19 cases detected in the country. Particularly for foreign patients, up to now, 50 cases have been cured by Vietnam.
15th death relating to COVID-19 confirmed
The Ministry of Health announced on the evening of 10 August that patient number 522 died. This information was confirmed by Deputy Minister of Health, Mr. Nguyen Truong Son, Head of the Standing Division of Special Anti-epidemic COVID-19 of the Ministry of Health in Da Nang city, This is the 15th death relating to COVID-19 since the pandemic happened and reemerged in Vietnam.
The 15th fatal case is male, 68 years old staying in Quang Nam province. The patient has been recorded of chronic renal failure, lung metastatic, kidney cancer, type 2 diabetes mellitus. Diagnosis of death was severe COVID-19 pneumonia, complications of severe respiratory failure, pulmonary artery occlusion, kidney cancer, bladder and lung metastases, chronic renal failure, type 2 diabetes mellitus.
Da Nang Field Hospital to start operating on August 12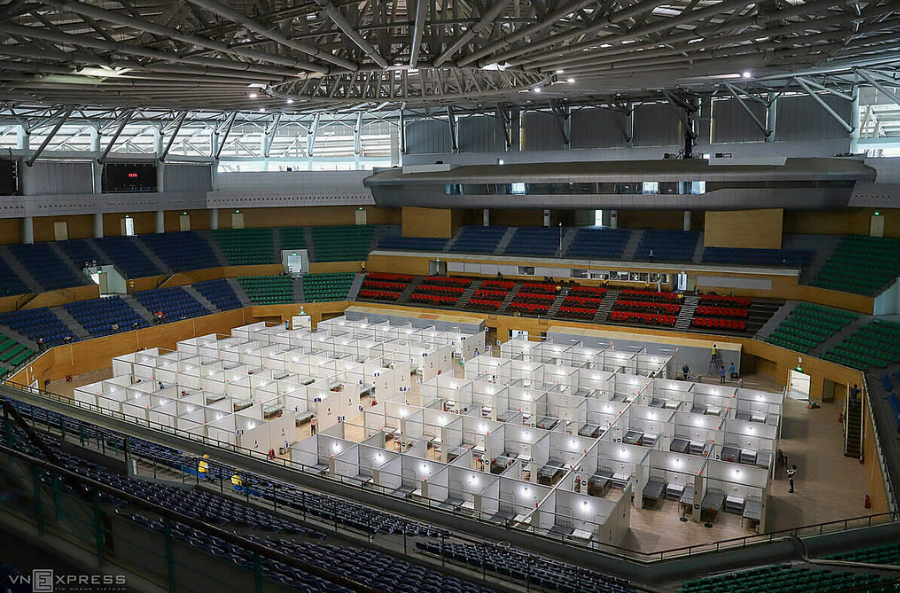 Da Nang Field Hospital (Photo: VN Express)
The 500-bed field hospital with human resources including doctors and 400 volunteer students, is expected to receive the patient in two days. In the afternoon of August 10, at the Field Hospital at Tien Son Sports Palace, the Da Nang Department of Health held a meeting to evaluate the operating conditions of this facility. The hospital currently has 500 beds, including 480 beds for treating mild patients, and 20 emergency beds.
Doctors to work for this hospital are expected to be mobilized from Hai Phong province and Binh Dinh province, and 400 volunteer students from Da Nang University of Medicine and Pharmacy will support there.
The hospital is expected to be ready to hand over on 12 August. This field hospital was installed on 01 August, less than a week after Da Nang recorded its first community case of nCoV infection during this outbreak. Since 25 July the country has recorded 389 cases in or related to Da Nang city.
Dr. Do Ngoc Son, Deputy Head of Emergency Department of Bach Mai Hospital, was appointed by the Ministry of Health to be a professional deputy director of Tien Son Field Hospital. Dr Son said that the hospital will initially treat at a basic level, sharing the same basic treatment regimen so that all doctors can utilize. The hospital also prepares for a bad scenario like a sudden patient having a serious development.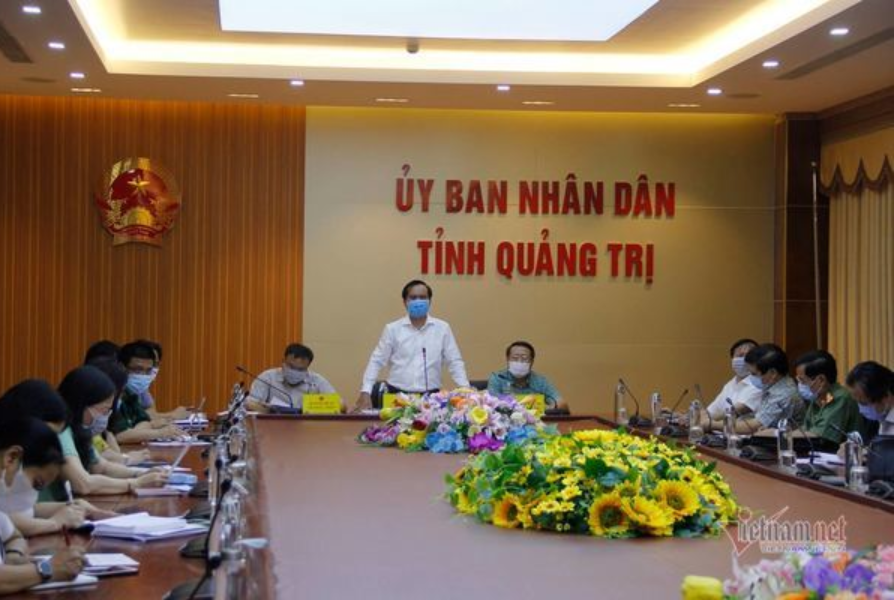 Quang Tri province starts social distancing in Dong Ha city in 15 days (Photo: Vietnamnet)
Dong Ha city (Quang Tri) to implement social distancing in 15 days
In the morning of 10 August, the Steering Committee for Covid-19 epidemic prevention in Quang Tri province had an emergency meeting after 2 new cases were added, bringing the total cases to 4 in this locality.
Mr. Vo Van Hung, Chairman of Quang Tri Provincial People's Committee, said that the epidemic situation in the area is getting more dangerous when the risk of spreading is higher. The issue of monitoring and isolating F1 and F2 objects has not been strictly recorded. Lack of drasticism will lead to a high risk of spread in the community.
Considering Dong Ha city as the place with the highest risk of spreading the disease, Quang Tri province decided to quarantine the whole city since 10 August, according to Directive 16.
Quang Tri province has recorded 04 cases, including patient number 749 (female, addressing at Don Due village, Vinh Hoa commune, Vinh Linh district), patient 750 (male, addressing at street number 01, Do Le ward, Dong Ha city), patient number 832 (male, addressing at Ruong village, Huong Tan commune, Huong Hoa district) and patient number 833 (female, addressing at street number 01, Dong Giang ward, Dong Ha city).
Valerie Mai