COVID-19 Updates (October 17): Australian news praised VN's success over COVID-19
Theconversation.com reported that Europe could look to the success of countries like Vietnam as the continent is again in the grip of a COVID-19 resurgence.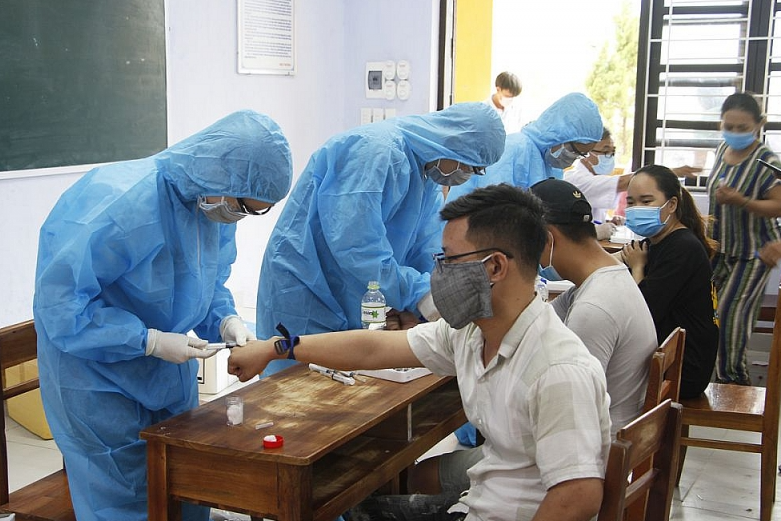 No new community cases, only 54 patients left. (Photo: MOH)
No new community cases, only 54 patients left
According to the morning news from the National Standing Committee for COVID-19 Prevention and Control, Vietnam has been passing through 45 continuous days that no community infections are recorded. The total number of infections is currently 1,124, meanwhile, only 54 patients are going under treatment.
As many as 13,090 people are quarantined for having close contact with or passing through pandemic areas. Among these, 116 are isolated in hospitals and health facilities, 11,727 in concentrated quarantine locations, and 1,197 at home.
The Treatment Sub-Committee said that currently, the country has no severe cases left, while the death toll stays at 35.
Australian news praised Vietnam's success over COVID-19
Theconversation.com highlighted targeted testing as an effective tactic used by Vietnamese health authorities, where they have focused on high-risk individuals and on buildings and neighborhoods where there have been confirmed cases. Health authorities have also implemented extensive contact tracing and aimed to identify those at risk of exposure regardless of symptoms.
The country also set up quarantine facilities for infected people and international travelers, minimizing spread inside households. It noted that having experienced the SARS and avian flu epidemics, many Asian countries took the threat of COVID-19 seriously right from the beginning.
In addition, the country implemented strict mask-wearing and physical distancing early. Targeted testing, education, and the involvement of the community are critical in responding to COVID-19.
Hanoi holds international marathon to welcome 'new normal'. (Photo: VP Bank)
Hanoi holds international marathon to welcome 'new normal'
Thousands of runners from across the world will participate in the VPBank Hanoi Marathon ASEAN 2020 (VPHM) on October 18. The start times will begin at 00:00 on October 18 for the 42km full marathon, at 3 am for the 21km half marathon, at 4.30 am for the 10km distance and at 8 am for the 5km category.
"With the slogan 'Meet sunrise - Welcome to New Normal', the VPHM has become the official event of the ASEAN 2020 Chairmanship, and it will also be the first large-scale community activity to mark a new period, a 'new normal' life after the COVID-19 pandemic in Vietnam as well as in the entire ASEAN bloc," said a representative of the organizers.
"When most international marathons have been postponed or canceled, the successful organization of the VPHM carries a special meaning for Vietnam's image, showing a safe country, ready to open doors for integration and welcome foreign visitors when the pandemic has been spectacularly controlled."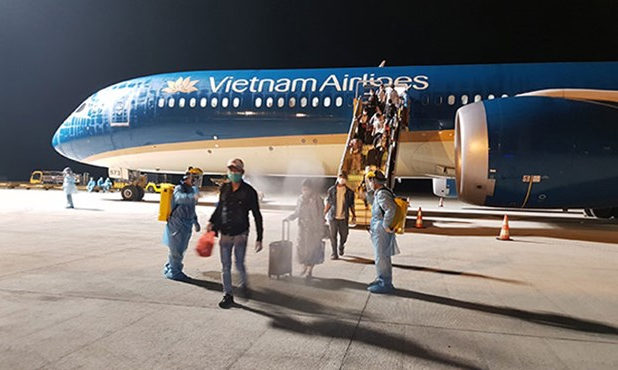 Vietnamese citizens brought home from Russia. (Photo: VNA)
Vietnamese citizens brought home from Russia
As many as 370 Vietnamese citizens were brought home from Russia on a flight of national flag carrier Vietnam Airlines on October 15-16. The flight was arranged by Vietnamese authorities, the Embassy of Vietnam in Russia, and Vietnam Airlines together with Russian relevant agencies.
The Vietnamese Embassy had closely worked with local relevant agencies to help the citizens travel to the airport and assist them with boarding procedures.
Strict security, safety, and epidemiological measures were implemented during the flight to ensure passengers' health and prevent the spread of diseases. After landing at the Van Don International Airport in northern Quang Ninh province, passengers and crew members had their health checked and sent to quarantine in line with regulations.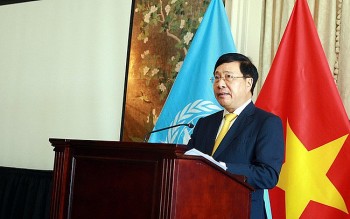 Friendship
Deputy Prime Minister Pham Binh Minh has asserted Vietnam's strong support for and commitment to the UN's role in leading and coordinating multilateral efforts to respond to global challenges.