Covid News Briefing (July 18): Daily Infection Reaches Record, Hanoi Tightens Restrictions
With the latest addition, a total of 51,771 domestic, and 2,059 imported cases were recorded so far in the country.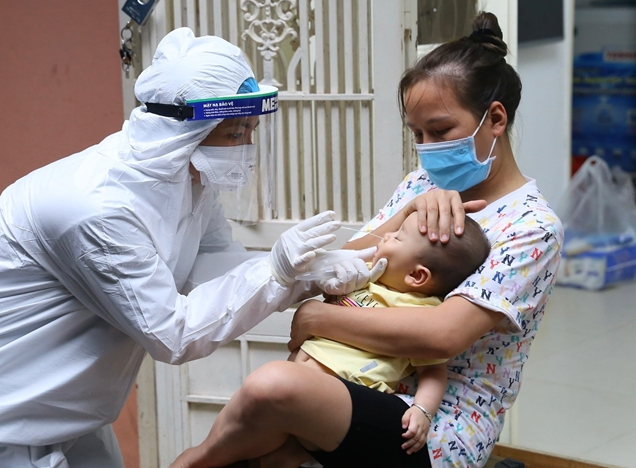 Photo: VNA
Daily infections reach a record of 5,926
Vietnam's health authorities on Sunday reported the country's highest daily spike of 5,926 Covid-19 cases, putting the total number of infections at 53,830. Of these, 39 are imported cases and have been put in quarantine after entering the country. As many as 4,960 cases were detected in quarantined or locked-down areas, according to Vietnamnews.
The Ho Chi Minh City Center for Disease Control on July 18 morning registered to add a list of 626 coronavirus patients who had been previously detected in quarantine zones to the National System of Covid-19 Case Management. Earlier the southern metropolis, the epicenter of the ongoing fourth coronavirus wave, recorded on July 17 a total of 2,786 new domestic cases, the highest number in a day since the virus recurred in late April.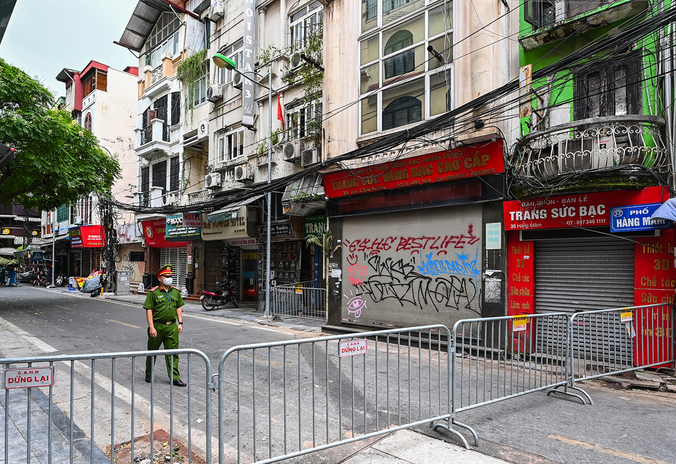 Photo: VN Express
Hanoi tightens Covid-19 response measures from July 19
In the latest dispatch signed by Hanoi People's Chairman Chu Ngoc Anh on July 18, citing huge risks of community transmission and following the lockdown order imposed on the entire southern region to deal with severe coronavirus outbreaks, people in the city are asked to stay at home and only go outside in necessary cases like business trips, working at essential businesses (State agencies, factories, essential shops, and service providers), buy food and medicines, or emergencies such as medical issues, fire incidents or natural disasters, etc.
No gathering of more than five people in public
Masks are mandatory in public. People must maintain a distance of two meters in public, and must not congregate in groups larger than five outside of hospitals, workplaces, or schools. Online shopping is also encouraged. Non-essential services and businesses are to be closed starting tomorrow.
People are asked to hold off from holding weddings and funeral services must not have more than 30 attendants and will face monitoring by the local health authorities. People who visit these establishments must submit their health declaration forms using QR code via apps like Bluezone or nCOVI.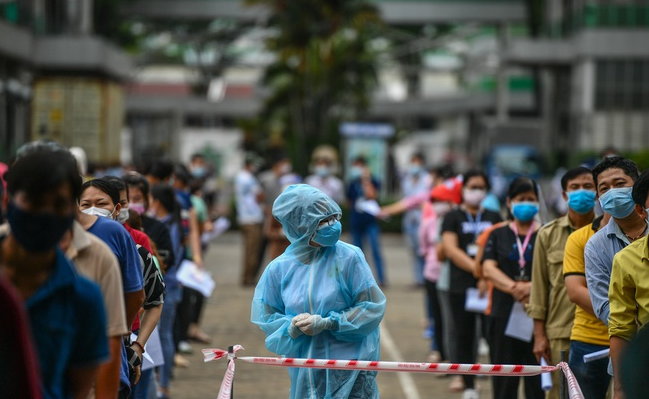 Photo: Zing News
Non-essential businesses asked to close
Online shopping is also encouraged. Non-essential services and businesses are to be closed starting tomorrow.
The businesses and services that are still allowed to operate include: factories, production facilities, transport projects, construction sites, essential businesses or suppliers (food, medicines, utility, gas, and oil, etc.), restaurants or food & drink establishments can only provide takeaway services, educational institutions, banks and treasuries along with bank-related and business supporting activities (such as notaries and attorney offices, registration offices, etc.), securities, postal offices, delivery services, import and export activities, medical examination and treatment, and funeral services.
Public transportation to 37 pandemic-hit localities banned
Hanoi has also halted public transportation to 37 pandemic-hit localities, starting from July 18.
Drivers of trucks carrying goods from other localities must only stop at registered sites or gas stations, have negative Covid-19 tests (RT-PCR method) within the past three days, and report to local authorities on their entry and movements.
Public transport will be operated at 50 percent capacity, while personal transport would be restricted.
11 locations in Hanoi locked down after 18 new infections
Authorities in Hanoi have locked down several locations related to positive cases of Covid-19. On Sunday morning, Hanoi recorded 18 new infections, of which 16 are close contacts of cases detected on July 16 and 17. Two others have been quarantined.
There are also several cases linked to the Hanoi Transportation Company. The Centre for Diseases Control of Hanoi has recommended testing all drivers and ticket staff on buses.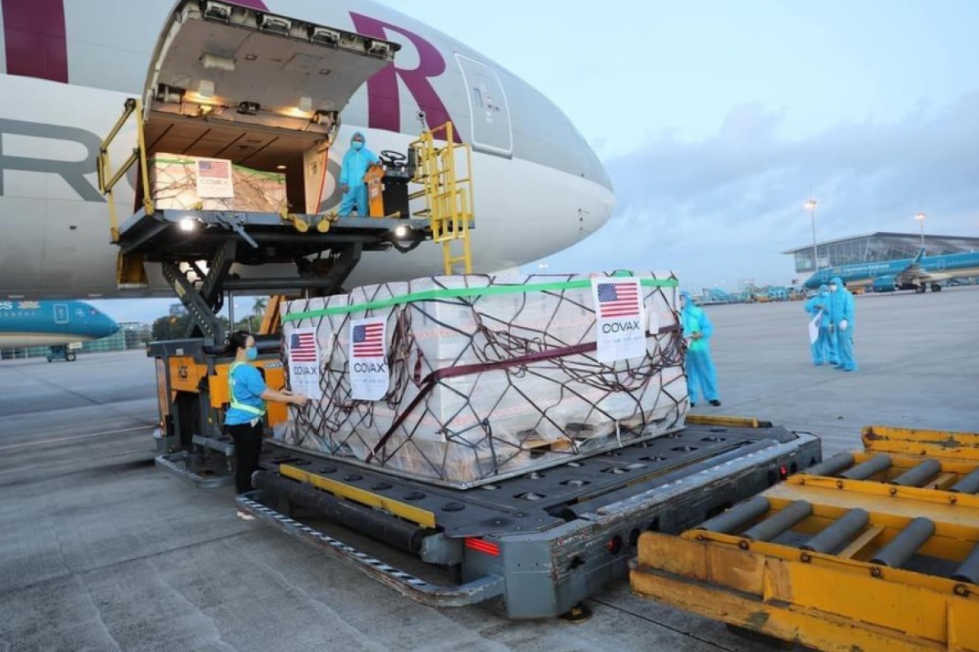 Photo: VOV
Vietnam aims to have at least one homegrown Covid-19 vaccine this year
Vietnam is determined to successfully produce at least one Covid-19 vaccine this year, according to Deputy Health Minister Tran Van Thuan. Vietnam has asked WHO specialists to help the country produce coronavirus vaccine as soon as possible to ensure vaccine self-sufficiency for its people, Thuan told an online meeting of the Covid-19 development special working group on Saturday.
Nanogen, the Vietnamese developer of the Nano Covax vaccine, this week said it has administered the first jab to 13,000 volunteers in its phase 3 human trials, with the second dose expected to be given before the end of next month, eyeing full clinical data for reviews this year.
Meanwhile, the Covivac vaccine, developed by the Institution of Vaccine and Biological Medical in Nha Trang City, wrapped up phase 1 in late June and plans to carry out phase 2 soon. Vietnam needs 150 million doses of Covid-19 vaccine to inoculate 75 million people this year.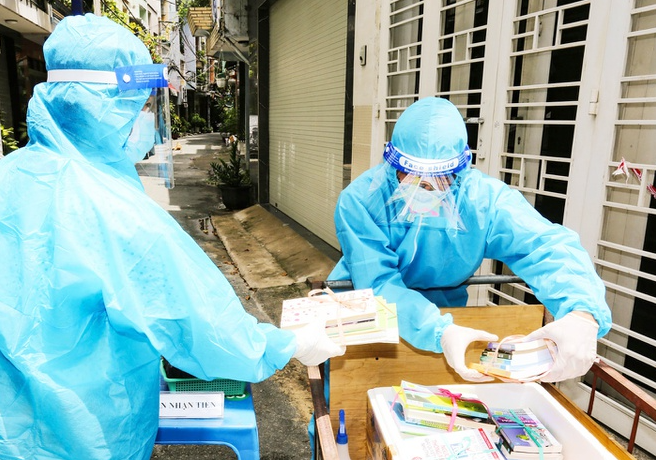 Photo: Zing News
Flights to several southern localities to be suspended
The Civil Aviation Authority of Vietnam (CAAV) recently sent a dispatch asking domestic airlines to suspend flights to and from airports in several southern cities and provinces that are under social distancing measures from July 19.
Specifically, all flights to and from Con Dao in Ba Ria – Vung Tau, Ca Mau, Rach Gia in Kien Giang province will be halted from 0 am on July 19. The national flag carrier Vietnam Airlines will still run a daily flight linking Phu Quoc and Hanoi and another on the Can Tho - Hanoi route. Bamboo Airways will operate Phu Quoc - Hanoi and Can Tho – Hanoi flights only on July 19, each one trip per day, in place of Vietnam Airlines.
Airlines are running Ho Chi Minh City – Hanoi flights with a daily capacity of 1,700 seats per trip. Accordingly, Vietnam Airlines will supply no more than 700 seats per trip each day, Vietjet and Bamboo Airways every 400 seats, and Pacific Airlines 200 seats. Each carrier could offer 1-2 daily flights on Ho Chi Minh City – Da Nang/Quy Nhon/Cam Ranh/Buon Ma Thuot routes.
There will be no limitation on the number of flights carrying cargo. The suspension of flights is due to last till August 1. All passengers must show documents certifying they test negative for SARS-CoV-2 as requested by the Health Ministry.
With the latest addition, a total of 51,771 domestic, and 2,059 imported cases were recorded so far in the country, including 50,201 detected during the ongoing coronavirus wave that started nearly three months ago.
Furthermore, the Health Ministry also announced the discharge of a further 355 Covid-19 patients, boosting the total recoveries to 10,667. In the face of the swift spreading of the disease, the country will make all-out efforts to fast-track Covid-19 testing to promptly detect infection cases.
The same day, the Treatment Sub-Committee under the National Steering Committee for Covid-19 Prevention and Control announced an additional 29 fatalities regarding Covid-19. The deceased patients were reported from July 4-17 in Ho Chi Minh City, Long An, Binh Duong, Dong Thap, Bac Giang, and Hanoi.