Cuba as Viewed by a Vietnamese Girl
Hoang Ha found Cuba to be full of wonderful nature and interesting culture with bustling beach parties, majestic mountains and famous tobacco farms.
Nguyen Hoang Ha, born in 1996, is a recent journalism graduate in Havana, Cuba. As an avid traveler, she has visited most cities in Cuba such as Matanzas, Pinar del Rio, Camagüey, Trinidad, Holguín, and Santiago de Cuba.
Although she has been living in Cuba for 6 years, Ha finds this country full of wonderful nature and interesting culture with bustling beach parties, beautiful mountains famous tobacco farms.
A contradictory beauty
"Fascinating, charming, decaying" are the words that author Dinh Hang described Havana, the capital of Cuba in her book, which is one of Ha's favourite books.
Havana is also Ha's favourite city. The 500-year-old capital is a treasure trove of historical architecture, a city with splendour, grace, and contradictions.
"The city has never ceased to amaze me during 6 years living here," Ha said.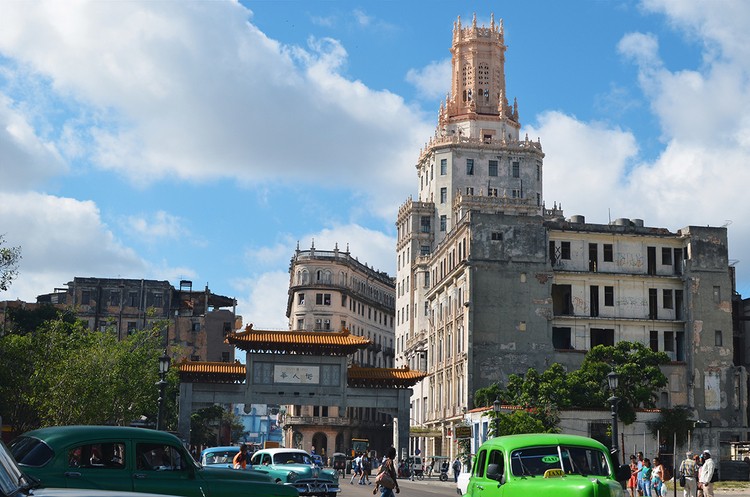 "Fascinating, charming, decaying" Havana. Photo: Hoang Ha
Havana has very beautiful buildings, spacious, modern shops, but also has dilapidated houses.
It is clear to see the gap between rich and poor in Cuba. In Havana, the districts like Vedado and Miramar have many beautiful, modern houses which belong to the rich, but Centro or the old town area has many dilapidated houses where multiple-generations live together.
Rationing system
People use coupons to buy food such as rice, milk, eggs and bread in the local bodega (convenience store)
Coupons were distributed free of charge to local residents with household registration. The common products are eggs, milk, cooking oil, chicken and rice.
Each household can only buy a certain amount of goods as the government assigns.
Foreigners do not have coupons, so they have to buy things at markets or supermarkets and trade centres.
Convertible taxi
Taxis in Cuba, called maquinas and coco, are antique, convertible cars that have bright colours. A coco is a mini taxi, with only 2 seats behind and a seat for the driver. This taxi usually runs short distances in the city at a cheap price.
This is also one of the most interesting things to do in Havana as many tourists take photos with this unique taxi. Classic cars bring people back to the last century.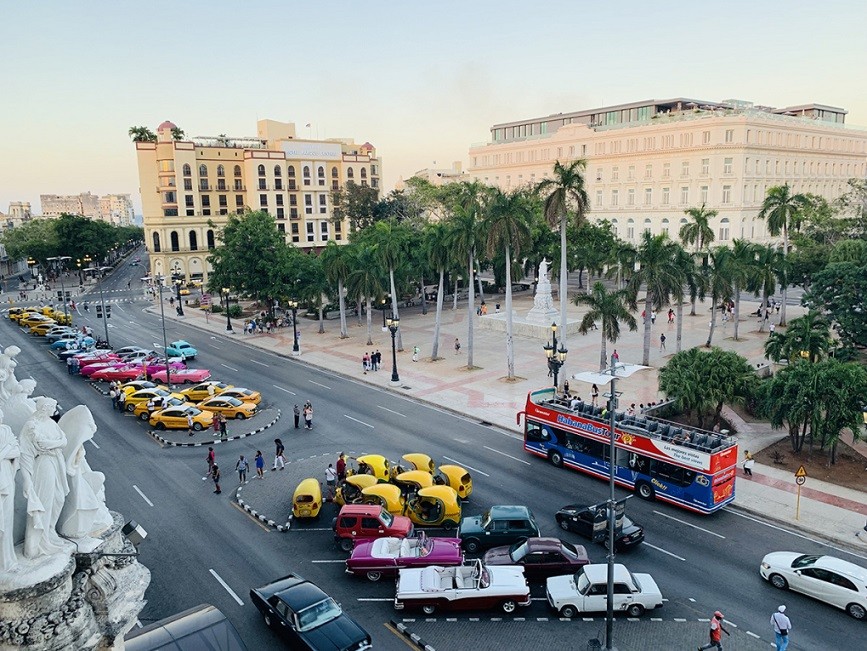 Antique maquinas and coco taxis. Photo: Hoang Ha
Markets are closed on Mondays
The market for vegetables, fruits and meat is closed on Mondays. Supermarkets are opened late and close early, from 10 am to 7 pm on weekdays, but close around 3 pm on weekends.
If you want to buy things on Monday, you can buy them at the shop outside the rationing system at a higher price.
Ha said that the vendors at the market want to rest after busy weekends, so they take Monday off.
Music everywhere
One of the reasons why Ha decided to study in Cuba is her love for Latin American music. Ha said that in every corner in Cuba you find music, of all genres and forms, from classical music to salsa music.
The atmosphere is always cheerful. Cubans and Latin Americans are the souls of the party.
They are free to express themselves, their feelings, and bring positive energy to all people around them. Music and dance are in the Cuban genes.
Cubans like Vietnamese people
Cubans greet each other with hugs and kisses on the cheek.. At first, Ha felt familiar because this was different from Vietnamese culture.
However, she now feels it is wonderful and sweet. Ha always feels welcome and feels the joy of Cubans when seeing her.
When Ha introduced herself as a Vietnamese, the local people showed their affection. Cubans consider Vietnam a country of hardworking people and heroes.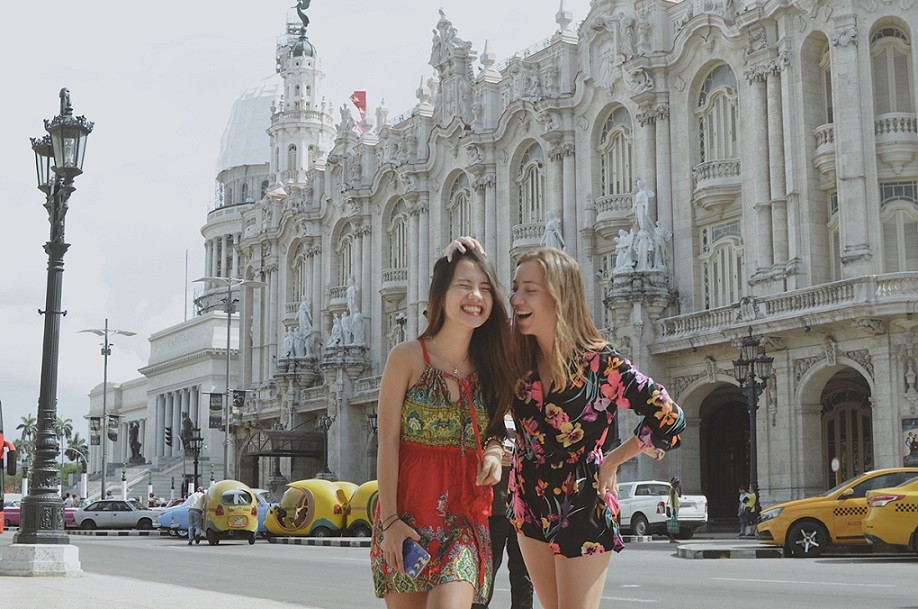 Ha and her friend. Photo. Hoang Ha
Lobster is cheap
Cuba's lobsters are big, delicious, and cheap. When she just arrived in Cuba, a senior at her college said that she could see many lobsters on the road. People use tails instead of kilos to trade lobsters. Prices for 5-7 lobster tails before the pandemic are from 600-700 pesos. Currently, the price is about 1,200-1,400 pesos (about 1.5 million VND).
Ha said that Cuba's climate is sub-tropical, although it is sunny and windy all year round. Therefore, this country is a favourite destination for European visitors who want to escape the cold.
Cubans are familiar with warm and sunshine, therefore, when the temperature drops below 18 degrees in November-December, they feel very cold.
There is almost no internet in Cuba
Ha said that it is not easy for households in Cuba to install wifi. The country had deployed the 3G network by the end of 2018 and upgraded to 4G by mid-2019.
Before that, Ha had to go to a park or a public place where they had a network and then buy a new card to use it. The public network is quite unstable.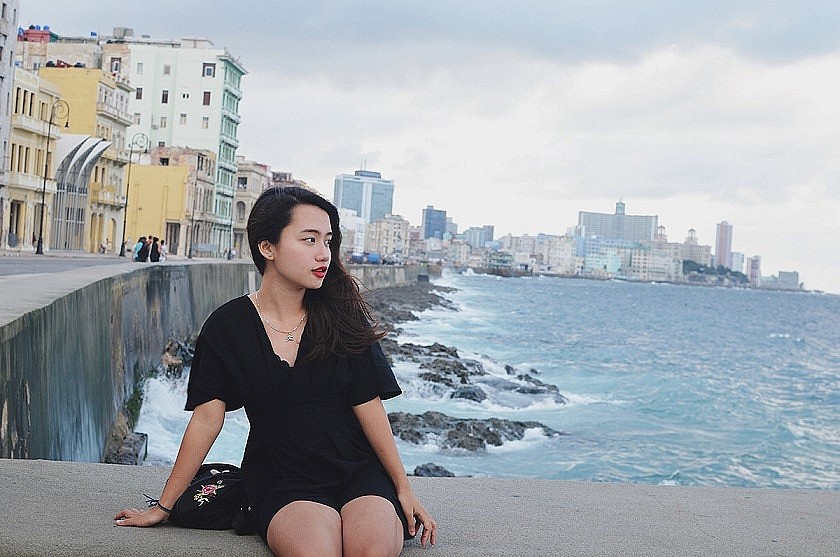 Hoang Ha and Cuba through her lens.
Ha said that all tourist services in Cuba are excellent. Cuba is an ideal country for visitors at any time of the year with its pleasant climate.
Ha learned many things through Cuba's history and stories shared by indigenous people. The country has helped her to develop and flourish as a person.
Source: VnExpress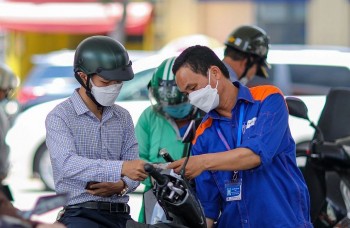 Economy
Vietnam Business & Weather Briefing (Oct 2): Binh Duong lures foreign investors with special care, the North and Central regions continue to have heavy rains, leading to the risk of flooding, flash floods, and landslides.