Cuban Prime Minister Meets Friendship Association
Cuban Prime Minister Manuel Marrero Cruz met representatives from the Vietnam-Cuba Friendship Association in Hanoi on September 30, as part of his visit to Vietnam from September 28 to October 2.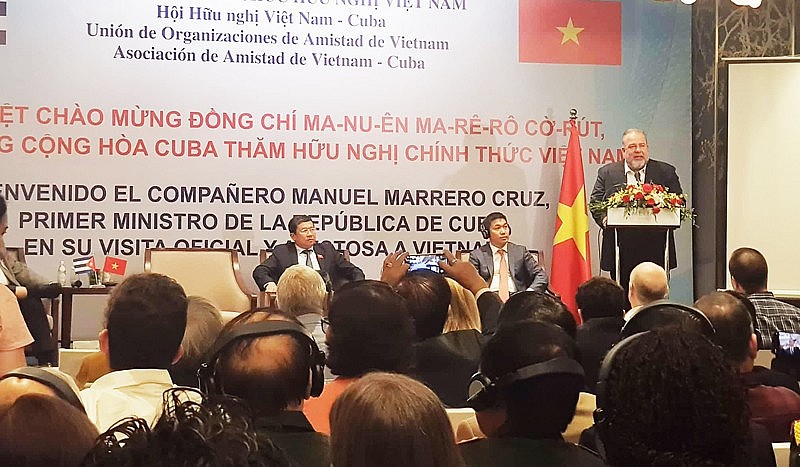 Cuban Prime Minister Manuel Marrero Cruz speaks at the meeting. Photo: Ha Noi Moi
According to the PM, at the high-level meetings and exchanges he attended in Vietnam, Cuban and Vietnamese leaders demonstrated their mutual trust, responsibility to the nations' solidarity, and commitment to fostering bilateral cooperation, VietnamPlus reported.
Chairman of the National Assembly's Committee for Foreign Affairs Vu Hai Ha, who is also President of the Vietnam-Cuba Friendship Association and Chairman of the Vietnam-Cuba Friendship Parliamentarians Group, expressed his delight at the growing special traditional friendship, comprehensive cooperation, and mutual trust between Vietnam and Cuba.
The relationship was established by their revolutionary leaders Jose Marti, Ho Chi Minh and Fidel Castro, and cultivated by generations of their leaders to be consolidated, developed and deepened in all fields for the benefit of the two parties and nations.
Vietnam always respects and never forgets Cuba's solidarity and sincere support, both spiritually and materially, for its struggle for national liberation, construction, protection, and development over six decades, he affirmed.
Ha said he believed that generations of Vietnamese and Cuban people will continue to preserve and write new pages of a deepening relationship of solidarity, friendship and fraternal cooperation between their countries in contribution to the cause of national construction and defense to ensure peace, stability and development regionally and globally.
Earlier the same day, the Cuban PM attended the Vietnam-Cuba business promotion forum in Hanoi, Nhan dan (People) newspaper said.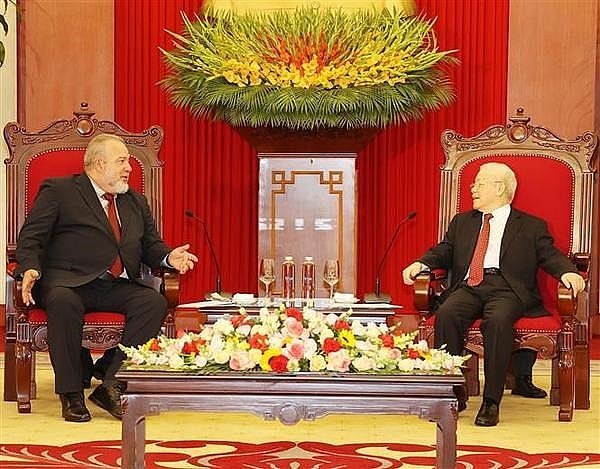 General Secretary of the Communist Party of Vietnam Nguyen Phu Trong (right) and Cuban Prime Minister Manuel Marrero Cruz. Photo: VNA
On September 29, he met with Party General Secretary Nguyen Phu Trong, President Nguyen Xuan Phuc and National Assembly Chairman Vuong Dinh Hue, and held talks with PM Pham Minh Chinh.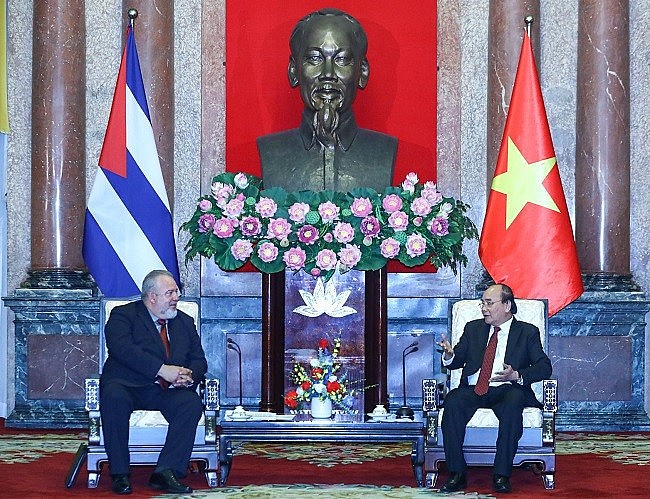 Cuban Prime Minister Manuel Marrero Cruz and President Nguyen Xuan Phuc. Photo: Vietnam's Presidential Office
This is PM Cruz's first visit to a country outside Latin America since he took office in December 2019, and also the first to Vietnam by a high-ranking leader of Cuba since 2018.
The visit aims to promote the implementation of agreements reached by the two countries' leaders and develop Vietnam-Cuba special ties, manifesting both countries' determination to further tighten the loyal friendship and solidarity, mutual trust and comprehensive cooperation between the two Parties, States, Governments and peoples./.
Over the past nearly 62 years since the establishment of bilateral diplomatic ties in 1960, the two countries have seen their ties growing in all areas, from politics, economy-trade, national defence-security, agriculture, construction, education, health care, biotechnology, transportation to sports.
On April 1, 2020, the Vietnam-Cuba trade agreement signed on November 9, 2018 officially took effect, facilitating bilateral trade. Two-way trade hit $261.7 million in 2021, up 46.6% annually. The figure reached $106 million in the first eight months of this year, down 20% year-on-year.
A number of Vietnamese firms are embarking on projects relating to construction of infrastructure at industrial zones and the production of construction materials, washing powder and diapers at Mariel Special Development Zone in San Miguel, Santa Cruz.
Vietnamese businesses are increasingly interested in expanding operations in the Caribbean nation.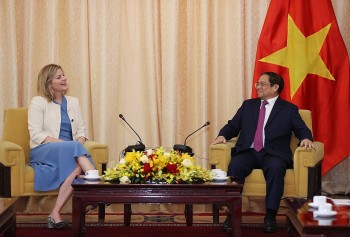 National
The Netherlands committed to cooperate with Vietnam, and together find innovative and sustainable solutions to accelerate green economy transformation.