Da Nang asks for stopping receiving repatriation flights
Da Nang on Monday has requested the Prime Minister to stop receiving repatriation flights that bring Vietnamese citizens home following a suspected coronavirus case in the city.
Le Trung Chinh, chairman of the central city's People's Committee, said the city has received around 11,800 entrants since the beginning of this year. In April alone, it has received over 8,000 people, he added.
As it continued to receive repatriated Vietnamese, Da Nang has repeatedly recorded new coronavirus cases. The city has recorded 61 cases already since March 30, Vnexpress reported.
The Da Nang Lung Hospital, being the receiver of all those Covid-19 cases, has experienced immense and long-lasting pressure, especially as Da Nang has recorded a coronavirus-positive case on Monday amid a recent Covid-19 outbreak since last Thursday, he said.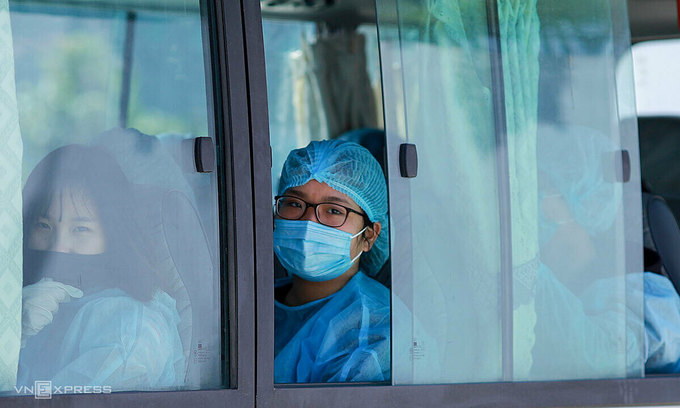 Repatriated Vietnamese wear protective suits in Da Nang City in February 2020. Photo by VnExpress/Nguyen Dong
Besides medical workers, Da Nang's other forces in the coronavirus fight, including those in monitoring roles and those responsible for quarantining, are being overloaded as well. Therefore, the city has requested not to receive any more repatriation flights to make its Covid-19 fight more effective, he added.
On Monday, a 28-year-old male hotel employee in Hai Chau District has tested positive for the coronavirus, forcing a local hospital where the man was admitted to be locked down starting Monday afternoon, and the hotel where the man worked was locked down as well along with 11 hotel employees.
The city would suspend non-essential businesses and services such as gyms, festivals, and sporting events starting Tuesday amid rising coronavirus concerns, the municipal People's Committee announced.
Da Nang's chairman has requested non-essential events to be suspended to prevent Covid-19, including festivals, cultural, religious, and artistic events; gyms, and sporting events, beach bathing, and kindergartens.
Businesses that provide non-essential services like beauty parlors, bars, and pubs, dance clubs, karaoke and massage parlors, gaming cafes, pedestrian streets, and night markets would be shut down as well, he added.
People play at a beach in Da Nang City. Photo by VnExpress/Nguyen Dong.
Feasts with large gatherings, including weddings and funerals, are allowed but limited to 30 participants maximum. Large gatherings are discouraged, he said.
Restaurants, cafes, and other food and beverage businesses need to adhere to coronavirus prevention measures while encouraging takeaways, he added.
Public transport services, including ride-hailing services like GrabCar, are allowed but cannot carry more than half the number of people they're allowed to carry.
Businesses and services which do not adhere to Covid-19 prevention measures would be forced to be suspended, said Chinh.
Events with political, economic, or social purposes that are deemed truly necessary must be approved by authorities to be carried out.
The Ministry of Health confirmed four more COVID-19 cases, including two local infections, in the past 12 hours to 6:00 on May 4.
One of the two local cases resides in Hoi An ancient city, the central province of Quang Nam and works in neighboring Da Nang city from April 29. He was tested positive with the novel coronavirus SARS-CoV-2 on May 3 and has received treatment at Da Nang Lung Hospital.
The other resides in Bac Tu Liem district, Hanoi. He was on the same flight from Da Nang to Hanoi on April 29 with two Chinese experts, who had later been confirmed to have COVID-19. He was tested positive on May 3 and has been under treatment at National Hospital for Tropical Diseases in Hanoi's Dong Anh district.
Meanwhile, the remaining two cases are natives in An Phu district, An Giang district. They entered Vietnam via the Long Binh border gate.
Vietnam has logged 2,985 COVID-19 infections so far, including 1,607 domestically – transmitted cases. Thirty seven has been recorded since April 27.
As many as 40,505 people who came in close contact with COVID-19 patients or arrived from pandemic-hit areas are under quarantine nationwide, including 561 at hospitals, 22,522 at other quarantine sites, and 17,422 at home or accommodations.
The ministry's Department of Medical Examination and Treatment Department said that 2,560 patients have been declared clear of the virus so far.
Among the patients under treatment, 24 have tested negative for the virus once, 12 twice, and 38 thrice.
According to the National Expanded Immunisation Programme, a total of 539,062 frontline medical workers and members of community-based anti-COVID-19 groups in Vietnam had been injected with the COVID-19 vaccine as of 16:00 on May 3. The country began its COVID-19 inoculation campaign on March 8.