Daily Horoscope for December 21: Astrological Prediction for Zodiac Signs
Daily Horoscope for December 21: There are no restrictions to spend money or make important decisions. The moon is moving from Pisces to Capricorn. To resolve issues as they emerge (if they do) and keep discussions to only the present issue.
Daily Planetary Overview
The sun moves into Capricorn this morning, marking the solstice and the beginning of winter. This ambitious sign gives us plenty of resilience as we navigate the holiday season.
A conjunction between the sun and Mercury gives us the opportunity to communicate bluntly, but try to avoid being too matter-of-fact with people who are especially sensitive. The energy here can also cause our focus to shift toward the things we want to accomplish before the year ends while considering goals and resolutions as we inch toward 2021.
A supportive connection between the Pisces moon and Pluto can put us in touch with our personal power without sacrificing sympathy for others. Remember that helping others when you can will score you karma points while providing an excellent outlet for this aspect.
Later in the afternoon, the moon changes signs into fiery Aries while forming unpleasant aspects to the sun and Mercury. The energy here could make people a bit insensitive and more focused on themselves, so try not to lose touch with your empathy, and avoid triggering discussions that could lead to arguments. Energy levels could take a bit of a hit as well, so try to pace yourself if you begin to feel sluggish, and go to bed a bit earlier tonight if you can.
Aries
The first sign of the Zodiac, Aries are the trailblazers. Passionate and independent, Aries will never do something just because everyone else is doing it—a Ram needs to be 100 percent committed to the task at hand.
Dec 21, 2020 - Today could be the day you've been waiting for, Aries. Realize that you have the gentle, sincere nature necessary to sweet-talk your way through any situation. Indeed, if there is something that needs resolution, now would be a good time to smooth things over. People will be more receptive to your good nature and nurturing qualities.
Taurus
Smart, ambitious, and trustworthy, Taurus is the anchor of the Zodiac. Amazing friends, colleagues, and partners, Taureans value honesty above all else and are proud that their personal relationships tend to be drama free.
Dec 21, 2020 - Something is urging you to act, Taurus. You may feel a restlessness in the air that makes you want to get up and go. The problem is the place you need to go may not be obvious at first. Tender emotions may get in the way of decisive action. Realize that your destination is inside your heart. We all go through moody periods. This could be one for you.
Gemini
Smart, passionate, and dynamic, Gemini is characterized by the Twins, Castor and Pollux, and is known for having two different sides they can display to the world. Expert communicators, Gemini is the chameleon of the Zodiac, adept at blending into different groups based on the vibe and energy they perceive.
Dec 21, 2020 - You will find that your emotions are much more under control today, Gemini. You're able to strike a happy balance and avoid extraordinary extremes that scare others away. In fact, quite the opposite is true. People will be attracted to you as you provide a life raft on turbulent waters. Your sensitivity is strong and you're able to immediately fix on the status of any situation.
Cancer
Emotional, intuitive, and practically psychic; ruled by the moon and characterized by the crab, Cancer has so much going on in its watery depths. Cancers may seem prickly and standoffish at the first meeting, once they make the decision to become friends with someone, that person has a friend for life.
Dec 21, 2020 - Things may seem a little cloudy today, Cancer, but this is no reason to be blue. It could be that you need to adjust before you can smoothly relate to others. Take this opportunity to attend to things that you normally wouldn't think of. See things from the perspective of someone in another walk of life. Realize the fun of just staying home and falling asleep on the couch.
Leo
Bold, intelligent, warm, and courageous, fire sign Leo is a natural leader of the Zodiac, ready to blaze a trail, vanquish injustice, and make a name for themselves along the way. Blessed with high self-esteem, Lions know that they possess enviable traits—and they're proud of them.
Dec 21, 2020 - Try not to see the negative in everything today, Leo. Concentrate on the positive. You will pick up subtle signals from others that can be very helpful as you gather data throughout the day. As you proceed through it, keep in mind that everything need not be a race to the finish line. Enjoy where you are now. There's no reason to rush to the next activity if you're having fun.
Virgo
Smart, sophisticated, and kind, Virgo gets the job done without complaining. Virgos are amazing friends, always there to lend a hand and also lend advice. Practical Virgos are incredibly adept at big picture thinking, and planning out their life, their vacations, and what they're going to do today isn't a drag it makes them feel in control and secure.
Dec 21, 2020 - Try to curb your tongue today, Virgo. There's no reason to lash out. You will find that the more sensitive your approach, the farther you will get in your pursuit of your goals. Today might find you feeling moody, and your emotions could be running away with you. Get in touch with your feelings rather than push them away. They're probably trying to tell you something important.
Libra
Intelligent, kind, and always willing to put others before themselves, Libras value harmony in all forms. Ruled by Venus, the planet of beauty, Libra adores a life that looks good. As the master of compromise and diplomacy, Libra is adept at seeing all points of view and excels at crafting compromises and effecting mediation between others.
Dec 21, 2020 - Your thinking is clear today, Libra, and you will find that generally things are running smoothly. Your perspective on everything is very much in line with where you need to be at this time. In other words, you're doing everything exactly right. Be yourself and let other people adapt to your way of thinking. There's no need to keep hiding the truth of who you really are.
Scorpio
Passionate, independent, and unafraid to blaze their own trail no matter what others think, Scorpios make a statement wherever they go. They love debates, aren't afraid of controversy, and won't back down from a debate.
Dec 21, 2020 - Listen to what other people say to you today, Scorpio. There are valuable experiences waiting around the corner. The important thing to do now is to recognize opportunities when they arise. The road to success isn't always well marked. Take a chance on the road with no signs at all. You have the courage and pioneering spirit to pursue the adventurous route, so go for it.
Sagittarius
Independent and strong-willed, Sagittarius personalities are all about going off the beaten path. Sagittarius isn't afraid to step away from the pack and is a natural-born leader who goes after what he or she wants, regardless of what other people think.
Dec 21, 2020 - Your emotions may be more in tune with the world around you today, Sagittarius. You could even feel a bit psychic. Go with your hunches. You will find that rational thinking may not be the best way to handle situations right now. Be the sensitive one who feels things before acting. Discuss the issues with others and combine your resources for a more powerful alliance.
Capricorn
Smart, hardworking, and fully in control of their destiny, a Capricorn will always get what they set their mind to, in both personal and professional life—no excuses. Capricorns may get a reputation as stubborn, but they simply know what they want, and also know how they wish other people would behave.
Dec 21, 2020 - You might second-guess yourself today, Capricorn. Voices in your head are louder than usual, and you could be the one putting the brakes on your own train. Your intuition is trying to break through. See what you can do to slow down the chatter that continues to dictate the narrative throughout the day. Do more feeling instead of thinking. Give your mind a rest.
Aquarius
Independent and enigmatical, Aquarians are unique. There is no one quite like an Aquarius, and because each is so incredibly individual, it can be tough to describe them as a group. Aquarians don't like labels, and may shy away from any adjective—even the good ones you might bestow upon them.
Dec 21, 2020 - Today is excellent for you, Aquarius. You will find that things flow naturally in the very way you've visualized. You might even find that things actually go much better than you had envisioned! Go about your endeavors confidently. The whole world isn't out to get you. In fact, people are probably too concerned with themselves to even bother with what you're doing.
Pisces
Smart, creative, and deeply intuitive, Pisces can be close to psychic. Pisces feel things deeply and have incredibly strong gut reactions. A Pisces "knows" things from deep within, and can often judge whether a person or situation is good or bad.
Dec 21, 2020 - Be careful about the way your words come across to others, Pisces. You might not realize how much other people's feelings are affected until it's too late. Consider backing off for a while and taking a break from your normal performance. Practice your lines at home. You may be in a bit of a funk, but the good news is that you will snap out of it very soon.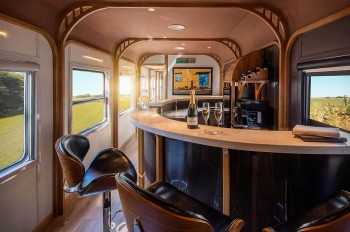 Travel
"The scenic train routes showcase some of Asia's most beautiful landscapes and provide a much-needed opportunity to rest and reconnect with loved ones," said CNN.