Daily Horoscope for December 24: Astrological Prediction for 12 Zodiac Signs
Daily Horoscope for December 24: You will feel more grounded and in touch with the sensual world today as the moon changes signs into earthy Taurus. This sign loves to indulge in the finer things, but be careful of your budget if you find yourself in the mood to shop for yourself or others.
Daily Planetary Overview
A square between the moon and Saturn could spell trouble for anyone who doesn't know their limits right now, so be mindful of this aspect during the first part of the day, and respect the emotional boundaries of others. Go easy on yourself if you're scrambling to complete tasks right now, especially if they're of the holiday variety.
As the moon continues its journey through the sky, it forms helpful aspects to Uranus, the sun, and Mercury, giving us a chance to lighten up and find joy through communication. For those of you getting ready to celebrate Christmas Eve, it's a great time to indulge in your favorite holiday traditions.
As evening arrives, the cosmic climate creates a baseline for connecting with gratitude. Take a moment to see the abundance around you, and thank the universe for any gifts it has bestowed upon you, either metaphorically or literally. This is also a great time to enjoy tasty food, so give yourself permission to indulge in all of your favorite holiday treats!
Aries
The first sign of the Zodiac, Aries are the trailblazers. Passionate and independent, Aries will never do something just because everyone else is doing it—a Ram needs to be 100 percent committed to the task at hand.
Dec 24, 2020 - You have strong humanitarian instincts, Aries. You think of your fellow humans more than most. This, combined with your intuition and empathy, makes you well suited for the healing professions. If you've felt a bit disgruntled at work lately, it may be that you're in the wrong career. Consider training as a counselor or therapist. You would be good at it and help a lot of people.
Taurus
Smart, ambitious, and trustworthy, Taurus is the anchor of the Zodiac. Amazing friends, colleagues, and partners, Taureans value honesty above all else and are proud that their personal relationships tend to be drama free.
Dec 24, 2020 - You've been more thoughtful lately and truer to yourself. This is due to your recent introspection. You really can change your life. All it takes is time and commitment. You've made great progress in your development. Continue on this path and you will wind up in a much better place. Keep your eye on the goal, but don't be so focused that you forget to enjoy the journey.
Gemini
Smart, passionate, and dynamic, Gemini is characterized by the Twins, Castor and Pollux, and is known for having two different sides they can display to the world. Expert communicators, Gemini is the chameleon of the Zodiac, adept at blending into different groups based on the vibe and energy they perceive.
Dec 24, 2020 - You're feeling confident and more comfortable in your own skin than you have in a long time, Gemini. You're so accomplished, why are you the last one to acknowledge it? Try to look up from your desk long enough to socialize with friends and loved ones. You've been so focused on work that your relationships may have suffered a bit. Spend some quality time with those you care about, if possible.
Cancer
Emotional, intuitive, and practically psychic; ruled by the moon and characterized by the crab, Cancer has so much going on in its watery depths. Cancers may seem prickly and standoffish at the first meeting, once they make the decision to become friends with someone, that person has a friend for life.
Dec 24, 2020 - It's time to loosen up, Cancer. The planetary aspects bring a new cycle of tolerance and understanding your way. You could use a bit of both. Take baby steps as you introduce the kinder, gentler you to your friends and co-workers. They won't accept a rapid transformation, but they won't mind gradual changes. Listen more and speak less. This can make a big difference in a relationship.
Leo
Bold, intelligent, warm, and courageous, fire sign Leo is a natural leader of the Zodiac, ready to blaze a trail, vanquish injustice, and make a name for themselves along the way. Blessed with high self-esteem, Lions know that they possess enviable traits—and they're proud of them.
Dec 24, 2020 - Remember all those resolutions you made in the past? It's time to recommit to them. All signs indicate that you need to take better care of yourself. You've been so busy working that exercising has begun to feel like a luxury you can't afford. Actually, exercise and proper nutrition are luxuries you can't afford to ignore. You're burning the candle at both ends. Stop before you burn out completely!
Virgo
Smart, sophisticated, and kind, Virgo gets the job done without complaining. Virgos are amazing friends, always there to lend a hand and also lend advice. Practical Virgos are incredibly adept at big picture thinking, and planning out their life, their vacations, and what they're going to do today isn't a drag it makes them feel in control and secure.
Dec 24, 2020 - This is an auspicious time for you, Virgo. It gives you the energy and enthusiasm to make the necessary changes in your life. There is a lot of work to do, but you're up to it! First focus on your relationships. Your loved ones don't care about your professional successes. They want (and perhaps need) to spend more time with you. Do what you can to bring your life more into balance.
Libra
Intelligent, kind, and always willing to put others before themselves, Libras value harmony in all forms. Ruled by Venus, the planet of beauty, Libra adores a life that looks good. As the master of compromise and diplomacy, Libra is adept at seeing all points of view and excels at crafting compromises and effecting mediation between others.
Dec 24, 2020 - You have tremendous creativity inside you, Libra. Have you begun to use some of it? This creative cycle will last for the next month or so. Don't let it pass without taking advantage of it. Use the other side of your brain for a change. Take up sketching, painting, or fiction writing. What you do is less important than doing something. The simple act of creation unlocks the brain.
Scorpio
Passionate, independent, and unafraid to blaze their own trail no matter what others think, Scorpios make a statement wherever they go. They love debates, aren't afraid of controversy, and won't back down from a debate.
Dec 24, 2020 - Get excited because this is going to be one great day! Everything will go your way. It will seem as if you simply can't lose. At work, team members look to you as the leader. At home, family members express gratitude and affection. You may be tempted to try this luck at the casino, but don't be impulsive. You're already a winner. You've earned this shining moment.
Sagittarius
Independent and strong-willed, Sagittarius personalities are all about going off the beaten path. Sagittarius isn't afraid to step away from the pack and is a natural-born leader who goes after what he or she wants, regardless of what other people think.
Dec 24, 2020 - This is a good day for quiet contemplation, Sagittarius. You may have worried about finances lately, but there's no longer any need to concern yourself. All signs indicate that your financial fortunes are about to change. You've been working hard and should reap some rewards. Today's aspects suggest that you will. Enjoy your newfound peace of mind, but don't go out and use the credit cards in celebration!
Capricorn
Smart, hardworking, and fully in control of their destiny, a Capricorn will always get what they set their mind to, in both personal and professional life—no excuses. Capricorns may get a reputation as stubborn, but they simply know what they want, and also know how they wish other people would behave.
Dec 24, 2020 - Capricorn, you're bound to enjoy this day! It's full of possibilities and opportunities. It may begin routinely, but keep your eyes and ears open for hints of change. Your new adventure may come about in a mundane way. You might meet someone in line at the store who becomes a business partner. Or maybe you will meet a romantic interest at the ATM. Adventure is all around. Trust that you will find it!
Aquarius
Independent and enigmatical, Aquarians are unique. There is no one quite like an Aquarius, and because each is so incredibly individual, it can be tough to describe them as a group. Aquarians don't like labels, and may shy away from any adjective—even the good ones you might bestow upon them.
Dec 24, 2020 - Forget about work for a change and focus instead on your love life! This is one area that can really use some attention. There's no sense waiting for your partner to do it. It's up to you. Why not book a romantic weekend? It will do wonders for your relationship and add spark just by anticipating the fun you will have. Your commitment should mean more than your independence.
Pisces
Smart, creative, and deeply intuitive, Pisces can be close to psychic. Pisces feel things deeply and have incredibly strong gut reactions. A Pisces "knows" things from deep within, and can often judge whether a person or situation is good or bad.
Dec 24, 2020 - You greet the day energized! Your confidence is at an all-time high because of recent events. You have every reason to be proud of what you've accomplished, especially at work. But your love life could benefit from the same level of commitment. Why not be proactive? Arrange a romantic evening for you and your partner. What a difference a few hours can make in your relationship!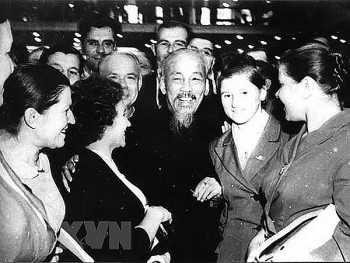 National
Throughout its history Vietnam has come into contact and exchanged with many cultures and civilizations.