Daily Horoscope for February 28: Astrological Prediction for Zodiac Signs
Daily Horoscope for February 28: This is a great day to manifest something if you can control your emotions. Although sensitivity is high, so also are psychic abilities.
Daily Planetary Overview
If you've been trying to bring something to fruition, you might be able to draw it to you with the right intention and mood while the moon trines Pluto this morning. You also have a very good chance of meeting an influential person or getting closer to someone who could have a large impact on your future. Dive deep into the dark side of your soul today and ask any difficult questions you've been avoiding.
Later in the morning, you could find your leadership skills in peak form as the moon trines Mars. The desire to take charge doesn't usually come across as hubris during this transit, so lead away. Somebody has to do it if the job is to be completed.
Any issues you've had with a friend or family member can be easily remedied once the moon moves into the balanced sign of Libra around midday. Emotions seem to fall away to make room for pure diplomacy here, and you're able to discuss the issue impartially. This is also wonderful energy for a group project, but if you're alone, other good ways to spend your time are reflection and beauty regimens.
Daily Zodiac Horoscope for February 28
Aries
The first sign of the Zodiac, Aries are the trailblazers. Passionate and independent, Aries will never do something just because everyone else is doing it—a Ram needs to be 100 percent committed to the task at hand.
Feb 28, 2021 - You might feel more energetic than you have in a long time, Aries. The day's planetary aspects offer a powerful energy that will increase your mental acuity and physical strength, and this can really help you tackle and finish any tasks that have been piling up. If you manage to accomplish so much that you have time to spare, help others lighten their load. Tend to your own first, however.
Taurus
Smart, ambitious, and trustworthy, Taurus is the anchor of the Zodiac. Amazing friends, colleagues, and partners, Taureans value honesty above all else and are proud that their personal relationships tend to be drama free.
Feb 28, 2021 - If there's something you want to take on, Taurus, today's the day. The celestial aspects will see an increase in physical and mental strength that can work wonders for you. Put any insecurity or lack of confidence in the trash, and take the steps you need to tackle your project or goal. You have the ability to make sound judgments, so put your trust in this talent. Take steps to get what you want.
Gemini
Smart, passionate, and dynamic, Gemini is characterized by the Twins, Castor and Pollux, and is known for having two different sides they can display to the world. Expert communicators, Gemini is the chameleon of the Zodiac, adept at blending into different groups based on the vibe and energy they perceive.
Feb 28, 2021 - If you've been feeling sluggish lately, Gemini, today will see a surge in energy that will greatly increase your creativity and physical strength. Seize the opportunity to get into the fresh air for a sports activity or long walk. Exercise can direct your physical energy and give your mind a chance to clear. Don't be surprised if you discover more clarity and focus afterward. Make the most of it.
Cancer
Emotional, intuitive, and practically psychic; ruled by the moon and characterized by the crab, Cancer has so much going on in its watery depths. Cancers may seem prickly and standoffish at the first meeting, once they make the decision to become friends with someone, that person has a friend for life.
Feb 28, 2021 - Cancer, if there's something interesting that you want to try, go for it. Adventure brings excitement, creative flow, and energy, and these are essential to you. Yours is a highly artistic nature. Continual stimulation is required to keep your psyche healthy. Experience something new today. Even if it's just a walk to a place you've never been, it will give you the adrenaline you need.
Leo
Bold, intelligent, warm, and courageous, fire sign Leois a natural leader of the Zodiac, ready to blaze a trail, vanquish injustice, and make a name for themselves along the way. Blessed with high self-esteem, Lions know that they possess enviable traits—and they're proud of them.
Feb 28, 2021 - Today's energy will help you take steps toward getting things in order, Leo. Tackle the drawers, closets, storage rooms, and cabinets. Organization is a good activity for today. Creating order brings a sense of peace and personal control. Mental organization like goal setting, budgeting, or scheduling will add to this feeling. Sift through and clean out as many corners as you can.
Virgo
Smart, sophisticated, and kind, Virgo gets the job done without complaining. Virgos are amazing friends, always there to lend a hand and also lend advice. Practical Virgos are incredibly adept at big picture thinking, and planning out their life, their vacations, and what they're going to do today isn't a drag it makes them feel in control and secure.
Feb 28, 2021 - The energy of the day makes you ready for almost anything, Virgo. Given your sometimes radical approach to whatever you do, you may need to rein yourself in. You also have a humanitarian approach to life. If the pursuit of your wants hurts others, it could create serious internal conflict. With this high energy, think your plans through before taking action to remain true to your values.
Libra
Intelligent, kind, and always willing to put others before themselves, Libras value harmony in all forms. Ruled by Venus, the planet of beauty, Libra adores a life that looks good. As the master of compromise and diplomacy, Libra is adept at seeing all points of view and excels at crafting compromises and effecting mediation between others.
Feb 28, 2021 - Today may be an excellent time to take a second shot at something that didn't work out the first time, Libra. Falling flat on your face can damage your confidence and self-esteem. But failure and rejection are parts of life, and they really do add character. By going back into the ring, you ensure that the character you're adding to is courageous, and through perseverance, successful.
Scorpio
Passionate, independent, and unafraid to blaze their own trail no matter what others think, Scorpios make a statement wherever they go. They love debates, aren't afraid of controversy, and won't back down from a debate.
Feb 28, 2021 - Your ability to find innovative approaches to tasks may serve you well today, Scorpio. Today is full of added energy and mental acuity. You will find that most things come easily. With detail-oriented projects, take extra time to think of the possibilities. Try to see things from all angles. There may be far more choices than you thought. Make the most of this by jotting down your random ideas.
Sagittarius
Independent and strong-willed, Sagittarius personalities are all about going off the beaten path. Sagittarius isn't afraid to step away from the pack and is a natural-born leader who goes after what he or she wants, regardless of what other people think.
Feb 28, 2021 - If long-overdue work has piled up, Sagittarius, today is the day to dig in. Added strength and mental acuity are in the air, and the projects that you couldn't get to before will be readily accomplished. Make the most of the energy provided by the planetary aspects. Don't put anything off. If you procrastinate, the pile will just get bigger. Do what needs to be done and you will feel great afterward.
Capricorn
Smart, hardworking, and fully in control of their destiny, a Capricorn will always get what they set their mind to, in both personal and professional life—no excuses. Capricorns may get a reputation as stubborn, but they simply know what they want, and also know how they wish other people would behave.
Feb 28, 2021 - Don't worry about being productive today, Capricorn. Thanks to the high energy provided by the planetary aspects, it might be one of the most efficient days you've had for a long time. Dig in your heels and go, go, go. Things will be accomplished in no time flat, with some to spare at that. If you have a creative hobby, enjoy working on it. You will find it rewarding.
Aquarius
Independent and enigmatical, Aquarians are unique. There is no one quite like an Aquarius, and because each is so incredibly individual, it can be tough to describe them as a group. Aquarians don't like labels, and may shy away from any adjective—even the good ones you might bestow upon them.
Feb 28, 2021 - Expect an added boost to your physical energy today, Aquarius. It's an excellent day to clean out closets and storage rooms. Some exercise like biking or walking will be most enjoyable. It may also prove to be well worth your while to sit down and look at your goals. Are you where you wanted to be at this stage of your life? Are there changes that need to be made? Exercise both your brain and body.
Pisces
Smart, creative, and deeply intuitive, Pisces can be close to psychic. Pisces feel things deeply and have incredibly strong gut reactions. A Pisces "knows" things from deep within, and can often judge whether a person or situation is good or bad.
Feb 28, 2021 - If certain projects or tasks have seemed difficult to finish, take advantage of the energy provided by today's planetary aspects. This energy will give you all the zip you need, Pisces. It's a good time to meet with others to discuss important matters. Your communication and cooperation skills will be increased. You can make decisions much more quickly than usual. Have a productive day!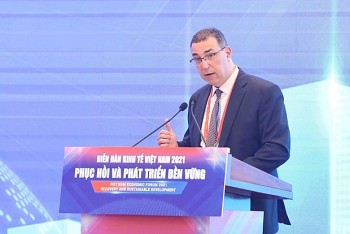 National
Vietnam News Today (December 6): Vietnam records 14,312 new Covid cases; Vietnam-Lao special relations continue to be nurtured; Vietnam's economy showing signs of recovery; Hanoi changes face-to-face learning plan at last minute.