Daily Horoscope for June 3: Astrological Prediction for Zodiac Signs with Love, Money, Career and Health
Daily Horoscope for June 3: Today's Gemini sun aspects Saturn in Aquarius. The sun represents our vitality in life and our soul's purpose. Saturn shows us the structure and limits that we have to impose in our lives. When these two planets meet in the sky, it can feel like a wet blanket on the ego.
Daily Planetary Overview
No one likes being told what to do, and we don't always like having to impose rules on other people. However, you'll have to tell others, including yourself, what the rules and societal norms are that you have to live by.
Later, Venus in Cancer connects with Jupiter retrograde in Pisces to switch up the overall energy of the day. The heart expands to make us feel warm and fuzzy, a sentiment that contrasts with the celestial sentiments that occurred four hours earlier. We want to connect and share our innermost dreams with others and won't want to hold back, the opposite of the vibe felt from the earlier connection of Saturn and the sun. Emotions are heightened when Venus and Jupiter are both in water signs, so you might feel like you're deep in the sentimental soup. But intuition and luck are strong, as is an eagerness to extend yourself to others.
Daily Zodiac Horoscope for June 3
Aries
The first sign of the Zodiac, Aries are the trailblazers. Passionate and independent, Aries will never do something just because everyone else is doing it—a Ram needs to be 100 percent committed to the task at hand.
Jun. 3, 2021 - Aries, you can expect the day to be a bit bumpy. If you were an Olympic athlete, today you'd be standing at the starting line, wondering if you had trained enough for a topnotch performance. Have you had enough practice? Will you make the grade? Issues related to your material resources will certainly be on the agenda.
Taurus
Smart, ambitious, and trustworthy, Taurus is the anchor of the Zodiac. Amazing friends, colleagues, and partners, Taureans value honesty above all else and are proud that their personal relationships tend to be drama free.
Jun. 3, 2021 - A planetary configuration like today's often makes people afraid to start anything that challenges the status quo. This is true for you in your professional life. You should dare to take on more responsibility. The aspects speak of fear only, not of being incapable of succeeding. The saying about fear being the only thing to fear is something you should take to heart right now, Taurus.
Gemini
Smart, passionate, and dynamic, Gemini is characterized by the Twins, Castor and Pollux, and is known for having two different sides they can display to the world. Expert communicators, Gemini is the chameleon of the Zodiac, adept at blending into different groups based on the vibe and energy they perceive.
Jun. 3, 2021 - Gemini, today's your chance to stand up to family members who want to exert too much control over your love life. It's time to bang your fist on the table and say, "Enough's enough, I'll love who I want to." When you insist that well-meaning relatives respect your choices, you'll tap into a new well of self-respect.
Cancer
Emotional, intuitive, and practically psychic; ruled by the moon and characterized by the crab, Cancer has so much going on in its watery depths. Cancers may seem prickly and standoffish at the first meeting, once they make the decision to become friends with someone, that person has a friend for life.
Jun. 3, 2021 - It's up to you to strut your stuff, Cancer. As long as you're bashful about showcasing your innate gifts, it will be difficult to find meaning in your life. Today's planetary alignment gives you the challenge to take your talents more seriously. You could easily profit from them, provided you look deep inside to discover how.
Leo
Bold, intelligent, warm, and courageous, fire sign Leois a natural leader of the Zodiac, ready to blaze a trail, vanquish injustice, and make a name for themselves along the way. Blessed with high self-esteem, Lions know that they possess enviable traits—and they're proud of them.
Jun. 3, 2021 - You don't have to answer to society's cultural values, Leo. If most of your work is organized around an activity that's considered fashionable, you will never succeed in feeling good about yourself or your creations. You're too motivated by meaningful activities to spend your time with frivolous ones. Today's aspects will push you to cut yourself off from all that doesn't resonate deeply.
Virgo
Smart, sophisticated, and kind, Virgo gets the job done without complaining. Virgos are amazing friends, always there to lend a hand and also lend advice. Practical Virgos are incredibly adept at big picture thinking, and planning out their life, their vacations, and what they're going to do today isn't a drag it makes them feel in control and secure.
Jun. 3, 2021 - You may have noticed for some time now to what an extent your ambitions wear you out and to what point they have become outdated. If you aspire to live an ambitious life, but also one that is calmer and more balanced, the celestial energy is indicating the moment has come to make some important decisions, Virgo.
Libra
Intelligent, kind, and always willing to put others before themselves, Libras value harmony in all forms. Ruled by Venus, the planet of beauty, Libra adores a life that looks good. As the master of compromise and diplomacy, Libra is adept at seeing all points of view and excels at crafting compromises and effecting mediation between others.
Jun. 3, 2021 - Are you hesitating, Libra? Do you feel caught between the desire to participate fully in the world and the equally strong desire to remain in your dream world, even at the risk of feeling a little out of it? Who says that these two worlds are incompatible? If you look closely, you will see that you don't need to choose one or the other.
Scorpio
Passionate, independent, and unafraid to blaze their own trail no matter what others think, Scorpios make a statement wherever they go. They love debates, aren't afraid of controversy, and won't back down from a debate.
Jun. 3, 2021 - You can expect to have to make a choice today related to your intimate relationships. You may have become aware that something is missing, either in your partner or yourself. Today you will act on that awareness, but it may not be easy. The root of the problem could be an issue of independence and self-sufficiency. Try to figure out the source of the problem before acting on it, Scorpio.
Sagittarius
Independent and strong-willed, Sagittarius personalities are all about going off the beaten path. Sagittarius isn't afraid to step away from the pack and is a natural-born leader who goes after what he or she wants, regardless of what other people think.
Jun. 3, 2021 - You're being called upon to make a commitment or promise, most likely relating to your love life. Will you take that decisive step? That's the question today. Over the next few days you will doubtless have to prove what you're made of. The challenge most likely emanates from your romantic relationships. There is no running away this time, Sagittarius. It's time to take a stand.
Capricorn
Smart, hardworking, and fully in control of their destiny, a Capricorn will always get what they set their mind to, in both personal and professional life—no excuses. Capricorns may get a reputation as stubborn, but they simply know what they want, and also know how they wish other people would behave.
Jun. 3, 2021 - There are times in your love life when you may feel somewhat inhibited, as though something is holding you back from total fulfillment. Perhaps the emotions overwhelm you or the idea of commitment frightens you. In any case, Capricorn, you're well aware that your reluctance to take the plunge is detrimental to your relationship. The day will call on you to take a few more risks.
Aquarius
Independent and enigmatical, Aquarians are unique. There is no one quite like an Aquarius, and because each is so incredibly individual, it can be tough to describe them as a group. Aquarians don't like labels, and may shy away from any adjective—even the good ones you might bestow upon them.
Jun. 3, 2021 - The forecast today is stormy. You may have sensed that there was some tension clouding the conversation at home. Resentments were left unsaid and subtle power games were played without resolution. Today, Aquarius, it all becomes too unbearable for you. Regardless of the risks involved, you will take measures to clear things up.
Pisces
Smart, creative, and deeply intuitive, Pisces can be close to psychic. Pisces feel things deeply and have incredibly strong gut reactions. A Pisces "knows" things from deep within, and can often judge whether a person or situation is good or bad.
Jun. 3, 2021 - The day is likely to be somewhat challenging, and it contains some disappointments. You're liable to feel dejected if you receive a lackluster response from the world. Apparently, Pisces, your performance has lost some of its ability to captivate an audience. Whether you accept this or try to shine up your act is the question of the day!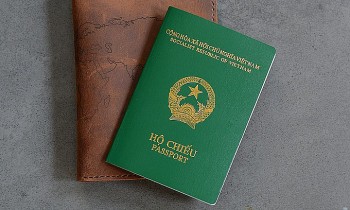 National
Vietnam News Today (Jul. 6): Covid-19: national caseload rises to 10,750,313 on July 5; Vietnamese passport leaps four places in Henley Passport Index; Vietnam, Japan review joint initiative; Health officials call on people to get Covid-19 booster doses.