Daily Horoscope for March 13: Astrological Prediction for Zodiac Signs
Daily Horoscope for March 13: With the moon-Neptune conjunction first thing this morning, you could wake up with some misunderstandings. Try not to be too quick to judge, because you could possibly be picking up the wrong vibes.
Daily Planetary Overview
Even dreams and their messages could be very misleading at this time, and you could be prone to overthinking them during an astrological event like this. If you're receiving negative information, try not to put too much energy into it.
However, there is a very real and prominent ending taking place this morning because the new moon in Pisces demands completion now. This ending isn't likely to be related to the negative feelings, however, because this is an ending you understand in its entirety. It might not necessarily be the ending you want, but you accept that it needs to happen.
This is amplified by the element of rebirth brought by the Moon-Pluto sextile later in the morning. Your emotions are strong and understood inside and out. Bad habits could simply melt away at this time.
This lasts most of the day until the moon moves into the ambitious sign of Aries in the early evening. This aspect brings tenacity regarding work, the endurance to stick to a plan, and the courage to get the ball rolling. You'll be sure of what direction to go—you just need to trust yourself.
The final hours of the day deal with a Venus-Neptune conjunction and opening to deeper connections with those we love.
Daily Zodiac Horoscope for March 13
Aries
The first sign of the Zodiac, Aries are the trailblazers. Passionate and independent, Aries will never do something just because everyone else is doing it—a Ram needs to be 100 percent committed to the task at hand.
Mar 13, 2021 - A fabulous career break could come your way today, Aries. It could be a raise, promotion, or even a new job in a new field. It could also involve a completely different location. The work you will be doing may be unlike anything you've ever done before, and that's a challenge. Don't worry! Change is necessary if you're to reach your maximum potential. Go with the flow.
Taurus
Smart, ambitious, and trustworthy, Taurus is the anchor of the Zodiac. Amazing friends, colleagues, and partners, Taureans value honesty above all else and are proud that their personal relationships tend to be drama free.
Mar 13, 2021 - An unexpected release of tension could come today, Taurus. Something that has been restricting you and limiting your growth is going to disappear, and you will want to run through the streets shouting. From here on out, certain desires that have eluded you could start to manifest in your life. One of them could be a new romance. What else needs to be said?
Gemini
Smart, passionate, and dynamic, Gemini is characterized by the Twins, Castor and Pollux, and is known for having two different sides they can display to the world. Expert communicators, Gemini is the chameleon of the Zodiac, adept at blending into different groups based on the vibe and energy they perceive.
Mar 13, 2021 - Some strange but wonderful things could be happening to you now, Gemini. Sheer luck could well be in the picture. Have you wanted to move to a nicer place? If so, now you probably can. Have you been expecting a bonus or settlement? Today it could be yours! Even your dreams are apt to be vivid, powerful, and very beautiful. The only downside is if one of the events involves money, don't overspend!
Cancer
Emotional, intuitive, and practically psychic; ruled by the moon and characterized by the crab, Cancer has so much going on in its watery depths. Cancers may seem prickly and standoffish at the first meeting, once they make the decision to become friends with someone, that person has a friend for life.
Mar 13, 2021 - A rather black mood that's been plaguing you since early morning could suddenly disappear when a business or romantic partner brings wonderful news your way, Cancer. It could involve a goal that finally manifests that you may have given up long ago. If so, you could feel a little overwhelmed. Take some time to sit still and let it sink in before celebrating Congratulations!
Leo
Bold, intelligent, warm, and courageous, fire sign Leo is a natural leader of the Zodiac, ready to blaze a trail, vanquish injustice, and make a name for themselves along the way. Blessed with high self-esteem, Lions know that they possess enviable traits—and they're proud of them.
Mar 13, 2021 - If you've been concerned about your health for any reason, Leo, today your medical professional could give you a clean bill of health. You will believe it because you're likely to feel wonderful. Stress has vanished, at least for now, and your energy and enthusiasm are higher than they've been for a long time. Enjoy yourself. Go out with some friends. You've earned it!
Virgo
Smart, sophisticated, and kind, Virgo gets the job done without complaining. Virgos are amazing friends, always there to lend a hand and also lend advice. Practical Virgos are incredibly adept at big picture thinking, and planning out their life, their vacations, and what they're going to do today isn't a drag it makes them feel in control and secure.
Mar 13, 2021 - Creative energies are flowing like a river today, Virgo. Ideas for projects should come thick and fast. You can't wait to get started. You may even formulate plans to market them once they're done. Love and romance should also be going well for you, as intellectual discussions could bring you and a current or potential love partner closer. Have a wonderful day and make the most of it!
Libra
Intelligent, kind, and always willing to put others before themselves, Libras value harmony in all forms. Ruled by Venus, the planet of beauty, Libra adores a life that looks good. As the master of compromise and diplomacy, Libra is adept at seeing all points of view and excels at crafting compromises and effecting mediation between others.
Mar 13, 2021 - Dreams should shed light on some difficult issues you've been trying to resolve, Libra. You can finally make the problems disappear. This should be more than a relief to you - it's a blessing! Your friends might want to take you out to celebrate, but you will probably want to sit home and enjoy your newfound contentment. Pour some wine, put on some favorite music, and relax! You've earned it!
Scorpio
Passionate, independent, and unafraid to blaze their own trail no matter what others think, Scorpios make a statement wherever they go. They love debates, aren't afraid of controversy, and won't back down from a debate.
Mar 13, 2021 - More than one call could come today with absolutely wonderful news! Exciting and wonderful changes are in the wind, Scorpio, but you need to bear in mind that with the good news comes the unknown. Your life may be turned upside down. Consider if you really want to stay in the same rut for the rest of your life. Gird your loins and look forward to an adventure!
Sagittarius
Independent and strong-willed, Sagittarius personalities are all about going off the beaten path. Sagittarius isn't afraid to step away from the pack and is a natural-born leader who goes after what he or she wants, regardless of what other people think.
Mar 13, 2021 - A sizable sum of money could come your way today, Sagittarius, probably as a surprise. This is a significant day for you. The money will open up new doors, particularly where creativity is concerned, so the situation definitely calls for a celebration. Don't gamble or consider any kind frivolous of investment for at least two months. Treat yourself! You deserve it!
Capricorn
Smart, hardworking, and fully in control of their destiny, a Capricorn will always get what they set their mind to, in both personal and professional life—no excuses. Capricorns may get a reputation as stubborn, but they simply know what they want, and also know how they wish other people would behave.
Mar 13, 2021 - Today you may wake up feeling energetic, enthusiastic, optimistic, and very happy, Capricorn. You may not be able to trace this to anything logical, so don't even try. Make the most of what's happening and use that energy to create the life you want. You might feel like you can move mountains, but for now you'd better concentrate on molehills. Be conservative now and tackle the mountains later!
Aquarius
Independent and enigmatical, Aquarians are unique. There is no one quite like an Aquarius, and because each is so incredibly individual, it can be tough to describe them as a group. Aquarians don't like labels, and may shy away from any adjective—even the good ones you might bestow upon them.
Mar 13, 2021 - Have you been feeling psychic lately, Aquarius? Has a recent dream or premonition come true? Any insights that you receive today aren't likely to be clothed in complex symbolism - they should be easily understood. Write them down! You will want to check them later. Some of what you sense might be a little disturbing, perhaps involving a public figure you admire. Be prepared!
Pisces
Smart, creative, and deeply intuitive, Pisces can be close to psychic. Pisces feel things deeply and have incredibly strong gut reactions. A Pisces "knows" things from deep within, and can often judge whether a person or situation is good or bad.
Mar 13, 2021 - Today you might gather with some very smart friends at a coffee house for an intellectual conversation, Pisces. Some fascinating ideas and useful information could be exchanged. Much of what is said could inspire new creative projects. If it isn't too late, walk home and clear your head or sleep may be a bit elusive tonight!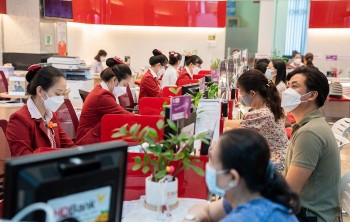 Economy
Vietnam Business & Weather Briefing (August 12): Air passengers reach a record number in July, seafood exports expected to reach 3 billion USD in Q3