Daily Horoscope for November 12: Astrological Prediction for Zodiac Signs
Daily Horoscope for November 12: Expansive Jupiter aspects intense Pluto this afternoon, the third and final time these planets meet in 2020. Look back on the intense personal growth you've achieved this past year and pat yourself on the back!
Daily Planetary Overview
As you know, your dreams and highest aims cannot come to fruition without a bit of risk. Be open-minded about letting go of the old to make room for the new. What worked then may not work now, and part of success is reorienting yourself when necessary.
Jupiter brings a boost of beneficial luck, while Pluto yields intense focus and drive. Be mindful and remain balanced. Enjoy the fruits of your labor thus far while maintaining focus on your next long-term goal. Put your passion into a plan, invest consistent effort, and you'll be able to create practical, tangible results.
Because the moon opposes Mars in the morning, you could be more aggressive, reactive, and combative. It's important not to become emotionally domineering toward others.
However, when the moon conjoins Venus later today, you can find greater peace of mind and calmness along with loving, compassionate energy toward others. Today's early hours are best spent by yourself, while in the later hours you can find social opportunities.
Aries
The first sign of the Zodiac, Aries are the trailblazers. Passionate and independent, Aries will never do something just because everyone else is doing it—a Ram needs to be 100 percent committed to the task at hand.
Nov 12, 2020 - As a Aries, you have an innate gift for healing and calming other people in crisis situations. If this isn't what you do for a living, you should think about doing something with this natural talent. The positions of the planets today may be telling you to think about this in more concrete terms. If you're interested in herbal therapy, for example, this could be the perfect time to learn more.
Taurus
Smart, ambitious, and trustworthy, Taurus is the anchor of the Zodiac. Amazing friends, colleagues, and partners, Taureans value honesty above all else and are proud that their personal relationships tend to be drama free.
Nov 12, 2020 - You seem to be a specialist at relationships, and you're very sensitive to the ups and downs in your own. But today you may wonder if people love you less than they did before. This is rather an odd question, but another one may be hiding underneath. Do you really have to make such a big effort in order to be loved? Only you can answer that question.
Gemini
Smart, passionate, and dynamic, Gemini is characterized by the Twins, Castor and Pollux, and is known for having two different sides they can display to the world. Expert communicators, Gemini is the chameleon of the Zodiac, adept at blending into different groups based on the vibe and energy they perceive.
Nov 12, 2020 - You're usually full of energy, Gemini, but today you may not feel so vivacious. There's nothing to worry about. In fact, you may have the time to do some thinking about your personal life and what you expect to get out of your relationships. You might also want to think about how you intend to go about getting it! Perhaps some of your motivations have changed lately.
Cancer
Emotional, intuitive, and practically psychic; ruled by the moon and characterized by the crab, Cancer has so much going on in its watery depths. Cancers may seem prickly and standoffish at the first meeting, once they make the decision to become friends with someone, that person has a friend for life.
Nov 12, 2020 - You may have had a hard time lately reaching your objectives. Unfortunately for you, Cancer, today will be no different. You may begin to feel a bit dissatisfied with the way your life is going at the moment. You will ask yourself certain questions about your goals. Does your personal life live up to those goals? Can you express your wonderful creativity as much as you'd like?
Leo
Bold, intelligent, warm, and courageous, fire sign Leo is a natural leader of the Zodiac, ready to blaze a trail, vanquish injustice, and make a name for themselves along the way. Blessed with high self-esteem, Lions know that they possess enviable traits—and they're proud of them.
Nov 12, 2020 - Your sense of responsibility is probably the catalyst for most of your motivation, Leo. But what happens when events are beyond your control and you're powerless to do anything about them? You may have to admit that sometimes you can't control everything, especially your family and friends. Today you should think about letting things happen occasionally. Your life will be a lot less complicated.
Virgo
You can reform yourself as the energy coincides with your self-realization, getting you in touch with your root chakra. Today's lunar transit includes a very sobering reflection courtesy of opposition to Saturn in mighty Capricorn emphasizing the value of finding balance through rebuilding your internal stability.
Smart, sophisticated, and kind, Virgo gets the job done without complaining. Virgos are amazing friends, always there to lend a hand and also lend advice. Practical Virgos are incredibly adept at big picture thinking, and planning out their life, their vacations, and what they're going to do today isn't a drag it makes them feel in control and secure.
Nov 12, 2020 - Today you could put a stop to your activities for a little while, Virgo. You may take a good, hard look at things and realize that the climate of trust you need in order to be productive and creative is missing at the moment. It's a good time to get some order back into your relationships and remind others of their responsibilities to you.
Libra
Intelligent, kind, and always willing to put others before themselves, Libras value harmony in all forms. Ruled by Venus, the planet of beauty, Libra adores a life that looks good. As the master of compromise and diplomacy, Libra is adept at seeing all points of view and excels at crafting compromises and effecting mediation between others.
Nov 12, 2020 - What are you after in life, Libra? Deep down, does the kind of work you do satisfy your most intimate desires? The little problems you encounter in your professional life over the next week could be the straw that breaks the camel's back. Take a look around to see if the work you do and the people in your life take your profoundly spiritual nature into account.
Scorpio
Passionate, independent, and unafraid to blaze their own trail no matter what others think, Scorpios make a statement wherever they go. They love debates, aren't afraid of controversy, and won't back down from a debate.
Nov 12, 2020 - It's possible that you're trying to do too much, Scorpio. If look at the days you spend working, you may realize that too much of your energy goes to some very meager results. Today, consider taking some time off to take advantage of life. Why not go out for a nice dinner with friends, or even better, go on a little vacation? Try and let things happen. You deserve time just for you!
Sagittarius
Independent and strong-willed, Sagittarius personalities are all about going off the beaten path. Sagittarius isn't afraid to step away from the pack and is a natural-born leader who goes after what he or she wants, regardless of what other people think.
Nov 12, 2020 - It's possible that you could be in conflict with people of the opposite sex today, Sagittarius. You may feel as if they put obstacles in front of you and slow you down. But instead of getting into conflicts that could eventually escalate into full-blown confrontations, try and ask yourself what they think you're doing wrong. Does your personality consider both your masculine and feminine sides?
Capricorn
Smart, hardworking, and fully in control of their destiny, a Capricorn will always get what they set their mind to, in both personal and professional life—no excuses. Capricorns may get a reputation as stubborn, but they simply know what they want, and also know how they wish other people would behave.
Nov 12, 2020 - You have a very dynamic day ahead of you, Capricorn. You may feel the need to put all your energy into a group project. You will want to roll up your sleeves and get to work. You're usually a meditative, pensive person, but today you're looking for concrete results and actions. Who knows? This hard work might even help you relax a little.
Aquarius
Independent and enigmatical, Aquarians are unique. There is no one quite like an Aquarius, and because each is so incredibly individual, it can be tough to describe them as a group. Aquarians don't like labels, and may shy away from any adjective—even the good ones you might bestow upon them.
Nov 12, 2020 - Have you ever thought of yourself as a CEO or any other kind of leader, Aquarius? Today is a great day to begin a project involving other people - with you in charge! The strong, assertive side of your personality will come out in your decision making and charisma. Go for it! After all, this is the first day of the rest of your life.
Pisces
Smart, creative, and deeply intuitive, Pisces can be close to psychic. Pisces feel things deeply and have incredibly strong gut reactions. A Pisces "knows" things from deep within, and can often judge whether a person or situation is good or bad.
Nov 12, 2020 - There's a lot of tension in the air today, Pisces. Perhaps you feel like no one is listening to you, and that people are draining your energy. You may act defensively and even occasionally become very angry. It's possible that no one has seen in you in such a state before. Don't be afraid to express your anger. Repressed anger is like poison for your body and soul.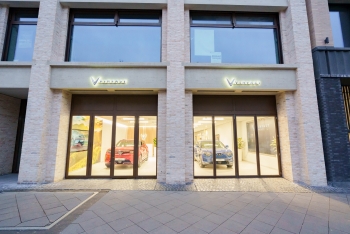 Economy
VinFast has officially opened its first two VinFast Stores in Cologne, Germany, and Paris, France.