Daily Horoscope for September 29: Astrological Prediction for Zodiac Signs
Daily Horoscope for September 29: Today knocks at destiny's door, for sure! As the sun in romantic Libra begins to experience the influence of an opposition to Chiron retrograde in bold Aries, you have to let bygones be bygones in some capacity.
Daily Planetary Overview
Maybe you're just beginning to understand a past heartache through your own psychological perspective. This is the perfect day to work with a therapist or mentor of some kind who can help you reflect on these issues in your life and maybe even allow you to find new solutions to old wounds.
The waxing gibbous moon continues to float through the sensitive sign of Pisces, giving you the room to go with the flow and feel the love that the universe has to offer. You're strongly connected to the intuitive waves of life, and you might even experience some déjà vu along the way. It's a great day to carry your favorite crystals around, because your third eye will be wide open on many occasions.
With the continued influence of Venus in royal Leo trine to Mars retrograde in courageous Aries, you also get some unexpected love that you've been missing these past few days. You are adored and appreciated!
Aries
The first sign of the Zodiac, Aries are the trailblazers. Passionate and independent, Aries will never do something just because everyone else is doing it—a Ram needs to be 100 percent committed to the task at hand.

Sep 29, 2020 - This is a good day to reflect on the past weeks and get some perspective, Aries. You've probably been working too hard and neglecting other priorities in your life. Give yourself this day to relax and talk with friends and relatives. Spend the day chatting, laughing, and unwinding. Don't obsess about tasks that wait for you at the office. They aren't going anywhere.
Taurus

Smart, ambitious, and trustworthy, Taurus is the anchor of the Zodiac. Amazing friends, colleagues, and partners, Taureans value honesty above all else and are proud that their personal relationships tend to be drama free.
Sep 29, 2020 - Don't plunge headfirst into work mode, Taurus. The cleaning and tidying up can surely wait for another day. Today's energies indicate that talking with friends and family should be your main priority. Consider spending the afternoon doing activities with your kids. Hire a babysitter for the evening. It would do you good to go out with your partner - just the two of you – if possible.
Gemini
Smart, passionate, and dynamic, Gemini is characterized by the Twins, Castor and Pollux, and is known for having two different sides they can display to the world. Expert communicators, Gemini is the chameleon of the Zodiac, adept at blending into different groups based on the vibe and energy they perceive.
Sep 29, 2020 - It's likely that your thoughts are completely turned to work. Much as you should devote your time off to family, you can't help the way you're wired, Gemini. When at home, you may sneak away to check your email. Perhaps you secretly phone your business partner. Your family rolls their eyes, but generally understands and forgives your crazy behavior. Be sure to turn on the extra charm, just in case!
Cancer
Emotional, intuitive, and practically psychic; ruled by the moon and characterized by the crab, Cancer has so much going on in its watery depths. Cancers may seem prickly and standoffish at the first meeting, once they make the decision to become friends with someone, that person has a friend for life.

Sep 29, 2020 - This is a good day for financial matters, Cancer. With your credit cards maxed out, you may be thinking that your bank account isn't as healthy as it could be. But today you're likely to receive some news that indicates otherwise. You may get a windfall or discover that your portfolio is generating healthy returns. It's a good day for paperwork.
Leo
Bold, intelligent, warm, and courageous, fire sign Leo is a natural leader of the Zodiac, ready to blaze a trail, vanquish injustice, and make a name for themselves along the way. Blessed with high self-esteem, Lions know that they possess enviable traits—and they're proud of them.
Sep 29, 2020 - You could be feeling quite lazy today, Leo, and you definitely deserve to feel this way! You deserve some time off after all of the activities of the past week. Give yourself the gift of a true day off. Do only what you want, whether it's watching movies or spending the afternoon soaking in the tub. Total indulgence. Just relax and unwind.
Virgo

You can reform yourself as the energy coincides with your self-realization, getting you in touch with your root chakra. Today's lunar transit includes a very sobering reflection courtesy of opposition to Saturn in mighty Capricorn emphasizing the value of finding balance through rebuilding your internal stability.
Smart, sophisticated, and kind, Virgo gets the job done without complaining. Virgos are amazing friends, always there to lend a hand and also lend advice. Practical Virgos are incredibly adept at big picture thinking, and planning out their life, their vacations, and what they're going to do today isn't a drag it makes them feel in control and secure.
Sep 29, 2020 - You think of yourself as a practical person, Virgo, but today your thoughts may turn to the mystical and spiritual. Your intuition is strong now, letting you tune in to the feelings of your loved ones. This allows you to be empathetic and understanding, which your partner especially appreciates. Your intuition may inspire you to approach a problem in a new way. Let your mind wander and see what develops.
Libra
Intelligent, kind, and always willing to put others before themselves, Libras value harmony in all forms. Ruled by Venus, the planet of beauty, Libra adores a life that looks good. As the master of compromise and diplomacy, Libra is adept at seeing all points of view and excels at crafting compromises and effecting mediation between others.
Sep 29, 2020 - You will probably encounter a bit of opposition along with today's planetary energies, Libra. Even those who are usually right behind you will seem uncooperative. Try not to let this faze you too much. Resolve to follow your own instincts and work alone if need be. Once you've had a chance to advance your ideas further along on your own, you can present them again.
Scorpio
Passionate, independent, and unafraid to blaze their own trail no matter what others think, Scorpios make a statement wherever they go. They love debates, aren't afraid of controversy, and won't back down from a debate.
Sep 29, 2020 - Your thoughts today are likely to turn to setting goals for the future, particularly concerning your career. While you've made a lot of progress in recent months, you'd like to see even more forward movement. This would be a great day to start thinking of concrete ways to make that happen, Scorpio. Why not have a family brainstorming session? It's likely to yield some great advice.
Sagittarius
Independent and strong-willed, Sagittarius personalities are all about going off the beaten path. Sagittarius isn't afraid to step away from the pack and is a natural-born leader who goes after what he or she wants, regardless of what other people think.
Sep 29, 2020 - Today's planetary energies are stimulating your ambition, Sagittarius. Issues connected with your professional life may be very much on your mind. You could plot out ways to further your career. Perhaps you seek a promotion in your current business, or you could be thinking about looking for another job entirely. This is the ideal time to put specific plans into place for the future.
Capricorn
Smart, hardworking, and fully in control of their destiny, a Capricorn will always get what they set their mind to, in both personal and professional life—no excuses. Capricorns may get a reputation as stubborn, but they simply know what they want, and also know how they wish other people would behave.
Sep 29, 2020 - You've been so busy these past few weeks that you may have inadvertently neglected the special person in your life, Capricorn. It's been fun to be out and about together, but that has left little time for closeness and snuggling. Try to rectify that today. In fact, a midafternoon nap might be called for. Why not invite your honey to join you?
Aquarius
Independent and enigmatical, Aquarians are unique. There is no one quite like an Aquarius, and because each is so incredibly individual, it can be tough to describe them as a group. Aquarians don't like labels, and may shy away from any adjective—even the good ones you might bestow upon them.
Sep 29, 2020 - It's possible that a big change is in store for you in the near future, Aquarius. It may be that you've come to realize that your current home and neighborhood are no longer a good fit. If you've been toying with the idea of moving, today you may get some news that motivates you to make your fantasy a reality. This is a good day to peruse the real estate listings. You might be pleasantly surprised by what you find.
Pisces

Smart, creative, and deeply intuitive, Pisces can be close to psychic. Pisces feel things deeply and have incredibly strong gut reactions. A Pisces "knows" things from deep within, and can often judge whether a person or situation is good or bad.
Sep 29, 2020 - Perhaps you spent quite a bit of money lately and you're holding your breath waiting for the bills to roll in. Some quick reckoning of receipts today likely yields some wonderful news. Wonder of wonders, it appears you've stayed within your budget, Pisces! Try not to overreact to the news that you have more money than you thought. Give your wallet and checkbook some time off.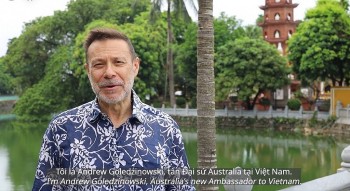 Friendship
According to newly appointed Australian Ambassador to Vietnam, Andrew Goledznowski, Australians are interested in visiting Vietnam now that the country is open again for business.