Daily Horoscope July 13: Astrological Prediction for Zodiac Signs with Love, Money, Career and Health
Daily Horoscope for July 13: The horoscope for tomorrow promises a rather stressful, but very productive day. The number of day 4 indicates the need to work hard for future well-being.
Daily Planetary Overview
Despite the difficulties and fatigue, do not transfer the solution of important issues to another time: you will succeed. In the waxing crescent period, your energy potential is weakened, avoid overloads and nervous tension. Observe the daily regimen and give up bad habits. If you are in search of love, you can count on ardent confessions and exquisite compliments. Moon in Leo helps to communicate with the opposite sex, so tune in to flirt and coquetry. Be prepared for the fact that fate can bill you. If you have forgotten about your vocation, abandoned your favorite business for the sake of career and financial well-being, it is worth remembering about your previous hobby.
Daily Zodiac Horoscope for July 13
Aries
The first sign of the Zodiac, Aries are the trailblazers. Passionate and independent, Aries will never do something just because everyone else is doing it—a Ram needs to be 100 percent committed to the task at hand.
Love Horoscope - Tomorrow Aries, if there is a serious relationship, they will become even stronger thanks to a common goal. An example of this would be a joint purchase of real estate or a secluded vacation in an unusual location. Do not forget about gifts and surprises for no reason either. They will be the best opportunity to demonstrate your feelings to another person and cheer him up. If in the eyes of your chosen one you see that your own status has increased, then you should expect an interesting continuation of the evening or even getting to know your parents.
Money Horoscope - While the Moon's return to your work sector each month will always see it form a friendly aspect to your income sector, doing more than just give you an intuitive read on work and job matters. Even more so as the Moon returns for its last visit to your work sector before Venus, the planet of money returns next week to steer work and job matters in a lucrative direction.
Career Horoscope - Tomorrow Aries, if necessary, it will be possible to slightly violate or bypass the rules and regulations, if initially it finds some contradictions or inconsistencies in them. Since this is an extraordinary case, no one will pay attention to this behavior. If you were hoping to get a job or get a promotion today, this will not happen as soon as you would like it. For a long time, you were perceived as a novice, which did not allow you to advance in the service. Don't worry, everything will work out. Financially, the day will be successful, unexpected surprises or gifts are likely.
Health Horoscope - The Aries nervous system may also be in an unsatisfactory state tomorrow, especially if the day was too busy for not the most pleasant events. In this connection, there will be an imbalance in the body, which will lead to the appearance of various diseases in sharp attacks and forms. In turn, such a reaction of the body will cause an attack of panic or suspiciousness, which again will be a source of stress for you. Be extremely calm and learn not to worry about little things.
Taurus
Smart, ambitious, and trustworthy, Taurus is the anchor of the Zodiac. Amazing friends, colleagues, and partners, Taureans value honesty above all else and are proud that their personal relationships tend to be drama free.
Love Horoscope - To strengthen your own feelings in a relationship, Taurus needs to be able to correctly express your thoughts and desires. It doesn't matter how you manage to convey your thought to the chosen one, the main thing is that he understands you and draws the right conclusion. Try to make all the spoken words come from the heart. Then the confession will turn out to be sincere and touch your soul mate 100%. However, be extremely careful when using these tactics.
Money Horoscope - Mercury's departure from your income sector yesterday may have brought all planetary activity on the income front to a close but even without the smart head for money and momentum this has left you with, this is far from the end of the story. Until the North Node leaves early next year the wheels are in motion and things will continue to evolve and play out.
Career Horoscope - Despite the fact that the situation will be extremely difficult, the representatives of this sign will manage to get to the top if they put in enough effort. When choosing a task, be guided by the deadlines: if projects need to be done within a limited time frame, then it is better not to take on them, but you can safely take on those cases that do not require speed. It is recommended to work in a team, preferably with people who are well versed in the business.
Health Horoscope - Tomorrow Taurus should be attentive to the state of the cardiovascular system. On this day, manifestations of old diseases or the first symptoms of new diseases are possible. It is possible that you will have to see a doctor and even take drugs that help thin the blood. Smoking signs are advised to reduce the number of cigarettes or give them up for a day. Tobacco abuse has a detrimental effect on your heart. Tomorrow they will be able to delight themselves Taurus with a sweet, favorite chocolate cake or pastries.
Gemini
Smart, passionate, and dynamic, Gemini is characterized by the Twins, Castor and Pollux, and is known for having two different sides they can display to the world. Expert communicators, Gemini is the chameleon of the Zodiac, adept at blending into different groups based on the vibe and energy they perceive.
Love Horoscope - At the start of the day, Gemini can have a special romantic mood and inspiration. Dedicate these feelings to your loved one. Be open and honest. Restraint tomorrow is not your best helper. In the afternoon, the signs may have outbursts of jealousy, a slight misunderstanding on the basis of everyday life. Try not to change your sense of proportion. Towards the end of the day, the disagreements will gradually subside. The family nest will delight you with well-being and will be a good reason for a good mood. Work on creating harmony and comfort, and praise your partner for helping with this.
Money Horoscope - In a case of better late than never, Mercury's first full day in your income sector comes just as the weekend's New Moon has given income matters the green light. Held back by a retrograde phase, Mercury is the last planet to arrive and will be the last to leave, returning with the smart head for money to start bringing things home.
Career Horoscope - Tomorrow Gemini must also showcase your best qualities. Try to be patient, helpful, and willing to compromise. You need to be as honest as possible, otherwise they won't believe you. By your actions earlier, you could prove the opposite. Therefore, try to soberly assess the situation and put forward "soft" requirements. Sincerity at this stage will be more beneficial than "partisanship". The bosses will appreciate it.
Health Horoscope - Tomorrow Gemini is also worth paying attention to the state of the thyroid gland. Try to switch to nutrition soon by adding fish and seafood to your diet. Get rid of fatty and salty foods, and exclude sweets for a while. There may be a slight apathy, unwillingness to do anything. Try to find a reason for active self-expression. Your favorite hobbies, hobbies, sports activities or active walks with friends will be excellent means for raising the tone.
Cancer
Emotional, intuitive, and practically psychic; ruled by the moon and characterized by the crab, Cancer has so much going on in its watery depths. Cancers may seem prickly and standoffish at the first meeting, once they make the decision to become friends with someone, that person has a friend for life.
Love Horoscope - For lonely representatives of the Cancer sign, there is an opportunity to create a new, dizzying romance. It can arise in the most unexpected place due to various circumstances: a corporate party at work or a party for friends. You look at your loved one with different eyes, it is possible that your old friend can become an excellent partner. Casual dating on the street is also possible. However, it is not a fact that this relationship will be long-term. Pay attention to signs received from higher powers.
Money Horoscope - Before leaving your income sector today and just as their alignment is drawing towards a peak tomorrow, the Moon aligns with both Venus and Mars. The planets of money and drive have already joined forces, with the Moon's nose for money both amplifying and adding fuel a drive to do whatever it takes for as long as it takes.
Career Horoscope - Tomorrow will be very successful in financial matters. Your own business or startup, which Cancer has, will develop successfully and will finally start bringing in a stable income. If your business is related to the educational process or a foreign representative office, success is guaranteed. Fortune will also be on your side when resolving issues related to stocks, securities or equity participation in various projects. The only thing that the stars are not recommended to do tomorrow is to get involved in controversial topics and conflict.
Health Horoscope - If Cancer has problems with blood flow or gastrointestinal tract, then tomorrow there are big risks of feeling worsening of your condition. At this time, it is necessary to appoint additional examinations. They will be successful and show everything with great accuracy. Problematic places in the body will be especially noticeable, which means that it will also be easier to identify or cure them. Do not forget about the general strengthening of the body and engage in the prevention of viral diseases if you have not been ill for a long time.
Leo
Bold, intelligent, warm, and courageous, fire sign Leois a natural leader of the Zodiac, ready to blaze a trail, vanquish injustice, and make a name for themselves along the way. Blessed with high self-esteem, Lions know that they possess enviable traits—and they're proud of them.
Love Horoscope - In the love sphere, Lion may have unplanned trips, during which an unexpected meeting with an interesting person will occur. Be prepared in advance that this romance will end very quickly and will not bring any spiritual joy. Family representatives of the sign or those who are already in a couple should reconsider their behavior with children or partners. Perhaps you indulge them too much and have already spoiled them.
Money Horoscope - The Moon returns for what should be an ordinary monthly visit to your income sector but is instead a stepping stone to the start of the most lucrative months of 2021. As well as sharpening your nose for money and acting as a trigger, over the next few days the Moon will bring a chance to pick up on valuable clues, hunches and insights ahead of Venus, the planet of money's return next week.
Career Horoscope - The main problem of tomorrow Lion will be the inability to say no to yourself and stop in time. This can be attributed to various points, including your curiosity and desire to constantly ask questions, even in the second round, as well as the desire to achieve the best possible result. The stars advise you to forget for a while about your perfectionism, because the work is already done perfectly. Stop thinking ahead, otherwise there is a risk that everything will not go as you planned. It is not worth planning other people's time.
Health Horoscope - Tomorrow, Lion has a high likelihood of a lazy, calm day with no physical activity. You will devote too little time to sports, but even if you go to the gym or to the section, there is a risk that all the loads will be directed to the wrong muscle group. You should sign up with a trainer or consult with professionals to try to do the complex that is right for you. Rhythmic dancing, cycling, swimming in the pool or brisk walking will help replace intense activities.
Virgo
Smart, sophisticated, and kind, Virgo gets the job done without complaining. Virgos are amazing friends, always there to lend a hand and also lend advice. Practical Virgos are incredibly adept at big picture thinking, and planning out their life, their vacations, and what they're going to do today isn't a drag it makes them feel in control and secure.
Love Horoscope - Tomorrow Virgo the slightest mistakes will be unforgivable. You can not even hope that these embarrassments will go unnoticed by your loved one. However, in such a situation, it is better for you to immediately admit everything yourself, so as not to worsen the situation. On such a day, the stars are recommended to engage in expanding their own horizons and self-education, or by children. They may show particular interest in the laws of nature that they do not understand or in other phenomena. Try to explain everything calmly and easily. Show patience and kindness to others.
Money Horoscope - Later in the week, the Moon's return to your income sector will kick off a positive few days across the income, work and career fronts. This will be thanks to the Moon's friendly aspect to planets on the job and career fronts. Meanwhile, at this end of the week, the Moon's friendly aspect to planets on the other side of the financial fence is helping to fuel your financial imagination.
Career Horoscope - Tomorrow, Virgo is also not worth submitting to get a new position. Without a doubt, if you do this, you will surely lose. It will be better if you take part in the team of one of the applicants. He will definitely be lucky with your participation. You will be able to find out all sorts of mistakes of competitors and send the candidate in the right direction. Tomorrow Virgo isn't the best day financially. Spending on family and home is not excluded, expenses on studying for children or close relatives are possible.
Health Horoscope - Tomorrow Virgo needs to revisit your usual diet. Perhaps the time at which you are used to eating is not quite right for you. Try to find alternative options that are less harmful to the body. In general, the day is quite successful for you in terms of health, since during it you will have a positive effect on health, and the people and events around you will easily double the positive effect. Therefore, the general condition will improve and stabilize.
Libra
Intelligent, kind, and always willing to put others before themselves, Libras value harmony in all forms. Ruled by Venus, the planet of beauty, Libra adores a life that looks good. As the master of compromise and diplomacy, Libra is adept at seeing all points of view and excels at crafting compromises and effecting mediation between others.
Love Horoscope - Tomorrow Libra will take a different path than yesterday. Now some representatives of this sign will begin to defend their own opinion with foam at the mouth. However, your partner will be able to break your protest and calm down somewhat. This behavior will not greatly affect your loved one's feelings for you. On the contrary, they know that you are a good person, therefore they love and respect you after everything that happened, no matter how paradoxical it may sound. Therefore, try to calm down and not get annoyed over trifles.
Money Horoscope - The Moon's return an intuitive and imaginative part of your chart kicks off what can be some positive days for money matters. This will see the Moon form a friendly aspect to both planets in your financial sector as it moves through, something that can fuel your financial confidence, instincts and imagination. At the same time this will give you a better read on your financial needs and priorities.
Career Horoscope - Tomorrow Libra will run out of time. Therefore, keep in mind that higher authorities or inspection bodies may suddenly appear, and you have not done half of it. Get yourself together. If you are the boss yourself, then you will not be able to rest properly tomorrow. You will have to look after your subordinates more seriously. Difficulties in making a single decision are not excluded. It is necessary to be a little tougher and to influence them with disciplinary measures. The day can be challenging but rewarding.
Health Horoscope - Tomorrow Libra may show the consequences of untreated bronchitis or inflammation. It is also possible that you will need surgery. However, the stars do not recommend doing this. Tomorrow, however, like several subsequent ones, is not the best time for operations. Since the healing of wounds and the restoration of the body will take a long time. In the near future you can safely go to the hospital. In the meantime, prepare yourself mentally for this. Save up finances so that unexpected expenses do not embarrass you.
Scorpio
Passionate, independent, and unafraid to blaze their own trail no matter what others think, Scorpios make a statement wherever they go. They love debates, aren't afraid of controversy, and won't back down from a debate.
Love Horoscope - Everyday life Scorpio could change dramatically tomorrow. Moreover, these changes will be barely noticeable at first, and then it will be extremely difficult not to see them. If any changes scare you, stop at the initial stage. As a pleasant moment tomorrow, a romantic trip is possible, it is possible that even abroad. It will be successful only if your relationship with your partner is permanent and serious, otherwise nothing good will come of it.
Money Horoscope - Mercury's departure from your financial sector yesterday may have brought all planetary activity to a close but even if all this did was leave you with a smart head for money and months of momentum this would have been more than enough. Instead, Mercury leaves you a sense of financial direction and the confidence of knowing that things will continue to play out and evolve.
Career Horoscope - Tomorrow Scorpio may have deals or contracts. Give preference to those that can be concluded immediately, whether long-term or not. Also choose employees who are ready to instantly get involved in the work, and not stretch everything for later. On this day, representatives of the sign will have a lot of paperwork. Small flaws in the reporting are not excluded, a couple of documents will not be enough and in order to get the necessary signatures you will have to pretty much walk around different offices.
Health Horoscope - Tomorrow Scorpio will be prone to airway problems. Moreover, diseases can arise in an unexpected way for you. They will prove to be both colds and infectious. Do not stop using drugs for the sake of prevention, even if the first symptoms leave you. There is a risk of re-illness. Be careful not to stretch your muscles and accidentally tear your ligaments during physical activity tomorrow.
Sagittarius
Independent and strong-willed, Sagittarius personalities are all about going off the beaten path. Sagittarius isn't afraid to step away from the pack and is a natural-born leader who goes after what he or she wants, regardless of what other people think.
Love Horoscope - Tomorrow promises Sagittarius pleasant surprises. The stars have prepared something nice for you in advance. In a relationship, something will happen that will surprise you. You may also find yourself getting a little frustrated with your current partner and realizing that someone else can do more for you. Therefore, changes in your personal life cannot be avoided. Lonely star signs will have the opportunity to have a good time. Romantic adventures, passionate sex or a dizzying romance - all this can become reality. Be prepared for this outcome.
Money Horoscope - In a case of better late than never, held back by a retrograde phase Mercury has returned to your financial sector in time to capitalise on the weekend's New Moon. Mercury is the last planet to arrive and will be the last to leave, returning with the smart head for money needed to start tying up money matters.
Career Horoscope - At work Sagittarius tomorrow it is better to clean up the old rubble, put the long-delayed affairs in order. Be careful when choosing a new partner or companions. Now you are especially susceptible to the influence of strangers, and there are now a lot of scammers who easily disguise themselves as businessmen. Don't get too gullible and think twice before using the offered help. Also, make sure that no one "sat on your neck" with constant requests for cooperation at your expense.
Health Horoscope - Health will be slightly shaken tomorrow. Sagittarius may start disturbing the kidneys or liver again. Any organ requires a careful attitude on your part, so limit yourself to salty foods, drink less at night and give up alcohol. Also, the stars recommend talking less about their ailments with strangers. And if you decide to choose non-traditional methods of treatment, then be extremely careful not to make mistakes and not fall for charlatans. We advise not to start those signs that have caught colds and viral diseases, so that they go into a chronic form or cause complications.
Capricorn
Smart, hardworking, and fully in control of their destiny, a Capricorn will always get what they set their mind to, in both personal and professional life—no excuses. Capricorns may get a reputation as stubborn, but they simply know what they want, and also know how they wish other people would behave.
Love Horoscope - Capricorn, as you know, are responsible for everything, which may weigh a little on the partner. Try to give free rein to feelings, perhaps the old relationship will shine with new colors. In general, the stars recommend Capricorn it is better to trust your partner to control the "ship of destiny" and make all strategic decisions for your couple. Strive for a golden mean, not only at work, but also in your personal life. If you do not want to push your own ambitions into the background, the stars do not bode well for you for the rest of the day.
Money Horoscope - Before leaving your financial sector today the Moon will align with both Venus and Mars, just a day before their alignment here is due to peak. As well as fuelling your financial instincts and imagination, this will give you a better read on the drive and confidence they are creating when it comes to taking your financial power back.
Career Horoscope - At work tomorrow Capricorn will have to dismantle the old rubble, put things in order. You will be able to calmly and thoroughly do this, guided by the principle "the quieter you drive, the further you will be." Your superiors will also appreciate this technique. In the middle of the day, old cases or issues may arise that require immediate resolution. You don't need to put them in a distant box. Those signs that the leadership will underestimate today should not be upset. Try to enjoy life and appreciate what you have.
Health Horoscope - Tomorrow Capricorn should pay more attention to your person. Various injuries are possible. From the very beginning of the day, these signs should not be lazy, otherwise it will be difficult to maintain a positive attitude, and with it well-being. Physical activity will help you to be in good shape and not succumb to illness. You can do the prevention of viral diseases. If you feel that you have a cold, gargle with sea salt, drink plenty of fluids, especially warm decoctions of herbs or berries.
Aquarius
Independent and enigmatical, Aquarians are unique. There is no one quite like an Aquarius, and because each is so incredibly individual, it can be tough to describe them as a group. Aquarians don't like labels, and may shy away from any adjective—even the good ones you might bestow upon them.
Love Horoscope - Tomorrow, a loved one Aquarius will gladly and absolutely disinterestedly provide any help that is within his power. Try to appreciate his attention from the best side and thank him for all his efforts. The afternoon will bring some stability to the relationship, which will force Aquarius to act independently. You can go shopping with your significant other or start a new business. If you decide to go on an entertainment trip for two, then try to postpone all your business and still go. Traveling will bring new emotions to your couple and will only strengthen the marriage.
Money Horoscope - As he spends his first full day in your work sector, Mercury's friendly aspect to Jupiter in your income sector is a repeat of the same aspect the Sun and Venus formed when they arrived. Mercury, who has 15 days to tie up loose ends on the job front has joined forces with Jupiter, who has just 16 days to explore and exploit untapped income potential.
Career Horoscope - Tomorrow Aquarius you need to be proactive, and you will be lucky in this. The stars promise a good, productive day. You will have the opportunity to surprise others with your own talents and the ability to get out of a difficult situation. The coincidence of circumstances will be successful and will allow the signs to easily achieve their goal. We do not recommend giving up additional loads if your boss suggests you. Your efforts, work done and proactive attitude will pave the right path to the long-awaited position. Therefore, dare to fight.
Health Horoscope - Tomorrow Aquarius activities aimed at strengthening the musculoskeletal and muscular system will have a good effect. Therefore, go for a massage, have a fasting day, cleanse your body of toxins. Don't skip physiotherapy. A comprehensive examination will give correct results tomorrow. During sports, diseases associated with joints may remind of themselves. Avoid hypothermia and do not stay in wet weather.
Pisces
Smart, creative, and deeply intuitive, Pisces can be close to psychic. Pisces feel things deeply and have incredibly strong gut reactions. A Pisces "knows" things from deep within, and can often judge whether a person or situation is good or bad.
Love Horoscope - Tomorrow Pisces has a good time to build a family nest. Improving life and creating harmony in the house is costly. Do not be stingy and spend on what your partner has long dreamed of. The budget will recover quickly, because you are doing a good deed. Otherwise, the family idyll can be easily disturbed by disagreements over the distribution of responsibilities and the need to make a particular purchase. Do not rush to defend your position at the slightest provocation with foam at the mouth. Make the other person feel important. Try to understand and take sides with him.
Money Horoscope - Before leaving your work sector today, the Moon will not only align with Venus and Mars as they work to create some serious momentum on the job front but will form a friendly aspect to the dwarf planet Eris in your income sector. This is something that Venus and Mars are moving to, with a taste of just how motivated things are set to become on the income and job fronts.
Career Horoscope - Tomorrow loved ones will expect pleasant surprises from Pisces. It is possible that most of the gifts will be expensive. However, do not be stingy and give joy to your family. Surprises are always welcome, even if you spend a lot on them. It is likely that you will even do a rearrangement or minor home renovation. As for the distribution of finances at work, you should not waste money here. As well as his negative statements towards the authorities. Such an opinion can easily reach higher authorities and will affect both your award and your reputation.
Health Horoscope - Tomorrow Pisces will have a slightly vulnerable chest and heart area. You will need to dress warmly so as not to overcool. Also protect this area from bumps and bruises. If you have hypertension or overweight, the stress on your heart will be especially felt. Therefore, remember to monitor your blood pressure. Observe medical recommendations for organizing your work, as well as your daily routine. Be sure to find time for physical activity, exercise, or general warm-up. Don't forget about joint gymnastics.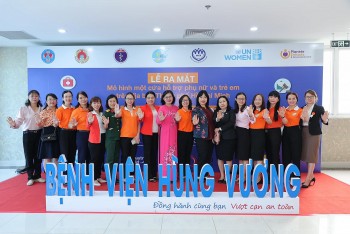 Viet's Home
What is the one-stop centre for women and children experiencing violence?