Danish Ambassador to Vietnam extends New Year wishes to Vietnamese
Danish Ambassador to Vietnam Kim Højlund Christensen extended his New Year wishes to the Vietnamese people, adding that the year 2021 will be really special as Vietnam and Denmark will celebrate the 50th anniversary of the establishment of diplomatic relations.
Video: Denmark Embassy in Vietnam
In the 2020 year-end review video posted by the Embassy of Denmark in Vietnam, Ambassador Kim Højlund Christensen said that Vietnam and Demark will organize a number of activities to celebrate the 50th anniversary of the establishment of diplomatic relations between the two countries.
He added that 2020 was a difficult year for many people. However, despite challenges, the two sides succeeded in moving a greener agenda forward.
"Because of Covid-19, we all expect that 2021 will continue to be a challenging year, but we will get through it together just as we did in 2020".
The Ambassador emphasized that Denmark looked forward to stronger cooperation with Vietnam not only in the green agenda but also in climate change.
On the occasion of the Lunar New Year, he wished all people in Vietnam, partners, and friends lots of good health, happiness, and good lucks.
One of the absolute top priorities in Denmark's long-term cooperation with Vietnam is to support green growth and a green transition in the country.
The Vietnamese Ministry of Industry and Trade (MoIT) previously issued the Guidelines for Developing Provincial Action Plan on Energy Efficiency for the 2020-25 period.
The guidelines, drafted with the support of the Danish-Vietnamese Energy Partnership Programme, will help all 63 provinces and cities of Việt Nam to map energy use and prepare their own action plan to implement energy-saving efforts.
This set of guidelines is one of the key outputs of the Danish-Vietnamese Energy Partnership Programme as it provides an essential base for the energy efficiency efforts in Việt Nam towards the target of achieving 5-7 percent energy savings on a national level in the 2019-25 period. The set of guidelines is a result of more than two years of close work between MoIT, the Danish Energy Agency, and the two partner provinces of Đồng Nai and Bắc Giang.
Another important component of the Danish-Vietnamese Energy Partnership is the release of the biennial 'Việt Nam Energy Outlook' report. The report emphasizes energy efficiency as a cost-efficient tool for Việt Nam's green transition towards 2030 and 2050 and recommends investments in energy-saving technology.
Việt Nam's industrial sector is one of the most energy-consuming sectors of the country and is, therefore, an important factor in the transition to a low-carbon society, according to Vietnamnews.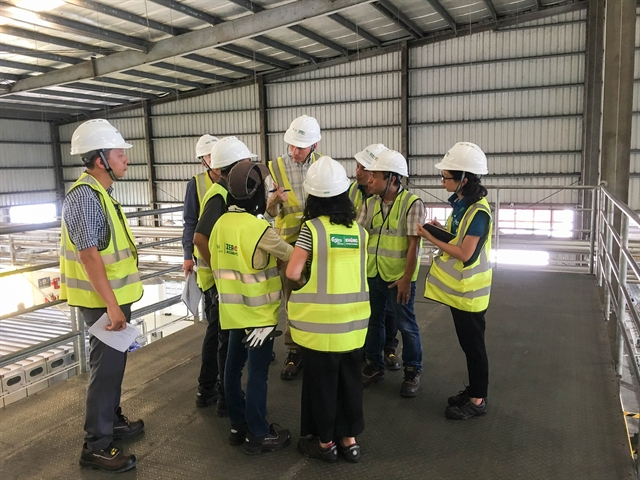 Vietnamese and Danish experts exchange experiences on monitoring electricity usage in a plant. — Photo courtesy of Denmark Embassy in Việt Nam.
Calculations show that if existing legislation is enforced, the sector could save at least 8 percent of its current annual energy consumption by 2025. With new methods, tools, and incentives based on Danish experiences, the saving rate could even be higher.
Việt Nam has experienced a significant increase in energy consumption, especially power consumption with an annual growth rate of about 9-10 percent in this decade
According to the revised National Power Development Plan 7 approved by the Government of Việt Nam, the total national energy consumption, especially fossil fuel consumption, will increase rapidly in the coming period in order to meet the country's high economic growth. Meanwhile, the Government is committed to the Paris Agreement and aims to ensure sustainable development to protect the climate and the environment.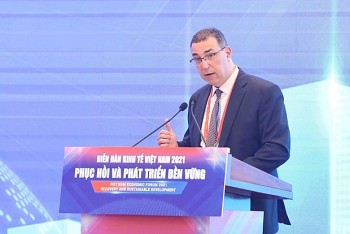 National
Vietnam News Today (December 6): Vietnam records 14,312 new Covid cases; Vietnam-Lao special relations continue to be nurtured; Vietnam's economy showing signs of recovery; Hanoi changes face-to-face learning plan at last minute.