Deputy PM requires industrial zones, factories to adhere 5K message
Deputy Prime Minister Vu Duc Dam has requested industrial zones, factories and enterprises to strictly comply with the 5K message
The Government Office has announced the conclusions of Deputy Prime Minister Vu Duc Dam, head of the National Steering Committee for Covid-19 Prevention and Control, at an online meeting with Da Nang City, Bac Ninh and Bac Giang Province.
Dam said that Vietnam had reported Covid-19 cases in the community, especially in industrial zones in Da Nang, Bac Ninh and Bac Giang. Right after the detection of infections, three localities quickly carried out pandemic prevention measures, so that the pandemic is basically under control.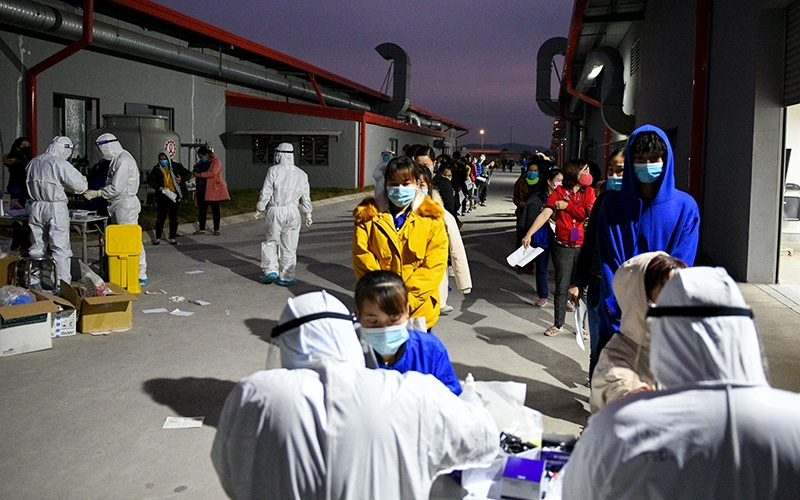 Deputy Prime Minister Vu Duc Dam requires industrial zones and factories to adhere to the 5K message. Photo: Nhan Dan Newspaper
Dam has requested localities to continue abiding by the direction of the government and National Steering Committee for Covid-19 Prevention and Control.
He has ordered people's committees of provinces and cities to direct industrial zones, factories and enterprises to strictly comply with 5K message and regularly update the implementation online. Those not ensuring safety will be forced to cease operation.
Once F0 cases are discovered, industrial zones, factories and enterprises need to cooperate with authorities to quarantine and apply social distancing measures to curb the spread of the novel coronavirus.
All officials and employees must make health declarations and report travel history.
Industrial zones, factories and enterprises must report the number of employees to provincial people's committees.
Ministries of health, public security, defense, industry and trade and transport have been assigned to regularly discuss issues with localities to provide them with assistance.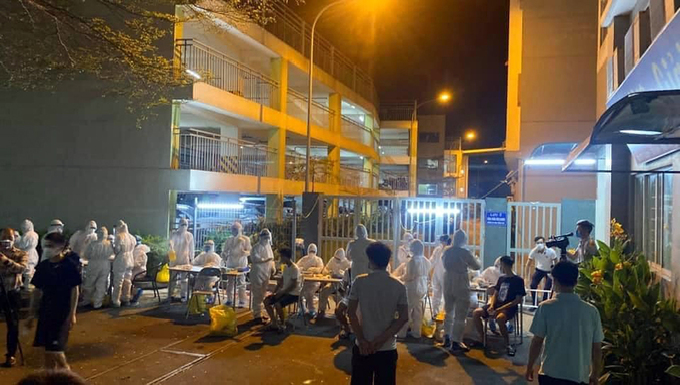 Medical staff take samples from Canon Vietnam's workers in Bac Ninh Province for coronavirus tests. Photo by VnExpress/Thanh Tung.
The Ministry of Health has been tasked to review and guide effective anti-pandemic measures to localities as well as research biological products and modern methods in testing.
In addition, it's urgent to reactivate and consolidate the quick response information group, he said.
The deputy prime minister has also ordered the Ministry of Industry and Trade to organize training sessions on ensuring safety in industrial zones.
It is also required to collaborate with the ministries of health, public security, transport and localities to monitor vehicles and upgrade the websites on Covid-19 prevention and control.
Ministries of defense and public security have been asked to organize training for officers and soldiers in taking samples for testing to support localities in case Covid-19 breaks out on a large scale.
Residents have been required to make health declarations and scan QR codes when coming to places such as hospitals, airports and train stations.
Depending on the pandemic situation, people's committees of provinces and cities will decide on making health declarations and scanning QR codes in other places.
Vietnam recorded 37 new cases of Covid-19 community transmission, all in quarantine sites or sealed-off areas, in the 12 hours to 6 a.m on May 17, raising the national count to 4,212, the Ministry of Health said.
Twenty-two of the new cases were reported in Bac Giang Province, 11 in nearby Bac Ninh Province, three in Vinh Phuc Province and one in Tuyen Quang Province. There are no new hotbeds.
So far, Vietnam has seen 2,746 domestic infections and 1,466 imported ones. The number of Covid-19 cases since April 27, when the new outbreak began, now stands at 1,176.
Among those still under treatment, 46 have tested negative for coronavirus once, 26 others twice, and 28 three times.
Thirty-six patients have succumbed to the disease while 2,668 others have recovered.
There are 108,288 people who have had close contact with confirmed cases or came from foreign pandemic-hit regions, under quarantine at present.
Meanwhile, 979,238 people have been inoculated against Covid-19 as of 4 p.m. May 16, with 22,561 getting two shots.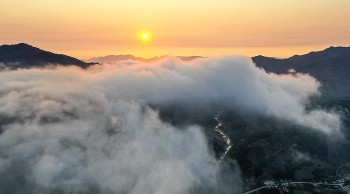 Multimedia
The gorgeous dawn behind a sea of fluffy white clouds creates a wonderful and beautiful picture of Truong Son Dong peak, Quang Ngai.