Vietnamese bride in India: 'My three-generation family contracted Covid-19'
When the second wave of Covid-19 swept through India, the three-generation family of Lai Ngoc Lan Huong, a Vietnamese bride in Kolkata, was injected with SARS-CoV-2.
Lai Ngoc Lan Huong's family. Photo courtesy of Huong
"My three-generation family contracted Covid-19"
In early April, the second wave of Covid-19 started to hit India. Since the middle of that month, when a spike of new infections and deaths was recorded, many states in India have imposed restrictive and blockade measures.
The West Bengal state has applied strict restrictive measures since April 30 when it documented the new daily Covid-19 cases of more than 16.000 people, Hindu Times reported. Kolkata city, where Huong and her family live, is the capital of West Bengal state.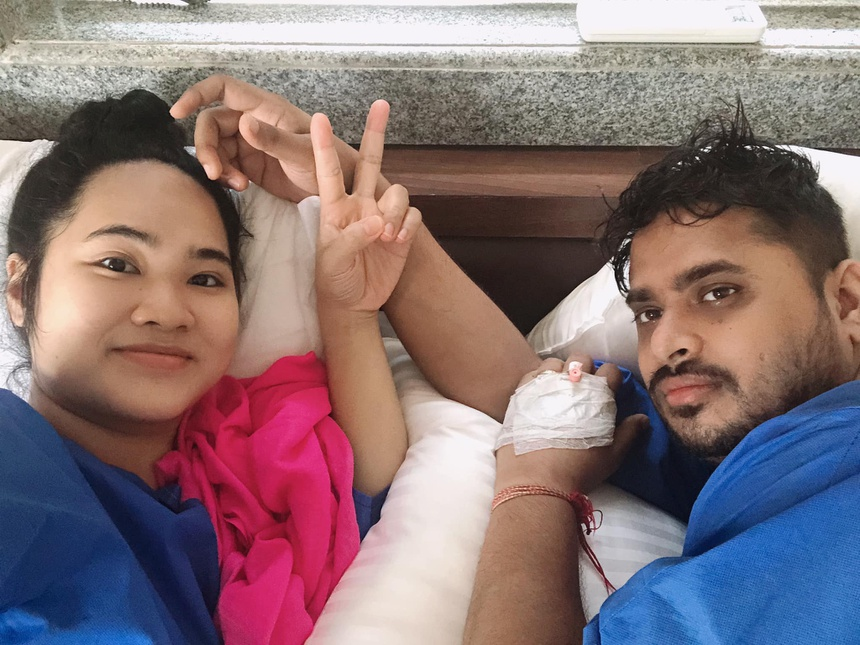 Huong and her husband are under treatment. Photo courtesy of Huong
"Disregarding the regulations on Covid-19 prevention and control, many people in my neighborhood still gather to enjoy parties. Downtown areas are still crowded with people," Huong told Zing News.
Amid the complex Covid-19 situation, Huong has stayed calm and optimistic.
Nevertheless, she has hardly gone out because she is still weak after giving birth four months ago. Suraj, Huong's husband, works at home and rarely comes into contact with anyone else but the family.
"At the end of April, my husband experienced fatigue and ache. He lost appetite and sense of taste and smell. It was sure that he contracted the virus," Huong recalled.
At that time, seeing that many people in the neighborhood self-treated at home and recovered, Huong's husband only isolated himself with other family members and didn't undergo testing.
Huong said she didn't know who her husband contracted the virus from. "In my building, all households close doors. We only go out when taking the rubbish out or receiving ordered items," she said.
She said that her family only register for examination and treatment online according to the doctor's prescription, and contacted them via WhatsApp for diagnosis.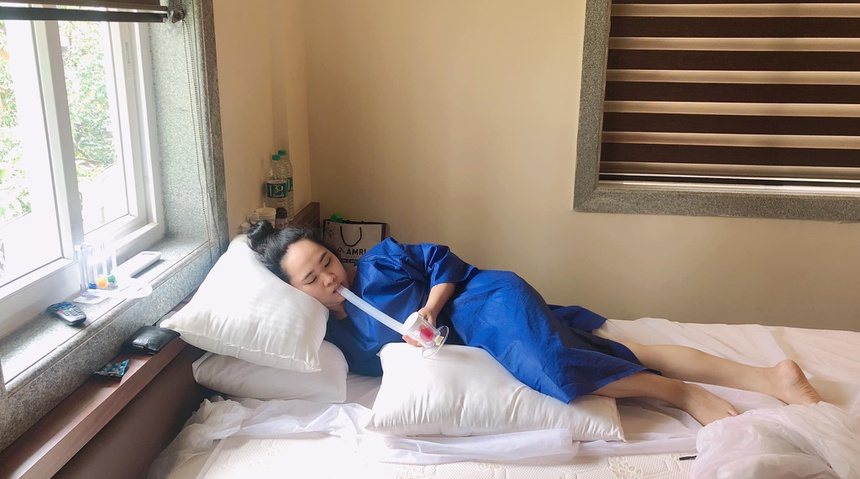 Huong is under treatment. Photo courtesy of Huong
A week later, Suraj had chest pain and sore throat but no fever. Having been in pain for two days, Suraj accompanied Huong to the hospital because she had a stomachache.
At the hospital, she and her husband were tested for Covid-19. While Huong's result returned negative, her husband positive which was within their prediction.
"Taking care of me while being infecting with Covid-19, my husband's health condition worsened. After five days, he began to be feverish, so, he asked a colleague, also our close friend to look after me. He then had to call an ambulance to get oxygen," Huong said.
The whole family made efforts to seek a bed for Suraj to be treated. Huong then found a hospital on the insurance list, but it didn't allow her husband to be hospitalized, only permitted to stay at a hotel rented by it. Only severe cases can be treated at the hospital. "We joke that we're like going on a vacation," Huong said.
She went on: "My whole family then had a fever at the same time. My child had a fever first, then my elder sister-in-law, mother-in-law and younger sister-in-law. All family members were then infected with the virus."
"My husband was the most critically ill"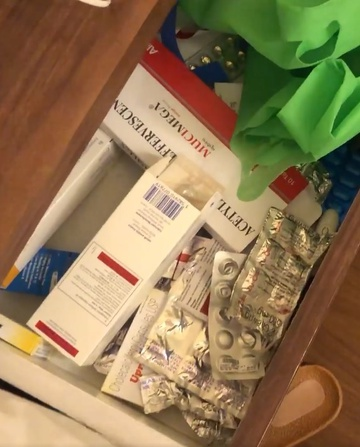 Medicines that Huong and her husband have to take. Photo courtesy of Huong
Suraj was the most critically ill with 60% of his lungs being affected. During the initial time of treatment, his health condition was very bad, doctors intended to transfer him to the intensive care unit, but no room was available.
"My family even planned to hire an ambulance to take my husband to Delhi, about thousands of kilometers from Kolkata, for treatment," Huong said.
Huong received news that some of her relatives and friends contracted SARS-CoV-2 and died, making her even more anxious.
Suraj started to get better after four days of connecting with a ventilator.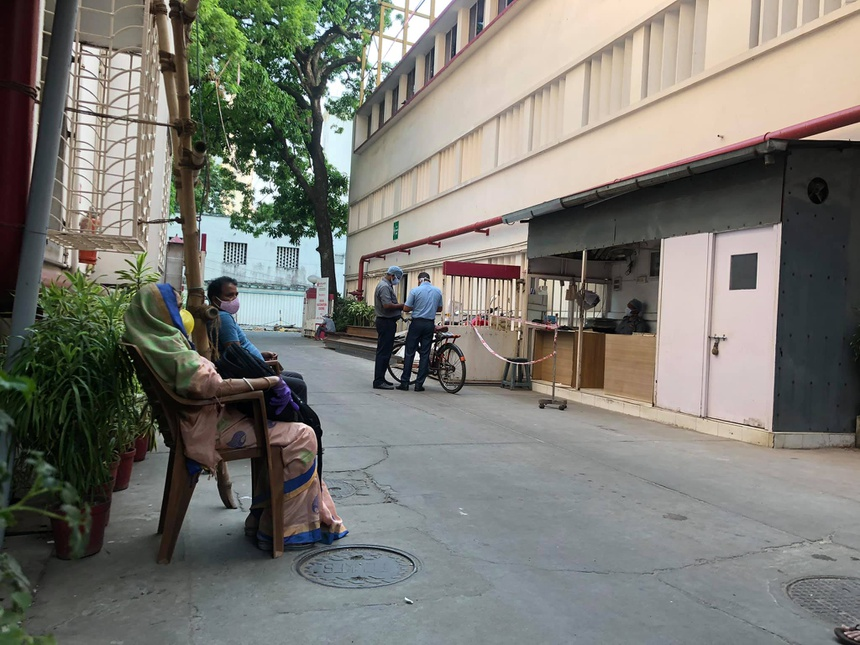 The Woodland Hospital, where Huong and her family got tested for Covid-19. People sitting on the stone bench are Covid-19 patients waiting to be hospitalized. Photo courtesy of Huong
However, Huong then became weaker and had to be treated at the hotel with her husband. "My husband and I were injected and took various types of medicine, depending on each person's body," she said.
Meanwhile, other members of Huong's family only self-treated themselves at home.
In the third week, Huong and her husband were much better, so they went home to continue their treatment, giving beds to other patients.
"Now, all of my family members are in stable health condition," she said.
Maintaining a continued trend in decreasing daily new cases, India on Friday reported 1,32,364 new coronavirus infections over the last 24 hours, while deaths rose by 2,713.
The total tally of infections stood at 2,85,74,350 and the death toll at 340,702, the health ministry said.
On a continued downward slope, the active caseload further declined to 16,35,993; less than 2 lakh since 8 successive days.
Active cases decreased by 77,420 in the last 24 hours. More than 2.65 crore persons have recovered from Covid across the country so far. 2,07,071 patients recovered during the last 24 hours.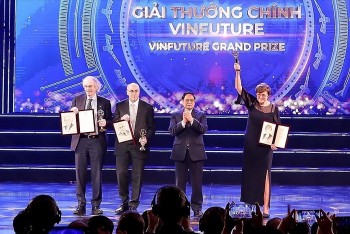 Handbook
Three times higher than Nobel Prize's monetary value, special prize for female innovators - Here's what you may not know about the new scientific prize launched by a Vietnam's leading group.