Discover famous Banh mi shops in HCMC with Miss Universe Vietnam
Miss Universe Vietnam and Top 5 International H'Hen Nie has recently made a vlog herself touring around four famous "Banhmi shops" in Ho Chi Minh City. The beauty treated a group of kids vendors selling lottery while enjoying the traditionally iconic food. 
The beauty was inspired by the 'I love Sai gon Banhmi' week event hosted by HCMC Department of Tourism, concurrently made the vlog to celebrate 'banhmi' appears symbolized on Google Doodle and its 9th anniversary of admission in the Oxford English Dictionary.
H'Hen has long been an avid fan of banhmi. In an interview, she shared her dream of having a bread vendor outside school back then when she was still a little girl.
At Miss Universe 2008, H'Hen Nie donned herself with Bread Costume in the National Costume competition. The beauty had made international headlines with the simple, but extreme unique and impressive costume.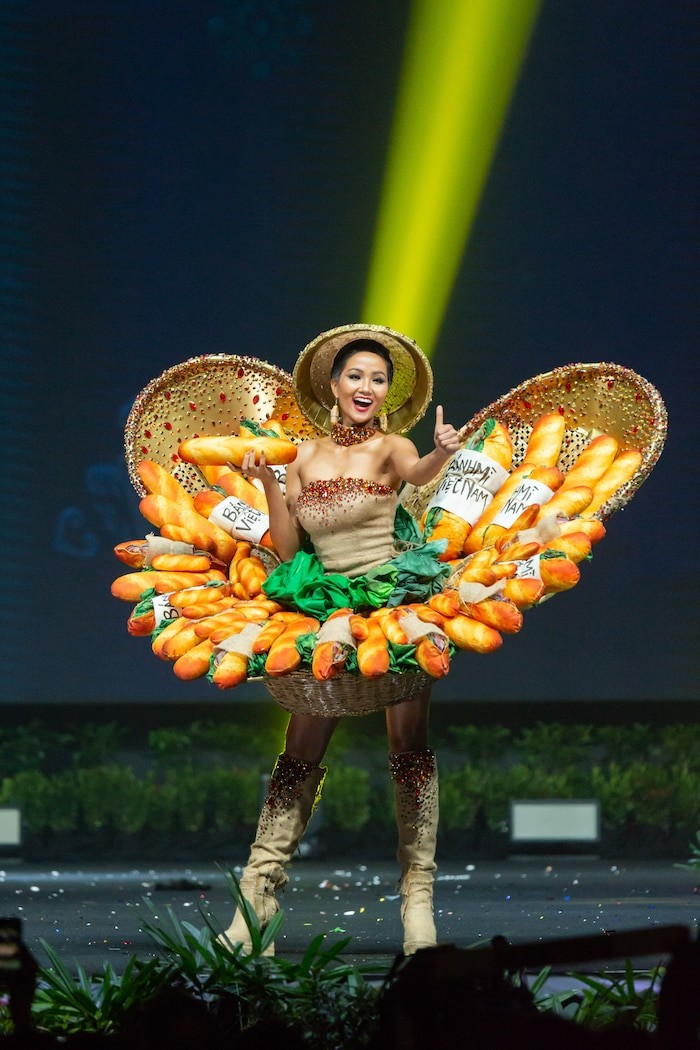 H'Hen Nie in Banh Mi costume at Miss Universe 2018 (Photo: Sao Star)
Simply dressed, the beauty drove a motorbike herself to 79 Da Lat in Thanh Thai Street in District 10 – the first stop of the food tour. "I really love this address, it brings me a Da Lat feel. On top of that, the shiumai dipping sauce adds a lot to the taste of banhmi here", she said.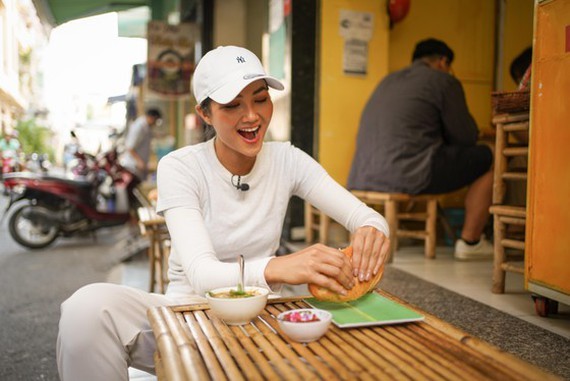 H'Hen at the first stop (Photo: SGGP)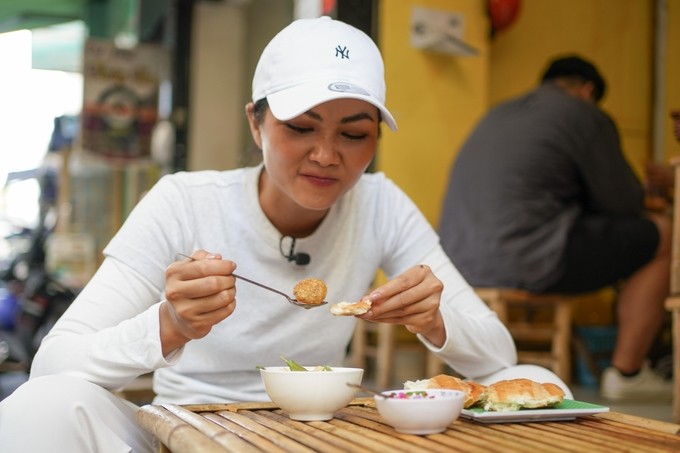 (Photo: SGGP)
The crowded bread shop of Ms. Le surprises the beauty with the unique way the banhmi was presented and eaten. Fried eggs, cheese, salt, and salmon all are put in a pan and eaters will dip banhmi into the sauce on the pan before enjoying it.
Before leaving Ms. Le's shop, H'Hen treated a group of child vendors selling lottery tickets each one serving of this specialty. The kids were kind of shy at first, but happily enjoyed the street food delicacy knowing the dishes were on the house, and also, thanks to the Miss Universe's friendliness.
"They were all Cambodian and didn't speak Vietnamese well. They looked so pathetic. I didn't want them to stand out there under the sun", she recalled.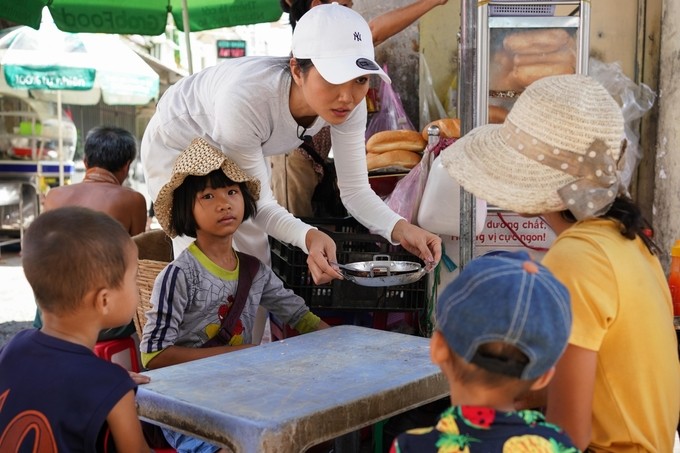 H'Hen was serving banhmi to the children (Photo: Vnexpress)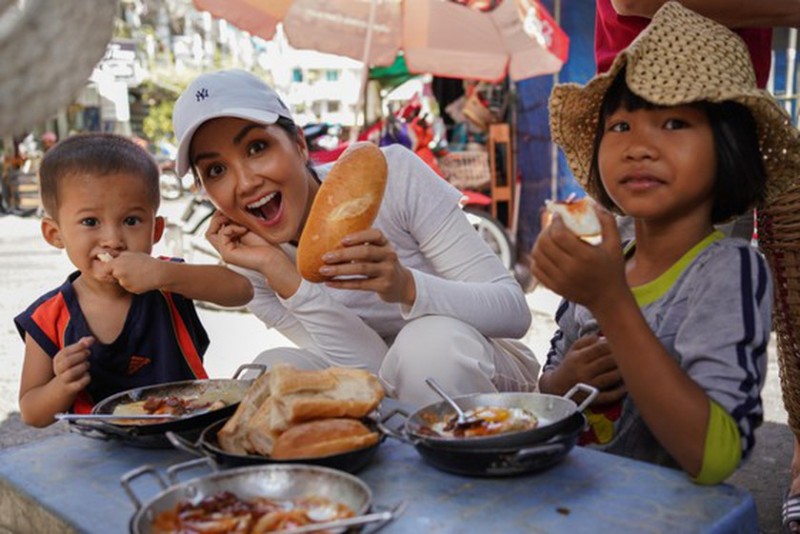 The beauty invites street children to have banhmi (Photo: SGGP)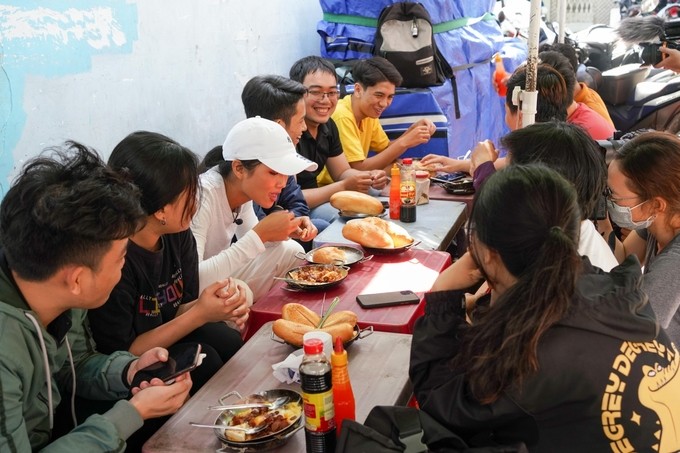 She also joined a group of young adults to share about the food at the second stop (Photo: Vnexpress)
H'hen resumed her tour at Bay Ho bread shop in the afternoon, which still served banhmi the traditional way, especially all the ingredients were made from scartch by the shop owners with secret recipes passed down for generations.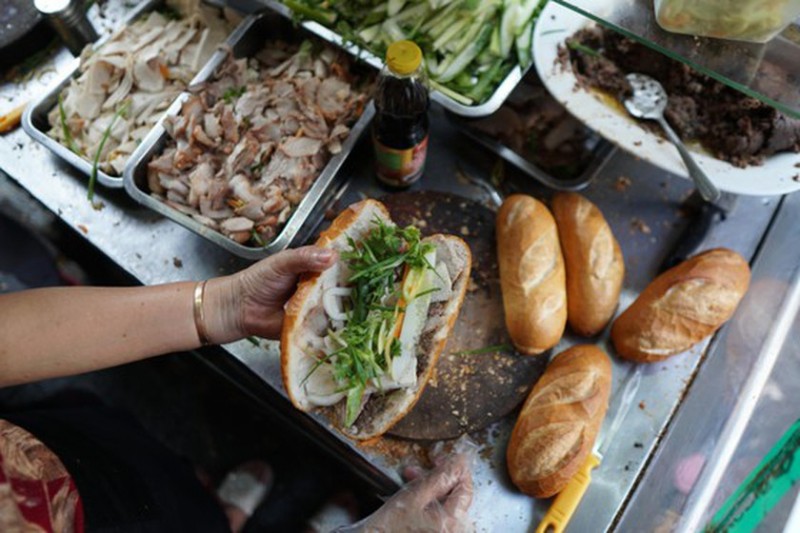 Traditional banhmi has various fillings, includes meat, sliced cucumber, herbs, chili sauce, etc, which are added to one's liking. (Photo: SGGP)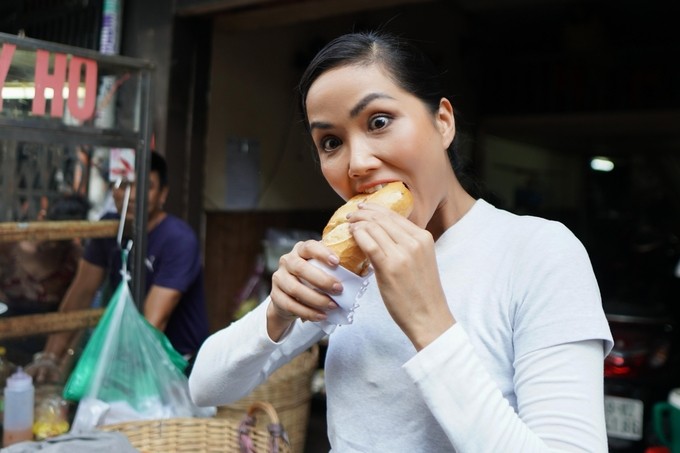 (Photo: SGGP)
The last stop was banhmi shop named Di Nui ( Nui Ant) to enjoy her banh mi with marinated intestine.
The beauty was impressed by the loud cry and the shopper's hospitality. After a long day traveling around the city discovering bread, she got more energized from the banhmi.
"I've never eaten much banhmi in one day like today though, all of them still have their own taste. I'm so proud of Vietnam's bread", H'Hen shared.
She was regrettable that she could not be able to visit all banhmi shops in the city. She hoped that her vlog would help viewers and international friends know more about Vietnamese banhmi with different ways of eating.
"If you visit Vietnam, banhmi really is a must-try street food", she added.