Domestic aviation on the road to recovery
Vietnam's aviation industry is gradually recovering with passenger numbers heading toward pre-pandemic levels after a months-long slump.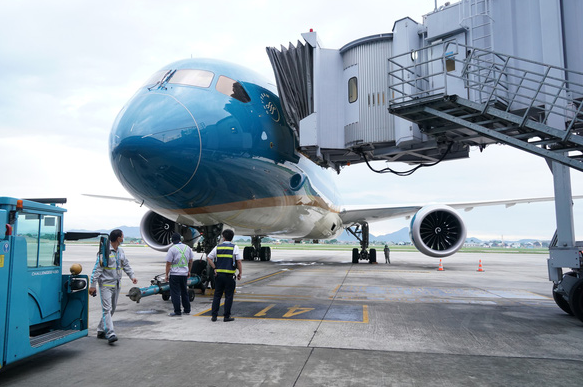 Aircrafts are disinfected before operating (Photo: Tuoi Tre)
Noi Bai International Airport in Hanoi handled 29,000 passengers daily during the weekend, nearly triple the daily average of August when there was a Covid-19 resurgence.
To Tu Ha, deputy director of the airport, said there has been a weekly increase of 15 percent since the beginning of September. "As Vietnam is doing well in controlling the pandemic, we expect domestic travel growth to be maintained for the rest of the year as traveling abroad is mostly limited." VN Express quoted.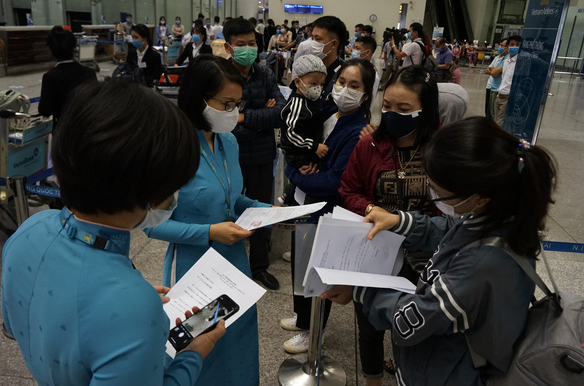 Passengers are given guidance about the safety standards in the context of COVID-19. (Photo: Tuoi Tre)
According to Vietnam Plus, Vietnam Airline's representative recently said that the firm will continue increasing the frequency of domestic flights to serve the increasing travel demand of people as the COVID-19 pandemic is well controlled in the country and the domestic aviation market is recovering rapidly. Vietnam Airlines currently operates 200 flights a day, with the number of passengers rising from 17,500 in August to nearly 40,000 now.
Bamboo Airways is also recovering with the number of passengers doubling this month to 12,000-15,000. Recently, a spokesman for Bamboo Airway said that it will re-exploit many domestic routes and open the first direct Hanoi - Con Dao route.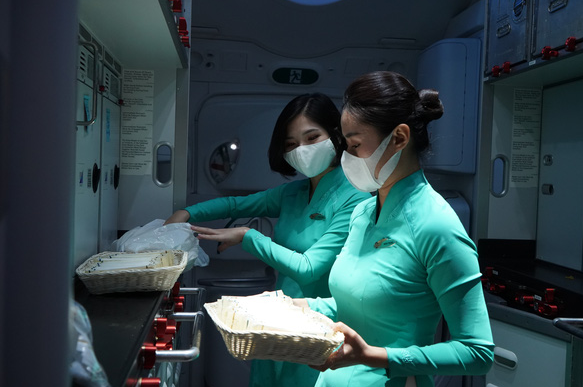 The flight attendants wear masks to ensure the safety on the flight. (Photo: Tuoi Tre)
Vietjet also noted "As the aviation market recovers, losses are being reduced. But airlines continue to face difficulties and we still need government support with taxes and fees."
Vietnamese carriers are also expecting a revenue boost from the resumption of flights to seven destinations including Japan, South Korea, China, and Thailand, a proposal the government has approved. However, Dinh Viet Thang, head of the Civil Aviation Authority of Vietnam said on September 22 that it is necessary for Vietnam as well as partner countries to agree on testing and quarantine protocols before re-conducting regular international flights, Tuoi Tre cited.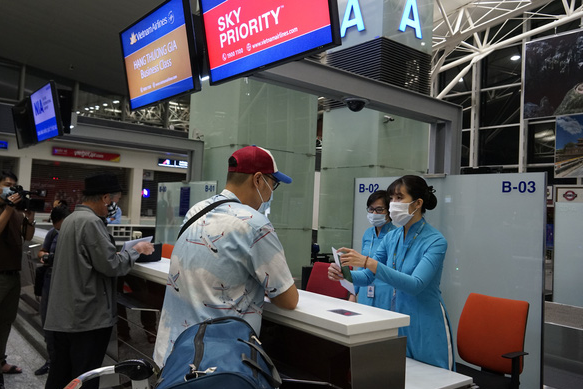 The first commercial international flight took off on September 19 (Photo: Tuoi Tre)
Another challenge is that both Vietnamese and foreign carriers are having trouble identifying businesspeople and "experts," the only categories of non-diplomatic passengers allowed to enter Vietnam, he added. The CAAV wants the Ministry of Public Security and Ministry of Foreign Affairs to take this into consideration when issuing visas so that airlines could sell tickets to the right passengers.
Vietnamese airlines carried 24.2 million passengers in the first eight months, down 35.1 percent year-on-year, according to the General Statistics Office.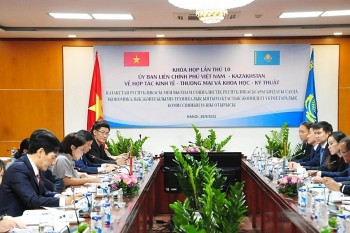 Friendship
The 10th session of the Vietnam-Kazakhstan Intergovernmental Committee on economic-trade and scientific-technical cooperation was held in Hanoi on September 26.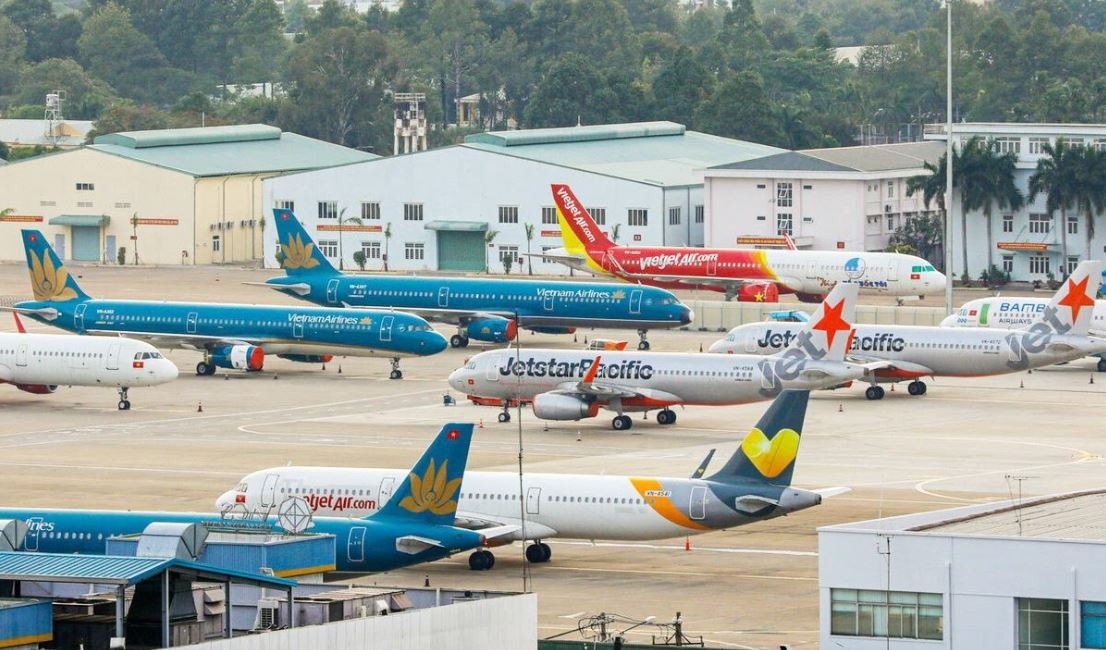 Economy
Vietnam Business & Weather Briefing (Sep 27): Reference exchange rate up VND 12, 248 aircraft registered under Vietnamese nationality, Binh Phuoc province lures investment into 62 projects, Noru storm is forecasted to hit Ly Son island at 9 pm tonight.
September 27, 2022 | 17:08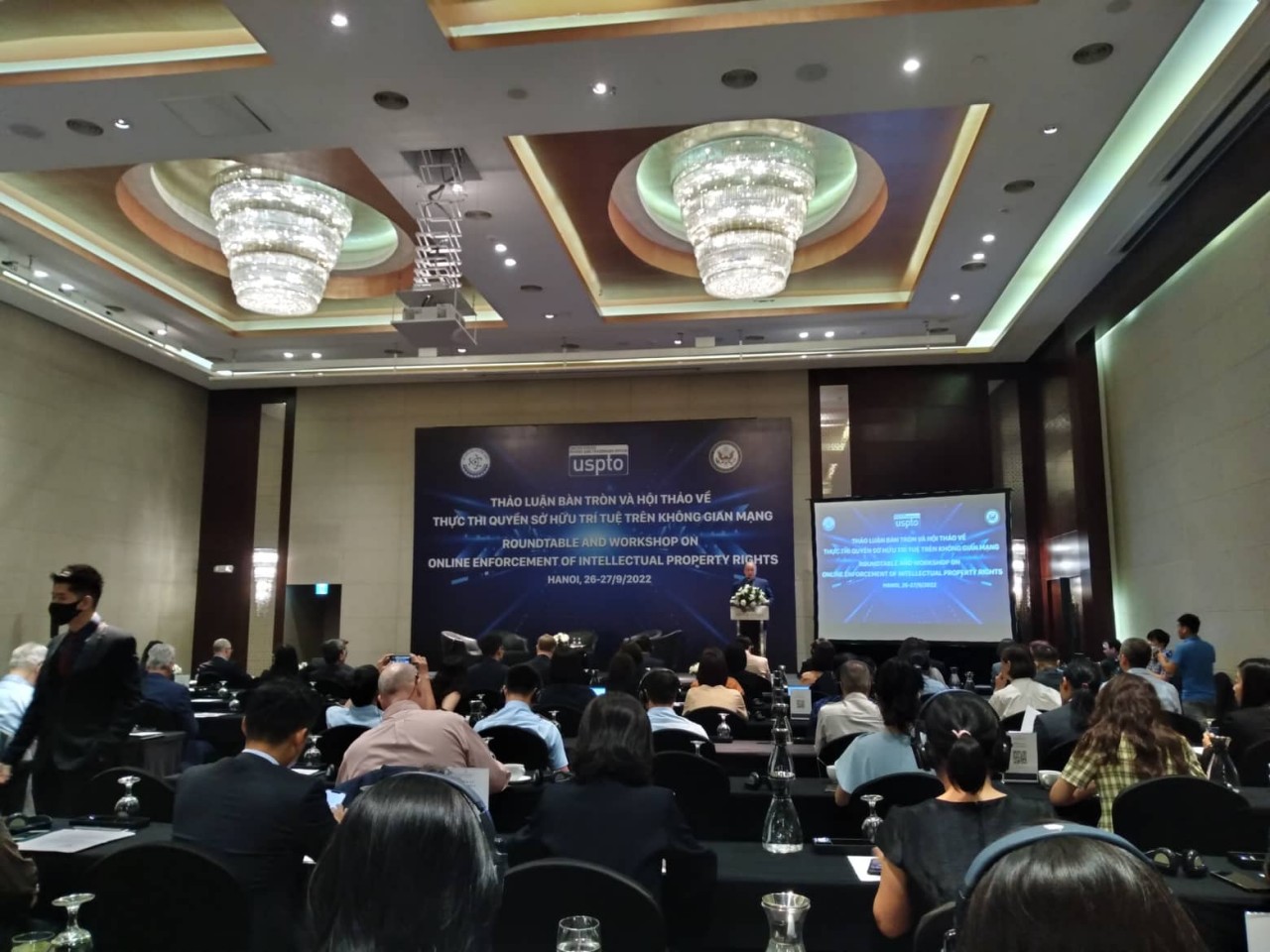 Economy
Vietnam needs to further protect intellectual property rights in cyberspace. Protecting intellectual property rights is also protecting the national economic development
September 27, 2022 | 15:02