Donald Trump to sign executive order "pertaining to social media" amid Twitter furor
The proposed order comes after Twitter added a fact-checking label to the president's tweets falsely claiming mail-in voting is linked to fraud. Trump responded by ranting against Twitter, on Twitter, accusing the company of "interfering in the 2020 Presidential Election" and silencing conservative voices.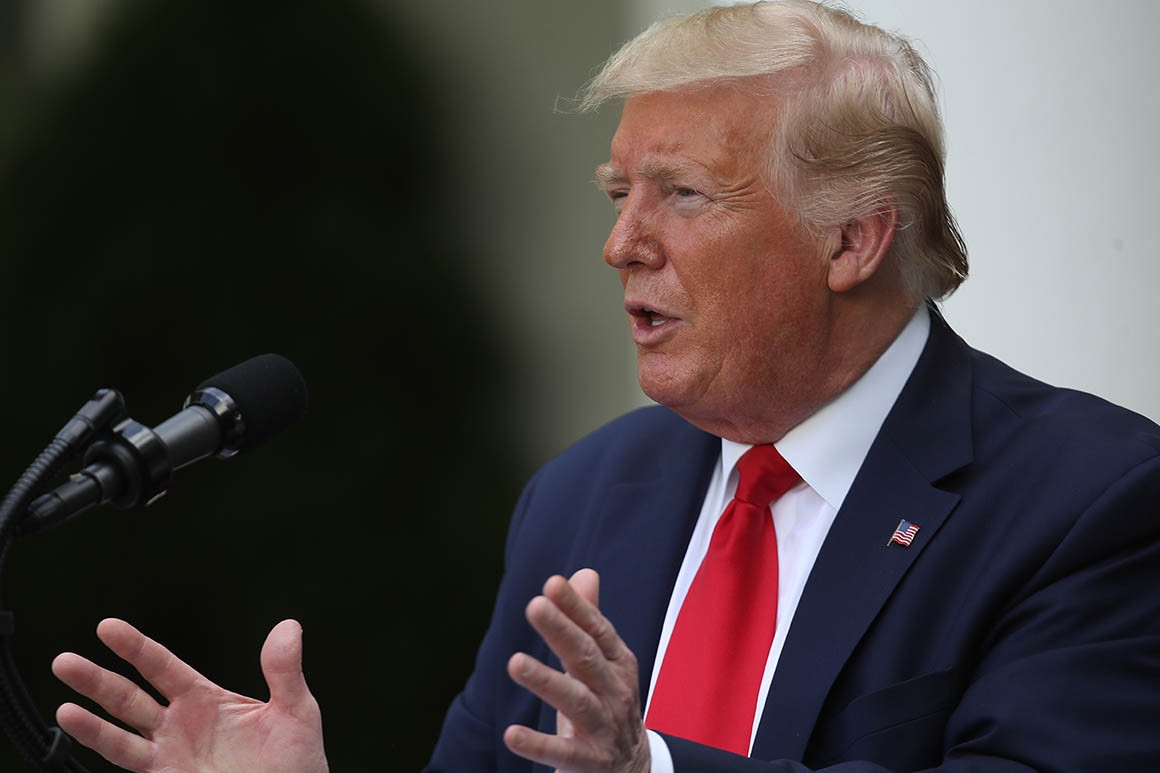 (Photo: Politico)
The President plans to sign an executive order on Thursday about social media, according to tweets by several White House reporters on Wednesday. The expected move comes after Twitter fact-checked Trump's mail-in ballot tweets for containing "potentially misleading misinformation, Business Insider said.
No details about what Trump's order would do was disclosed, CNET reported.
The announcement, however, according to Politico, revived fears within the online industry that the Trump administration will target a 24-year-old statute that protects the companies from lawsuits — an avenue that a growing number of Republican lawmakers have advocated in their bias allegations about Silicon Valley.
Earlier on Wednesday, Trump said in a tweet that Twitter "has now shown that everything we have been saying about them (and their other compatriots) is correct" and that "big action" would follow. He didn't specify what this action would be but White House reporters for The New York Times, PBS, and CNN tweeted on Wednesday that the president will sign an executive order "pertaining to social media" tomorrow.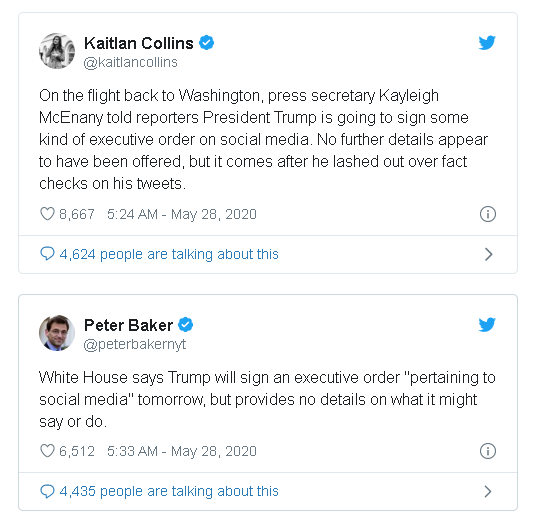 (Photo: Captured)
The expected action by Trump highlights how tensions between some of the world's largest social media companies and conservatives are heating up amid their efforts to crack down on misinformation. Twitter and other social media companies have repeatedly denied they suppress conservative speech.
Twitter acted after Trump had alleged without evidence that mail-in ballots are likely to be "substantially fraudulent," in tweets that the company said contained misleading information about the electoral process. The move triggered an array of rebukes from Republicans, including Trump.
"@Twitter is now interfering in the 2020 Presidential Election," Trump tweeted Wednesday, adding that "Twitter is completely stifling FREE SPEECH, and I, as President, will not allow it to happen!"
Democrats, meanwhile, have complained that Twitter has been too slow to respond to a litany of abusive, inaccurate or inflammatory tweets from the president, including his recent baseless insinuations that MSNBC host Joe Scarborough may be guilty of murder, Politico said.
On Tuesday, Trump tweeted to his more than 80 million followers that "There is NO WAY (ZERO!) that Mail-in-Ballots will be anything less than substantially fraudulent," a claim that has been debunked by fact-checkers and news organizations. He continued his remarks in another tweet, stating that it will be a "Rigged Election." In a rare move, Twitter then added a label to Trump's two tweets because they contained "potentially misleading information about voting processes."
A label appears under both tweets that reads: "Get the facts about mail-in ballots." Clicking on the warning notice directs people to a page explaining that fact-checkers say there isn't any evidence that mail-in ballots are linked to voter fraud.
Twitter, Google and Facebook declined to comment. Snap and TikTok didn't immediately respond. It's unclear if the executive order has been finalized yet, CNET reported.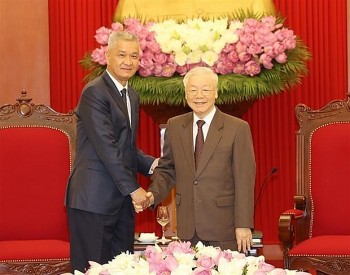 Friendship
Anouphap Tounalom, Secretary of the Lao People's Revolutionary Party (LPRP) Central Committee, and Secretary of the Party Committee and Chairman of the People's Council of Vientiane is conducting a visit to Vietnam.