World news today: Early signs of hurricane season detected in the Atlantic
World news today May 13:  A broad surface of low pressure in the Atlantic west of Florida is being given a 50 percent chance of forming into a depression or tropical storm by the National Hurricane Center.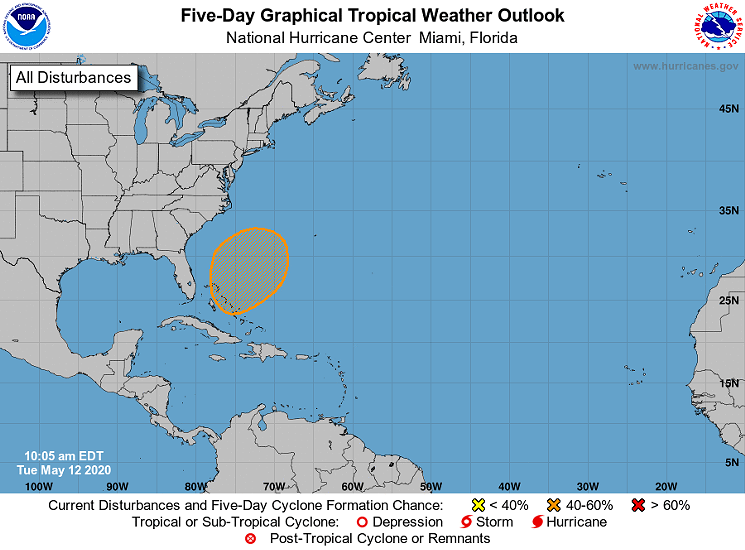 A low pressure system near Florida is expected to develop a little by this weekend, but pose little real threat.
(Graphics: National Hurricane Center)
Early Signs of Hurricane Season in the Atlantic
Hurricane season begins on June 1, but that isn't stopping the tropical Atlantic from heating up in May. A broad surface of low pressure in the Atlantic west of Florida is being given a 50 percent chance of forming into a depression or tropical storm by the National Hurricane Center.
While that is early, obviously, it's not uncommon. There have been 15 seasons in which named storms have formed prior to June 1, including the last four seasons. This, unfortunately, would seem to be the norm at least over the past five years.
Fortunately, it is unlikely the storm would make landfall in the United States, though it could bring some rainy and windy conditions to the Bahamas and Bermuda as it meanders off the East Coast before heading out to sea.
Before you freak out, early-season storms like this one are not predictors of things to come. We remain in a period of elevated storm activity, a cycle that runs between 20 and 40 years. We are roughly 30 years into that cycle. That is more likely the reason we could be headed for an active hurricane season, not this disturbance, as reported by Houston Press.
Coronavirus can affect the whole body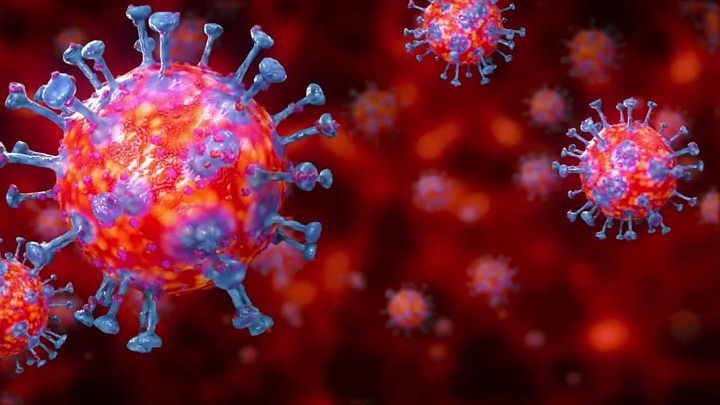 (Photo: BBC)

Blood clots in the body's main artery is an extremely dangerous development that can kill between 20% and 50% of patients, according to CNN.
Doctors treating coronavirus patients are seeing a range of odd and frightening syndromes, including blood clots of all sizes throughout the body, kidney failure, heart inflammation and immune complications.
"One thing that is both curious and evolving and frustrating is that this disease is manifesting itself in so many different ways," said Dr. Scott Brakenridge, an assistant professor on the acute care surgery team at the University of Florida College of Medicine.
It can also cause multi-system organ failure
"In some cases it's having severe effects on the patient's ability to breathe, and in others it seems to be associated with development of multi-system organ failure -- when all your organs shut down. And now it's associated with immune effects in children."
While the new coronavirus is designated as a respiratory virus, it's clear that it is affecting some people throughout their bodies. The most obvious symptoms of infection are classic respiratory symptoms: fever, pneumonia and acute respiratory distress syndrome.
While the new coronavirus is designated as a respiratory virus, it's clear that it is affecting some people throughout their bodies. The most obvious symptoms of infection are classic respiratory symptoms: fever, pneumonia and acute respiratory distress syndrome.
Other teams of doctors have reported unusual strokes in younger patients, as well as pulmonary embolisms, the medical name for blood clots in the lungs.
It might cause children's immune systems to overreact
One of the most frightening syndromes that might be linked with Covid-19 is "pediatric multisystem inflammatory syndrome, New York City reports 52 cases, Mayor Bill de Blasio said Tuesday, and the New York State Department of Health says it is investigating 100 cases.
It is characterized by persistent fever, inflammation, poor function in one or more organs, and other symptoms that resemble shock, a panel of pediatricians known as the International PICU-COVID-19 Collaboration says.
It may be caused by an immune system response known as a cytokine storm, may also cause some of the lung damage and unusual blood clotting seen in adult patients ,doctors say.
It can cause 'Covid toes'
One last symptom that is puzzling -- but less troubling -- is known as "Covid toes." Patients are reporting red or purple swelling of their toes, which might be caused by the tiny blood clots associated with COVID-19, CNN reported.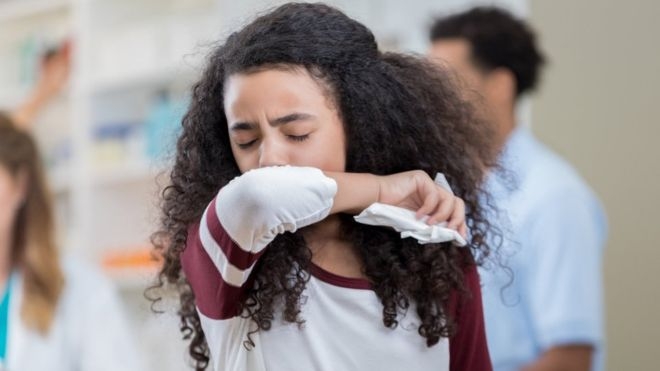 Coronavirus might cause children's immune systems to overreact (Photo: BBC)
Fear over the second wave of coronavirus grows in the world
As many countries began to relax their restrictive measures to prevent the spread of the Covid-19 epidemic, the emergence of new outbreaks and the return of new infections raised fears of the second wave of infection. This is also a danger to officials when reopening the economy after lockdown.
Public health experts, including those at the World Health Organization, have for weeks warned authorities against lifting containment measures too early, which could cause a rebound in new coronavirus cases. Meanwhile, investors and analysts said another round of lockdowns would exacerbate the damage already inflicted on the global economy.
Several countries including China and South Korea have experienced an uptick in cases after restrictions were eased. In some instances, authorities have had to reimpose measures that restrict interactions between people to once again fight the virus spread.
Japan experienced a second wave of Covid-19 before the latest jump in cases in China and South Korea.
In Germany, mathematicians analysing the spread of the pandemic also believe they are witnessing a new dynamic, however. "There are signs that the reproduction number is going back up again," said Prof Thomas Hotz of Technische Universität Ilmenau, Hotz added: "And if you see how people have started acting in the big cities, it doesn't completely surprise me.", reported by The Guardian.
Similarly, when the French government has gradually lifted the national blockade order nearly two months, the Ministry of Health of the country said that the number of Covid-19 deaths on 11.5 increased nearly 4 times and the number of new infections doubled from the previous day, according to Reuters.
In the US, the number of cases and deaths from Covid-19 continue to rise. President Donald Trump yesterday accused Democratic governors of "acting slowly" in easing measures to limit contact and allow businesses to resume operations..
Gold prices in India fall for the fourth day in a row
Gold prices in India extended losses to the fourth day in a row amid mixed global cues. On MCX, June futures were down 0.23% to ₹45,520 per 10 gram, extending the previous session's 0.30% drop. Silver futures on MCX also fell today, declining 0.4% to ₹42,870 per kg. The rupee was higher against the US dollar, weighing on domestic gold prices, which include 3% GST and 12.5% import duty. India imports most of its gold requirements.
Risk sentiment improved after Prime Minister Narendra Modi on Tuesday said the government will spend a total of ₹20 trillion to help the economy weather the fallout from the coronavirus pandemic. Domestic equity markets were sharply higher in pre-open trade.
Jigar Trivedi, research analyst at Anand Rathi Shares, said: "Gold opened in red due to strength in rupee. However comes gold was still flat to positive on expectations of more stimulus from the U.S. Federal Reserve to support an economy battered by coronavirus-induced restrictions, while an easing dollar lent further support. Having said that, we believe the undertone is still positive so its buy on dips market."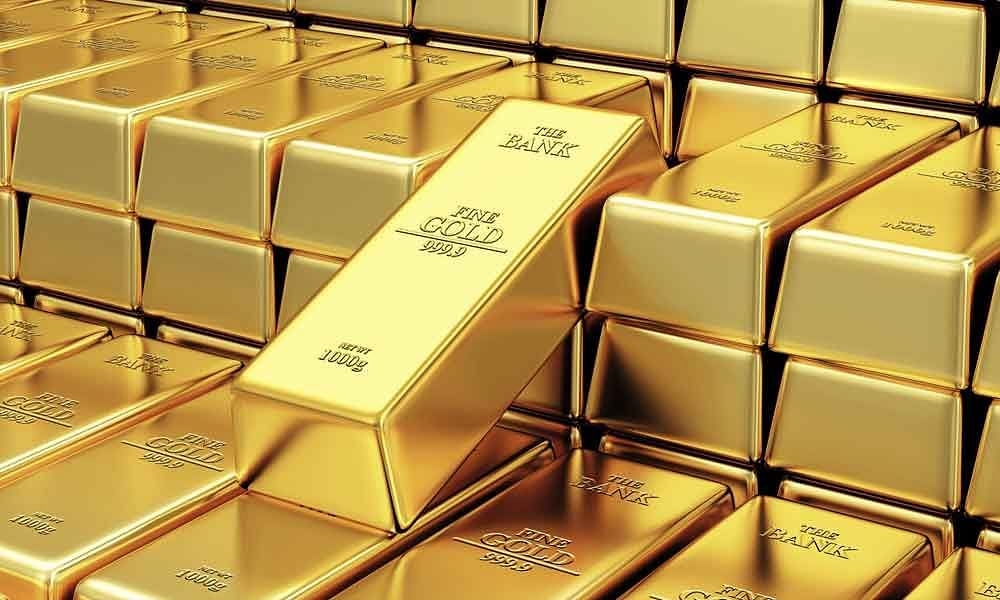 (Photo: The Hans India)
In global markets, gold prices rose today on expectations of more stimulus from central banks to support economies battered by coronavirus lockdowns. Spot gold rates rose 0.3% to $1,701.44 per ounce.
Overnight, US stocks fell after Anthony Fauci, the director of the National Institute of Allergy and Infectious Diseases, told Congress the virus was not yet under control and that there would not likely be a treatment or vaccine in place by late August or early September.
Gold has risen over 12% so far this year amid unprecedented stimulus announced by global central banks. Widespread stimulus measures benefits gold because it is considered a hedge against inflation.
Gold traders will look for clues on Federal Reserve stance as chairman Jerome Powell will later in the day be speaking on current economic issues in a webcast hosted by the Peterson Institute for International Economics.
US President Donald Trump on Tuesday again pushed the Federal Reserve to adopt negative interest rates, Livemint reported
IRS assures public 2020 stimulus check direct deposit site not a scam; deadline Wednesday for bank payment signup
If you haven't yet received your IRS stimulus check, the deadline to have it sent via direct deposit is 11 a.m. Central Time (or noon Eastern Time) Wednesday, but some people are feeling uneasy about entering their personal information into the IRS website, abc7Chicago said.
For the last several years the IRS has been warning the public about scammers seeking personal information in an effort to steal your money. Much of that information is now being asked for by the IRS to allow for direct deposit of your stimulus check.
That's exactly why Pat Quinn was leery about entering her bank information online so that she could get her stimulus check.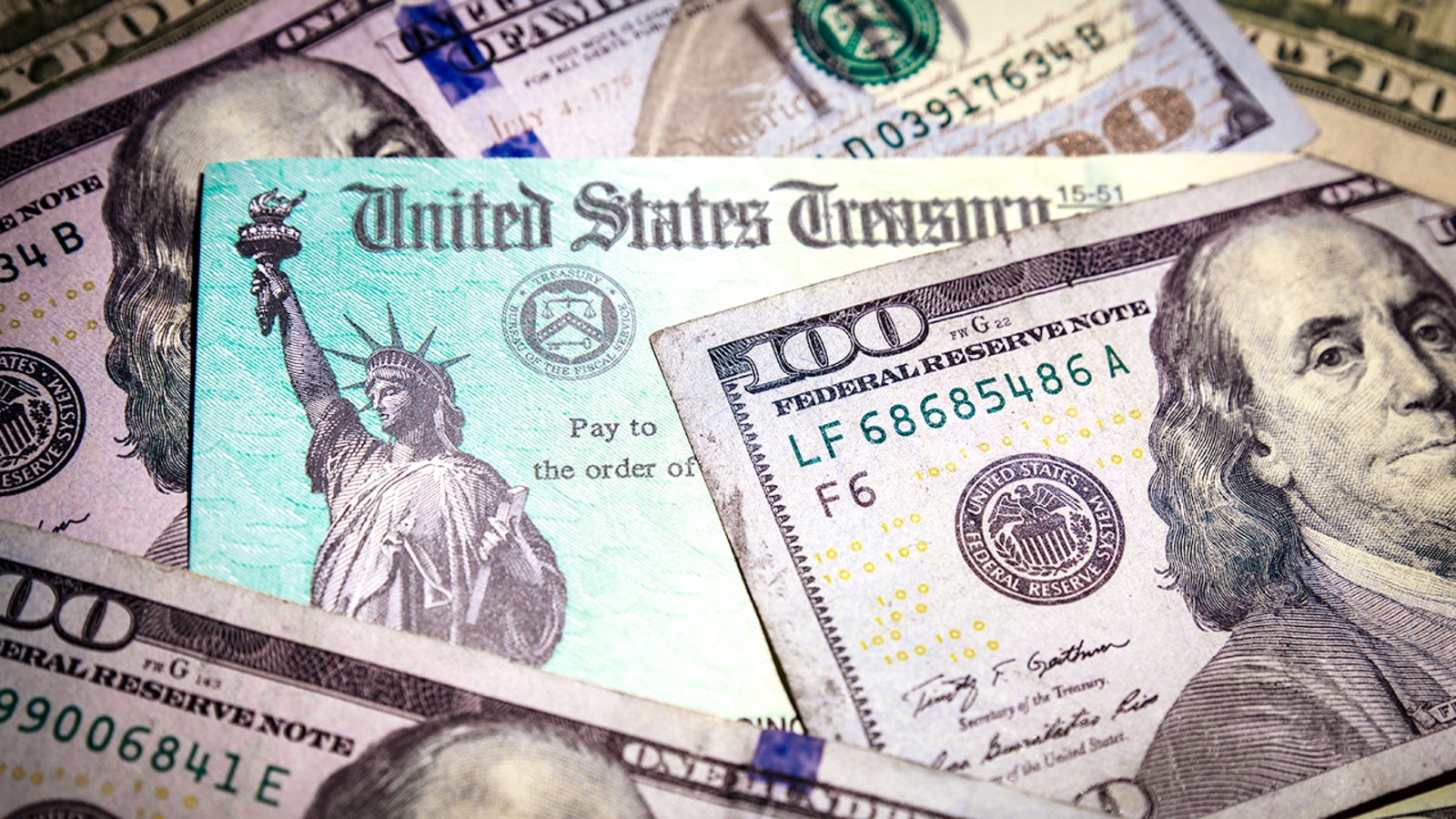 (Photo: abc7 chicago)
Quinn, who lives in Naperville, isn't alone. The ABC7 I-Team received several calls from people who were unsure if is safe to enter their bank information on the IRS website. Some even questioned if the site is legitimate.
IRS Special Agent in Charge Kathy Enstrom addressed their concerns.
"I can understand that there have been conflicting messages in our past in regards to this," she said. "We are just trying to make this the easiest way possible for the taxpayers to get the Economic Impact Payments as quickly as possible."
"I would say that as long as they go directly on by typing in their web browser IRS.gov, and go into that website, you can be assured that that is a little more safe," Enstrom added.
With that reassurance, Quinn decided to enter her information.
People who haven't received their stimulus checks can use the IRS's Get My Payment feature to upload bank information. You can also try using the non-filer tool if you don't pay taxes. The deadline, again, is 11 a.m. Central Time (or 12 p.m. Eastern Time) Wednesday.
Sen. Rand Paul To Dr. Fauci: 'I Don't Think You're The End-All'
Sen. Rand Paul, R-Ky., had sharp words for Dr. Anthony Fauci, the nation's top infectious disease expert, during Tuesday's Senate committee hearing on the coronavirus.
In arguing for reopening the economy and schools, Paul said, "As much as I respect you, Dr. Fauci, I don't think you're the end-all. I don't think you're the one person who gets to make a decision."
"If we keep kids out of school for another year, what's going to happen is that the poor and underprivileged kids who don't have a parent that is able to teach them at home are not going to learn for a full year," said Paul, who tested positive for COVID-19 in March.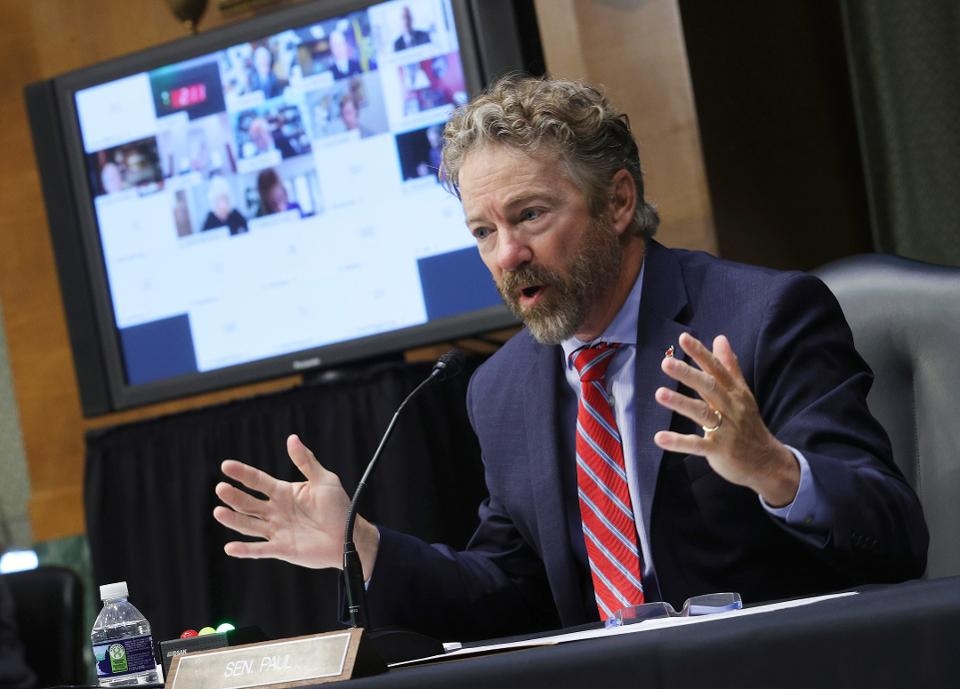 (Photo: Forbes)
Earlier in the hearing, Fauci responded to a question about whether schools should reopen in the fall by saying it was unlikely there would be a vaccine or a treatment for COVID-19 available that soon. At the end of the hearing, he clarified that reopening should be based on testing capacity and the severity of the local outbreak, not on whether a vaccine is available.
On getting people back to work, Paul said there was evidence those who do contract the disease develop an immunity to it, at least in the short term, as reported by NPR.
Paul went as far as to say that "the silver lining to so many infections in the meat processing industry is that a large portion of these workers now have immunity. Those workers should be reassured that they likely won't get it again instead of being alarmed by media reports that there is no evidence of immunity."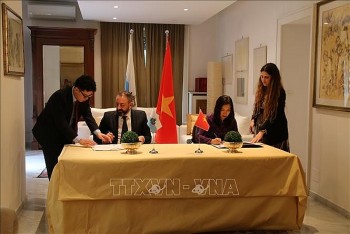 Friendship
The two countries will continue promoting cooperation to enhance growing ties between the two countries based on the good friendship since they established diplomatic relations in 2007.