Enjoying fruitful cooperation for 45 years
September 23 marks 45 years of diplomatic ties between Vietnam and the Federal Republic of Germany. During that time, the bilateral strategic partnership has been deepened in all fields among which economic, trade and investment co-operation are important pillars.
Germany has been one of the most important European partners of Vietnam for many years.
German Ambassador to Vietnam Guido Hildner told Vietnam News that the relationship between Vietnam and Germany is very good. It has been intensified over recent years. In 2011, both governments entered into a strategic partnership, with major areas of cooperation, for instance, including the sectors of the environment, energy and vocational training, according to Vietnam News.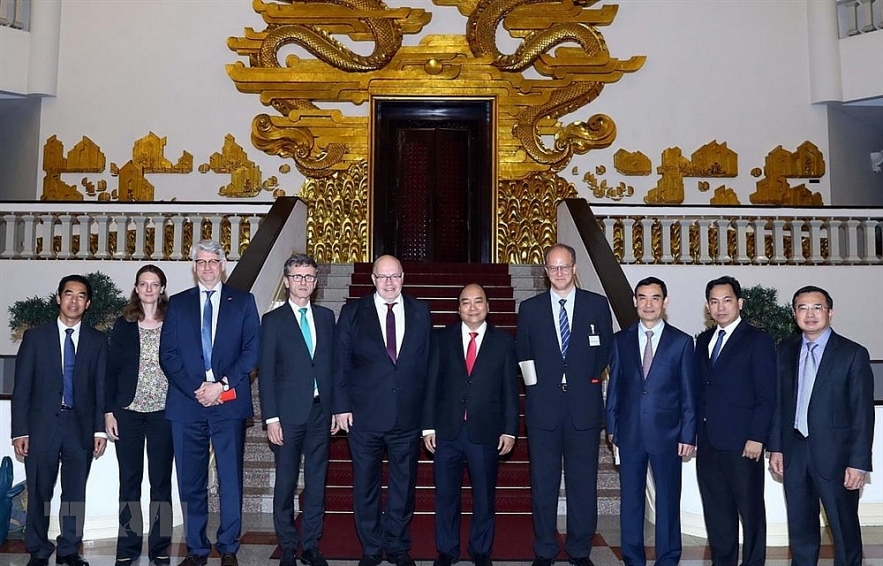 Prime Minister Nguyễn Xuân Phúc welcomes German Minister for Economic Affairs and Energy Peter Altmaier.– VNA/VNS Photo Thống Nhất
"In the year 2020, we have seen very intensive corporation in the international and multilateral arena. Both countries are members of the United Nations Security Council and Vietnam is chairing ASEAN and Germany holds the presidency of the European Union Council," he said.
Ties strengthened through maintenance of high-level delegation exchanges and cooperation mechanisms
During the visit to Việt Nam by German Chancellor Angela Merkel in October 2011, prime ministers of the two countries signed the Hà Nội Joint Declaration on the establishment of a strategic partnership, which set out objectives and measures to enhance co-operation in prioritised areas.
After the declaration, the two countries regularly conducted delegation and high-level exchanges, creating a driving force for co-operation.
The most recent exchanges conducted by Vietnamese leaders were visits by Prime Minister Nguyen Xuan Phuc in July 2017 and Deputy Prime Minister, Foreign Minister Pham Binh Minh in February 2019.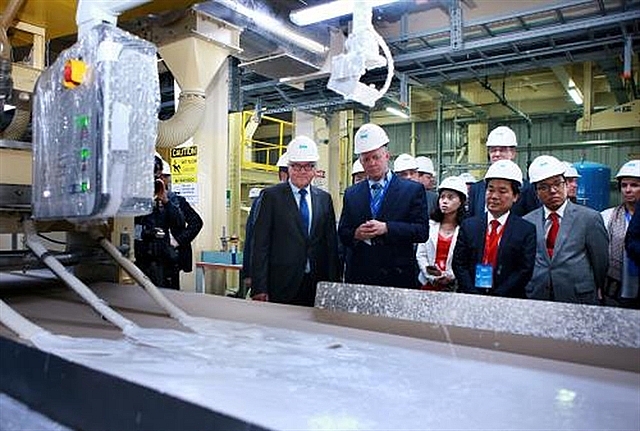 Frank-Walter Steinmeier, foreign minister of Germany, visits a factory at Đình Vũ Industrial Park in Hài Phòng City during his trip to Việt Nam in October 2016. VNA/VNS Photo Lâm Khánh
Federal Economic Minister Peter Altmaier visited Việt Nam in March 2019, following the visit made by German Foreign Minister Frank-Walter Steinmeier in October 2016.
The Communist Party of Việt Nam and the German Social Democratic Party (SPD) have an annual theoretical dialogue mechanism. The fifth theoretical dialogue took place on November 15, 2016, in Hà Nội and the sixth took place from July 2-7, 2017 in Berlin. The Communist Party of Việt Nam held dialogues with the leftist Party in Germany in April 2019.
Big trading partners as well as effective cooperation in various sectors
Vietnam-Germany economic relations have achieved many impressive results in recent years, nhandan revealed.
Germany is Vietnam's largest trading partner in Europe, representing nearly 20% of Vietnam's exports to the European Union (EU), and is also an important transit gateway for Vietnamese goods to the market. Two-way trade turnover reached more than US$10.24 billion in 2019, with Vietnam enjoying a trade surplus.
Germany is a big market, consuming many Vietnamese products, including telephones, computer parts, footwear, coffee and farm produce. For Germany, Vietnam is a potentially fast growing market in Asia.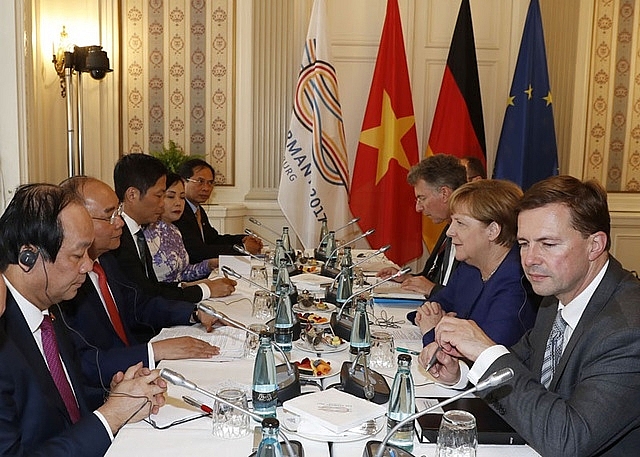 Vietnamese Prime Minister Nguyễn Xuân Phúc and German Chancellor Angela Merkel hold talks in Hamburg during Phúc's visit to Germany in July 2017 to attend the G20 Summit. — VNA/VNS Photo Thống Nhất
As of May 2020, Germany has 361 valid projects in the country with a total registered capital of US$2.06 billion, ranking fourth among EU countries and 18th out of the 132 countries and territories investing in Vietnam.
Germany is one of Vietnam's most important partners in vocational training. The country has assisted the Vietnamese Ministry of Labour, Invalids and Social Affairs in developing a national vocational training strategy, drafting the Law on Vocational Training, as well as opening vocational training schools according to Germany's parallel vocational training model.
In terms of development cooperation, Germany has provided more than US$2 billion for ODA projects in Vietnam since 1990 through technical and financial cooperation, with technical cooperation projects implemented in the form of nonrefundable aid.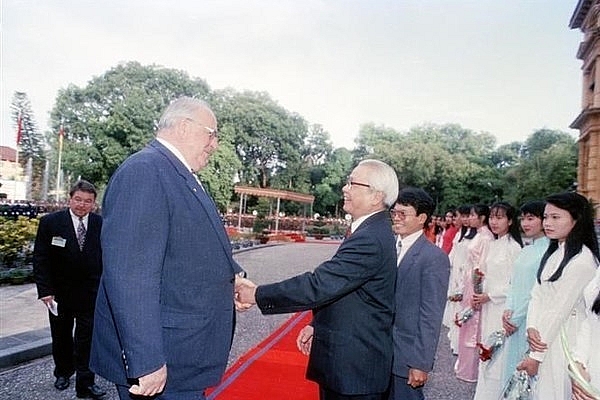 Prime Minister Phan Van Khai greets German Chancellor Helmut Kohl in Hanoi, November 17, 1995
In addition, bilateral collaboration in culture and education-training has been growing consistently. Over recent years, cultural and artistic exchanges between the two countries have taken place in a vibrant fashion. Germany has supported Vietnam in implementing a number of projects on conservation and restoration of cultural heritages in the ancient capital of Hue, as well as in archaeological research.
With regards to education-training, there are about 300 Vietnamese postgraduates receiving research scholarships in Germany, and more than 7,000 Vietnamese students are studying at German universities. Moreover, since 1993, through the German World University Service (WUS), the Hessian State Ministry for Science and the Arts has granted 150 scholarships annually to students with excellent academic results at some colleges and universities in Vietnam.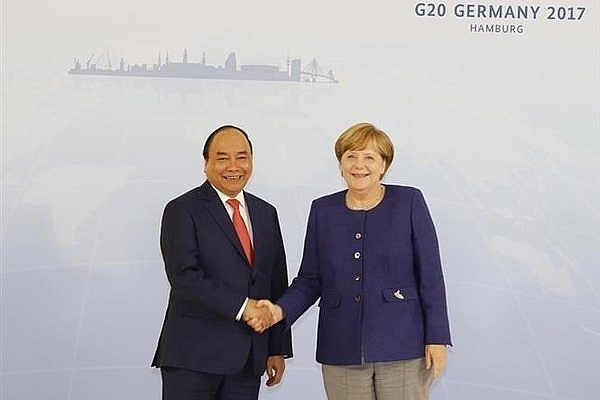 German Chancellor Angela Merkel greets Prime Minister Nguyen Xuan Phuc while he was in Germany for an official visit and attending G20 Summit from July 5 to 8, 2017
2020 marks a crucial milestone for both Vietnam and Germany as they hold important positions at multilateral forums. Ambassador Guido Hildner emphasised that the two countries serving as non-permanent members of the United Nations Security Council for the 2020-2021 term, Vietnam holding the ASEAN Chairmanship 2020 and Germany assuming the rotating EU presidency in the latter half of the year have created favorable conditions for the two countries to expand and deepen bilateral cooperation.
The diplomat affirmed that Germany and Vietnam have become cohesive on the basis of their long-standing friendship and close partnership. The 45-year journey is a clear testament to that sound relationship. Based on the established foundations and with the determination and relentless efforts of the two countries' leaders and peoples, Vietnam-Germany friendly relations and cooperation promise to grow further and attain greater achievements in the near future.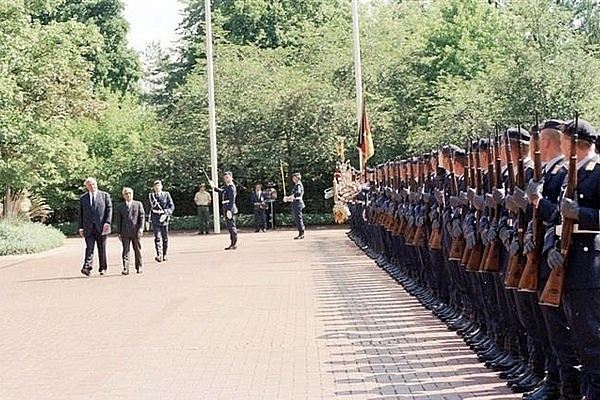 German Chancellor Angela Merkel attends the opening ceremony of a medical equipment factory of Germany-based firm B.Braun in Thanh Oai industrial complex in Hanoi, October 11, 2011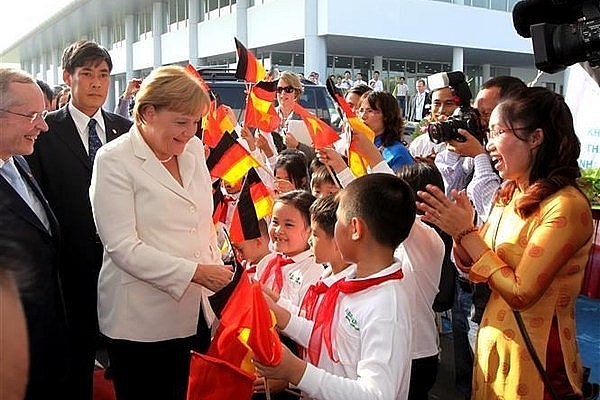 German Chancellor Angela Merkel attends the opening ceremony of a medical equipment factory of Germany-based firm B.Braun in Thanh Oai industrial complex in Hanoi, October 11, 2011
DPM, FM highlights robust and enduring ties with Germany
According to Deputy Prime Minister, Foreign Minister Pham Binh Minh, Vietnam and Germany have been able to sustain a robust and enduring relationship over the past 45 years thanks to well-rounded cooperation in politics, diplomacy, economy, and culture affairs among others.
Minh stressed the point in his latest article released on the occasion of the 45th founding anniversary of Viet Nam-Germany diplomatic relations, News Chinhphu reported.
On multilateral aspect, Viet Nam and Germany have maintained close coordination and mutual support at regional and international for a like ASEAN-EU, ASEM, and the UN.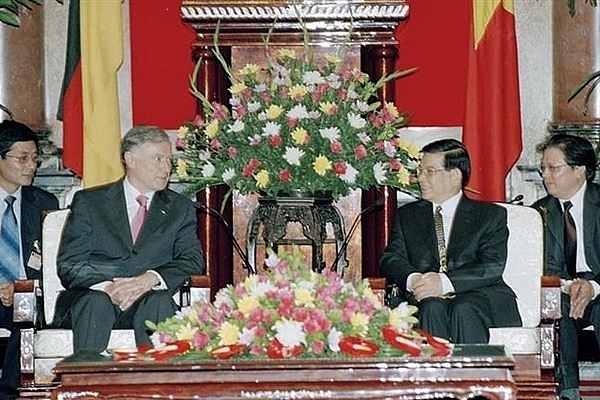 German Chancellor Angela Merkel attends the opening ceremony of a medical equipment factory of Germany-based firm B.Braun in Thanh Oai industrial complex in Hanoi, October 11, 2011
The sides have shared common stance and vision on multilateralism, stable and rules-based order, protection of international law, and environmental protection; reached common voices over the settlement of regional and global challenges.
In 2020, as both Viet Nam and Germany serve as non-permanent members of the United, and concurrently, Viet Nam is ASEAN 2020 Chair while the latter holds the rotating presidency of the Council of the EU in the second half, the two countries agreed to actively grasp every opportunity in order to foster connectivity between Asia and Europe, thus contributing to peace and stability in the two continents as well as to security and development across the world.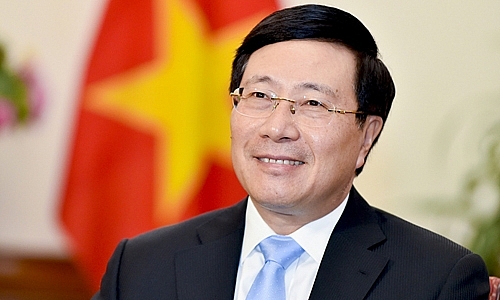 DPM, FM fosters robust and enduring ties with Germany over the past 45 years
The ASEAN-EU Foreign Ministers' Meeting and the Alliance for Multilateralism Foreign Ministers' Meeting initiated by Viet Nam and Germany, respectively, are vivid examples of the aforesaid cooperation spirit.
Looking back to 45-year history of the bilateral ties, Minh expressed his pleasure and pride in the dynamic and substantial advancement of the Viet Nam-Germany strategic partnership.
Indeed, the encouraging achievements and vast cooperation potential are among major driving forces for more extensive, energetic and comprehensive cooperation between the two countries in the next decades in accordance with the interests and aspirations of the two Governments and peoples, and for the world of peace, stability and prosperity.
Ruby Lee