Du Lich Around: Mai Chau - The Ideal Weekend Retreat from the City
Mai Chau, in the mountainous, nature-filled Hoa Binh province is perfect for a short escape from the hustle and bustle of the city. Travel writer Jason Law guides VNT readers through rolling hills and endless rice paddies encompassing a small town that's rich in culture and natural beauty.
The northern regions of Vietnam are one of the most geographically unique and recognizable places in the world with its rounded, tree-covered hills and interspersed traditionally-styled towns. Yet one of the most impressive destinations in the north is often overlooked; the sunny valleys of Mai Chau in the Hoa Binh province. Whether you're a traveler looking to see the beauty that Northern Vietnam has to offer in a short time, or a resident looking to get a short break from the commotion of the city, the valley-based small town is perfect for a short getaway.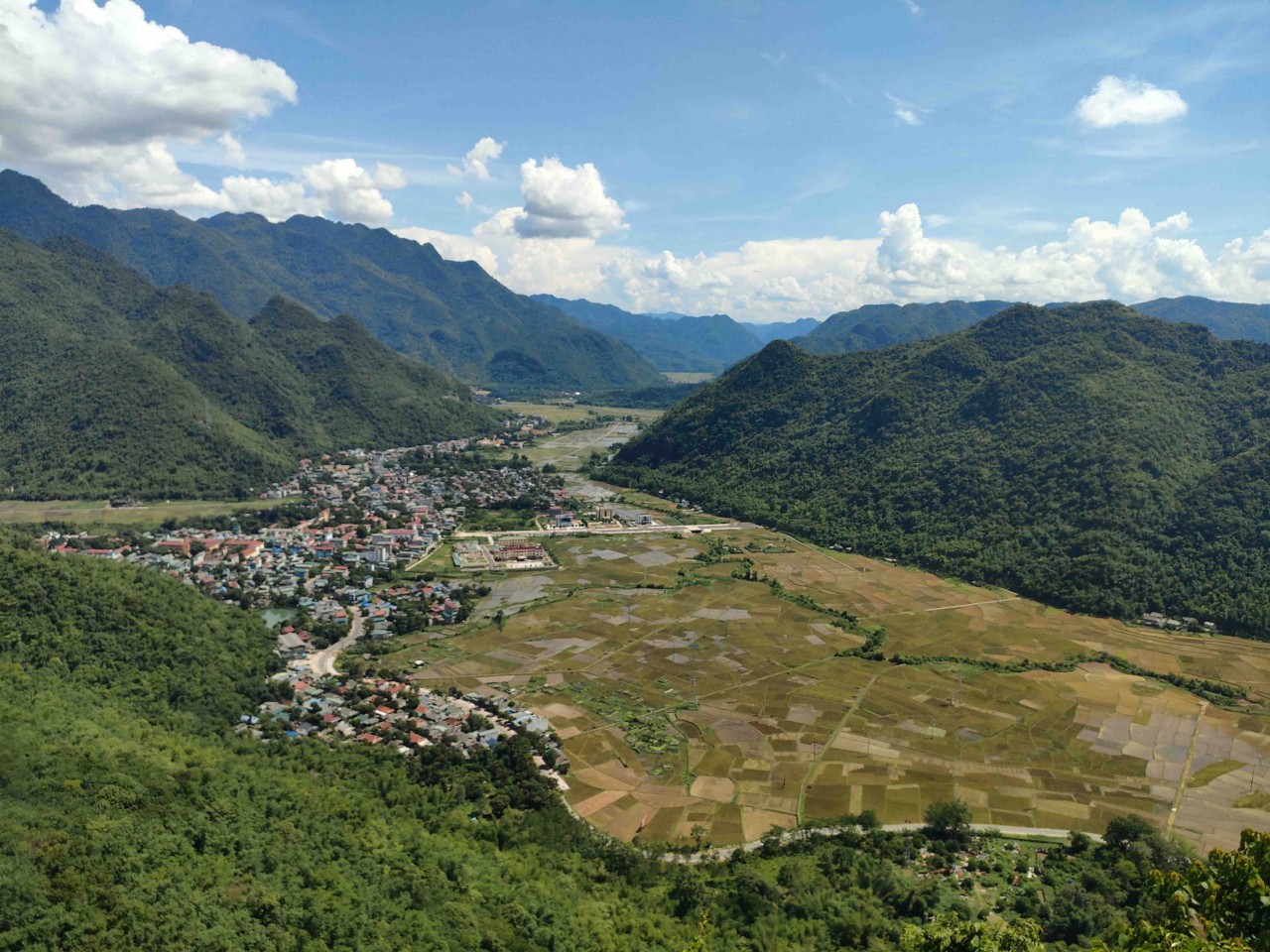 The town of Mai Chau (Photo: Jason Law)
At around 140km from Hanoi by road, getting there is relatively easy. Riding your own motorbike there takes roughly the same amount of time as by car - about three and a half hours. The journey mainly features highways though so you'd be better off taking a 'limousine' or local bus. Travel can be booked through various tour agencies online for 200k to 400k, depending on where you get picked up from and how comfortable your seating is.
Be prepared for a bumpy ride but an awe-inspiring vista once you arrive in the lusciously green valleys of Mai Chau. The town is quite compact and most accommodation is linked to one main road, so you can get dropped off anywhere easily.
If exploring by motorbike takes your fancy, Chung Lan Mechanics makes things very easy; you can find them online and message ahead to arrange a bike and smoothly transition from your bus to your own transport. The friendly and cheerful owner Mr. Chung will have you on the road with your own reasonably-priced set of wheels in no time, and knows the area well enough to point you in the right direction for all of your needs.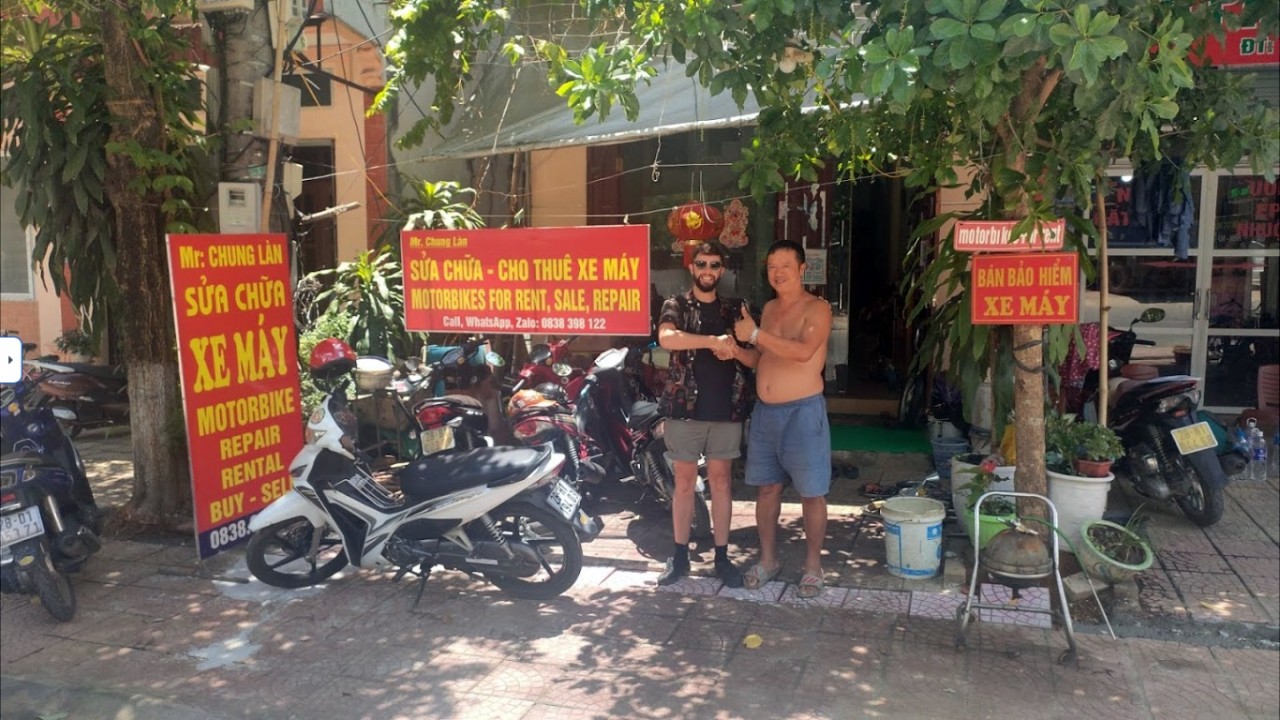 Smiling Mr Chung at Chung Lan Mechanics (Photo: Jason Law)
There are accommodation types to suit all budgets. If you want to enjoy some luxury R&R, lounging in the pool and catching rays amongst grandiose surroundings, Mai Chau Ecolodge and Mai Chau Mountain Resort offer unparalleled comfort and service, but at a suitably hefty price.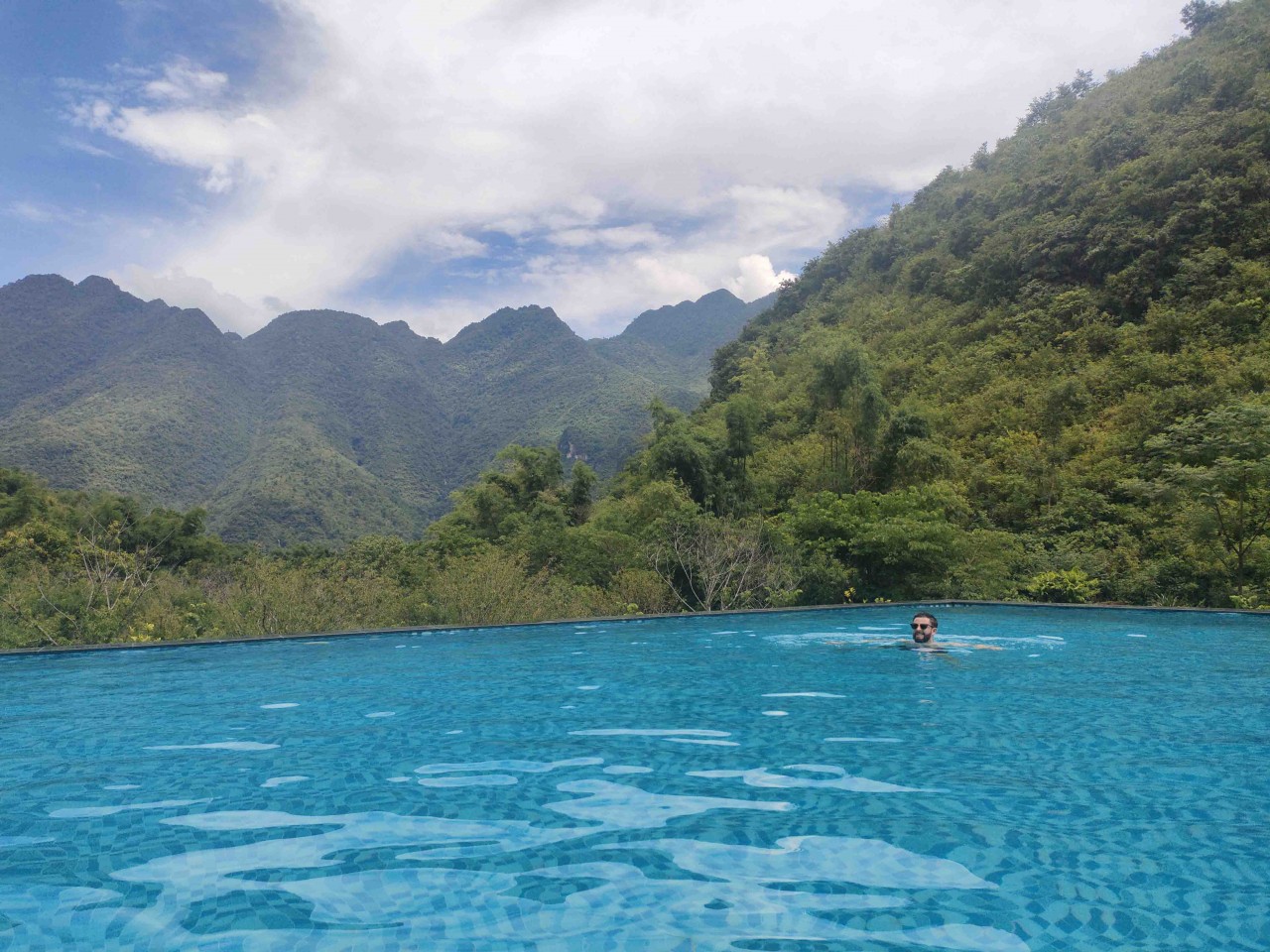 The infinity pool at Mai Chau Mountain Resort (Photo: Jason Law)
If you want to keep things cheap and are keen for a more authentic experience, Lac Village has dozens of homestays in close proximity to each other. At just a stone's throw away from the main road of Mai Chau, Lac Village has a wide variety of accommodations to cater to all tastes and budgets. Since there are so many to choose from, you needn't worry about booking in advance - you can shop around once you get there.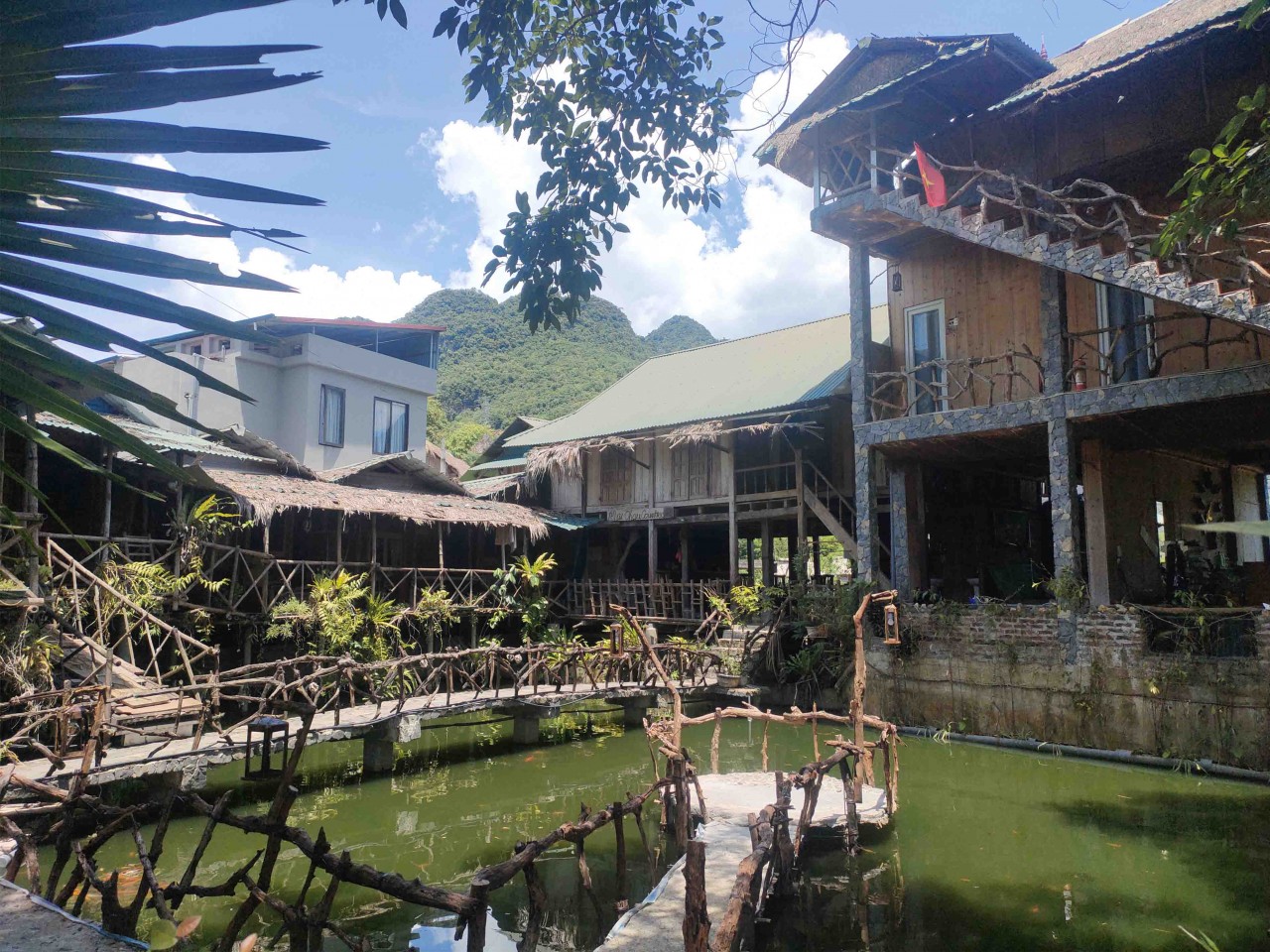 A few of the many homestays in Lac Village (Photo: Jason Law)
The surrounding rice paddies, and beyond that, the mountains and hills, provide a serene setting to help you unwind and forget all about the honking horns and chaos of the city.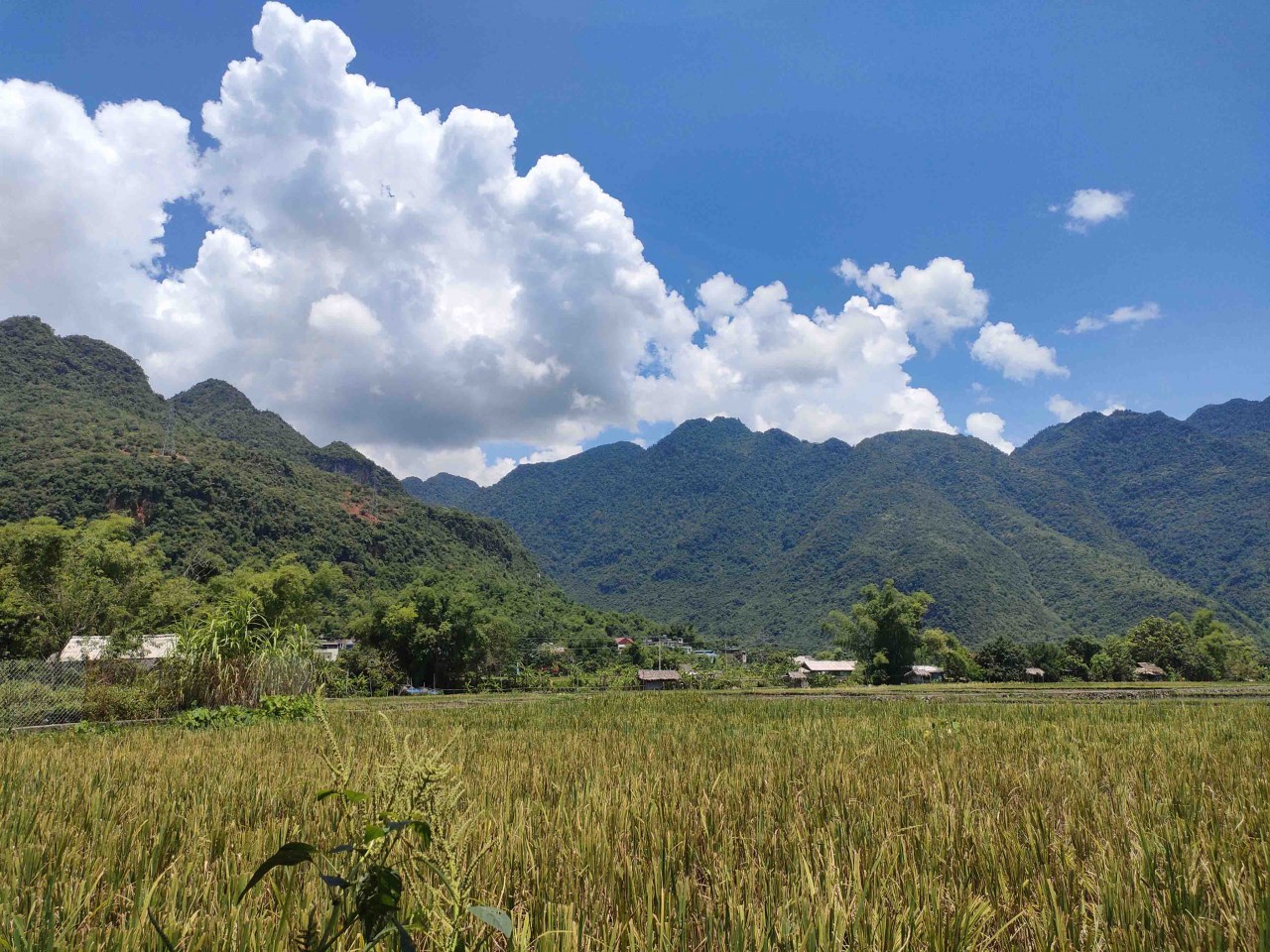 The views of rice paddies and mountains from Lac Village (Photo: Jason Law)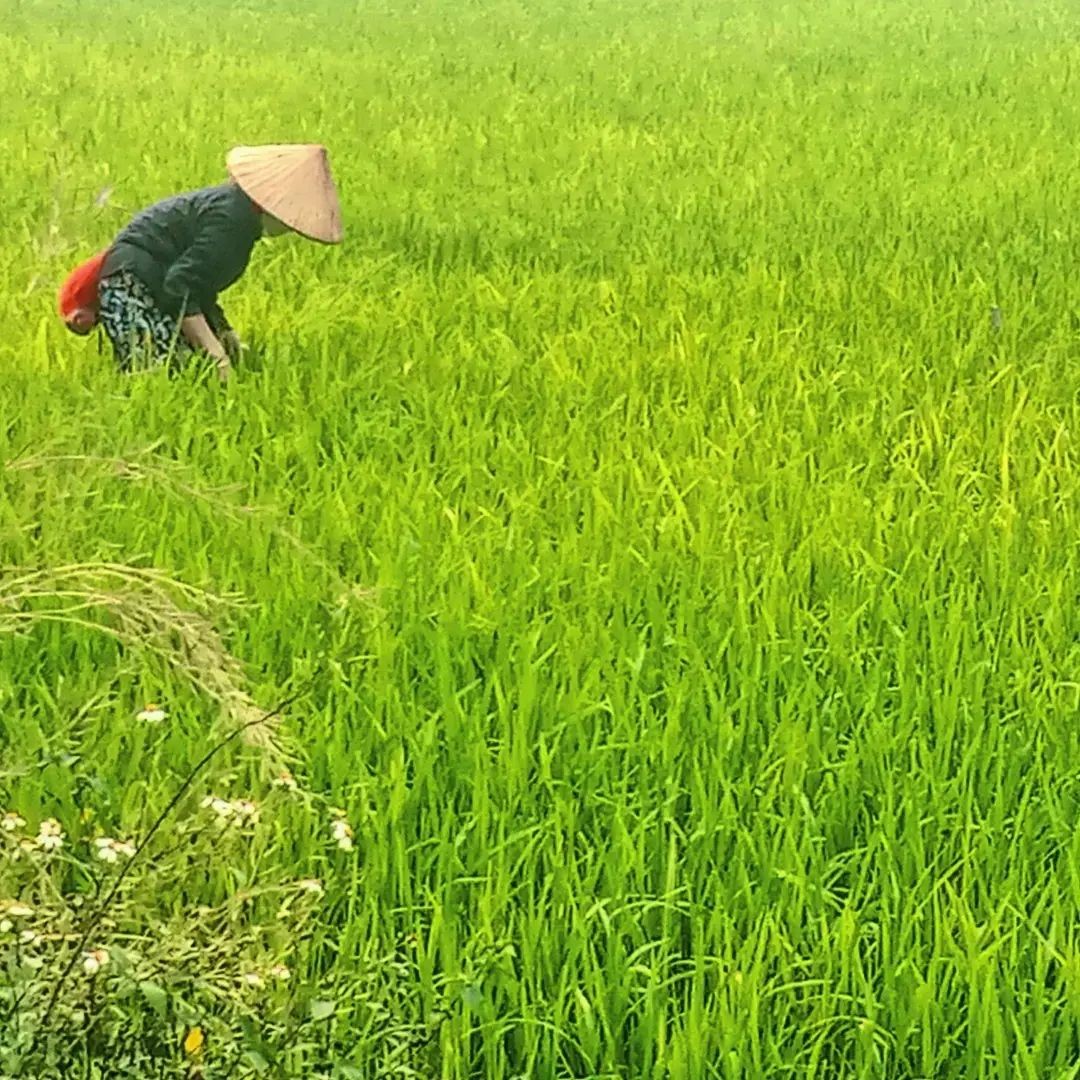 Tending the vast rice fields of Mai Chau. (Photo: Glen MacDonald)
Once you've found a base to unload the weight of your belongings at, you'll find plenty of things to do in Mai Chau. One of the great things about this quiet mountain town is that it's small enough to see and experience most of what's on offer in just a couple of days. Everything is only a short journey away.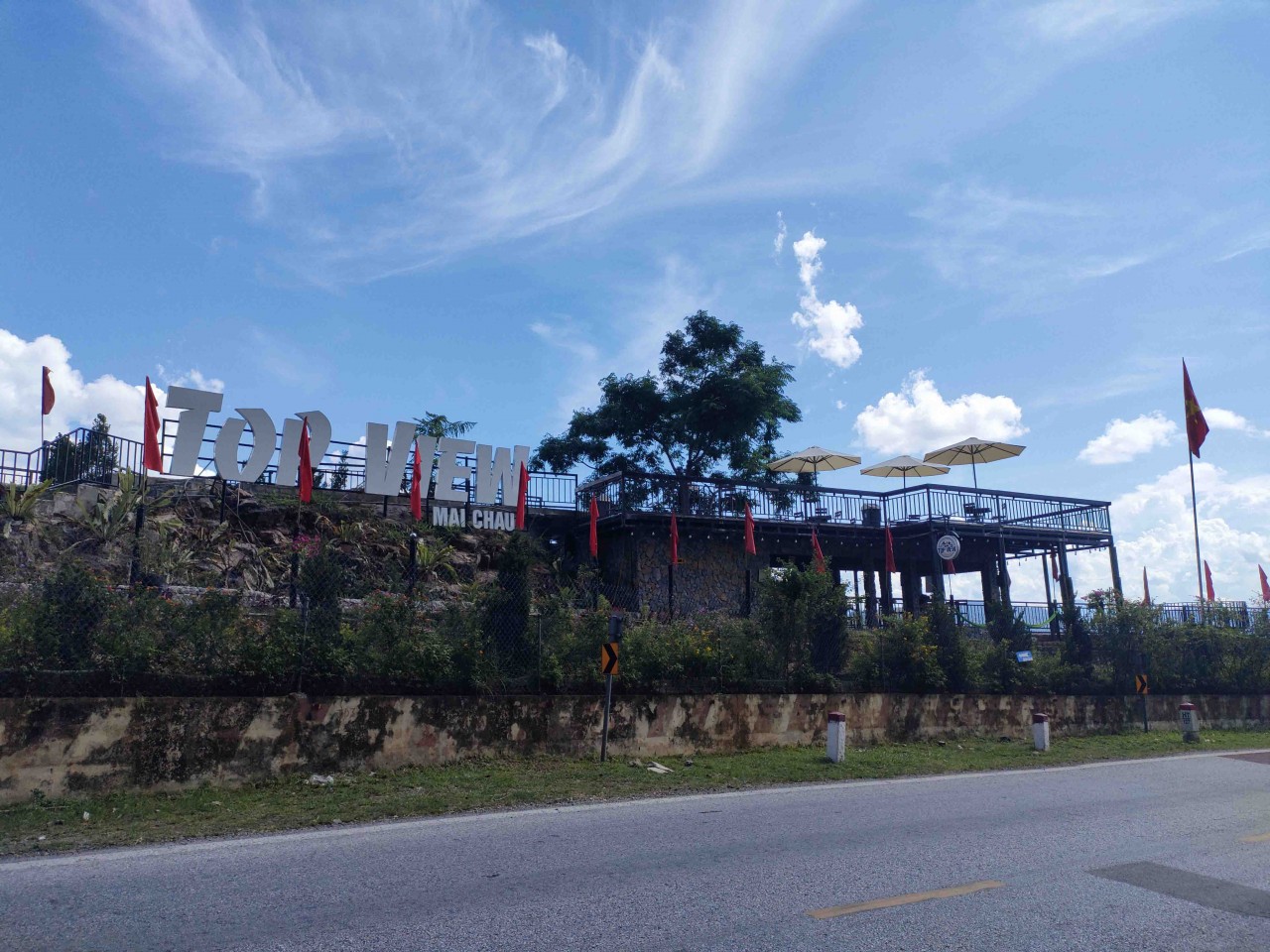 Top View Cafe (Photo: Jason Law)
A great way to begin your sightseeing is to visit Mai Chau Top View Café. The café is approximately a ten-minute ride from the centre of town and blesses its visitors with stunning views. Kick-start your exploration with freshly brewed ice coffee as you gaze over the entire town and accompanying mountainous scenery, as seen from up top. If you're feeling peckish, indulge in a light snack of some barbequed meat at the food truck next door as you appreciate the clean air and clear skies.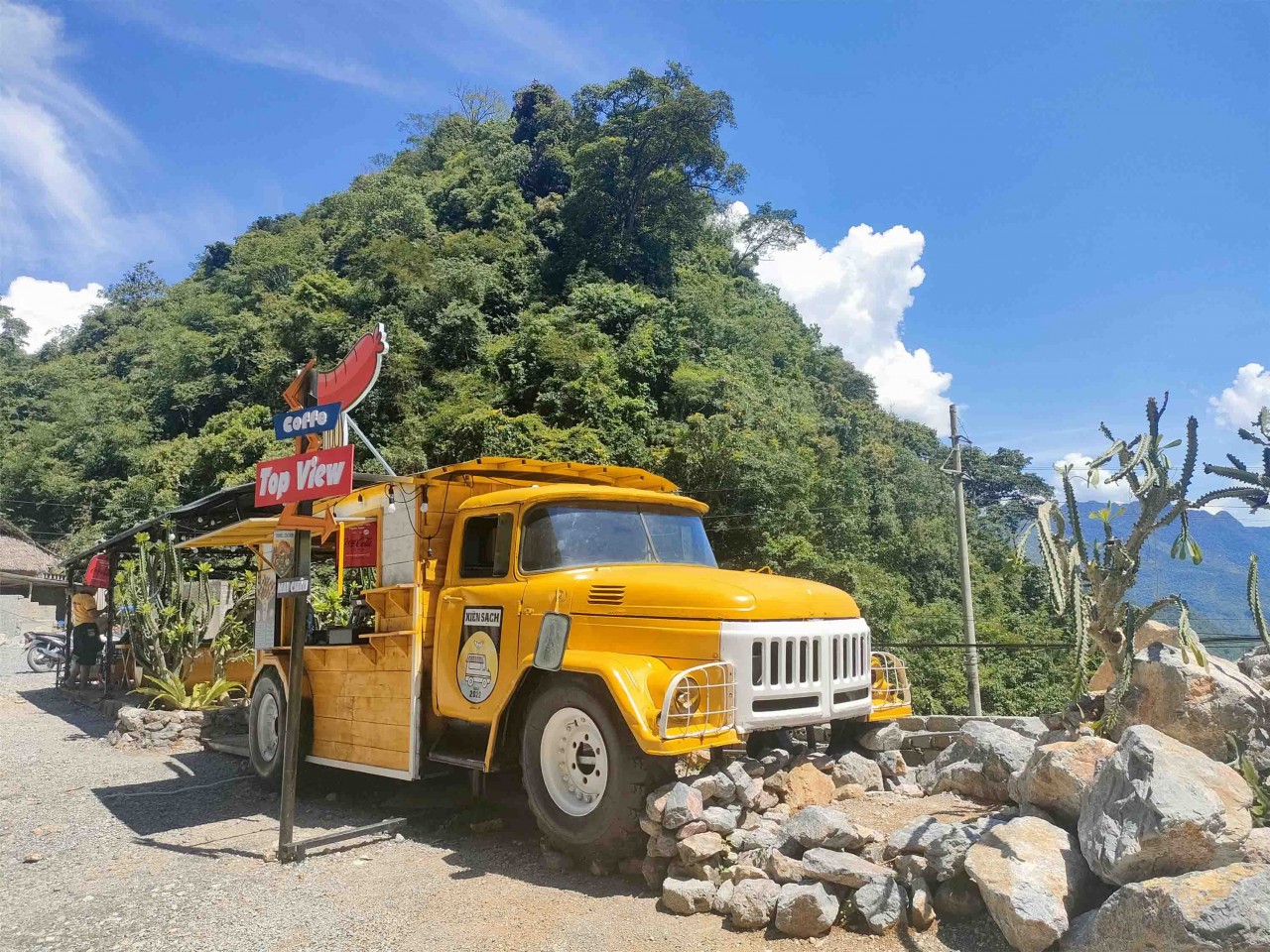 Cliffside bites (Photo: Jason Law)
On a hot and humid day, Gò Lào Waterfall is an incredible place to spend a few hours amazed by the beauty of nature while cooling off in its powerful flowing waters. Although Go Lao is one of the most popular places to visit in Mai Chau, the fact that it's 13km away from town and is a short, steep walk off of a small backroad gives it the feeling of being completely removed from the world.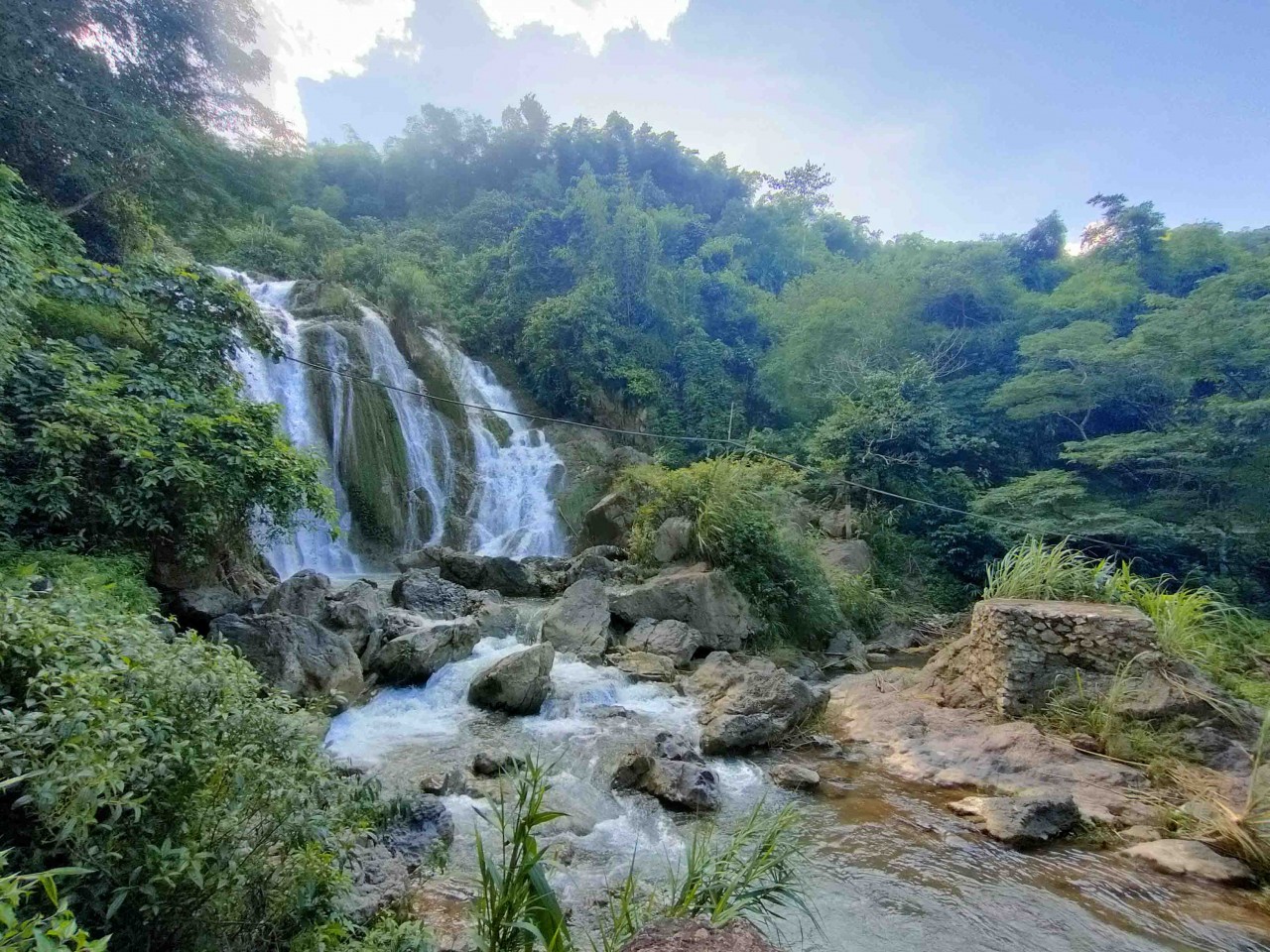 Go Lao Waterfall (Photo: Jason Law)
The waterfall makes for some picturesque photos and an opportunity to get a natural massage as the water falls onto your body with a strong but tranquilizing force. Be mindful when wading into the deeper waters as locals sternly warned of people being dragged underwater by the current.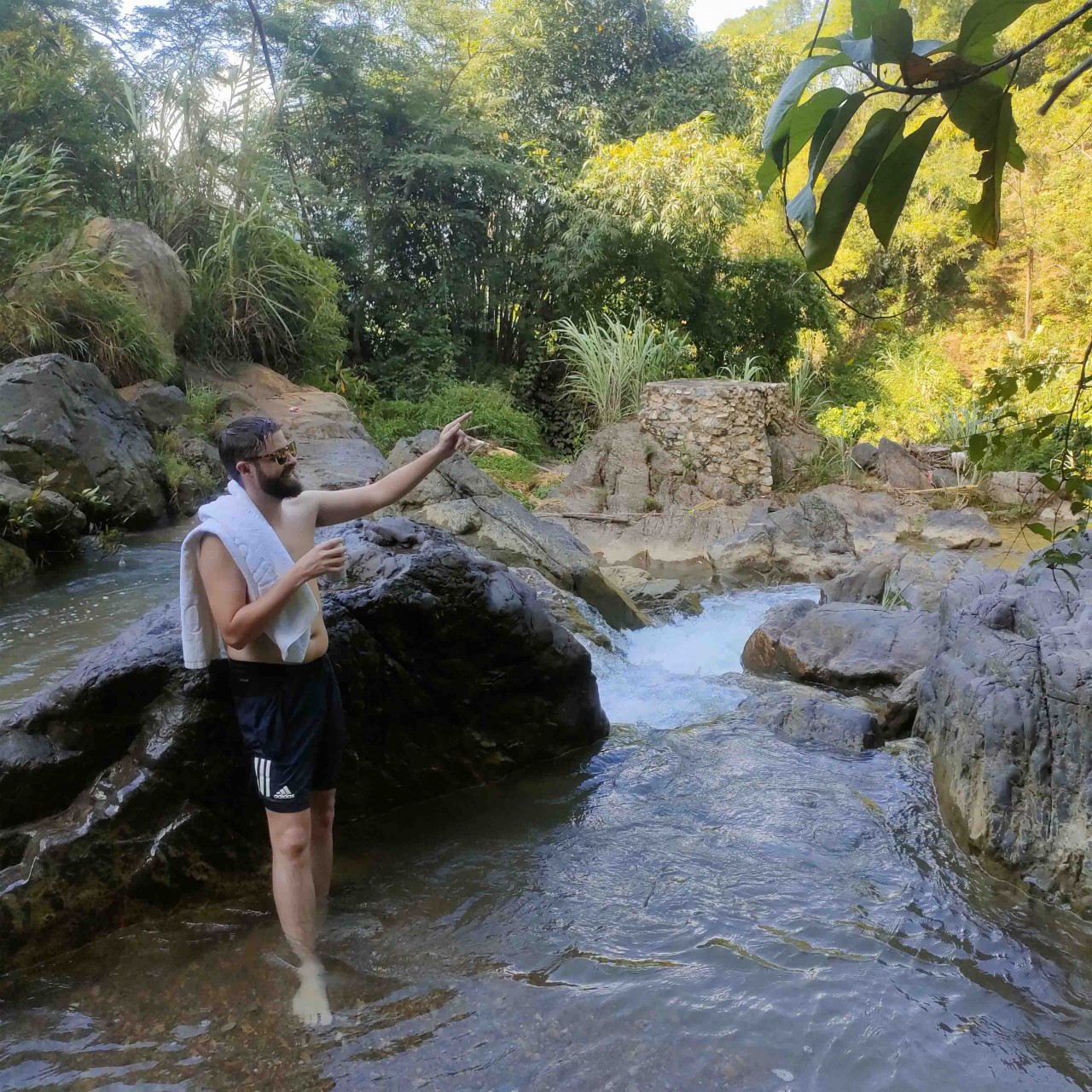 The rapid waters and dense jungle at Go Lao (Photo: Jason Law)
Hoa Binh Lake is another beautiful aquatic location worth checking out and is very close to the waterfall. Starting near Gò Lào, a small road runs alongside the south side of the lake and provides panoramic views of the lake and the hills that stand behind it. The views are particularly spectacular towards the late afternoon on a clear day, as the sun sets opposite the cafes and homestays along this road.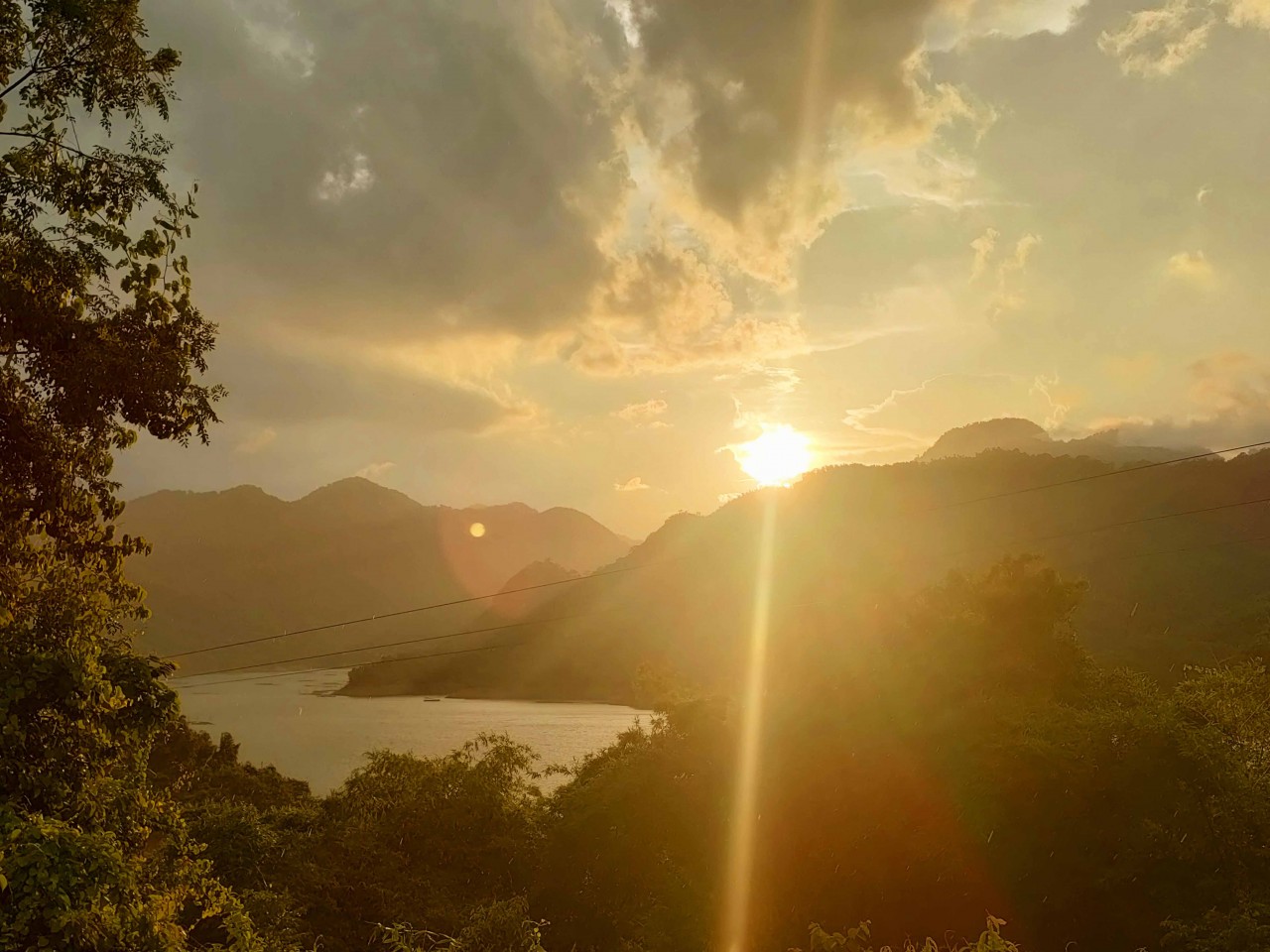 Sunset over Hoa Binh Lake (Photo: Jason Law)
The best way to appreciate Hoa Binh lake is to get out on the water. Finding a good place to swim takes some exploration and risk so traversing by boat is a more popular option. You can do this by booking a boat tour through a homestay or taking a more hands on approach and renting out a kayak. As the boat tour is roughly two hours long you may prefer to set a day aside for it, in order to fully appreciate the caves and floating fishing village that it stops at. Kayaking allows you to go at your own pace and navigate your own way to the lake's various sights like a true explorer.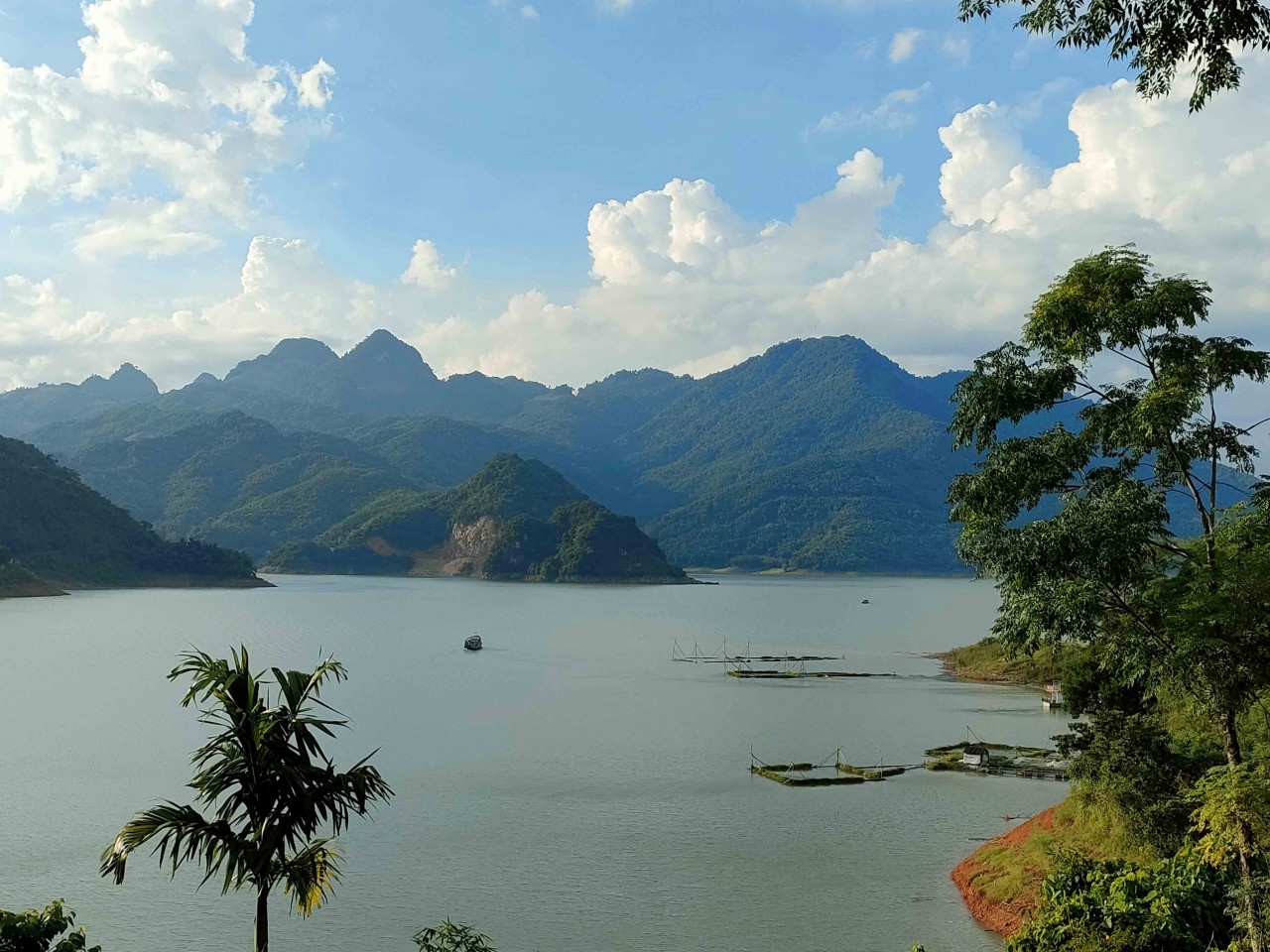 A boat tour out on Hoa Binh Lake (Photo: Jason Law)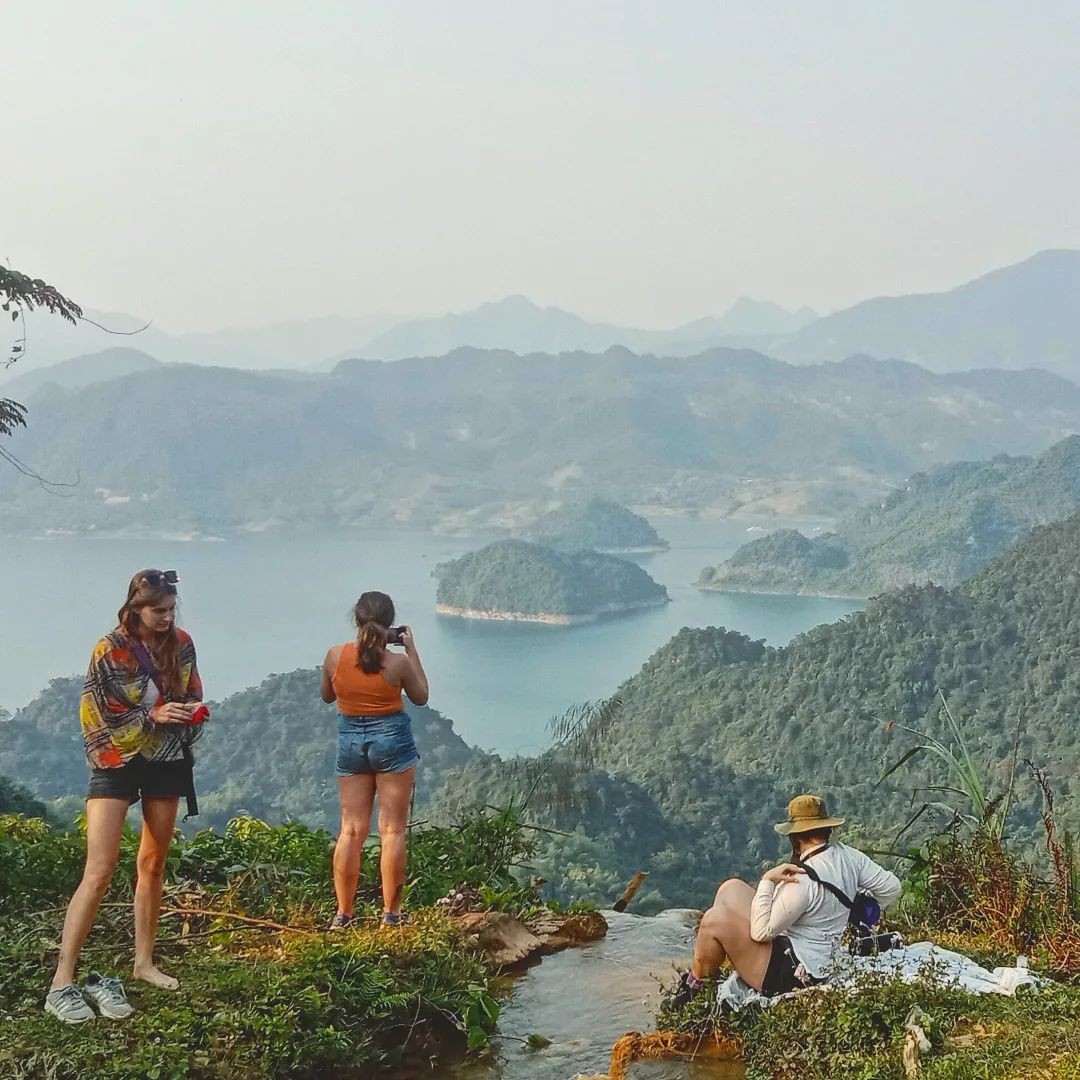 Expats from Hanoi take photos on top of secret waterfall near Hoa Binh Lake. (Photo: Glen MacDonald)
As the skies grow dark over Mai Chau, Lac Village and the main town come to life, though not in the way Hanoians might be used to. The enchanting village features a few interconnected streets with open-plan restaurants and cafes to sample some local delicacies at.
When people visit the seaside locations and islands of Vietnam, they tend to try out the locally caught seafood. In Mai Chau, things are no different.
Expect a selection of locally produced/caught food, such as roasted cicadas, boiled frogs, grilled buffalo meat and fried bamboo shoots. Never has choosing a random restaurant and sitting down to read its menu felt so adventurous! For the less brave, there are still common Vietnamese dishes available, though finding Western food is pretty difficult. As the saying goes, "When in Rome, do as the Romans do", so even if bugs and frogs aren't your cup of tea, it's still a novel experience to try out.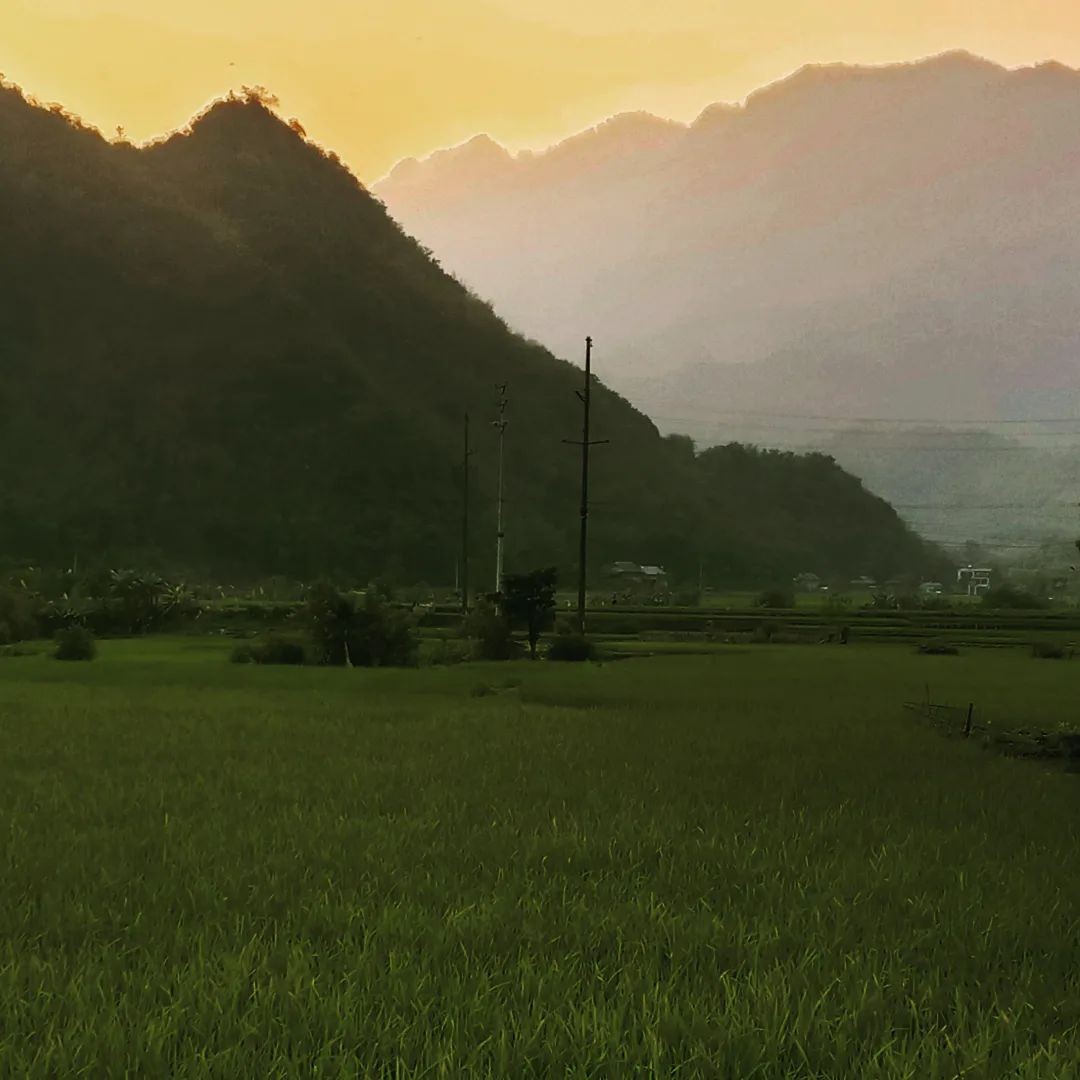 Night falls quickly over Mai Chau, especially after a fun day. (Photo: Glen MacDonald).
In terms of nightlife, Mai Chau's selection of places to go is limited but fitting. Mai Chau Hostel Lounge Bar and Sunset Bar in Lac Village offer a decent selection of drinks but don't expect to be partying into the early morning hours. The whole town becomes quiet around 10 pm, which is perfect for those who are there to embrace the peace and quiet.
There's a late-night karaoke bar near the village, so you can fraternize with the locals over boisterous singalongs and beers, or force down some local corn wine at one of the many homestays. You might want to save yourself for some more exploration of the lush locality next day though.
There are many other things to do in Mai Chau, such as shopping for fabrics made by local ethnic Thai people, cycling through the seemingly never-ending rice fields, walking into the shallow cavity of Chieu cave or visiting some of the small pagodas in the area.
It is Mai Chau's natural beauty, peaceful serenity, and small-scale locale that make it the ultimate place for a brief break for those looking to detox from the city atmosphere. For those with more time to spare, a trip to nearby Pu Luong can be easily combined with Mai Chau to fully appreciate the region.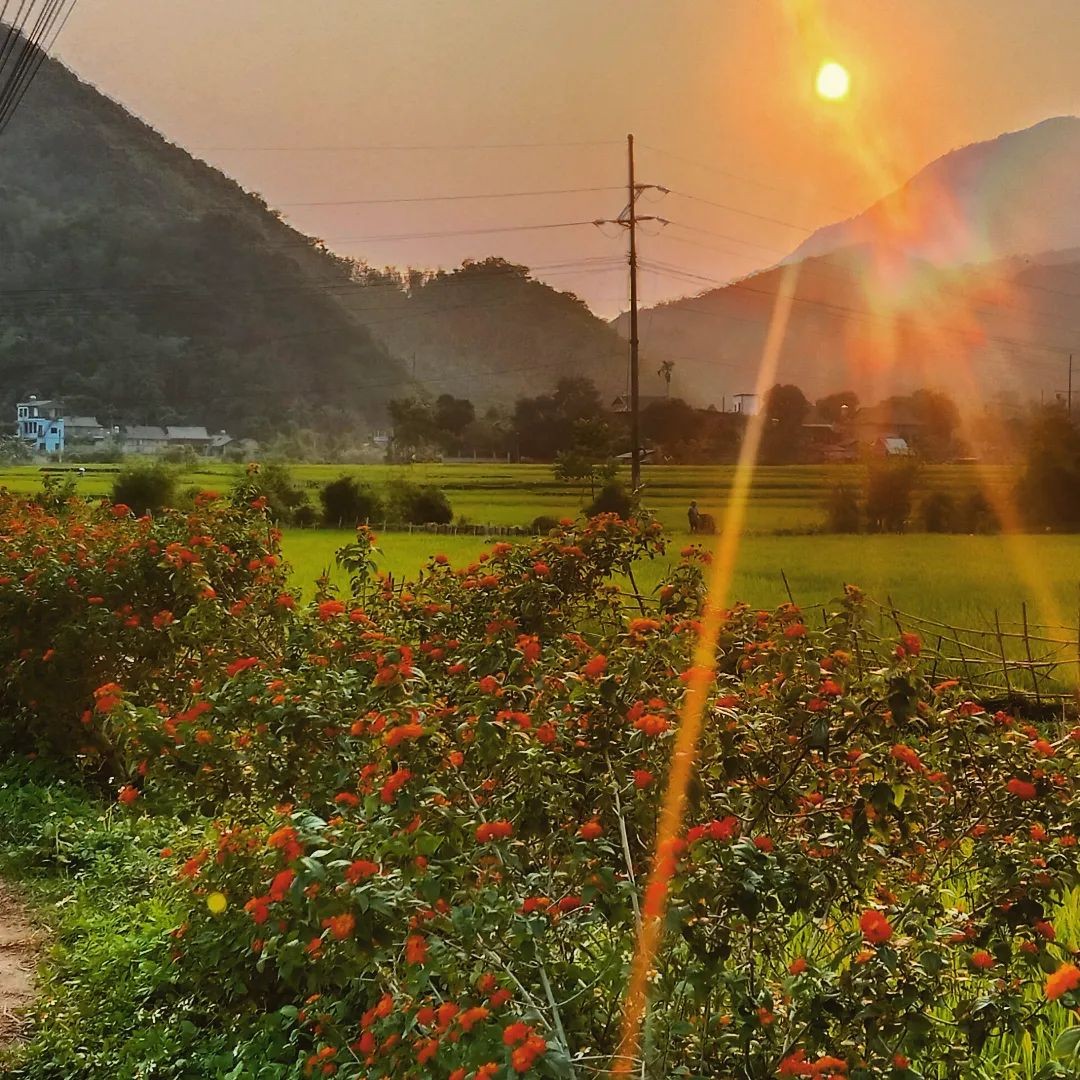 A gorgeous Mai Chau sunset. (Photo: Glen MacDonald).
Mai Chau Travel Guide
In order to give you the best Mai Chau experience, the Vietnam Times has compiled a list of travel and accommodation suggestions.
Getting there: From Hanoi, there are several ways to get to Mai Chau. The cheapest and most exciting way is by motorbike, though there is not too much to see along the straight, open roads until reaching Hoa Binh. The drive takes roughly three and a half hours if you're a confident driver but will inevitably take longer if you're more cautious on the truck and coach-filled highways.
You can rent a motorbike once there, for VND150,000 (USD 6) per day.
Another way is by local bus. You can either book a ticket through one of the many tour agencies in Hoan Kiem or online. You'll be picked up from Hoan Kiem, taken to My Dinh bus station, and then transferred to a coach that finishes up at Mai Chau bus station. In total, this takes about 4 hours and costs around VND 350,000 (USD 15).
Alternatively, you can arrange a 'limousine', again through a tour agency. This is the smoothest and quickest way to travel, taking about 3 hours. These mini-buses are the peak of comfort (some even have massage chairs!) and will take you straight from your pick up point in the Old Quarter to Mai Chau town center, or anywhere along the main road upon request. They cost around VND 550,000 (USD 25).
Accommodation: As Mai Chau is so small, most of the accommodation available is in one small area. In Lac Village, there are dozens of homestays neighboring each other, with prices ranging from VND 200,000 - VND 800,000 (USD 8 to 34). You can also opt for luxury and higher costs by staying at a resort.. We've narrowed the options down to three places, depending on what you're looking for.
1. Mai Chau Mountain View Resort - Although one of the more costly options in Mai Chau, the price tag of VND 1,400,000 (USD 60) for a deluxe double room, up to VND 5,400,000 (USD 230) for a family bungalow, is well worth it. A continental buffet breakfast, infinity pool with hypnotizing views, and comfortable spacious rooms with balconies all made for a stay befitting royalty.
2. Mai Chau Homestay Countryside - Located in the middle of Lac village, this homestay offered stunning views of the surrounding fields, comfortable rooms with balconies, and a welcoming host who stayed up late offering rice wine and conversing in simplified Vietnamese, all for VND 650,000 (USD 28) for a night in a double room.
3. Mai Chau Hostel Lounge Bar Restaurant - One of the cheaper yet more fun options is this cozy hostel-styled homestay. Featuring a bar, pool table, and dorms, expect more of a lively, backpacker-type experience here. The English-speaking hosts will make you feel welcome and serve up some delicious western food! Dorms cost VND 220,000 (USD 10) and a private room will set you back VND 420,000 (USD 18).
As there are so many homestays in the area within close proximity to one another, if you want to play things by ear then you can arrive without a booking and go from place to place and find what suits your needs or desires. As with most things in Vietnam, you can barter a little too! Some homestays have a pool, or better views, or shared rooms. The variety of homestays in such a small area is something commonly found across the country, so if you're comfortable with doing some 'window shopping', then it's safe to arrive with almost no plan in place.
Travel Around: Mysterious Knife

These tiny Vietnamese islands are a crucial waypoint in time; their harsh, colonial past overlaps with a hopeful, green future.
Du Lich Around: Pu Luong at Midsummer

Last month, staff writer Glen MacDonald found himself celebrating a Finnish holiday in the jungles of northern Vietnam; a surprisingly beautiful combination.