'Eating safe kimchi' campaign triggering in S.Korea after controversial kimchi
Some kimchi suppliershas expressed its concern about the kimchi imports from China, following a video footage showing a naked man in a pool filled with cloudy water and cabbages at an unspecified kimchi factory in China in March.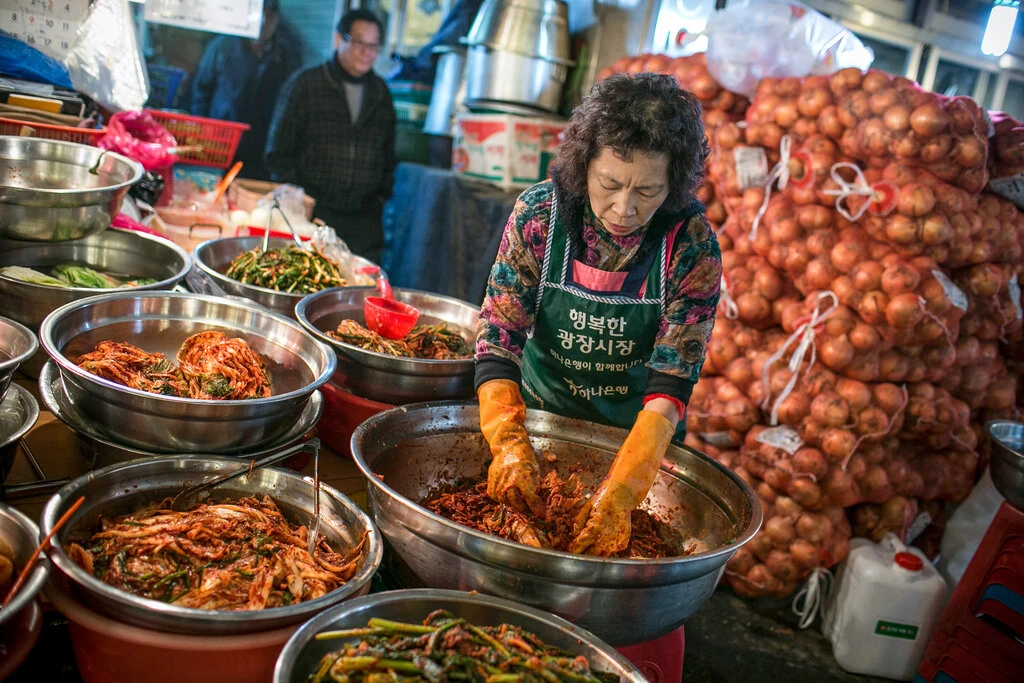 Making kimchi at a Seoul market.Credit: Jean Chung for The New York Times
Several kimchi suppliers launch the campaign to certify eateries serving locally-processed kimchi, reported The Korea Times June 28.
The move came after a video of a kimchi-processing plant in China went viral in South Korea for exposing its poor hygiene and sanitation conditions. In the clip, a naked man waist deep in a pool of brownish liquid that was filled with cabbages and tossing the vegetables into the bucket of an excavator arm that was mixing the produce in the mysterious liquid.
There is also no way of knowing for certain if the man was wearing anything beneath the surface. In addition, the machinery appears partly rusted.
Disturbed by the video, Korean consumers have started to boycott kimchi produced in China and to look more carefully into how the food they eat has been made before it ends up on dining tables here.
Kim Ji-sook, who owns a small eatery selling home-cooked meals to office workers in downtown Seoul, said some of her customers have begun to ask her about the origin of the kimchi she serves in her restaurant.
"I don't lie; I tell them our kimchi was produced in China. But after hearing my answer, they don't eat the kimchi," she told The Korea Times.
She said that the video, highlighting unsanitary kimchi production conditions in an unspecified mainland Chinese plant, was a true game changer shaping her customers' consumption of kimchi. Her restaurant has more kimchi left over than before.
A lot of kimchi consumed in South Korea are imported from China. The country imports roughly 300,000 tons annually from China. The vast majority of this imported kimchi goes to restaurants. The price of imported kimchi per 1 kg is about a third of the cost of kimchi produced in Korea, making the imported spicy side dish hard to turn down for pandemic-hit restaurant owners desperate to cut costs.
In this screenshot of a Weibo video from March 29, a man who appears to be naked wades in a pool of cabbage and grabs some of the vegetables soaked in a murky liquid while an excavator stirs them at a kimchi factory in China. Korea Times file
Lee Ha-yeon, president of the Kimchi Association of Korea (KAK), which consists of the heads of over 80 kimchi producers and suppliers, said that blaming restaurants as the main culprit behind the surge in kimchi imports is not constructive.
"Kimchi from mainland China is a lot cheaper than kimchi made in Korea. In a capitalist society, it's natural that restaurant owners are tempted to go for a cheaper product," she said.
Lee said the practice of providing free refills of kimchi is the main reason restaurants serve cheap mainland Chinese-made kimchi.
"Restaurants allow customers to have free refills of kimchi. As long as free refills continue, I think restaurants will have no option but to keep serving cheaper Chinese kimchi," said Lee.
The Korea's kimchi association has turned to implementing a measure to make sure that consumers eat kimchi processed in sanitary conditions at local restaurants.
It launched an ambitious campaign to certify restaurants serving kimchi produced in Korea with local ingredients.
In the campaign, eateries that serve kimchi made using local ingredients or produced in Korea can apply for a "locally-produced kimchi" label. They are required to submit related documents and pieces of evidence that can prove their claims. Their applications will be thoroughly reviewed by KAK committee members. If all requirements are met, the organization issues certificates to the restaurants.
Lee said that the association so far has received applications from some 5,000 eateries all across the country. Among other cities and provinces, she said that restaurants based in South Jeolla province are the most active in the voluntary labeling program nationwide.
According to Lee, her schedule this week and in July is packed with business trips to provincial cities to present certificates to owners of eateries who meet the locally-produced kimchi label qualifications.
"Our rationale behind the restaurant certification is that consumers can choose certified eateries over non-certified ones that provide mainland Chinese kimchi. This ability to choose will create a chain reaction in non-certified eateries as their owners will feel pressured and will ultimately consider joining the certification program as well," she said.
"If this happens, consumers will be able to eat kimchi produced locally in sanitary conditions," she added.
Kimchi produced in China has been at the center of controversy since China beefed up a campaign to claim the origin of kimchi as Chinese.
On January 9, Chinese YouTuber Liziqi with more than 14 million subscribers posted a kimchi making video with the hashtags of #ChineseCuisine and #ChineseFood. China's Ambassador to the United Nations Zhang Jun on January 3 uploaded images of him posing with kimchi he made on social media.
Chinese state media also claimed that China's pickled "pao cai" is the origin of kimchi. This cultural provocation irked Koreans, leading to an online clash between the citizens of the two countries over each other's claims.
Kimchi, a traditional Korean side dish usually made of fermented cabbage, salt and hot peppers.
According to the World Institute of Kimchi, Korea's signature dish has proven effects on anti-obesity, atopic dermatitis improvement, and hair growth. It has also been found that the lactic acid bacteria found in kimchi help to prevent cancer, dyslipidemia, and high blood pressure. These bacteria have demonstrated their antioxidant properties by removing free radicals that are known to cause a variety of diseases while boosting the immune system and reducing inflammation.
Korean food has become the fourth-most popular cuisine on Instagram, beating out some of the most highly regarded fares in the world such as French, Thai and Chinese cuisines, according to a recent study by international foodie magazine Chef's Pencil.
Traditional Korean foods also are becoming increasingly popular amongst Vietnamese people, namely kimchi, kimbab, bulgogi (rice mixed with a variety of vegetables and meat), cold noodle soup, and noodles with black bean sauce.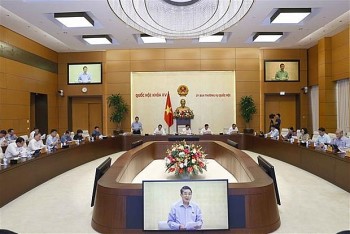 National
The National Assembly (NA) Standing Committee examined the draft revised Law on Protection of Consumer Rights on August 15 as part of its monthly session.