COVID-19 fight: 100,000 face masks presented to India
The Vietnam-Indian Friendship Association (VIFA) transferred 100,000 face masks to Indian Ambassador to Vietnam Pranay Verma on April 21 to support their fight against the COVID-19 pandemic.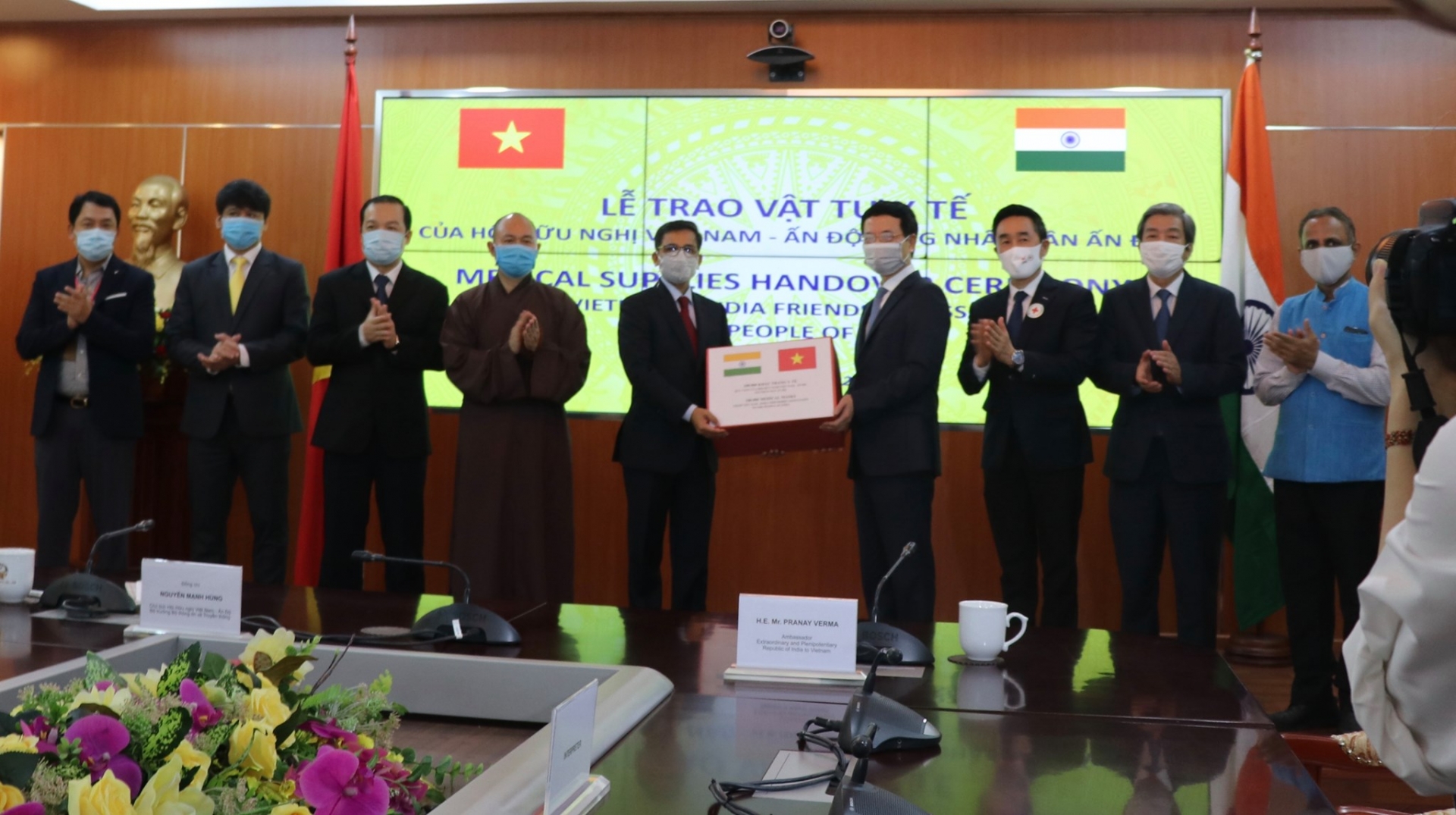 At the ceremony. Photo: VNT
Ambassador Pranay Verma met with Minister of Information and Communications and the VIFA Chairman, Nguyen Manh Hung on April 21 and exchanged views on promoting cooperation and coordination between India and Vietnam in responding to COVID-19 pandemic.
Following the meeting, the VIFA organized a brief event to hand over 100,000 face masks for the people of India from the people of Vietnam as a symbol of their long-standing friendship.
Ambassador Pranay Verma received the presentation on behalf of the Indian Red Cross Society and thanked VIFA and the people of Vietnam for their friendly gesture, stressing that the face masks will be allocated to Indian localities in the most suitable way to combat the COVID-19.
Senior representatives from VIFA and Vietnam Red Cross were present at the event.
Several friendship associations under the Vietnam Union of Friendship Organizations (VUFO) have shown solidarity with international friends in combating COVID-19, by mobilizing funds from individials and businesses in Vietnam to purchase medical supplies as well as raising cash donations.
The aid illustrates Vietnam's continued willingness to assist other countries on a bilateral and multilateral basis to the best of its abilities even as it continues to remain cautious about managing its own coronavirus challenge at home.
Last week, Prime Minister Nguyen Xuan Phuc held a phone discussion with his Indian counterpart Narendra Modi regarding the two countries' joint efforts in the fight against COVID-19 and the strengthening of the bilateral comprehensive strategic partnership.
The two PMs highlighted the importance of working closely together to share information and experience in fighting the epidemic.
In order to achieve 15 billion USD in two-way trade this year, they vowed to make it easier for businesses to enhance trade and open up markets for each other's farm produce./.