Expats Consider Vietnam as a "Second Home"
For many foreigners, Vietnam is becoming a second home, and they show their special affection for this S-shaped land in many different ways.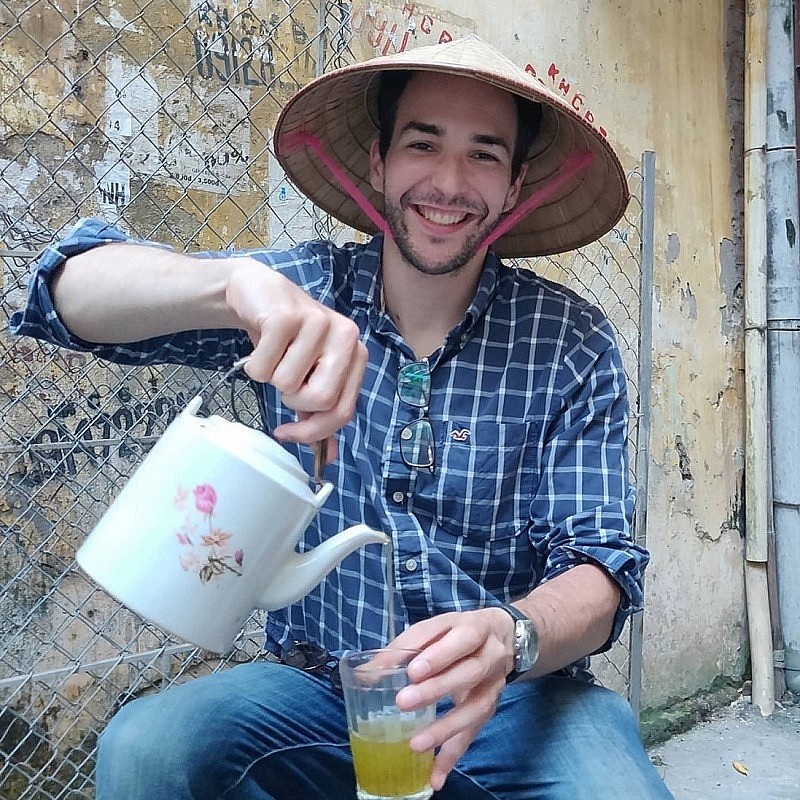 Will Courageux enjoys iced tea while wearing Vietnamese conical hats in a set of photos taken in Hanoi. Photo: Will Courageux
Writer and journalist Mandeep Rai, author of The Value Compass, is a big fan of Vietnam.
In The Sunday Times bestseller, Mandeep Rai said, Vietnam is "a progressive country", with excellent "resilience".
"Vietnam is an example of the ability to improvise in difficult times," said Mandeep Rai.
Many foreigners share Rai's sentiments. Experiencing the life and typical cultural features of Vietnam, many of them have attached, loved the country and its people.
Not-for-profit "Media Ambassador"
Through social networking sites such as Facebook, Youtube, Tiktok, many foreigners are promoting the image of Vietnam to international friends. The content, approach as well as topics are very diverse and rich. They are all presented in a humorous, honest way to get foreigners interested in traveling to Vietnam.
Will Courageux, a French living in Hanoi, owns the Tiktok channel with about 1.4 million followers. The main content in the videos is about Vietnamese cuisine, from melon, duck vermicelli to fried spring rolls, fish noodles soup.
Will said: "I want people to know that Vietnam is a great place to live. Even if someone is only here for tourism, the country has a lot to offer.
Vietnam is a very rich country in terms of culture and diversity. There are mountains, seas, there are developed cities, and places with bold traditional values. A comfortable standard of living but a good quality of life."
On the occasion of Vietnam's National Day, 6 expats in the group "Hang xom Tay" released the MV "Tay yeu Viet Nam" as an interesting gift for their second homeland.
The video has a mix of 4 Vietnamese songs and interesting sharing about life and people here.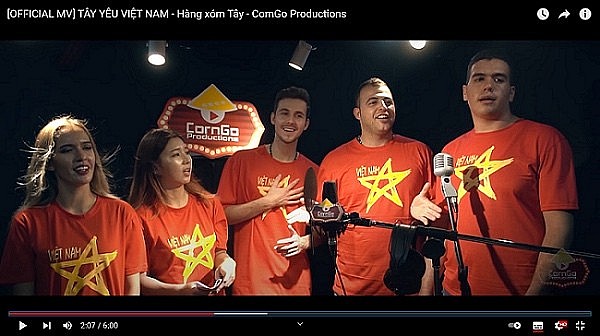 Photo taken from the MV "Tay yeu Viet Nam" – Tay Neighbors – CornGo Productions
Grateful for a loving Vietnam
During the pandemic, foreigners living in Vietnam are also affected. On the media, many people express their gratitude for a warm, affectionate Vietnam, ready to support and share with them during difficult times. They chose to come and stay in Vietnam.
Wayne Worrell, a British teacher living in Hanoi, and his friends implemented the project "Vietnam We Thank You - Vietnam fighting!". The project is a thank you to the Vietnamese authorities and medical staff for their selfless efforts on the front lines of the fight against the pandemic, ensuring the safety of everyone, including the foreigners community living in Vietnam.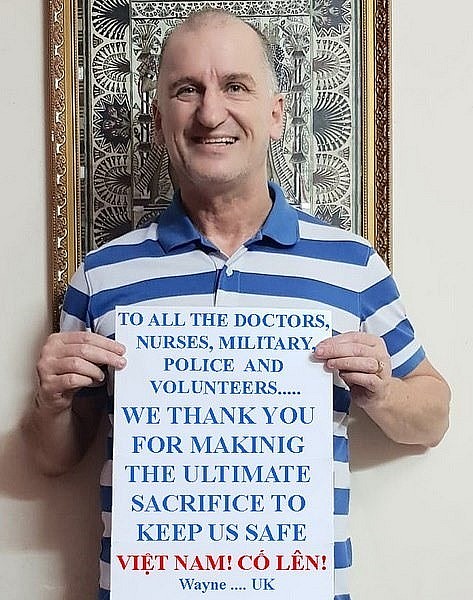 The message of the project. Photo: Wayne Worrell
Receiving support from the Vietnam Fatherland Front Committee in Hanoi on September 3, Aaron Steven, a British national, said: "I am very surprised and grateful to receive such a warm and generous gift from the Vietnamese government.
The Covid-19 pandemic has been a struggle for many people and for many language teachers who have been hit as hard as I have been. I can't go home and visit my family, but I'm fortunate to call Vietnam my second home and everyone my second family."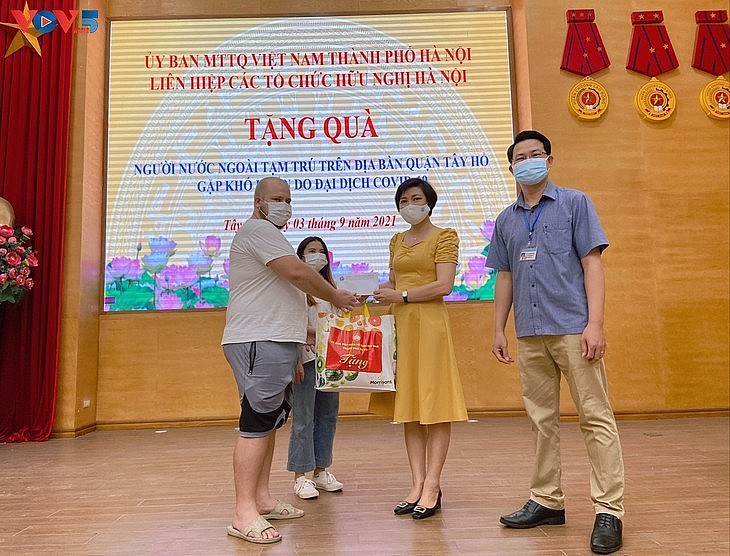 Aaron Steven is supported by the Vietnam Fatherland Front Committee, in the program to support foreigners living, studying and working in Hanoi facing difficulties due to the impact of the Covid-19. Photo: WVR
According to InterNation's latest Expat Insider survey in 2021, Vietnam is in the top 10 countries and territories where expats are happiest when living and working due to its diverse culture, wonderful landscapes, and cuisine.
Among survey participants, 86% are satisfied with their jobs, 78% are satisfied with work-life balance, and 85% are satisfied with the cost of living.