Expats Express Joy over Vaccine Passport Acceptance, But Remains Tentative
Expats and locals are delighted about several bilateral vaccine passport recognitions, but high travel costs and long quarantine periods are preventing them from traveling home and back
Since early November, the U.S., the U.K., Japan and Belarus have officially accepted Vietnam's Covid-19 vaccine passport, with certification required for specific vaccine types. Vietnam has also accepted the vaccine passports of these nations, which are included in its temporary list of 72 countries and territories, as reported by VNE.
From San Diego, California, Derek Pham, a Vietnamese expat, said the news gave him a greater feeling of security. The acceptance is helpful for people whose businesses require regular international travel like him, he added.
Pham plans to visit relatives and friends in Vietnam and deal with some business issues caused by the prolonged impacts of the pandemic.
Chad Dave, a British expat in HCMC, Vietnam, is delighted that he can go home and return to Vietnam. He wants to see his ailing grandfather in the U.K. and spend some time during Christmas with his family.
"It is hard for many people like me, living and working in Vietnam, not to go home for a long time."
In London, Nguyen Thi Anh Tho said the bilateral acceptance of Covid-19 vaccine passports was beneficial for citizens of both countries. She was quite surprised by the U.K.'s late approval, given that the majority of Vietnamese have been vaccinated with a vaccine administered in the U.K. as well. Nguyen said she had not seen her family members since late 2019 and missed them a lot.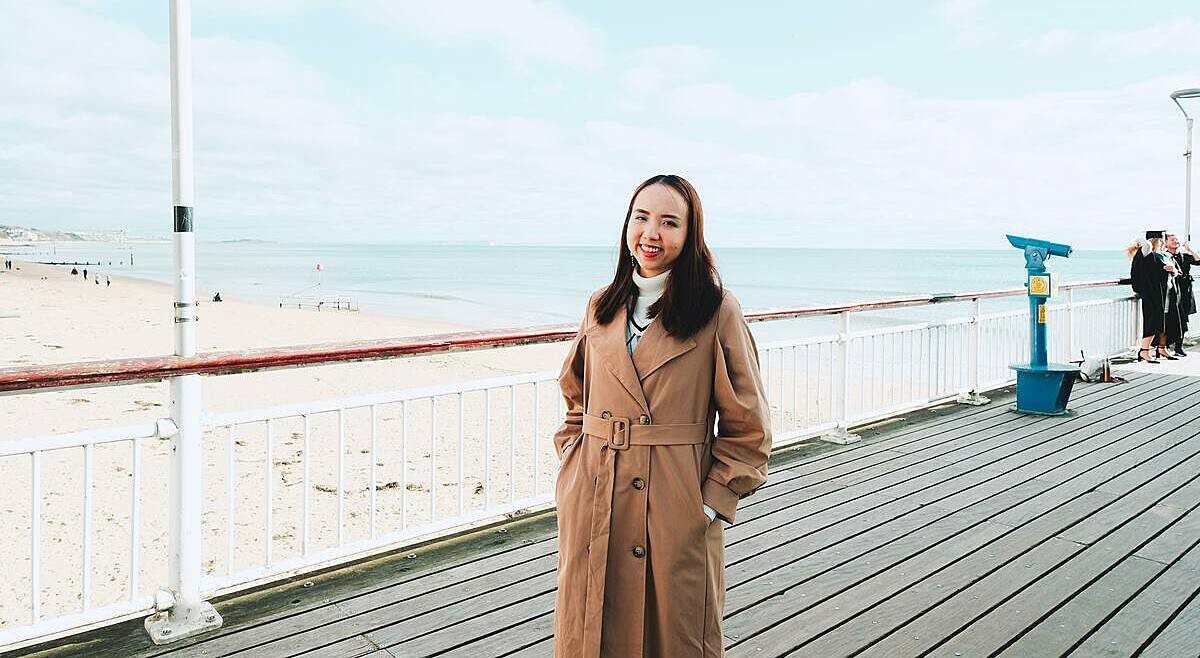 Nguyen Thi Anh Tho is in the U.K., November 2021. Photo courtesy of Nguyen Thi Anh Tho/ via VNE
Not yet
According to a plan made by the Ministry of Transport for resumption of commercial international flights from January 2022, fully vaccinated passengers and those who have recovered from the disease will be quarantined for seven days at paid facilities on arrival in Vietnam while unvaccinated people must undergo a 14-day quarantine.
In the second phase starting in the second quarter of 2022, passengers with vaccine passports approved by Vietnam will be exempt from quarantine. Unvaccinated travelers still have to undergo 14-day quarantine.
Pham in the U.S. said he has not decided when he would fly back to Vietnam. His biggest concern was the seven-day quarantine, meaning he would only has two weeks left for the different things he has to do.
"It is really difficult for me to follow this schedule."
In addition, Pham worried that he may not find a timely flight to the U.S., disrupting his business schedule.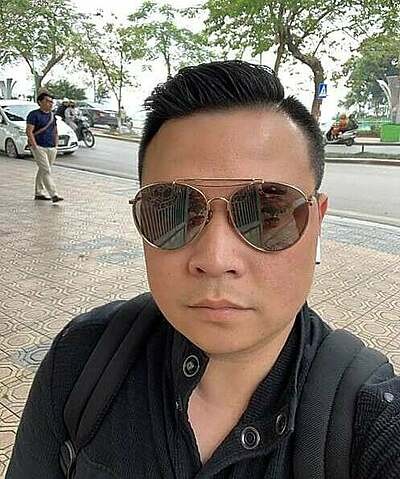 Derek Pham in Hanoi in 2019. Photo by Derek Pham/ via VNE
Thomas O'Neil, an American living in HCMC, said he wished to visit his family because he has not met them for two years. He also wanted to introduce his Vietnamese wife to them.
Though he was confident that he could return to Vietnam because he has a temporary residence card (TRC), the seven-day quarantine period worried him. If he had to go to a hotel or other location, it would be too expensive, and he would also lose a lot of time.
"If I can quarantine in my house, it will be fine."
O'Neil has also encountered problems in applying for a visa for his wife to go to the U.S. with him. He hopes that the vaccine passport recognition will make it possible for her to get a tourist visas. The couple are planning to visit the U.S. next year.
Expressing similar anxiety about procedures, Dave said it was not clear what people had to do to go out of Vietnam and get back in. The entry requirements for Vietnam made for a long and expensive process, he said. He estimated it would cost him $6,000 for a two-way ticket, besides hotel quarantine cost.
He was also afraid that he could be stuck in the U.K. and be separated from his loved ones in Vietnam for a long time, not to mention losing his job.
"I think it's a matter of time and things will become easy again. This is why I'm waiting," he said, adding that he did not mind taking tests and quarantining in Vietnam.
Nguyen in the U.K. is also concerned about expensive chartered flights, saying she was waiting for commercial flights which are cheaper.
Another concern she had was whether she would be able to travel freely within Vietnam in case there are new Covid clusters. She said she did not want to get "stuck" in Vietnam if things did not go smoothly during her one month break here.
Gari Hirai, a Japanese expat in HCMC, wants to travel to Japan to meet her family after two years and see her grandmother "who is very old."
But Hirai said she was waiting for Japan to lift its mandatory quarantine requirements.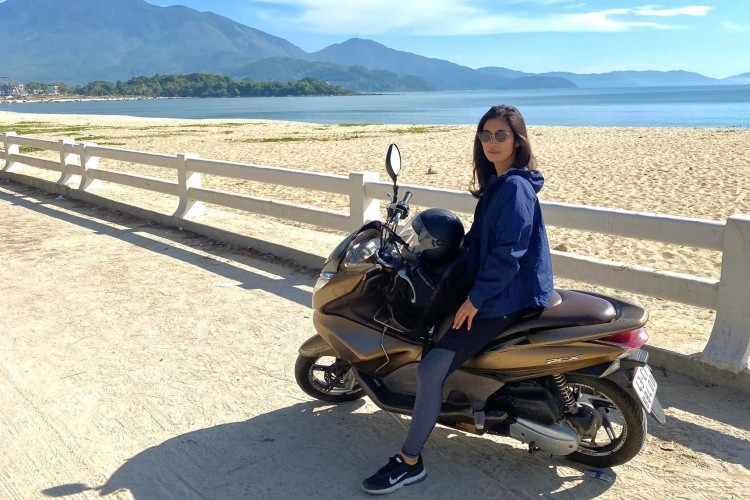 Gari Hirai is in Da Nang in 2020. Photo courtesy of Gari Hirai/ via VNE
The authorities allow people from Vietnam to self-quarantine at home as long as they don't use public transportation. However, she needed to use it because her home was far from the airport. If she returned to Japan now, she would have to stay in a hotel near the airport for at least 10 days, which was inconvenient.
Pham Hung An, a Vietnamese expat in Tokyo, said the vaccine passport recognition means he and fellow citizens in Japan would be able to return to Vietnam after being away for a long time.
But he said he does not have a plan to return yet because the travel and quarantine expenses would be too high.
"If Vietnam cuts quarantine time to three days, I will make a specific plan to visit my family."
Yearn for Post-pandemic Travel
In the meantime, many foreigners across Vietnam eagerly wait to continue exploring the nation. William wants to travel outside the province, but he is afraid of having to be isolated and tested many times, and Klovstad is waiting for international visitors to come to HCMC to continue working as a guide.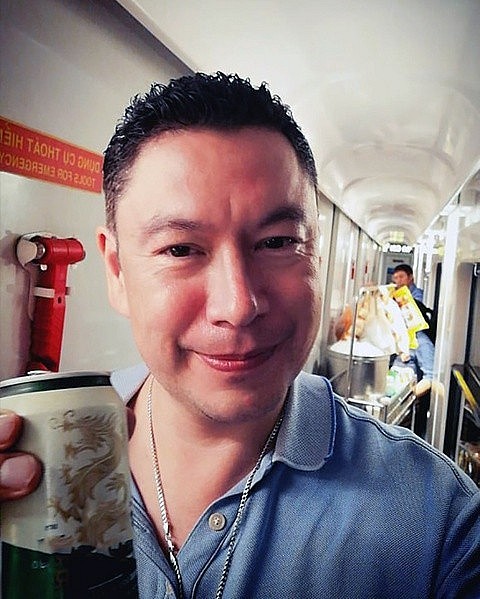 Michael Williams especially enjoys traveling by train in Vietnam. Photo courtesy of Michael Williams
"Is there any place that welcomes green card tourists from HCMC without quarantine? I want to go somewhere for a few days", Michael Williams (Canadian, living in District 1) asked online.
After easing social distancing, HCMC in turn opened tourism with localities in the country. Vietnam's expat community is desperate for a change of scenery.
Some foreigners in HCMC took part in day tours to Can Gio and Cu Chi districts. Besides, others want to go further but are still ambivalent about the regulation.
Michael Williams is an English teacher living in HCMC for 3 years. During social distancing, he is still busy teaching online, so he needs to travel to relax.
"I live in the city center, convenient and comfortable. But sometimes I want to 'hide' somewhere with fresh, quiet nature because being in the city for too long is suffocating. This is very important for mental health," Williams said.
The Canadian teacher has a Covid-19 green card, ready to be fully tested to travel. What he is afraid of is that he does not want to be isolated when he arrives at each locality, because he does not have time to go for too long.
"Currently, I am still waiting for local information on travel regulations for people from Ho Chi Minh City. Not many localities are open yet, or each has its own regulations, which can be inconvenient," Williams said.
Waiting for foreigners to come to HCMC
JP Klovstad (60 years old, Norwegian) is a tour guide specializing in leading foreigners from HCMC to many places in Vietnam and Southeast Asia. There are no international visitors and tourism activities have not eased among many localities are two things he worries about his job.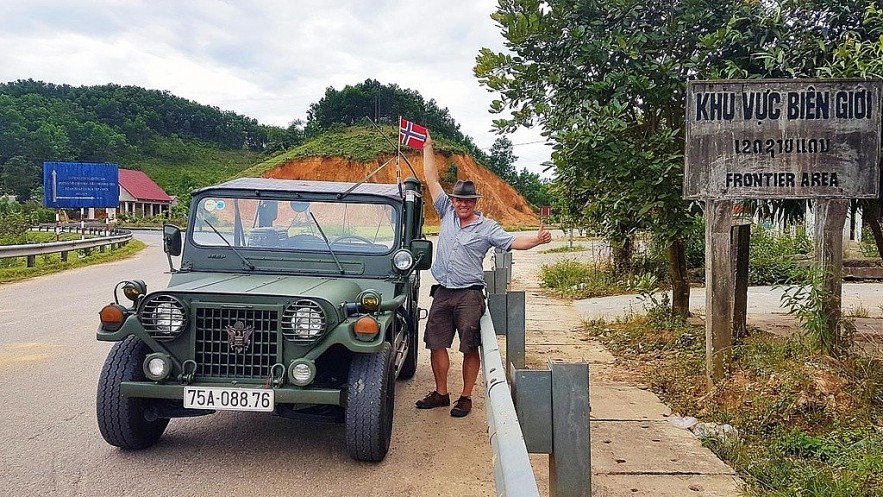 Klovstad has 29 years of travel experience around the world, first coming to Vietnam in March 2003. Photo courtesy of Klovstad
"I hope the city opens up flights and borders with neighboring countries, Western visitors can be welcomed back, and regulations on passports for vaccines and isolation procedures are easier so that I can keep working," Klovstad said.
Since HCMC stopped welcoming international guests in March 2020, the Norwegian guide has been working, before having to take a break during the last social distancing period.
Kolstad said that if he does not have a job until May-June next year, he will return to Europe or move to other Southeast Asian countries, temporarily working in tourism there for a while. When HCMC has enough job opportunities, he will come back.
"Anyway, I need a trip of my own soon. Maybe late November, I'll rent a jeep and take a ride. I will come to see the bull racing festival in An Giang if there is one, but last year I was a day late," Klovstad said.
The U.S., the U.K., Japan, and Belarus have officially accepted Vietnam's vaccine passport, while others are waiting for the country to use a consistent template.
The four countries made their decisions in early November, with specific certifications regarding the vaccine types, said Pham Thu Hang, deputy spokeswoman of the Foreign Affairs Ministry.
The foreign ministry is discussing ways to accelerate mutual recognition of each other's vaccine passports with around 80 partner countries, Hang said.
She said Vietnam has temporarily recognized the vaccine certificates of 72 countries and territories. They are: Algeria, Argentia, Armenia, Australia, Austria, Azerbaijan, Belarus, Belgium, Bolivia, Brazil, Brunei, Bulgaria, Cambodia, China, Colombia, Croatia, the Czech Republic, Denmark, Egypt, Finland, France, Germany, Greece, Hashemite Jordani, Hungary, Iceland, India, Indonesia, Ireland, Italy, Isreal, Japan, Kazakhstan, Kuwait, Laos, Libya, Luxembourg, Malaysia, Mexico, Mongolia, Morocco, New Zealand, Nepal, the Netherlands, Norway, Oman, Pakistan, Palestine, the Philippines, Poland, Portugal, Qatar, Romania, Russia, South Korea, Thailand, Sri Lanka, Saudi Arabia, San Marino, Singapore, Slovakia, Spain, Sweden, Switzerland, Taiwan, Timor Leste, Turkey, Turkmenistan, the UAE, the U.K., Ukraine, and the U.S.
People from these countries can use them directly in Vietnam and have their quarantine duration reduced to seven days in line with the Health Ministry's guidelines for those who have been fully vaccinated or have recovered from Covid-19.
Vietnam accepts all types of vaccines that have been recognized by the World Health Organization (WHO), the U.S. CDC, the European Medicines Agency, and the Ministry of Health. The template for vaccine passports needs to be issued both digitally and in a hard copy and it needs to bear a verification code. The issuing countries and territories need to have a high safety index and a high rate of vaccination.
Citizens from countries and territories that have not officially introduced their vaccine certificates or proof of recovery to Vietnam may contact Vietnamese representative missions in their own countries to validate these documents or seek assistance, Hang said.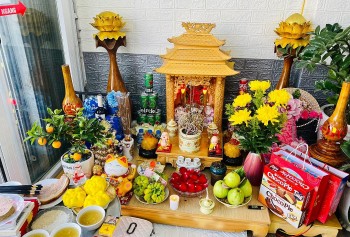 Handbook
Learn more about an ancient Vietnamese tradition that may bring you good fortune!