Expats in Vietnam Show Appreciation for Covid Vaccines
For many expats in HCMC, Getting the Covid jabs is a ticket to return to a normal life and a great source of encouragement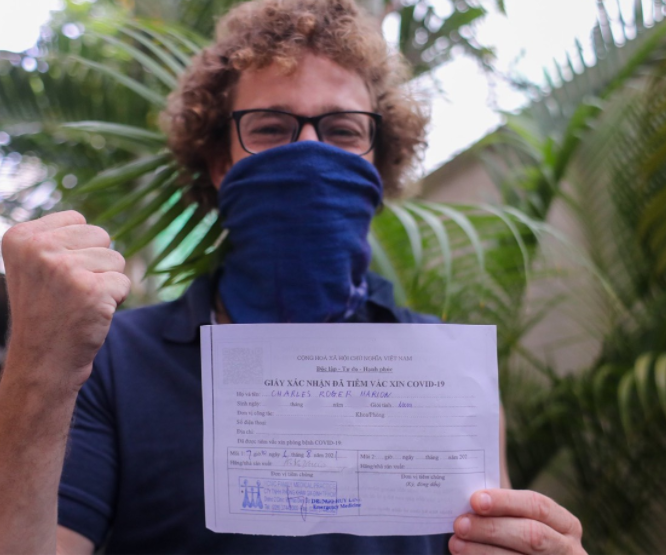 Chuck Marion shows his vaccine certificate. Photo: Zing
Chuck Marion is among many foreigners in HCMC to be injected with the Covid-19 vaccine in the city's 5th nationwide vaccine rollout.
"I'm super happy. I can't help but feel excited that I'm going to get the vaccine," he told Zing News. The American expat has been working in Vietnam for almost 10 years.
"I know the frontline workers or those with underlying diseases will be prioritized. Some of my friends who are teachers have also been immunized," Marion said. "I feel comfortable waiting. And now, it's my turn."
Marion walked out of the post-vaccination room in Thao Dien Special Education School, showing his vaccine certificate with a smile. The only thing that concerns him is how to take good care of himself in the following three days.
"Vaccination is necessary. Still, I don't understand why a lot of Americans refuse the jabs," he added.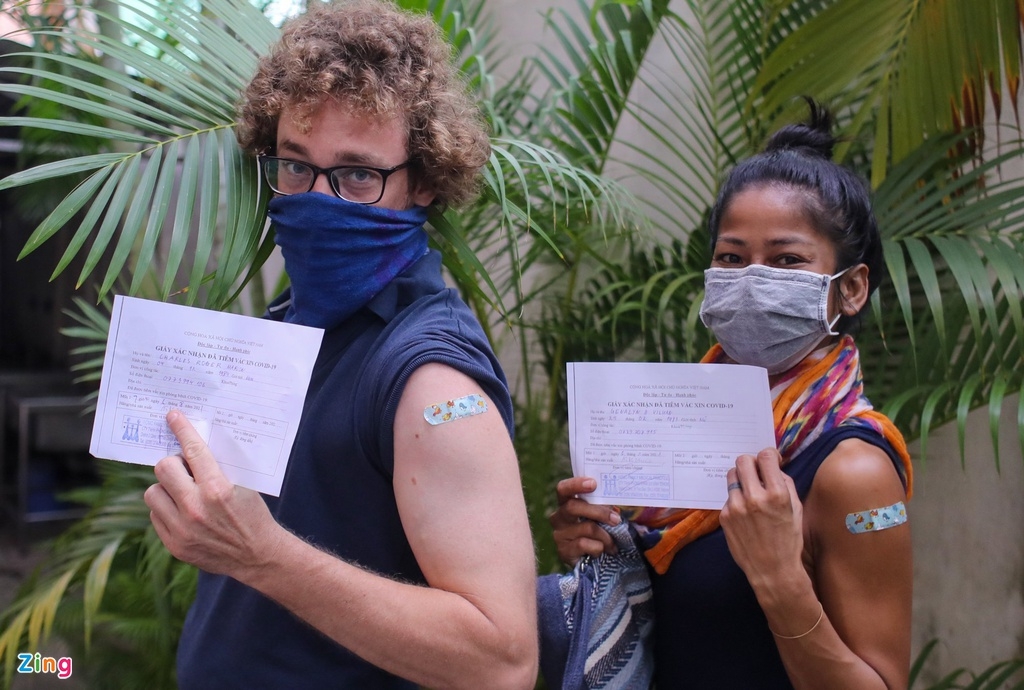 Chuck Marion and his girlfriend at the vaccination site. Photo: Zing
Other expats also showed excitement after they got the first injection. Some called their family to inform them of good news.
Singaporean expat Donald Tan said he wasn't worried about the side effects. He said he wanted to be immunized, even though he works from home most of the time and could reduce exposure to the novel virus.
"After being fully vaccinated, I plan to return to Singapore to reunite with family and travel," Tan said.
Simon Stansfield, from Australia, also got his first Covid-19 injection at the vaccination site in Thao Dien Special Education School.
"I've been waiting for the shot for a long time. I have cardiac problems, therefore the sooner I'm vaccinated, the better," Stansfield said.
The expat moved to Vietnam eight years ago and is managing a chain of coffee shops at airports across Vietnam. His business, however, was heavily affected by the Covid-19 pandemic. Many of his business trips were canceled because he wasn't vaccinated.
"It's a relief I finally get the vaccine. I could protect myself, my family, and get back to work," he said. "I appreciate the Vietnamese government and people for giving me such an opportunity."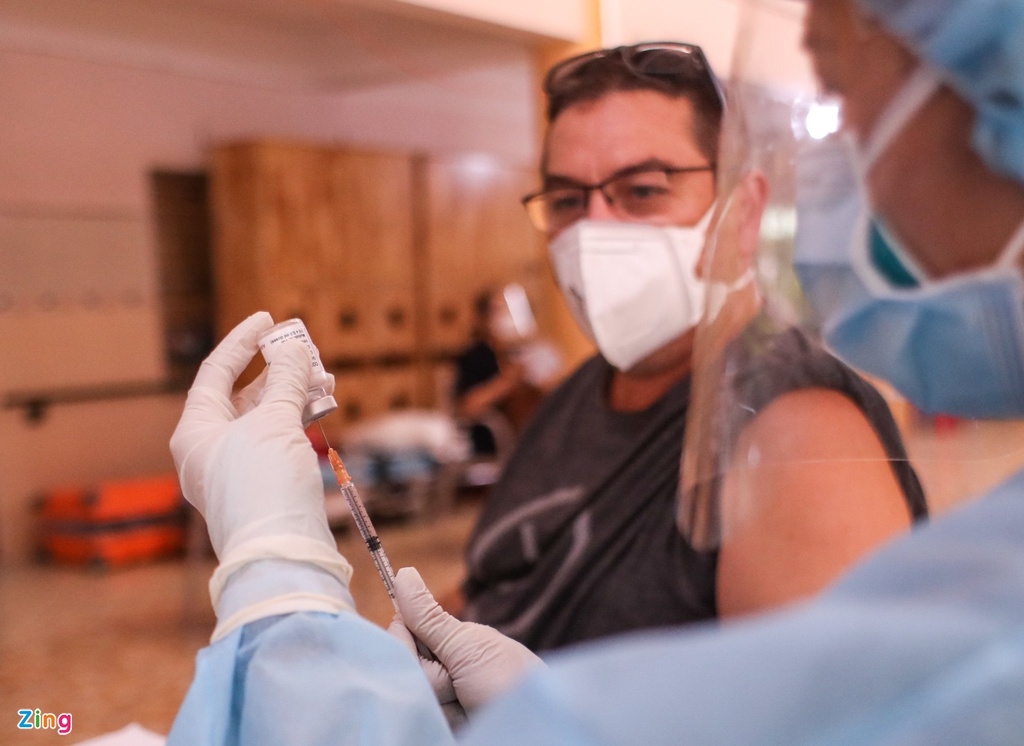 Simon Stansfield said he appreciated the Vietnamese government for giving him the chance to be vaccinated. Photo: Zing
Meanwhile, Johan Bokhari, from Malaysia, expressed his joy in seeing more and more people being vaccinated.
"I'm glad I am vaccinated against the coronavirus. More and more people are getting the jab, which means we are getting closer to herd immunity," he said.
The expat added that being vaccinated gives him a peace of mind living in Vietnam during the pandemic. However, he is worried about his family and friends in his hometown where the virus has been ravaging.
"I'm grateful and fortunate to have been vaccinated in Vietnam at this time. I also miss Malaysia and hope the pandemic will be contained soon so that I could meet my family," Bokhari added.
Vietnam has vaccinated over 8 million people against Covid-19 so far, with over 820,000 fully immunized.
The country aims to achieve herd immunity by next year through vaccinating 70 percent of its 96 million population.
Vietnam recorded 4,941 new Covid-19 infections, including 4,937 domestic and four imported cases, in the past 12 hours to 6 am on August 8.
Ho Chi Minh City, which is the current largest pandemic hotspot, logged 1,896 cases, while its neighboring Binh Duong province reported 1,477 infections.