Explore Attractive Destinations In Rach Gia City
Rach Gia is a beautiful coastal city, and is also a tourist attraction with many wonderful sites for visitors to explore and understand more about Vietnam culture. Here is the best and most attractive destinations in Rach Gia City.
If you're the kind of traveler who wants to visit a less touristy spot in Vietnam, then Rach Gia should be up on your list. Situated near the tip of southeastern Vietnam, it has a population of a little more than 200,000.
This coastal city is usually used as a transfer point for people going to Phu Quoc. But if you plan to stay a bit longer, you'll be surprised at how many children and locals welcome the sight of foreigners walking down their streets.
This provincial city is the capital of Kien Giang Province and is located approximately 250 km southwest of Ho Chi Minh City. Rach Gia used to be under the Cambodian territory where it had the name of Kramuon-Sa.
The town became the center for rice processing and manufacturing of straw mats and today, Rach Gia is widely known in the country for their honey, beeswax, and feathers of exotic birds. In 2005, the town was awarded city status and was divided into 12 administrative units.
1. Nguyen Trung Truc Temple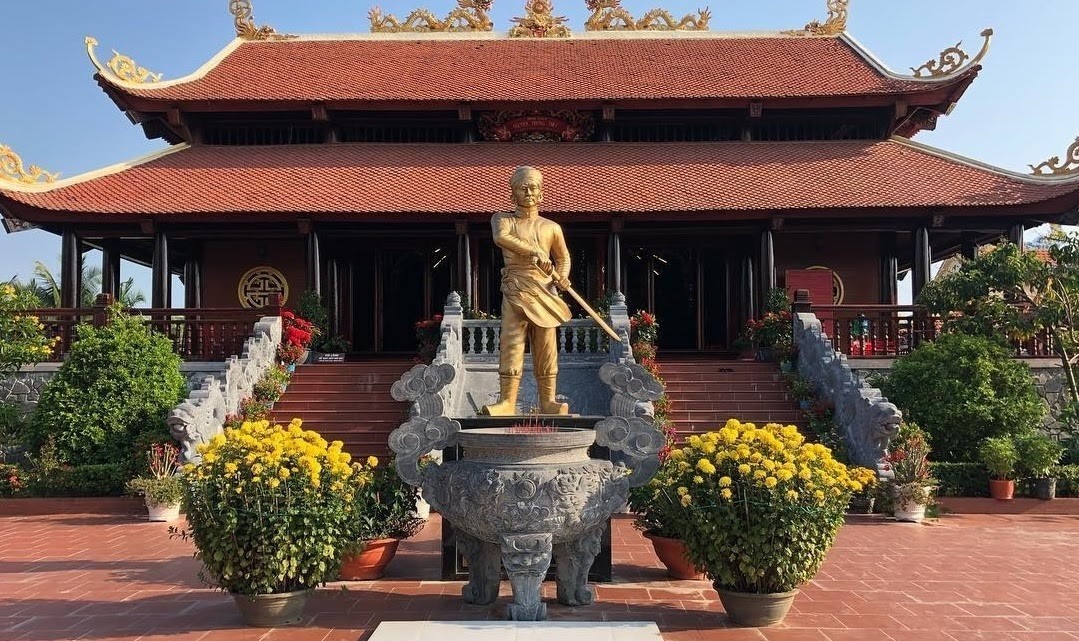 Photo: BestPrice
This temple is dedicated to Nguyen Trung Truc, a leader of the 1860s resistance campaign against the newly arrived French. The first temple structure was a simple building with a thatched roof; over the years it has been enlarged and rebuilt several times. In the centre of the main hall is a portrait of Nguyen Trung Truc on an altar.
Among other exploits, Nguyen Trung Truc led the raid that resulted in the burning of the French warship Esperance. Despite repeated attempts to capture him, Nguyen Trung Truc continued to fight until 1868, when the French took his mother and a number of civilians hostage and threatened to kill them if he didn't surrender. Nguyen Trung Truc turned himself in and was executed by the French in the marketplace of Rach Gia on 27 October 1868.
Entering through the entrance, tourists will catch the bronze statue of Nguyen Trung Truc. The statue was formerly placed in front of Rach Gia Market. It is now repainted with reddish brown and moved inside here. The statue is extremely stately, lively with the faithful and indomitable spirit as his personality before sacrificing. Within the campus covered the temple, there is also his tomb built in 1986 along with his statue. Setting foot on Nguyen Trung Truc Temple, visiting the simple temple, tourists admire more and more the hero Nguyen Trung Truc, who comes from an idyllic fishing village but brave to fight against enemy with the admirable patriotism. The journey of exploring Phu Quoc travel will be definitely much more memorable when tourists set foot on the unique temple.
The temple houses numerous ancestral tablets with 3 worshiping places inside. There are the statue of Nguyen Trung Truc in the center, Nguyen Hien Dieu, Lam Quang Ky on the left and the statue of God Nam Hai on the right. Though Nguyen Trung Truc Temple is not the oldest Phu Quoc temples, it is truly the center of the cultural activities of the locals. The image of Nguyen Trung Truc has deeply influenced into the mind and spirit of the people here. Not only is it the place for pilgrims to visit and pray, the temple is a home for people to do merit and virtue. There are traditional medicinal clinics free for everyone here. The temple is always full of people for healing, taking medicine and do merit.
2. Sac Tu Tam Bao Pagoda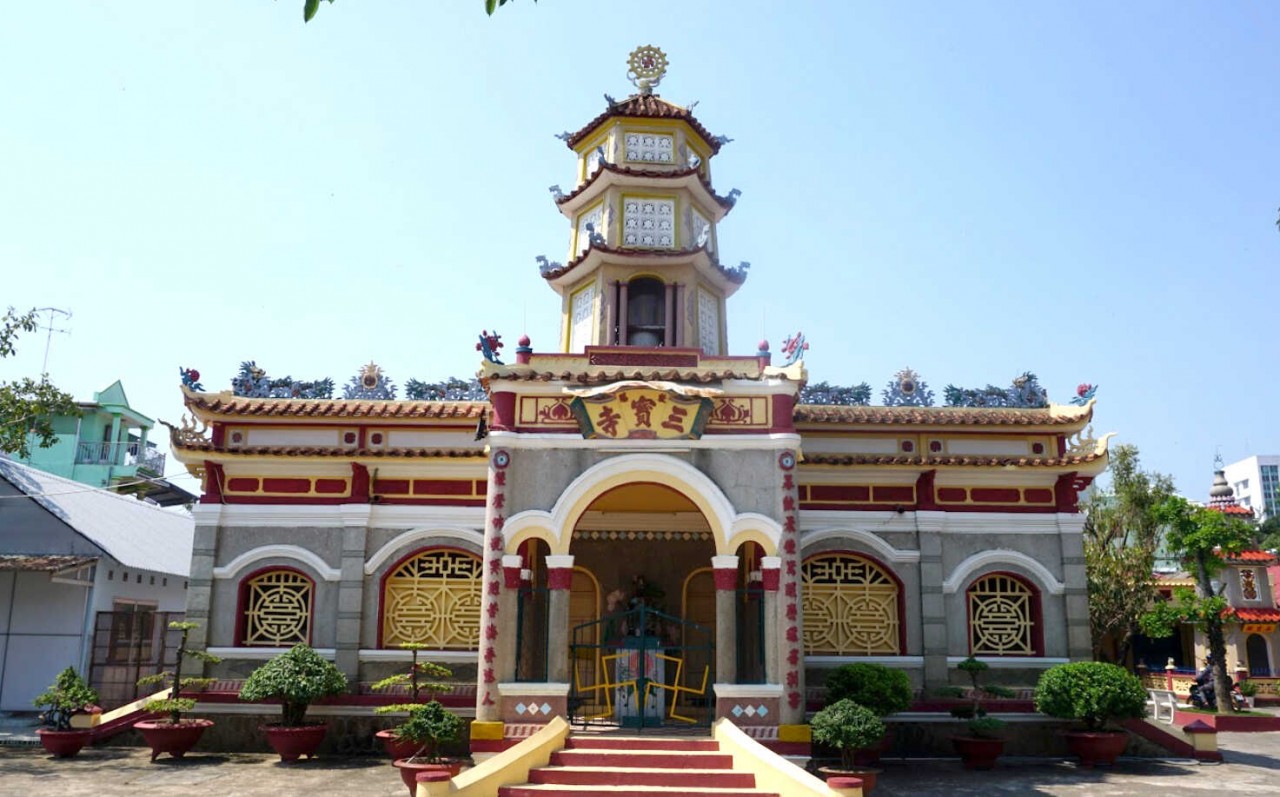 Photo: Du Lich Mien Tay
In the past three centuries, Ha Tien Town in the Mekong Delta province of Kien Giang has been a popular location for tourists attracted to its stunning landscapes and pilgrims to Sac Tu Tam Bao Pagoda.
Mac Cuu built the pagoda in 1730 with the initial aim of giving his mother a place to spend the rest of her days studying Buddhism. It was renovated in 1930 bringing a curved roof, a lake out front, a flower garden and dormitory for monks and Buddhist nuns. The yard is shaded by many large trees.
The pagoda was formerly led by monks but from 1974 nun Thich Nu Nhu Hai was appointed as the pagoda leader and since then it is dedicated to nuns. The pagoda has been renovated many times in recent years.
Visiting the pagoda, visitors will witness a large Bodhisattva statue in the yard. There is also a 300-year-old bronze Sakyamuni statue in the sanctum and a large bell donated by Mac Cuu whose mother's tomb is still located onsite.
Many tourists visit the pagoda not only to admire the peaceful atmosphere but also to join in the activities with nuns. The pagoda hosts many programs for youngsters with an aim at providing them soft skills and teaching them a moral and healthy lifestyle.
3. Tam Quan Gate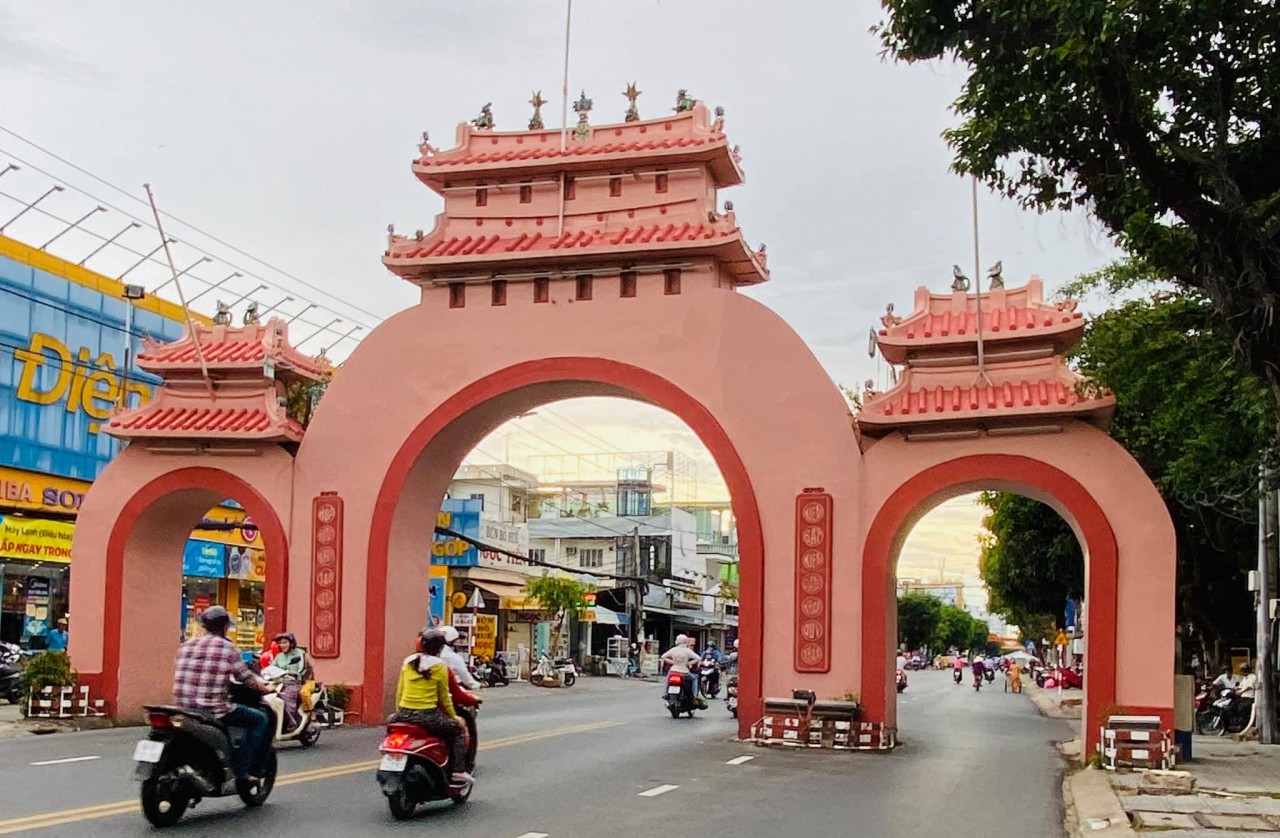 Photo: Tau cao toc
This is the perfect first stop during your visit to Rach Gia. The Tam Quan gate is also known as "Three Entrance Gate" is a beautiful triple arch at the entrance of the city. This gate is considered a true symbol of Rach Gia, which bears traditional symbols of Vietnamese architecture.
Built in 1959, the gate consists of three doors and three roofs which were decorated with many folk cultural symbols such as tiger-faced designs and dragon fish.
4. Phat Lon Pagoda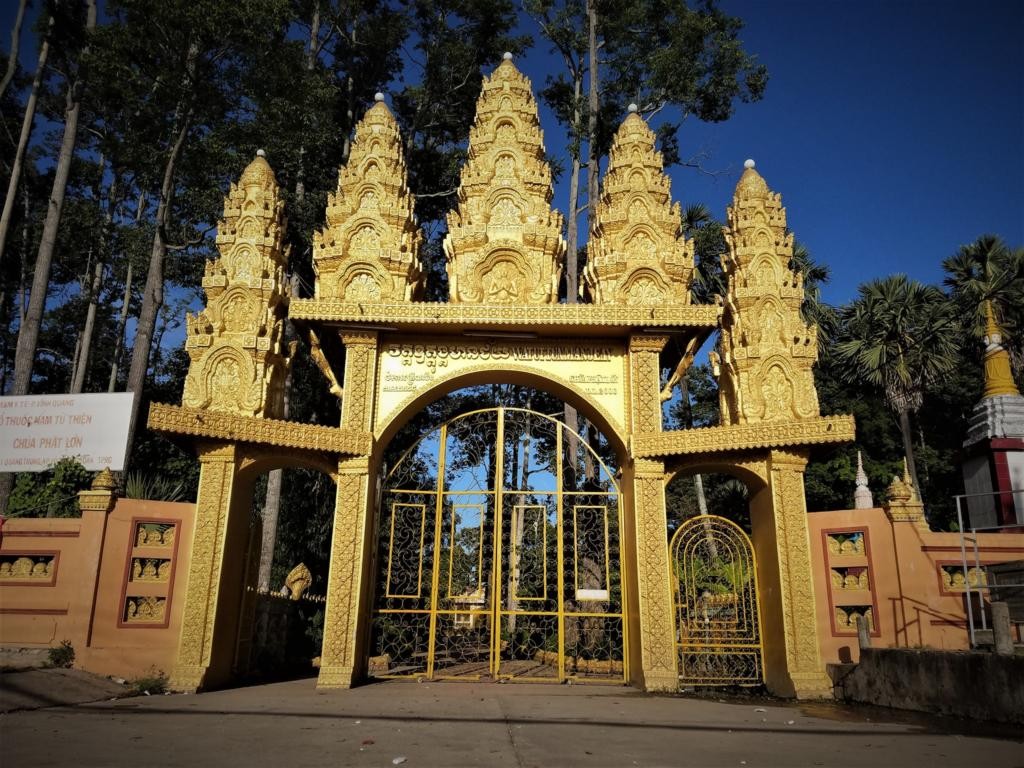 Photo: Ve tau cao toc Viet Nam
This is another beautiful pagoda that displays magnificent ancient architectures and features a zen garden. Phat Lon Pagoda is directly translated as "Big Buddha Pagoda" and is home to some ethnic Khmers monks.
Phat Lon Pagoda, Thien Truc Pagoda, Thien Truc Pagoda are the different names for this temple. The temple was built so long ago that no one knows when it was founded. According to studies, this ancient temple belongs to the Theravada sect of the Khmer people, it was established around the sixteenth century. With more than 400 years of history, the temple has many mystical legends surrounding it. The temple has precious and beautiful ornamental plants. The temple currently saves a large statue of a Thai model and a dai hong chung (big bell) belonging to the Mahayana sect, they are considered two invaluable treasures of the temple in existence until now. The image of the Big Buddha Temple is deeply engraved in the mind of the elderly. They do not know when it came from, but only know that since memory formation, they have gone to the temple with their grandparents and parents.
Top 6 Best Activities to Enjoy in Sapa

Sapa has been a famous destination in Vietnam for many years for its natural and pristine beauty, and tranquility. Here is some best activities and ...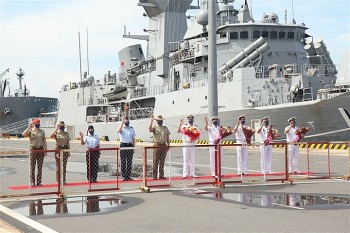 Friendship
Australian warships, amphibious assault ship HMAS Canberra, missile frigate HMAS Anzac and tanker HMAS Sirius, arrived in Vietnam as part of the Indo-Pacific Endeavour 2021.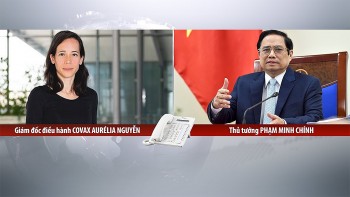 Focus
Prime Minister Pham Minh Chinh on September 20 asked the COVAX Facility to quickly allocate Covid-19 vaccines to Vietnam.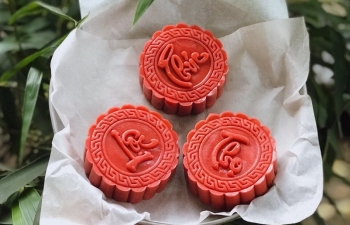 Viet's Home
As the Mid-Autumn festival is approaching, many Vietnamese youngsters choose to bake mooncakes on their own instead of buying them, making for a memorable holiday moment.