Explore Vietnam: Best Activities To Do And Enjoy in Vung Tau
Bright sunshine, lovely sandy beaches and delicious seafood, Vung Tau is a wonderful beach destination for any tourists who come to Vietnam for the first time. Take a look at these best activities to do and enjoy while you stay in Vung Tau.
A popular weekend escape from HCMC, Vung Tau rocks at weekends when beach-starved locals and expats descend in numbers, but it is relatively quiet during the week. The city enjoys a spectacular location on a peninsula, with ocean on three sides; the light and sea air make it a refreshing break from sultry Saigon. Let's take a list of the best activities to enjoy in Vung Tau in the post below.
1. Laze the day away at Back Beach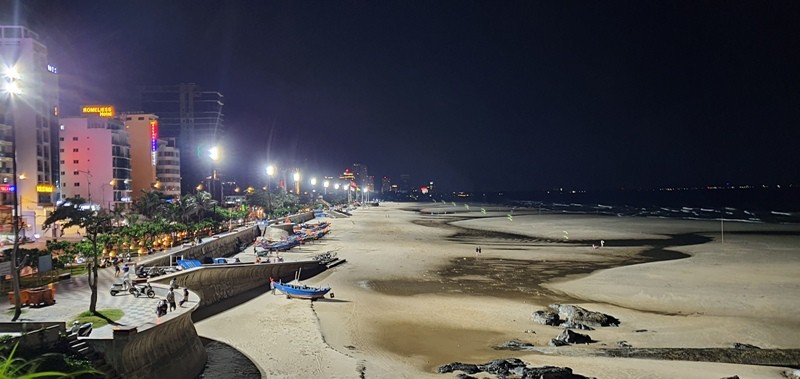 Photo: PLO
Location: Located in south-east of Vung Tau City, Ba Ria - Vung Tau Province, Back Beach is over 8km-long from the foot of Small Mountain to Lap Mouth.
Characteristic: It's one of the biggest and most beautiful beaches in Viet Nam
Also called Thuy Van Beach, the Back Beach leans against white sand-dunes and immense casuarina forest. Everytime a light wind blows, the tiny casuarina foliages sing a song. Below the casuarina forest, there are some comfortable wood guest-houses designed according to style of the Central Highlands communal house.
The sea surface of Back Beach is calm in the south wind season but rough in the north wind season. With the fresh air, charming scenery, the Back Beach will make tourists feel easy after hard working-days.
Vung Tau's busiest beach is a three-kilometre-long crescent of golden sand with shallow water and gentle waves – safe even for toddlers. Small rocky islands dot the shoreline, while strings of stalls and shoreline restaurants sell seafood snacks and meals. The sand is sprinkled with deck chairs and parasols for rent. It gets so crowded at weekends that there's barely space to sling a towel – but it's an idyllic spot if you come midweek.
2. Bai Truoc Beach (Front Beach)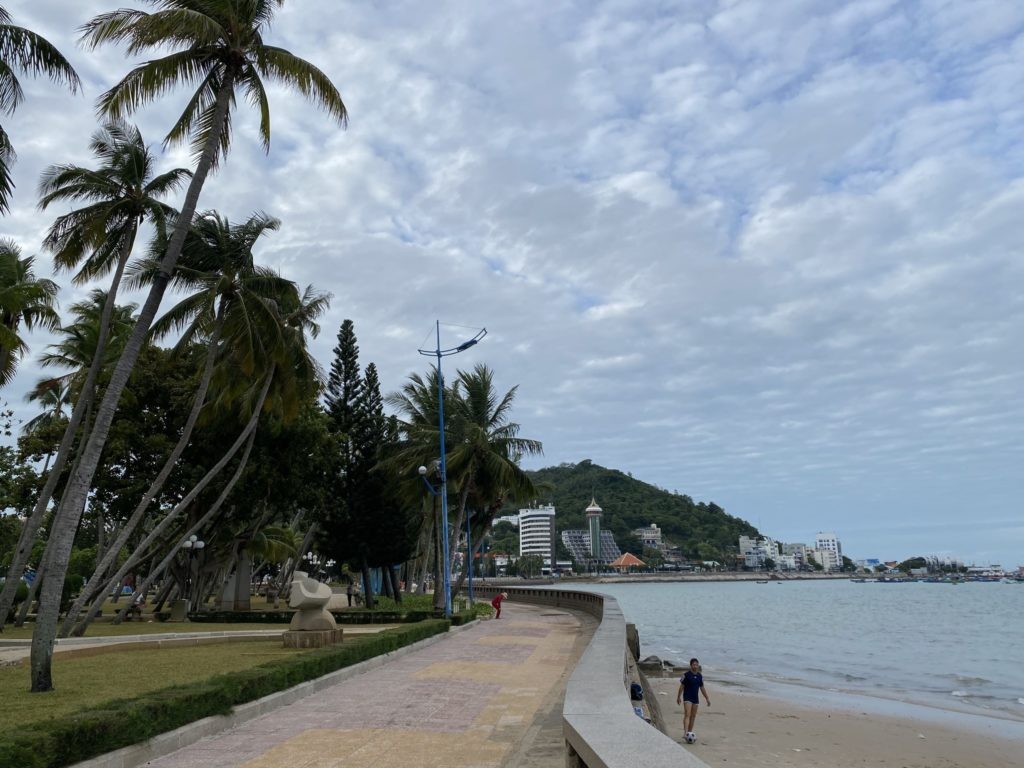 Photo: Tau cao toc
Bai Truoc (also known as Tam Duong beach). It's located between Big Mountain and Little Mountain, which is a quiet bay. The Front beach is located in the distance from the green light (maritime light) to Da Bridge. It's starting from 01 Tran Phu, through Quang Trung street to a part of Ha Long road. Natural scenery in the front beach outside Big Mountain, Little Mountain also has Nui Nhung island out to sea can be considered a wonder of this beach.
Architecture is the highlight of Front Beach can be referred to as Bach Dinh by the French built after Binh Dinh is South. Besides The newly built Vung Tau Cable Car, Vung Tau arms museum (Sen Sea Building – the building honored by the Architects Association is one of the unique architectural buildings in Vietnam).
This is also the area where the Fortress Phuoc Thang, the coast defense of the Nguyen dynasty.
The beach is located in the southwest of the city, so it is very suitable for sunrise and sunset views. Along the coast is the coconut, which was formerly known as Hang Dua Bay, the park below is full of flowers is also a place to walk listening to the waves whispering no less interesting.
3. Worldwide Museum of Arms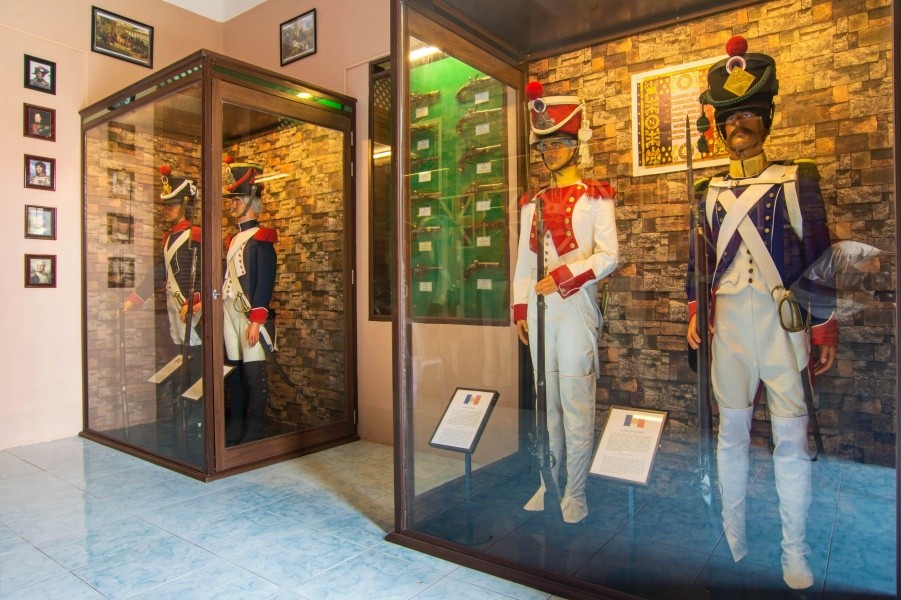 Photo: Living + Normads
The Museum of Worldwide Arms is an exhibition of arms and uniforms from the private collection of Robert Taylor - a long term British expat in Vung Tau. Almost all the pieces are original. It's a fascinating if unlikely museum in a handsome colonial-era villa.
British oil and gas professional Robert Taylor has been based in Vung Tau for decades. And he's been collecting arms and uniforms for even longer.
The Museum of Worldwide Arms brings Taylor's collection from around the world, to Vung Tau. The collection includes armour, weapons and uniforms British, Australian, Vietnamese forces through history, and more. It has no particular connection to the Vietnam War - however the Australian collection, does make references.
Taylor's museum is a labour of love and a considerable accomplishment. Importing such a vast collection of weapons into Vietnam was likely a major challenge. Taylor is frequently at the museum and is happy to chat with visitors.
4. Explore the Tran Phu Fish Market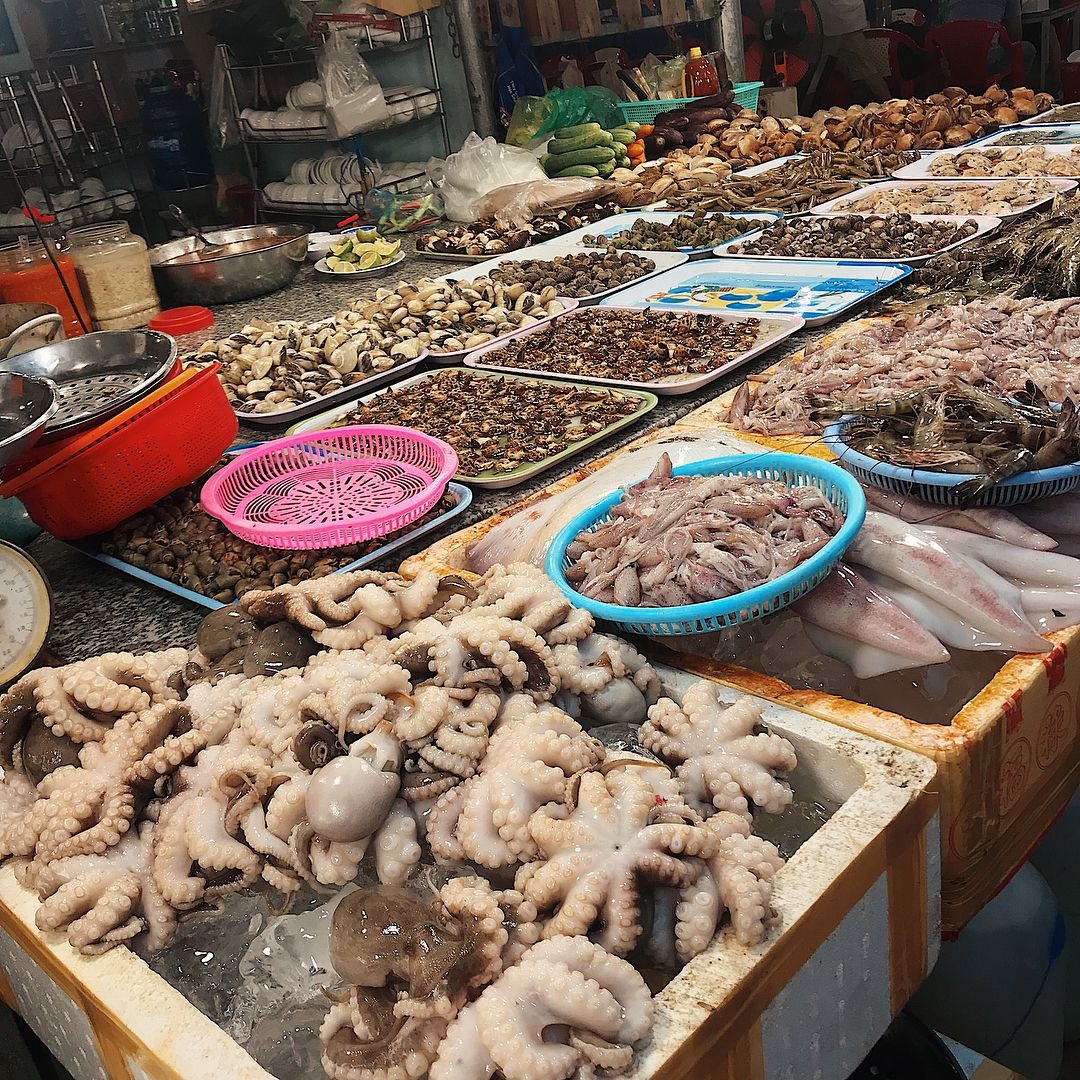 Photo: Halo Travel
A trip to the seaside city of Vung Tau is definitely not complete without a visit to the Tran Phu Fish Market, since the city is renowned for its fresh seafood. Located just off of Sao Mai sea port and fish village, the Tran Phu Fish Market is where visitors will find a wide variety of fresh seafood. The numerous stalls that line the road are frequented by locals and tourists alike. Visitors must make sure to bargain for the seafood that they are interested in and then take it to a local a restaurant to get it prepared, since Vang Tau is also known for its special seafood preparation techniques.
Vung Tau is celebrated for its seafood, thanks to dishes including lẩu cá duối (spicy stingray and octopus hotpot served with pickled bamboo, rice noodles and crackers) and Bánh khọt (prawn pancakes with chilli sauce and shredded green papaya). Chefs shop for the freshest fish at Tran Phu market next to Sao Mai fisherman's village. It's worth coming here to browse the exotic produce and to people-watch – especially early in the morning, when the fishermen bring in their catch.
5. Vung Tau Lighthouse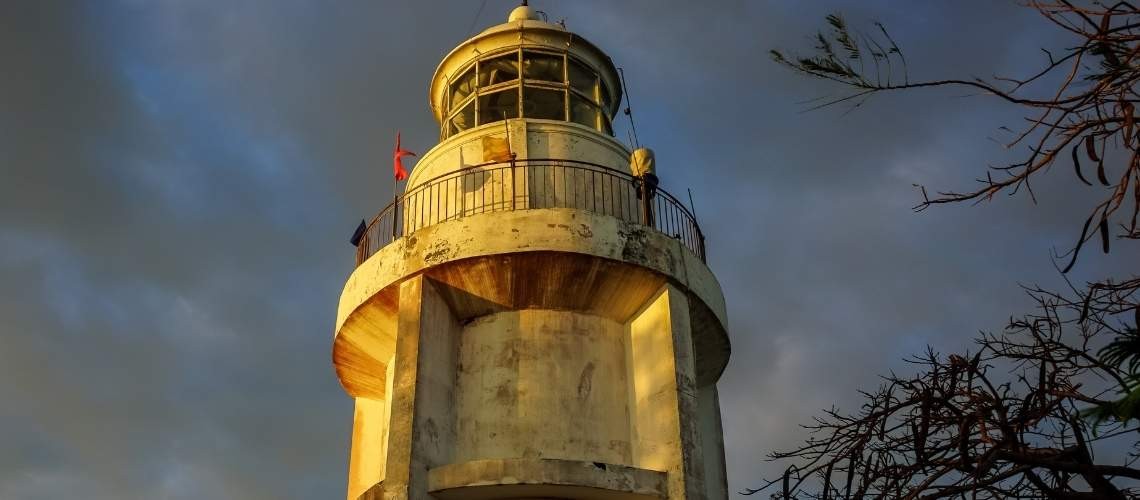 Photo: Origin Vietnam
Vung Tau Lighthouse – In the Vung Tau tourist trip, in addition to being delighted to play with the waves, admire the beautiful natural scenery. Where you are also conquered Vung Tau Lighthouse – one of the interesting attractions. It's chosen by many visitors.
Located on the top of small mountain (also called Tao Phung Mountain), in Ward 2, Vung Tau City. It's about 170m high, the lighthouse has a circular tower, 18m high, covered with a delicate white paint, prominent on the blue sky. The place is surrounded by beautiful green canopy. Where attracting a lot of tourists to visit.
Vung Tau Lighthouse is considered the oldest among 79 lighthouses in Vietnam. Specially it is the symbol of Vung Tau City. France built this site in 1862 to signal and instruct ships to cross.
Departure from Vung Tau city. Firstly you must follow the Ba Nhi street, then go to Pham Hong Thai before turn left onto Le Loi street. At Le Loi fork, turn right on Hoang Dieu street. At the end of the road continue to turn left to park Front Beach.
After turning right from Ha Long road, the section near the dock of the road starts to widen. Visitors can go straight to the lighthouse. But walking along the mountain is still a lot of tourists choose to admire the beautiful sea city from above.
As mentioned above, to get to the lighthouse at the place of sightseeing in Vung Tau. You will have to go along the winding path to Little Mountain (also known as Tao Phung Mountain). This stretch of road is very beautiful, lying graceful winding side of mountain. There are also tropical plants that clade the shade down the path to contribute to the pristine and quiet.
Walking on the small mountain road, breathing fresh air is the pleasure for all when traveling to Vung Tau. Besides, there are many beautiful scenery, romantic for you take pictures, save the beautiful memories.
6. Get closer to Vung Tau's giant Jesus statue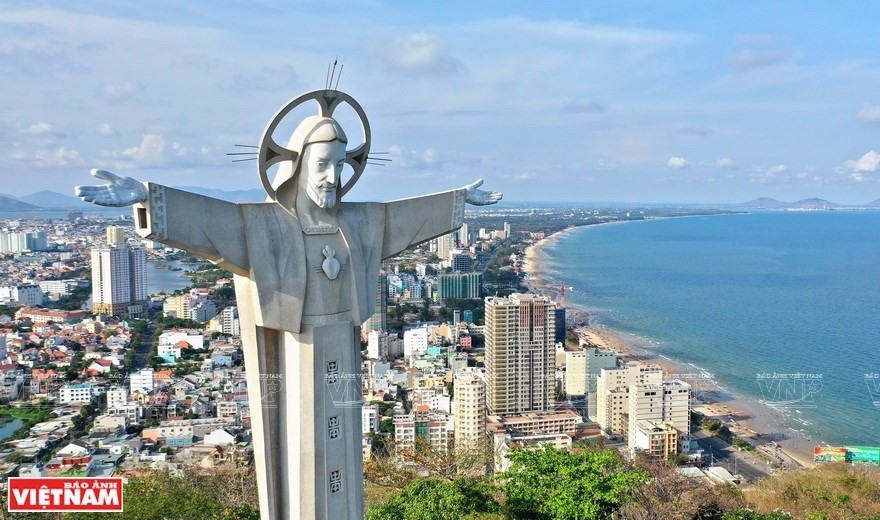 Photo: Vietnamnet
For foreign tourists and visitors of Vietnam as well, a hydrofoil trip to Vung Tau city from Ho Chi Minh to relax on the beach, climb the mountains, watch sunrise or sunset sitting along the beach coast or at the lighthouse and enjoy eating seafood is the best solution to escape from the stressful working time on weekdays. Nevertheless, one thing that should be highly recommended is a trek to The Statue Jesus Christ with of arms outstretched in Vung Tau City.
Needless to say, it is the biggest Jesus Christ statue in Asia and the second tallest one only after his cousin in Rio de Janeiro, Brazil. Standing imposingly on the top of the Nho Mountain (Small Mountain) in Vung Tau City, the 32-meter statue was originally built in 1974 at an altitude of 170 meters facing the sea. It was not until 1994 that the statue was completely finished and firstly welcomed as a one-of-a-kind masterpiece that has ever had in Vung Tau in particular and in Vietnam in general.
The Statue of Jesus Christ is on Thuy Van Street, the road along the beach coast of Vung Tau City. You will hardly meet any difficulties finding the way to the Jesus Statue since it is so famous to be known and easy way to reach. However, the only challenge for tourists is that you have to walk up more than 1000 stone steps to get to the arm of Jesus Christ. It is, to be honest, a long trek but there are some stops for trekkers to take a break, drink water and take some photos as a memory of the sea and surrounding areas below. Besides, the path along the route is decorated by many trees and flowers, especially plumeria flowers, spreading its fragrance around the location.
7. Eating all the best dishes at famous restaurants in Vung Tau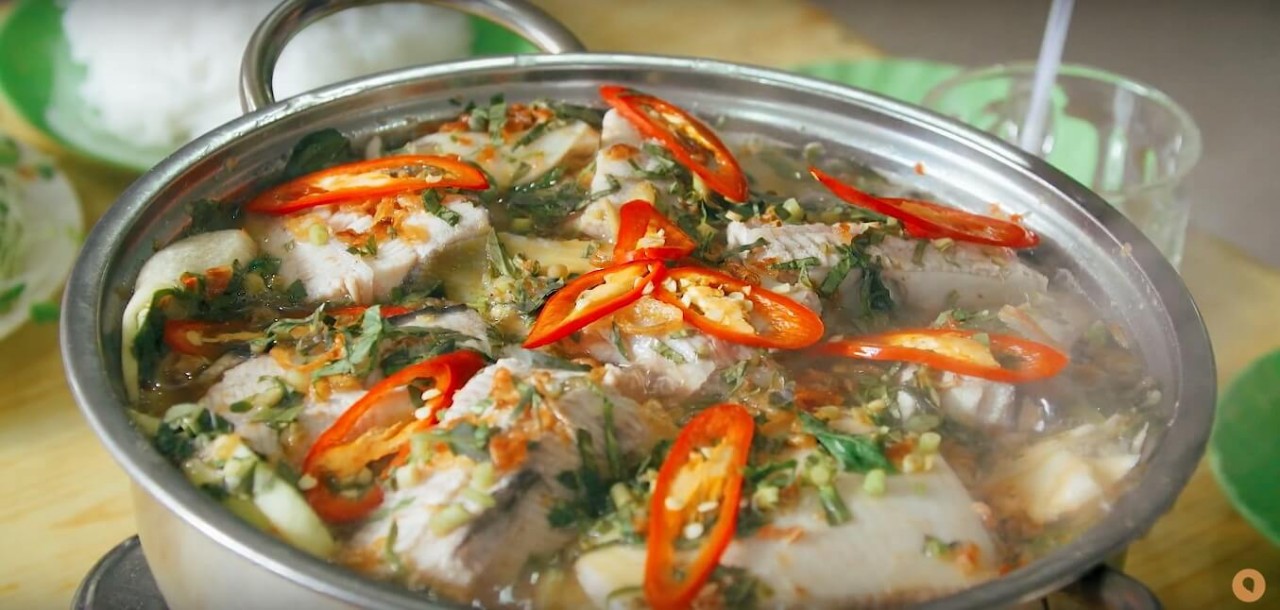 Photo: Rubicon Tours
Coming to Vung Tau, seafood is the top specialty that you should not ever miss in this coastal city. Especially, identifying the right places to eat is very important. In this Vung Tau Travel Guide, here are some recommended foods:
Ganh Hao
This spacious restaurant with a sea view is an ideal suggestion for family and friends looking to eat the local fresh seafood. Its prices are a bit high, but the reviews are said to be worth the money with its quality.
Address: 3 Tran Phu, Ward 5, Vung Tau and 9 Ha Long, Ward 5, Vung Tau
Lam Duong Seafood
This restaurant is spacious where you can choose to sit indoors or outdoors.
Address: 125B Tran Phu, Ward 5, Vung Tau
Assorted Snails (Oc 5 Tang)
Wondering what else to eat in Vung Tau? This snails restaurant is easy to find, located near the sidewalk where you can have fresh air, and local beers with different types of snails at affordable prices.
Address: A12 Nguyen Thai Hoc, Vung Tau
Sting Ray Hotpot
Address: 40 – 44 Truong Cong Dinh, Vung Tau
Mini Salted Egg Yolk Cakes at Goc Cot Dien
Address: 17B Nguyen Truong To, Ward 2, Vung Tau
Vietnamese Mini Pancakes (Banh Khot)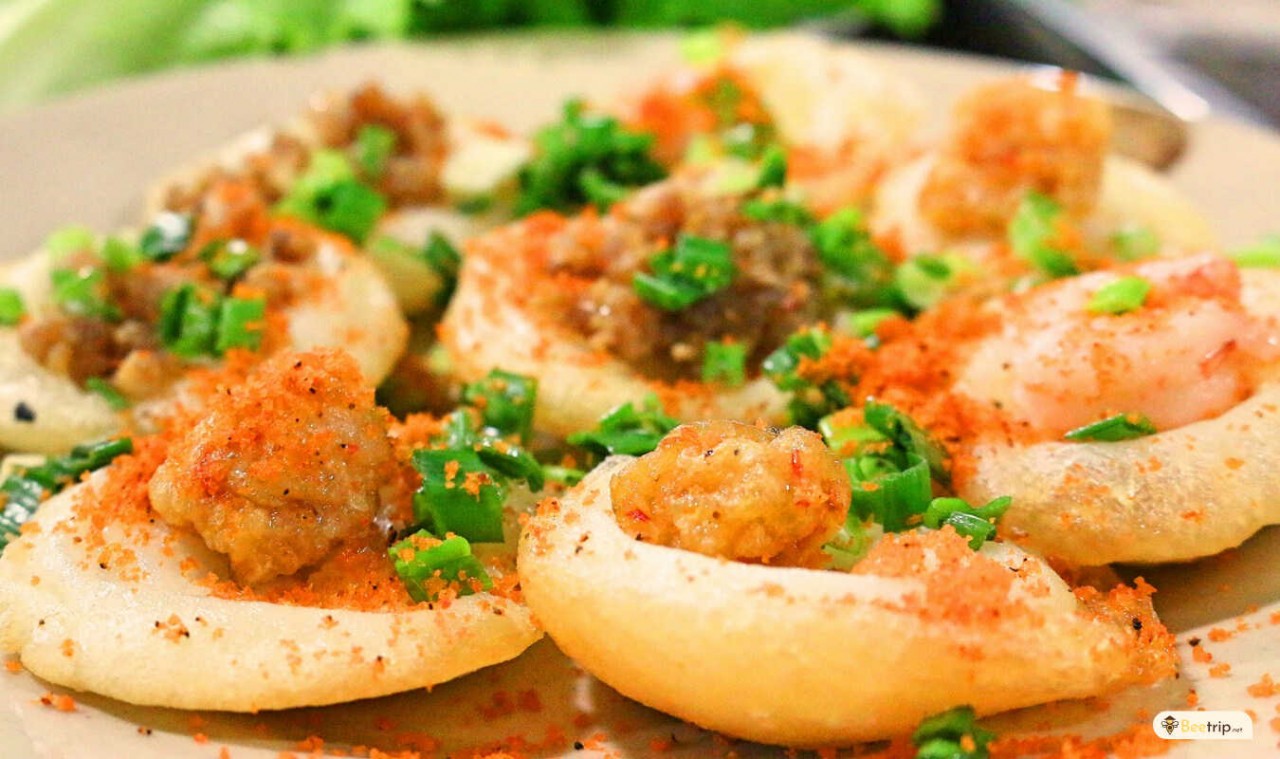 Photo: Beetrip
Apart from seafood, the Vietnamese mini pancakes are on the top list of foods you should try when coming to Vung Tau. These little round pancakes are both crunchy and soft with seafood filled inside (usually shrimp or squid) topped with green onion, shrimp powder, and finally dipped in fish sauce with some raw papaya creating such excellent crunch!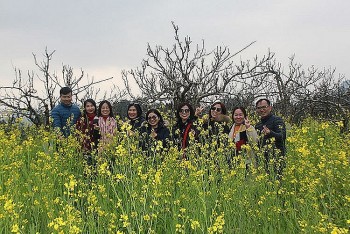 Travel
After the cold winter, the warm scent of spring rushes to all the villages in the highlands of the Bac Ha white plateau.