Exploring Phu Yen's charm
Nhat Tu Son Island, Mui Dien, Ganh Da Dia together with work of anchovies drying, lobster farming show up the beautiful, colorful life in Phu Yen.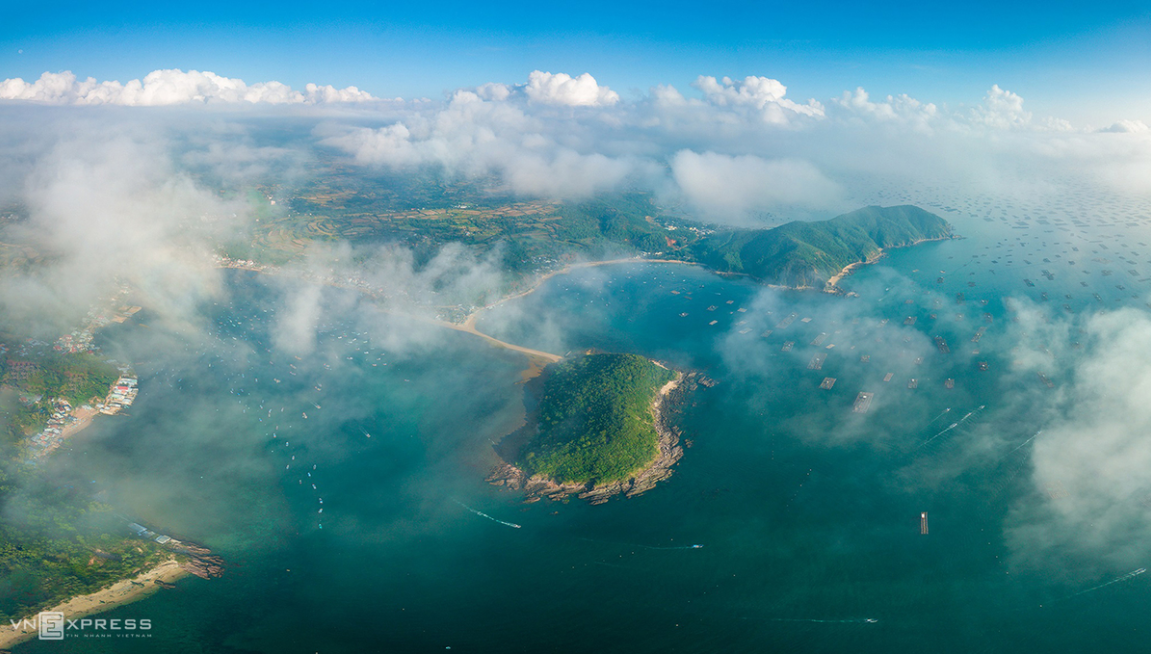 Nhat Tu Son Island (Xuan Thanh ward, Song Cau town) looks fanciful through the clouds at 7 am. This is one of the most beautiful islands in Xuan Dai Bay, with a variety of natural landscapes, especially the characteristic 300-meter-long road crossing the sea to the island, only appearing when the tide recedes. In addition, Song Cau Town's beautiful waters of Vinh Hoa Bay and Xuan Hai fishing village are also worth visiting. The above photo is in the series named "The scenery of Phu Yen island" taken by photographer Le Chi Trung (1989), currently working at the People's Committee of Xuan Dai ward, Song Cau town. (Photo: VN Express)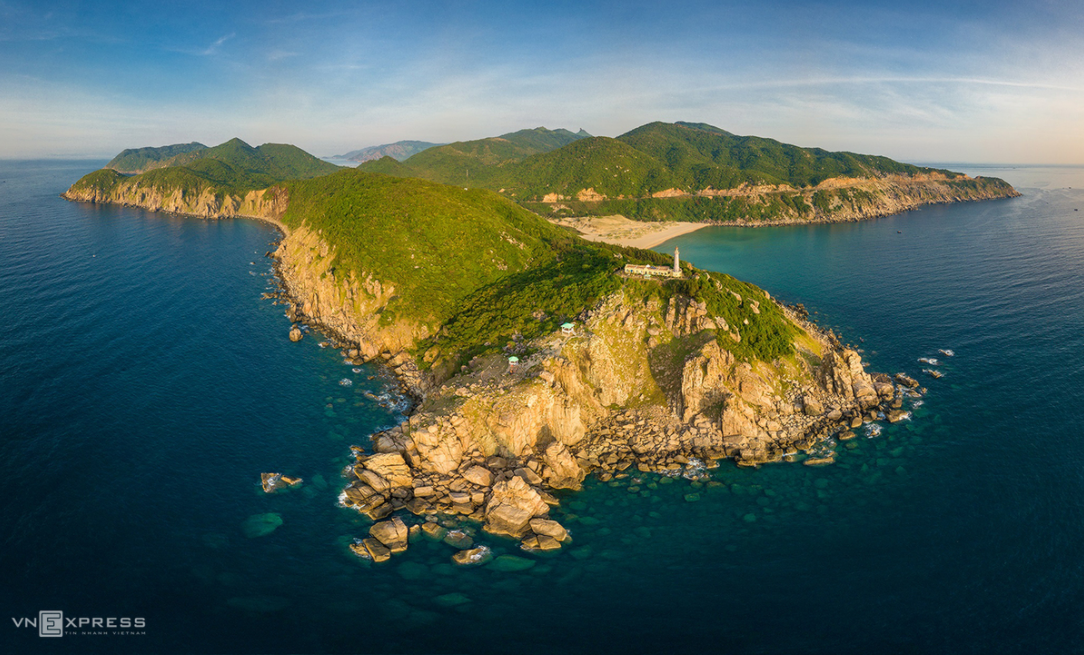 The scene of Mui Dien at 6 o'clock. The easternmost point of Mui Dien (or Cape Dai Lanh) is the place to catch the earliest sunrise on the mainland of Vietnam. The cape is located in Hoa Tam commune, Dong Hoa town, about 35 km from Tuy Hoa city, Phu Yen. Visitors often camp overnight to watch the sun rises from the sea. Mui Dien Lighthouse has a 26,5-meter-tall cylindrical block. The work still retains many traces built by the French nearly 130 years ago. Standing from the light tower, visitors can see the panoramic view of Bai Mon beach. (Photo: VN Express)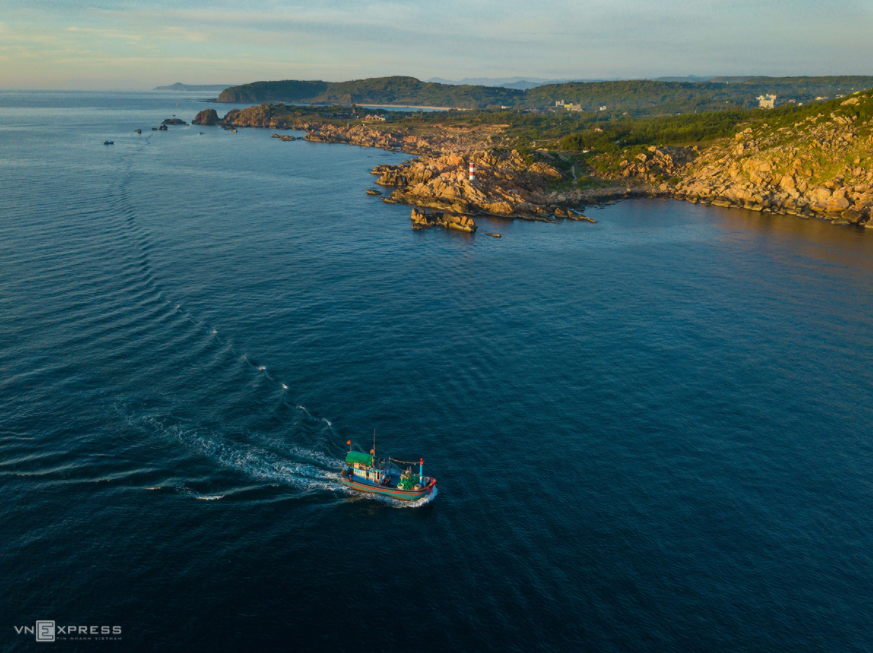 Ganh Den lighthouse is located about 1 km north of Ganh Da Dia, in An Ninh Dong commune, Tuy An district. This lighthouse has two colors: red, and white, possessing a height of 22m above sea level, emitting light for ships and boats in and out of Xuan Dai Bay. Standing on the lighthouse, you can observe the vast sea and fishing boats. With such an important position, the Lighthouse is an attractive tourist destination and an important site in preserving Vietnam's sea and island sovereignty. (Photo: VN Express)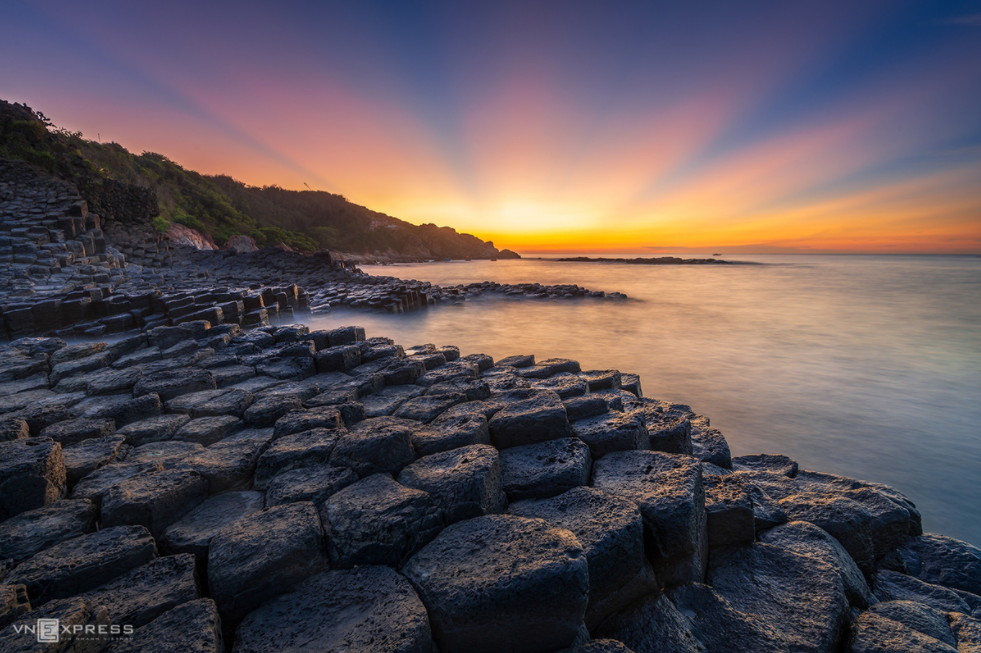 Ganh Da Dia, An Ninh Dong commune, Tuy An district is magical at dawn. This place is considered a special national scenic spot in December 2020. The cliff covers an area of about 2 km2 formed millions of years ago. The rocks here stand upright in columns, closely connected with each other. (Photo: VN Express)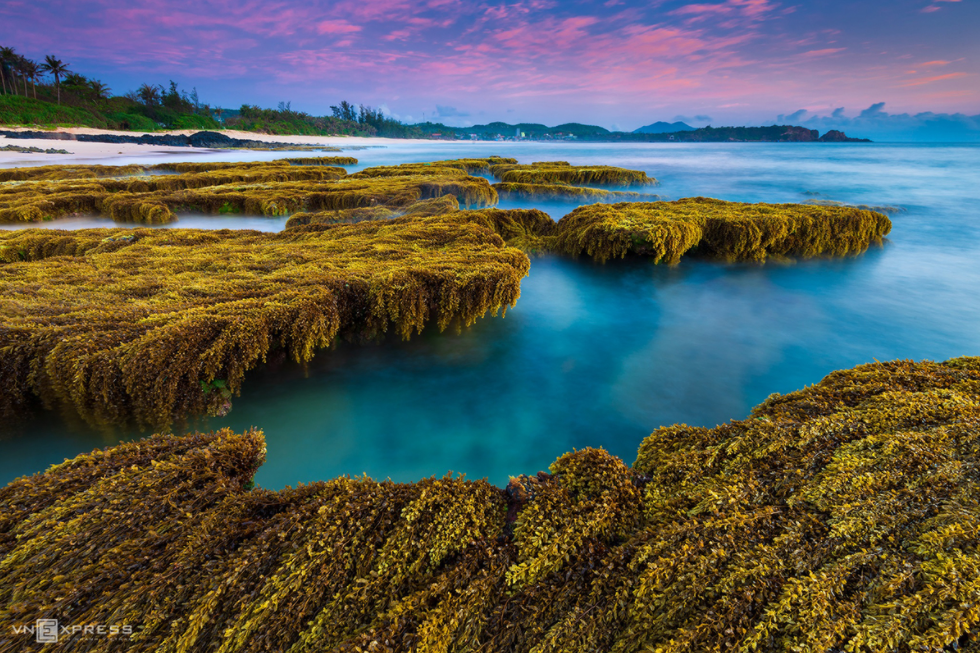 About 100 meters from Ganh Da Dia is Bai Bang beach in An Ninh Dong commune, Tuy An district. This is a sandy beach stretching for about 300 m, accompanied by an ancient limestone all year round submerged in seawater. "On dry tidal days, Bai Bang is wonderfully beautiful when limestone blocks of many different lines are exposed. Especially from February to April every year, these rocks are covered with a layer of golden seaweed", photographer Chi Trung said. (Photo: VN Express)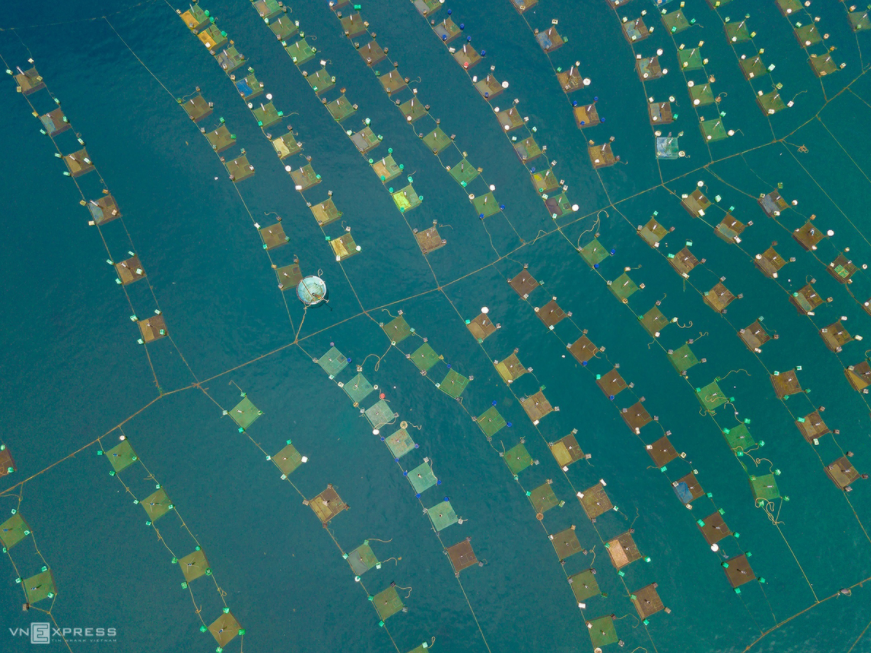 Coming to An Hoa Hai commune, tourists can also experience lobster farming in cages along the coast. The lobster cage looks like a picture hanging on the sea when seen from a high angle. (Photo: VN Express)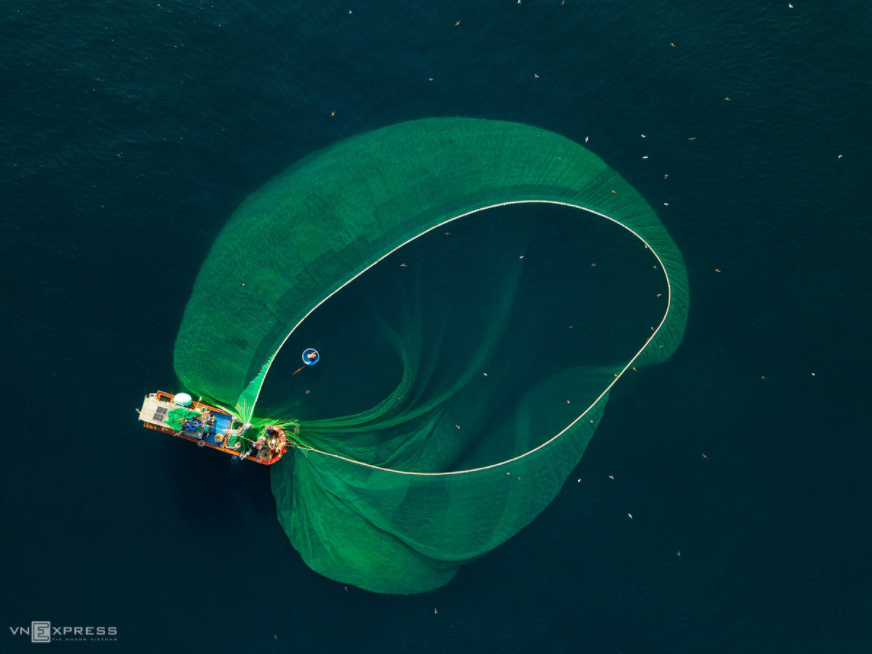 Hon Yen waters are also the location where fishermen catch anchovies. Fishing fins in the sea create a vivid picture. (Photo: VN Express)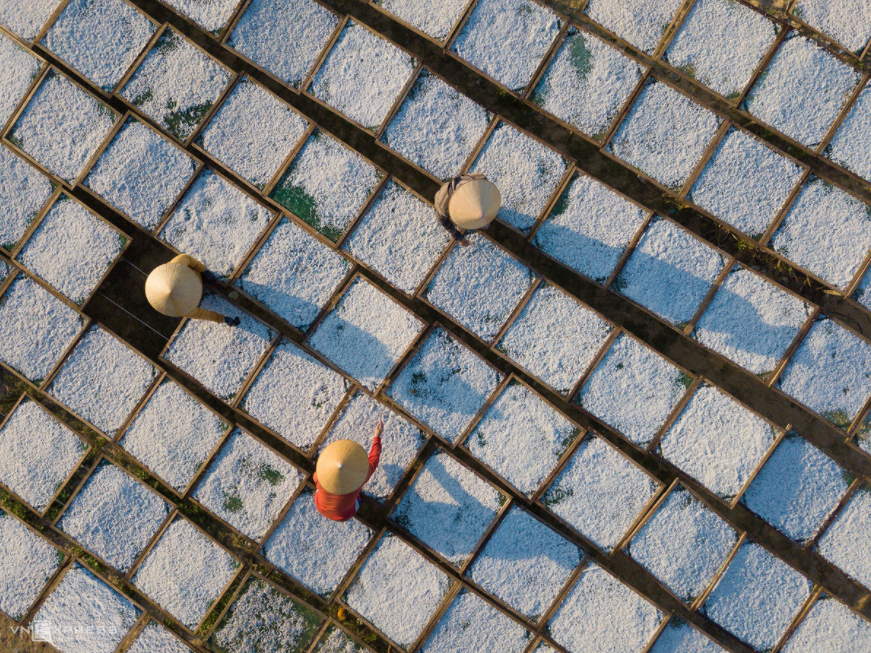 Local people dried anchovies in Hoa An village, Xuan Canh commune, Song Cau town. Hoa An has long developed a craft village to steam and dry anchovies, mostly sell from the Lunar New Year to the third lunar month every year. The caught anchovies are sold to manual drying ovens and have to go through three stages of selection, steaming and drying. After drying, the fish meeting the standards is sold to traders, the rest is made into fish sauce. (Photo: VN Express)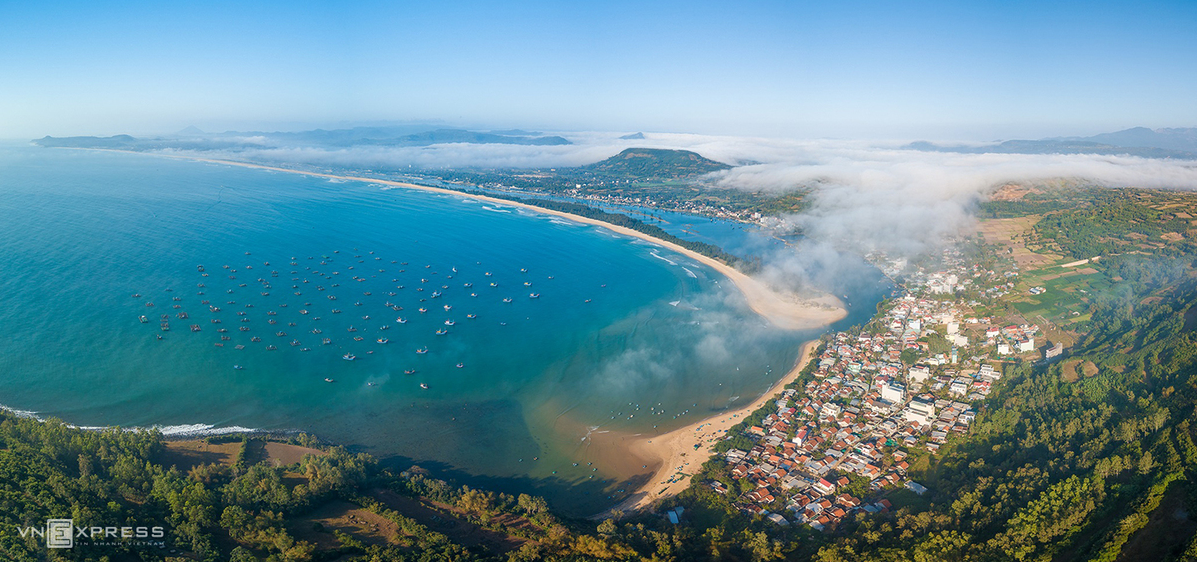 Overview of Phu Yen coastal protection corridor, area of Le Thinh resettlement area, Phu Luong village, An Ninh Dong commune, Tuy An district. Along the coast are hundreds of boats anchored. The photo was taken at past 7 am. Anchovy and lobster are specialties of this coastal village. (Photo: VN Express)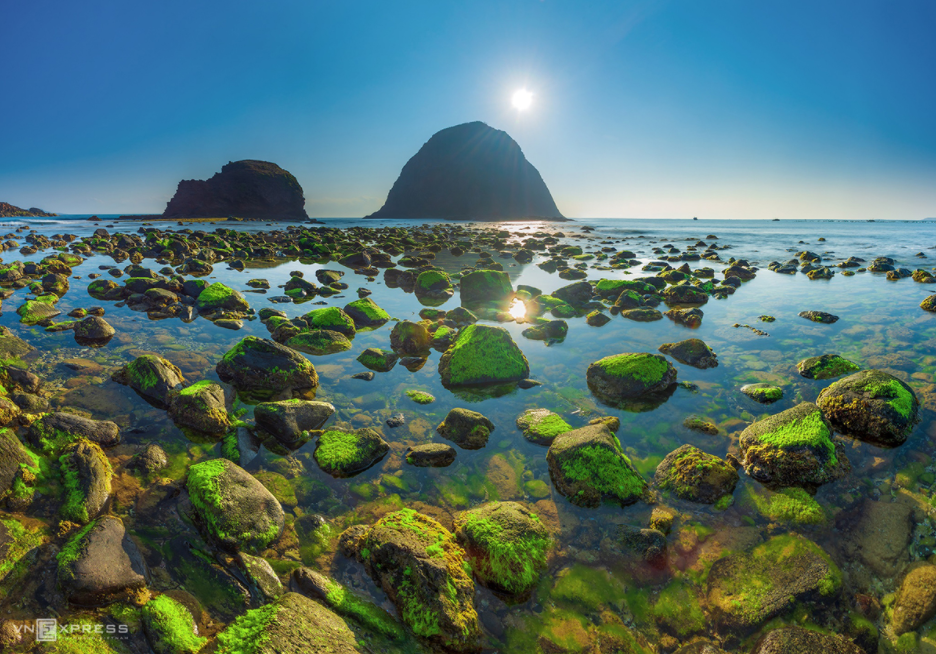 This photo shows green moss clings to the rocks. From afar, visitors can see the sight of Yen island (right) and Doong island (left), about 100 m from the shore. Blue seawater mixed with green moss bring an attractive picture. These two islands are located in the Hon Yen complex in An Hoa Hai commune, Tuy An district, about 20 km from Tuy Hoa city, recognized as national-level scenic relics in 2018. According to Chi Trung, when the tide recedes, visitors can walk to the island, but visitors should note that there are many bumpy rocks below the seabed. (Photo: VN Express)
Sunset on O Loan lagoon, with a fan-shaped light ray taken around 6 pm, decorated with boats. This is a brackish lagoon located in the south of Tuy An district, protected by Dong Chay mountain, Cam mountain, and An Hai sand dunes. As a national scenic relic recognized in 1996, the lagoon has a water surface area of 1,570 hectares, an average depth of about 1.3 m, connecting with the Bien Dong Sea through the Le Thinh and Tan Quy estuaries. (Photo: VN Express)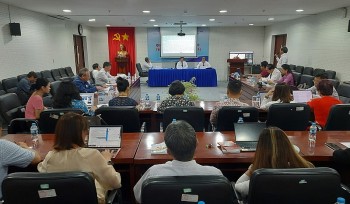 Friendship
The Vietnam - India Friendship Association's Ho Chi Minh City branch, the Ho Chi Minh City Union of Friendship Organizations (HUFO) and the Southern Institute of Social Sciences on March 21 held a scientific seminar themed "Vietnam - India relationship: tradition and present".