Exploring Quang Ninh's hidden germ
Located in the northeast of Quang Ninh province, Cai Chien island commune, which possesses beautiful natural landscapes and a fresh atmosphere, is an interesting place for tourists to explore.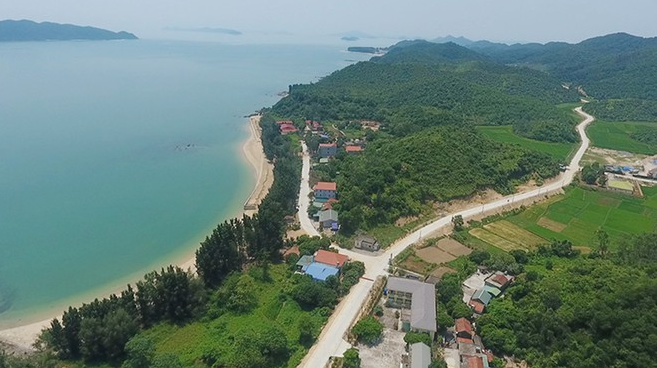 Cai Chien viewed from above. (Photo: Thanh Nien)
Cai Chien Island is 2,549.95 hectares wide, shaped like a giant whale emerging on the water surface to embrace the Hai Ha coast. The scenery here changes depending on the seasons. Therefore, in each season, Cai Chien has its own kind of beauty. This island still retains the inherent natural beauty, fresh climate, quiet atmosphere with primitive forests that are diverse and rich fauna and flora.
On an October day, the group of authors had an interesting discovery to Cai Chien (Hai Ha, Quang Ninh). Departing from the center of Ha Long City (Quang Ninh) from 6 am by car, after nearly 3 hours, they arrived at Ghenh Vo port to take an 8-kilometer ferry to reach the island.

Cai Chien Island is 2,549.95 hectares wide, shaped like a giant whale emerging on the water surface. (Photo: Thanh Nien)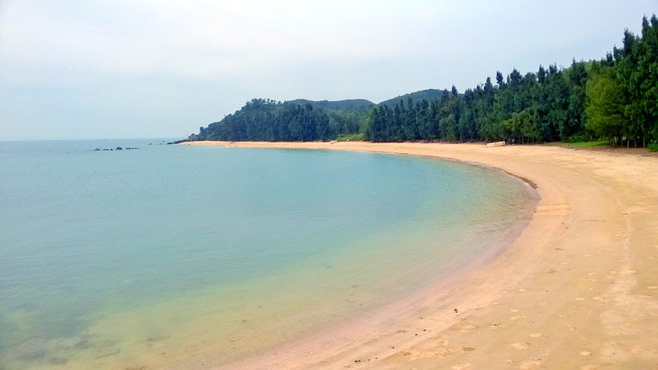 Dau Rong beach with long white sand beaches. (Photo: Thanh Nien)
After choosing an accommodation to stay, visitors have the opportunity to explore the beauty of this unspoiled island with 500 hectares of primeval forest. The unique feature of Cai Chien compared to other islands in Quang Ninh lies in its diversity of birds.
Along the way to the beach, visitors can easily catch scene the white storks peacefully standing on buffalos, the swallows floating in the field, or the calming boucals. On the island, there are 3 pristine beaches: Cai Chien, Phung Bau, and Dau Rong. Dau Rong beach, considered the most beautiful, is located in the east of the island. The beach is longer than a kilometer, with smooth white sand stretching to the edge of the clear and blue water. Along the coast lies the tall casuarina forest.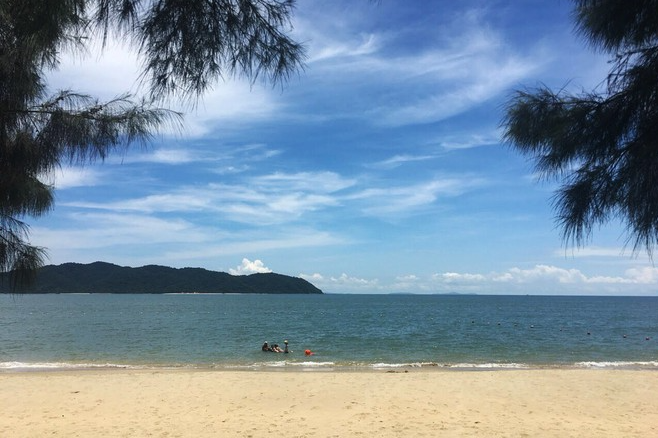 Cai Chien owns mesmerizing natural beauty. (Photo: Thanh Nien)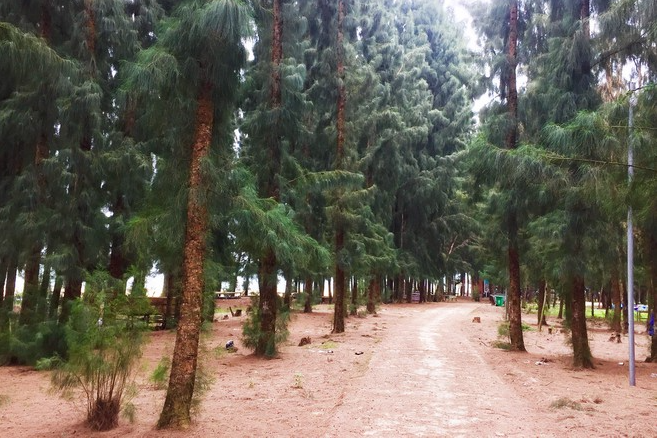 The casuarina forest embraces the coast of Cai Chien, keeping the island safe from storms. (Photo: Thanh Nien)
From Dau Rong beach, visitors can take a boat to reach Thai Xanh island, which is a pristine island with many beautiful beaches. This place is suitable for camping, listening to the whispering waves and chirping birds under the shady casuarina rows. In addition, visitors can go fishing for squid and fish with local fishermen.
Not only the pristine natural beauty, this island is also famous for its rich and fresh seafood, such as sea snails, crabs, and shrimp. Notably, Cai Chien is also famous for its unique chicken dish. This old chicken breed is called the bearded chicken because under the head of the chicken grows a long, drooping cluster of hair that looks like a beard. Bearded chickens are characterized by short legs, yellow skin, small bones, slow growth speed, firm flesh.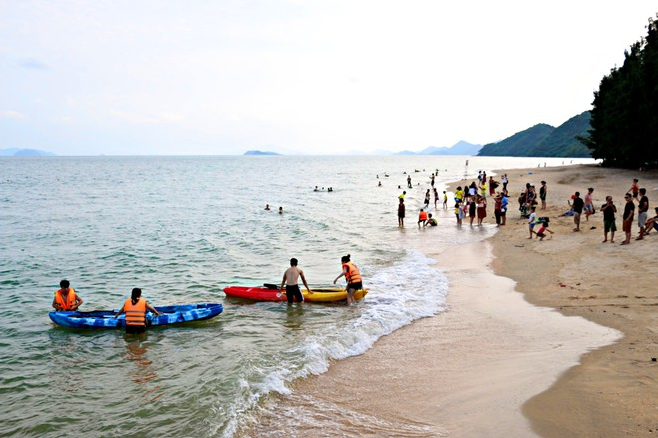 When coming to Cai Chien, visitors have the opportunity to experience many water games such as swimming, boating, fishing and scuba diving. (Photo: Thanh Nien)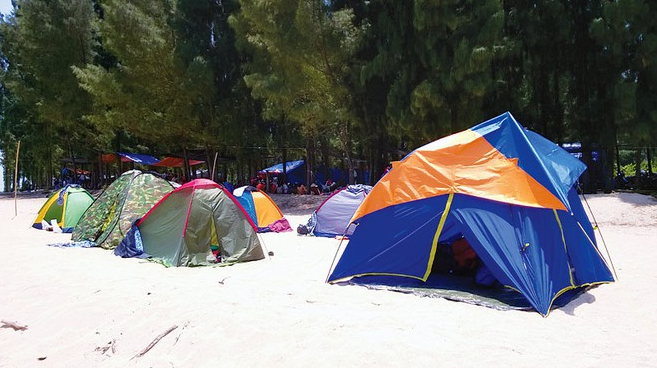 ...or hire tents to explore the island overnight. (Photo: Thanh Nien)
There are 3 fixed-hour ferries each day from the mainland of Quang Ninh to Cai Chien and vice versa. The ferries start at 6:30, 10:30, and 16:30 every day. The ticket price for each pedestrian is 20,000 VND (nearly 1USD), for motorbikes and motorcycles is 50,000 VND (2 USD); cars from 4 to 9 seats cost 320,000 - 520,000 VND (14 - 22USD).
When coming to the island, tourists should stay overnight to enjoy the rare peaceful atmosphere. In addition to homestay services, on Cai Chien Island, there is also bungalow services; container houses, or tents for rent, and hotels whose prices range from 400,000 - 500,000 VND/ double room (17 - 22USD).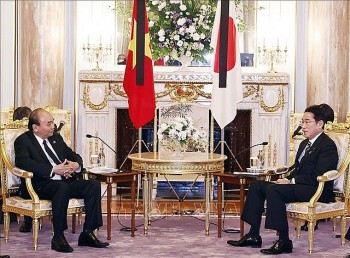 Friendship
Vietnam always treasures the extensive strategic partnership with Japan and views Japan as an important and long-term strategic partner, President Nguyen Xuan Phuc told Japanese Prime Minister Kishida Fumio in Tokyo on September 26.