Facebook faces anti-trust action brought by US government and 48 states
Federal regulators asked Wednesday for Facebook to be ordered to divest its Instagram and WhatsApp messaging services as the U.S. government and 48 states and districts accused the company of abusing its market power in social networking to crush smaller competitors.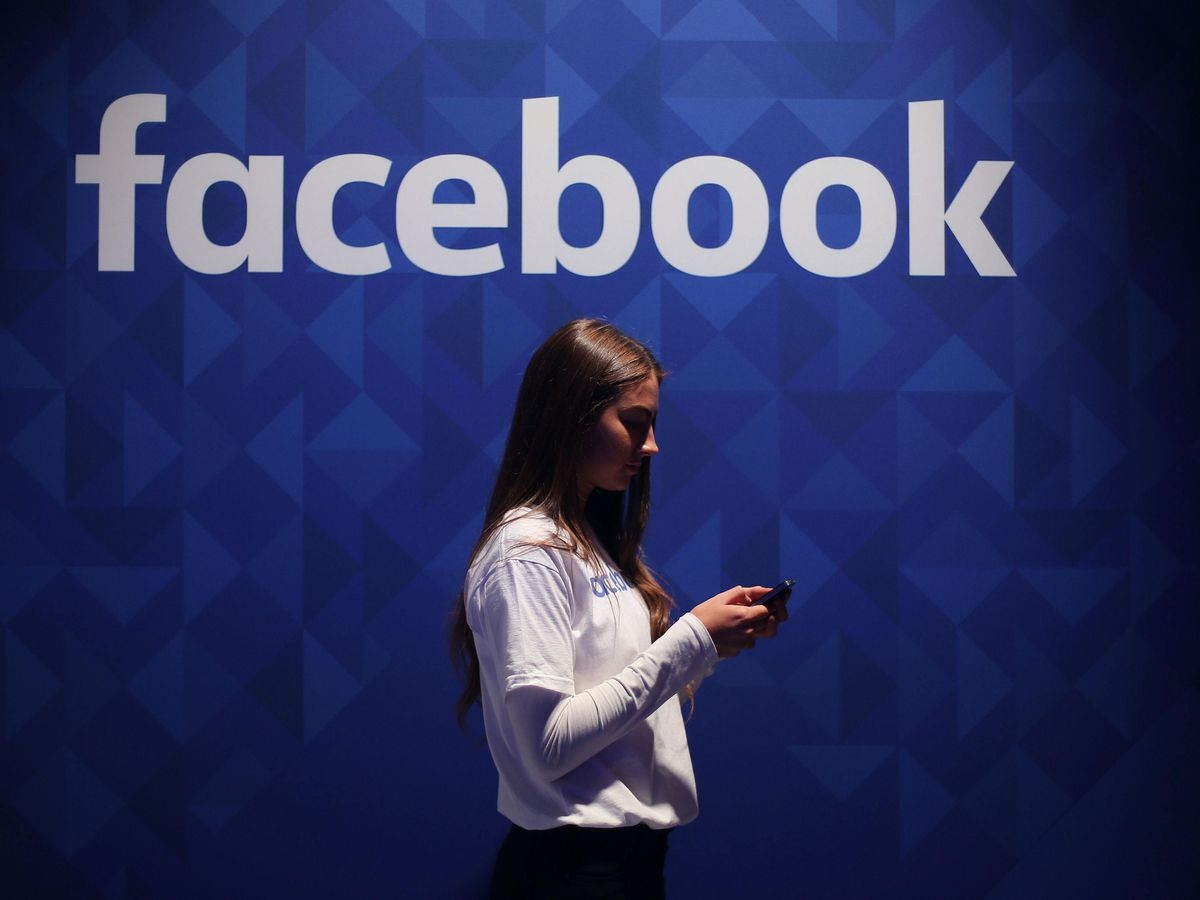 Facebook paid $1 billion US for Instagram, bolstering the social networking platform's portfolio a month before its stock went public. (Photo: Express and Star)
The lawsuit
According to News Max, the antitrust lawsuits were announced by the Federal Trade Commission and New York Attorney General Letitia James.
"It's really critically important that we block this predatory acquisition of companies and that we restore confidence to the market," James said during a press conference announcing the lawsuit.
In its lawsuit, the FTC is seeking the separation of the services from Facebook, saying Facebook has engaged in a "systematic strategy" to eliminate its competition, including by purchasing smaller up-and-coming rivals like Instagram in 2012 and WhatsApp in 2014. James echoed that in her press conference, saying Facebook "used its monopoly power to crush smaller rivals and snuff out competition, all at the expense of everyday users."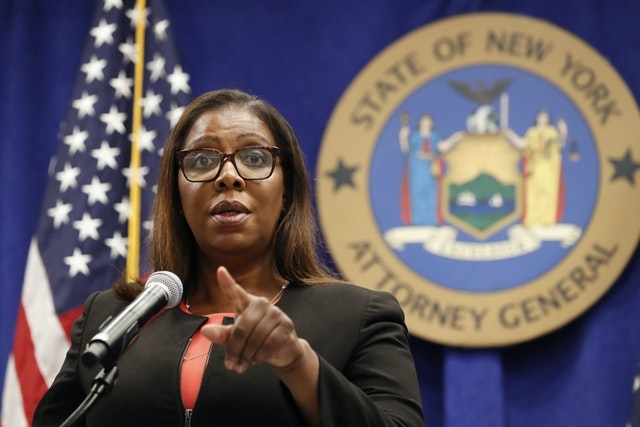 New York State Attorney General Letitia James (Photo: AP)
Facebook is the world's biggest social network with 2.7 billion users and a company with a market value of nearly $800 billion whose CEO Mark Zuckerberg is the world's fifth-richest individual and the most public face of Big Tech swagger. Facebook did not have immediate comment.
James alleged Facebook had a practice of opening its site to third-party app developers, then abruptly cutting off developers that it saw as a threat. The lawsuit — which includes 46 states, Guam and the District of Columbia — accuses Facebook of anti-competitive conduct and using its market dominance to harvest consumer data and reap a fortune in advertising revenues.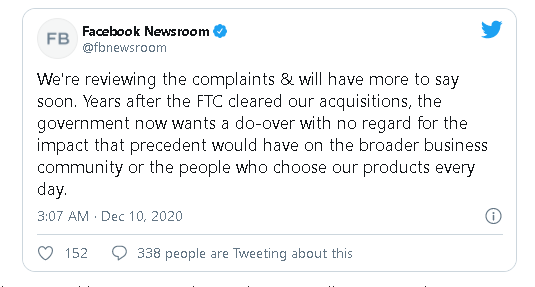 (Photo: Captured)
'A real problem'
The action marks the second time this year that the U.S. government has targeted a seemingly untouchable tech behemoth. The U.S. Justice Department sued Google in October for abusing its dominance in online search and advertising — the government's most significant attempt to buttress competition since its historic case against Microsoft two decades ago. Amazon and Apple also have been under investigation in Congress and by federal authorities for alleged anticompetitive conduct, as reported by CBC.ca.
The Justice Department's suit against Google, announced just two weeks before election day, brought accusations of political motivation from some quarters. It was filed by a cabinet agency headed by an attorney general seen as a close ally of President Donald Trump, who has often publicly criticized Google.
The FTC, by contrast, is an independent regulatory agency whose five commissioners currently include three Republicans and two Democrats.
U.S. president-elect Joe Biden has said the breakup of Big Tech giants should be seriously considered. He has singled out Facebook's Zuckerberg for scorn, calling him "a real problem."
'Monopoly power'
Facebook paid $1 billion US for Instagram, bolstering the social networking platform's portfolio a month before its stock went public. At the time, the photo-sharing app had about 30 million users and wasn't producing any revenue. Zuckerberg vowed both companies would be run independently, but over the years the services have become increasingly integrated with users able to link accounts and share content across the platforms. Instagram now has more than 1 billion users worldwide. Facebook acquired WhatsApp, an encrypted messaging service, for $19 billion US.
But in the following years, the founders of both Instagram and WhatsApp left Facebook amid disagreements with Zuckerberg. Facebook has started to integrate Instagram and WhatsApp, most recently by linking the apps' chat functions with its Messenger service. Such integration could make it more difficult to break off the companies.
According to CBC.CA, in the following years, however, the founders of both Instagram and WhatsApp left Facebook amid disagreements with Zuckerberg. Facebook has started to integrate Instagram and WhatsApp, most recently by linking the apps' chat functions with its Messenger service. Such integration could make it more difficult to break off the companies.
NetChoice, a Washington trade association that includes Facebook as a member, quickly panned the lawsuits. The case for antitrust enforcement against Facebook "has never been weaker," NetChoice vice-president Carl Szabo said in a statement, pointing to newer social services such as TikTok and Snapchat as rivals that could "overtake" older platforms.
"These lawsuits mark an important turning point in the battle to rein in Big Tech monopolies and to reinvigorate antitrust enforcement," said Alex Harman, competition policy advocate for Public Citizen, a nonprofit consumer advocacy group.
Facebook CEO Mark Zuckerberg (Photo: PA)
How Facebook grew into trouble
Feb. 4, 2004
Harvard sophomore Mark Zuckerberg launches Facebook, a website to connect students at the school. At the time, social networking companies were new and Friendster and MySpace — both launched the year before — were the largest players, POLITICO reported. October 2005
Facebook starts allowing users to upload photos.
Sept. 26, 2006
Facebook begins to allow anyone with an email address to register for a profile.
Jan. 10, 2007
Facebook launches on mobile devices.
May 2007
The company introduces Facebook Platform, which allows other apps to connect to Facebook.
March 2008
Sheryl Sandberg, a former Google vice president, joins Facebook as chief operating officer.
February 2009
WhatsApp is founded by Jan Koum and Brian Acton.
December 2009
Facebook changes its site to make some information public by default, including a user's list of friends.
February 2010
Instagram is founded by Kevin Systrom and Mike Krieger.
Oct. 1, 2010
"The Social Network," a film that fictionalized Facebook's origin story, debuts. It was directed by David Fincher and stars Jesse Eisenberg as Zuckerberg.
June 2004
Zuckerberg and his co-founders move the company to California. PayPal co-founder Peter Thiel makes the first investment of $500,000 into the company, which has begun expanding to colleges around the country.
July 29, 2004
Facebook incorporates and names Napster co-founder Sean Parker as its first president.
Oct. 6, 2010
Instagram releases a photo-sharing app for Apple's iPhone.
June 28, 2011
Google launches Google+, a competing social network.
Aug. 9, 2011
Facebook launches Facebook Messenger, its messaging service, for Apple iOS and Android.
Nov. 29, 2011
The FTC announces that it has reached a settlement with Facebook over its history of misleading users about what information would be made public. The company doesn't pay a fine but agrees to 20 years of privacy oversight by the agency.
Apr. 3, 2012
Instagram releases its photo-sharing app for Google Android.
April 9, 2012
Facebook acquires Instagram for $1 billion.
May 12, 2012
Facebook goes public. Zuckerberg retains a 22 percent ownership share and 57 percent of the voting shares.
Aug. 22, 2012
The FTC closes its investigation into Facebook's Instagram acquisition without taking any action.
October 2012
Facebook reaches 1 billion users.
Jan. 24, 2013
Twitter launches the short-video service Vine. The same day, Zuckerberg orders Facebook employees to cut off Vine's access to Facebook data that would let users find their friends.
March 2013
Facebook restricts data access to rival MessageMe, a messaging app that competes with Facebook Messenger.
Oct. 13, 2013
Facebook buys the Israel mobile analytics firm Onavo for $120 million.
Fall 2013
Facebook offers to acquire rival photo-app Snapchat for $3 billion but is rebuffed by CEO Evan Spiegel.
Feb. 19, 2014
Facebook announces it will buy WhatsApp for $4 billion in cash and $12 billion in stock. By the time the transaction closed, Facebook's stock price had increased so that the final value of the deal was near $21 billion.
March 13, 2014
The FTC opens an investigation into the Facebook-WhatsApp merger.
March 25, 2014
Facebook acquires the virtual reality company Oculus VR.
April 10, 2014
The FTC says it won't challenge Facebook's WhatsApp transaction but reminds the company that it is obligated to keep user data private.
April 28, 2015
Facebook starts limiting rivals' access to user data.
Aug. 5, 2015
Facebook begins rolls out its live-streaming service Facebook Live, a rival to Twitter's Periscope and Amazon's Twitch.
Mid-2016
Facebook's Zuckerberg and Sandberg again make overtures to buy Snapchat but are rejected by both CEO Spiegel and the company's board.
Facebook executives approach the group video chatting network Houseparty about an acquisition and are rebuffed.
October 2016
Twitter shuts down Vine.
Oct. 3, 2016
Facebook launches Facebook Marketplace, a competitor to Craigslist, allowing users to post classified ads.
May 18, 2017
The European Commission fines Facebook €110 million for providing misleading information about its ability to combine WhatsApp and Facebook user data during the 2014 review of its acquisition of WhatsApp.
June 27, 2017
Facebook reaches 2 billion users.
March 17, 2018
The Observer and the New York Times publish exposés revealing that the British analytics firm Cambridge Analytica had harvested 50 million Facebook profiles in an effort to target American voters while working for Donald Trump's 2016 presidential campaign.
March 26, 2018
The FTC announces that it has opened an investigation into Facebook and Cambridge Analytica, focused in particular on whether the breach violated Facebook's early consent decree.
April 10, 2018
Zuckerberg testifies before Congress for the first time about the Cambridge Analytica scandal and Russian disinformation efforts related to the 2016 election.
October 2018
Facebook data scientist and economist Thomas Cunningham drafts a memo for company executives on trends among Facebook products and competitors. The memo concluded Instagram was Facebook's biggest competitor and it was unclear whether the two could coexist.
Feb. 6, 2019
Germany's competition authority finds that Facebook violated the law by combining data collected on its own services with information collected on other websites without user consent and orders the company to stop the practice. Facebook is appealing and a decision is expected next year.
July 24, 2019
The FTC fines Facebook $5 billion and imposes new privacy restrictions on the company for violating its earlier consent decree.
Facebook confirms the FTC is investigating the company over alleged antitrust violations.
Sept. 6, 2019
New York Attorney General Tish James said she is leading a multistate antitrust probe into Facebook.
Feb. 11, 2020
The FTC announces it is examining a decade's worth of smaller acquisitions by Facebook and four other large tech companies amid concerns that the U.S. tech giants are stifling competition by buying promising startups.
May 15, 2020
Facebook acquires the GIF library Giphy for $400 million.
July 29, 2020
Zuckerberg testifies before Congress about antitrust concerns related to Facebook alongside the CEOs of Google, Apple and Amazon. He also disputed the idea that the 2012 Instagram acquisition was meant to snuff out a budding threat. "At the time, almost no one thought of [Instagram] as a general social network and people didn't think of them as competing with us in that space," he said.
Dec. 9, 2020
The FTC and dozens of states sue Facebook for alleged antitrust violations, seeking to force the company to spin off WhatsApp and Instagram.