First Namaste Vietnam Fest to Strengthen Vietnam - India Relations
The First Namaste Vietnam Fest will be held to mark 75 years of Indian Independence and the 50th anniversary of the establishment of Vietnam-India diplomatic ties (1972 – 2022).
The Consulate General of India in Ho Chi Minh City, on August 10 held a press conference to inform about the Hello Vietnam Festival (Namaste Vietnam) held in HCM City and Nha Trang City in central Khanh Hoa province, from August 12 to September 12.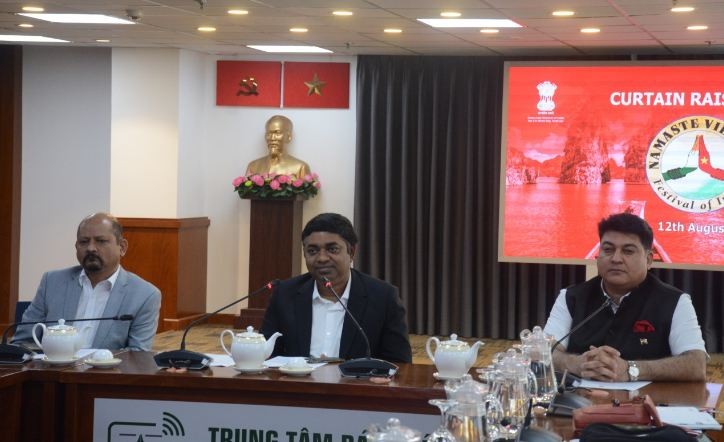 Indian Consul General in HCM City Madan Mohan Sethi and representative of the organizing board at the press conference. Photo: VNT
This exchange of international friendship will have many activities from events, seminars and meetings related to culture, trade, investment, education, health and tourism.
This festival is the intersection of culture and commerce, which is expected to become a connecting platform to promote the bilateral relationship between the two countries Vietnam and India; thereby promoting tourism, commerce, art, culture, music and cinema.
Indian Consul General in HCM City Madan Mohan Sethi said that this year is a special year for both India and Vietnam - celebrating the 50th anniversary of the establishment of diplomatic relations. This is a relationship that has lasted throughout history.
The mega festival has been planned in line with Indian Prime Minister Narendra Modi's emphasis on the importance of Vietnam as a key to India's Act East policy
The first ever Namaste Vietnam Festival will be a meaningful occasion for the two countries to know more about each other. In addition to cultural activities and free movie screenings, some famous Indian artists and actors will also visit HCM City on this occasion.
Among those who will walk the red carpet is a big delegation from the Indian Film industry led by award-winning filmmakers like Rahul Mittra, Umesh Shukla, Rahul Rawail, Kumar Mangat, Shree Narayan Singh, Mikhil Musale, Rajesh Mapuskar, Chandrakant Singh, according to American Bazaar.
Through social networks, famous Indian artists and actors will convey a beautiful Vietnam to their fans, the people of India, and many other countries around the world. At the same time, the event will contribute to promoting cooperation between the two countries in all fields.
The 10-day fest is organized by the Indian Embassy in Vietnam, the Consulate General of India in HCM City, and Innovations India. Indian Ambassador Paranay Verma and Consul General Madan Mohan Sethi will be hosting the festival with activities ranging from events, workshops, and meets pertaining to culture, trade, investment, education, healthcare, and tourism.
The proposed events apart from reconnecting the entrepreneurs of both sides post Covid-19 to explore business opportunities in different sectors will also create awareness of India's diverse culture.
Moreover, Captain Ruhal Nali, a famous program producer who has successfully organized many Indian festivals around the world, will be the main director of this series of events.
The opening ceremony will be held on August 13 at Reunification Hall, District 1 of HCM City. Cultural events, fashion shows, and Indian film festivals within the framework of the festival will be held from August 15 to 21.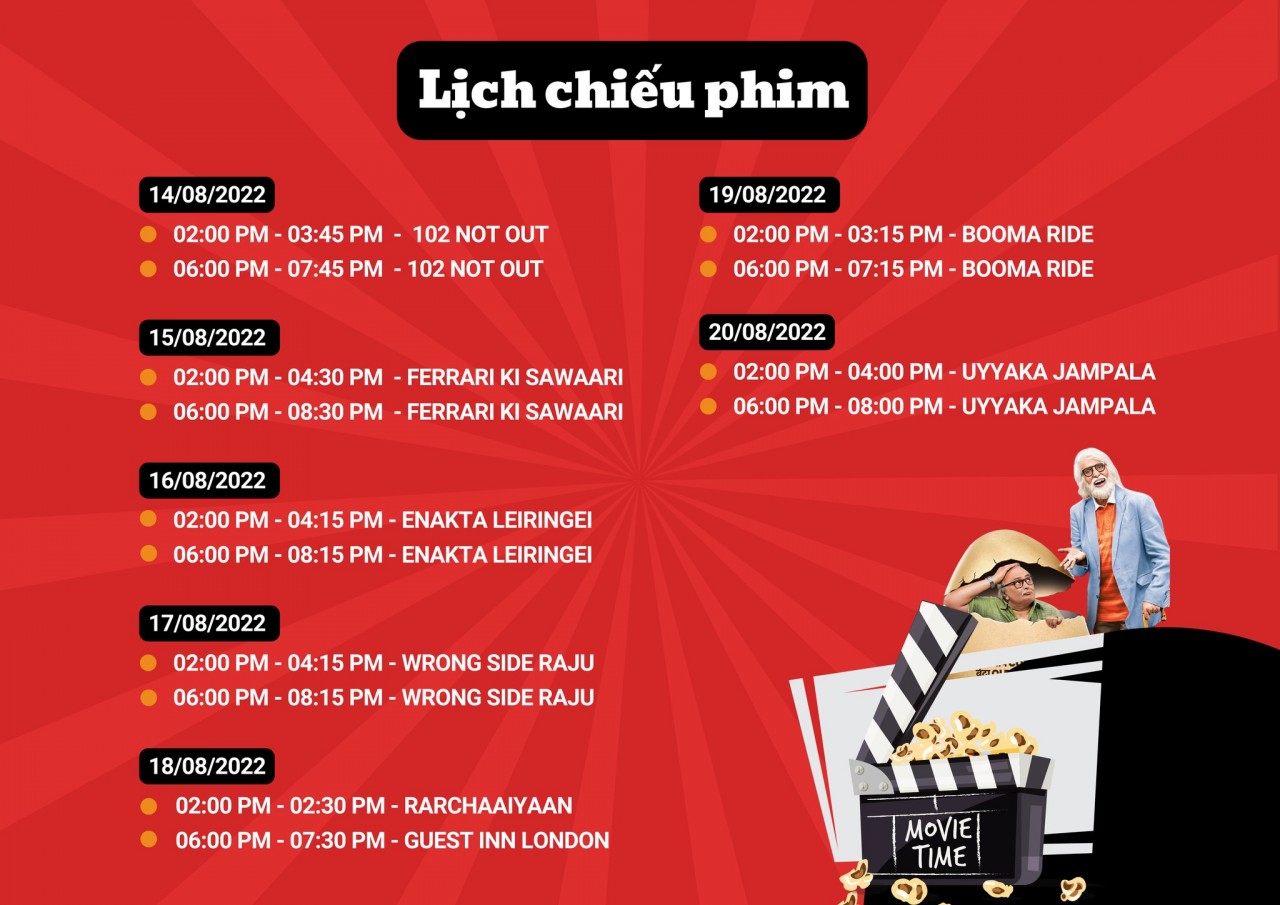 The Consulate General of India hosts Indian Film Week 2022, 8 films will be screened for free. Source: Consulate General of India in HCM City
The Indian Film Week 2022 will be held from August 14-20 at IDECAF Theater (31 Thai Van Lung, Ben Nghe, District 1, HCM City), to provide Vietnamese audiences a chance to know more about Indian cinema. This event promises to screen the best Bollywood movies, giving viewers a wonderful experience.
India is considered one of the potential markets for Vietnamese tourism. The number of Indian visitors to Vietnam rose from 85,000 in 2016 to 169,000 in 2019.
Vietnamese Cuisine Promoted in India

Through fairs, canteens, culinary ambassadors, traditional dishes imbued with Vietnamese national identity are introduced to Indians particularly and international friends. When Vietnamese food is loved ...