Vietnamese Bride Opens Famous Bakery in India
Having been opposed by her family when she married an Indian, Ms. Tuyet has always remained steadfast in her decision. Now, she has become the owner of a bakery with Vietnamese dishes admired by the local people. It is this enthusiastic support that makes her even happier with her current life.
The decision to become a bride in India
Ms. Bui Thi Hanh Tuyet (37 years old, from Thu Duc City, Ho Chi Minh City) married an Indian husband, Sebastian Robert Sundaram (38 years old). In order to become husband and wife, they had to face many difficulties, but with determination and sincerity, they built a peaceful home with their 7-year-old daughter.
According to Ms. Tuyet, in 2011, she and her husband met each other through Yahoo. Talking for 3 days, Yahoo stopped working but they had another social network account, so they continued to get to know each other. At that time, he was working on a yacht while she was working in Vietnam.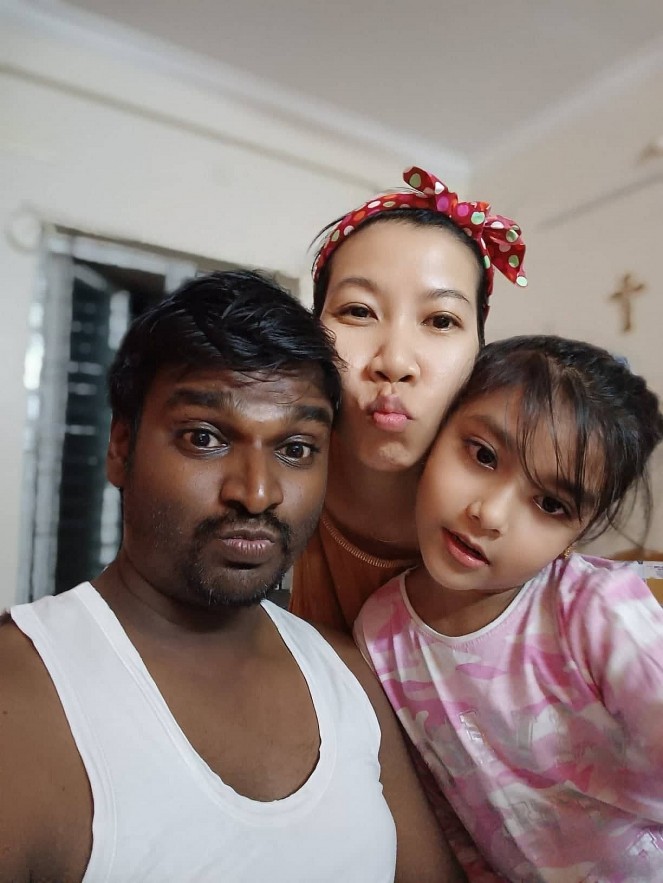 Ms. Tuyet and her family. Photo: NVCC
Mr. Sundaram went to Vietnam to get engaged to her in 2013. A year later, she went to India to get married and became pregnant with her first child. Mr. Sundaram had to work often, so Ms. Tuyet returned to Vietnam to give birth. During that period, whenever he was on leave, he often went back to visit his family. In 2020, Ms. Tuyet and her children went to India to visit him, but due to the outbreak of the Covid-19 epidemic, she was stuck there until now.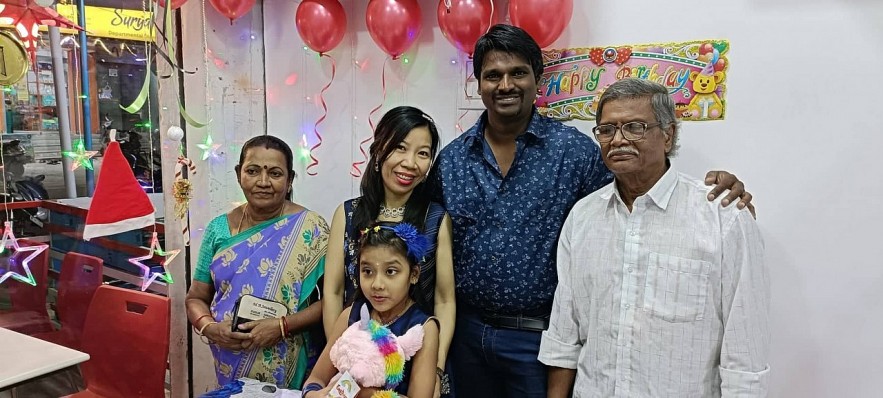 Ms. Tuyet and her family's photo to celebrate the opening of the bakery. Photo: NVCC
"When we got married, most of the people around us were not supportive of us. Everyone prevented me from going to India because through the news, they thought of negative scenarios like lack of water, lack of food, or diseases. But I had a sense that he would be my husband, so I decided to meet his family and ask him to come to Vietnam to marry me. On the last day before our trip to India, my mother cried a lot but I still went over to see what his family was like in India.", Ms. Tuyet shared.
To her, he is a very gallant, romantic, and caring person. In a foreign land, she has no friends or relatives, but she is always satisfied with her current life. There is a wholesale market near where she lives. She often buys ingredients to cook Vietnamese dishes from this market.

Wedding photo of Ms. Tuyet and her husband. Photo: NVCC
Regarding language, she and her husband talk to each other in English. As for the culture, indigenous people are often surprised to see her sometimes wearing ao dai. They mistakenly thought she was Chinese because to them Vietnam was still a strange and unfamiliar country.
Famous Vietnamese bakery in India
During her time stuck in India because of the Covid-19 epidemic, she decided to open her own bakery. This is also her wish from many years ago. In August 2020, she moved out to live on her own and opened a bakery.
"Initially, I did not have much capital to open a bakery, so I had to borrow and do business within a year to pay it off. After that, I opened my current bakery instead of having to sell at home. I had intended to open the bakery in 2014 because at that time I noticed that Indians only have buttercream cakes but no fresh cream like in Vietnam. But back then, I was living with my in-laws and they prevented me from opening it. As soon as I moved out, I decided to do it without hesitation," she said.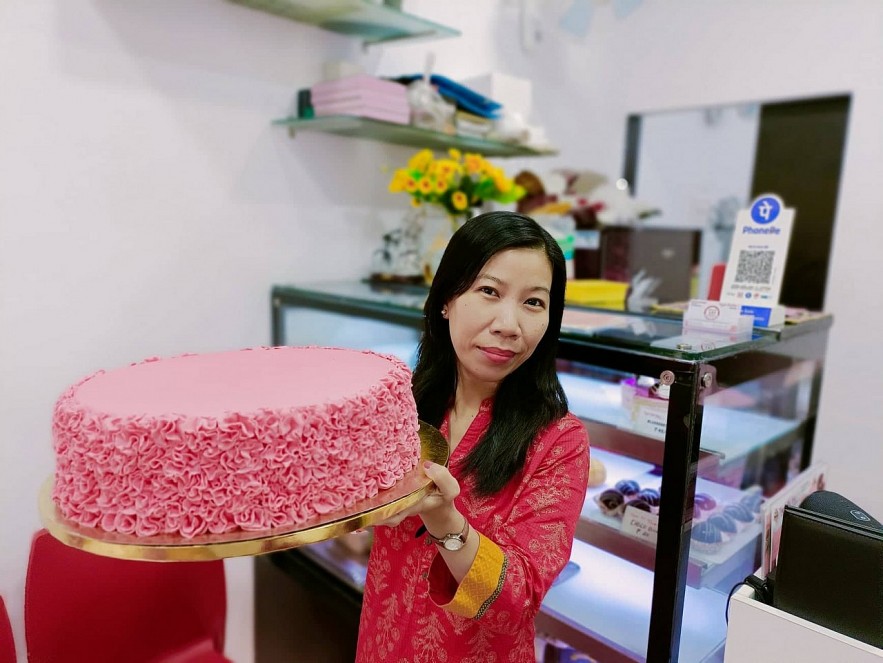 Her bakery also regularly bakes wedding cakes. Photo: NVCC
Her bakery has a sign written in Vietnamese with bright decorations. This is also how she wants to promote her homeland to the local people. After opening the shop, her husband also stopped working at the yacht to focus on making cakes with his wife. You can make pastries such as cake, bread, cookies, or bread with chicken. Currently, most of her customers are local people, she also receives orders from hospitals, so the demand is very high, sometimes she can't make it in time.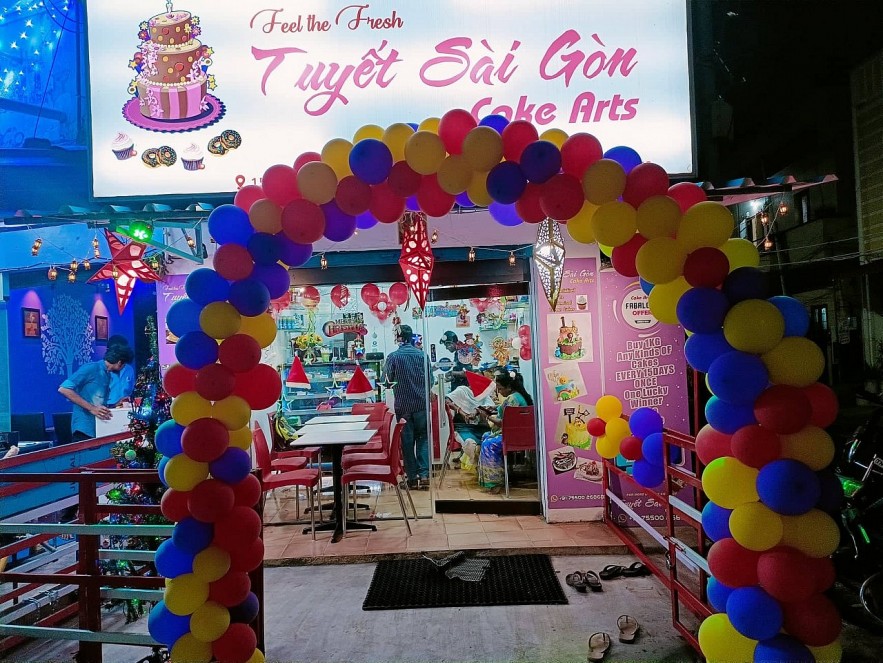 Ms.Tuyet's bakery. Photo: NVCC
Indians are very frugal, so when they see that the price of whipped cream is more expensive than buttercream cakes, there will be a comparison immediately. However, after trying it, they often find it delicious and strange, and they will come back to buy more to support Ms. Tuyet's bakery.
"Every time I come to work at a bakery, I play Vietnamese music for customers. Customers who have come to eat it and find it delicious will often recommend it to their friends. Looking at my life now, my parents are also less worried and no longer oppose us as vehemently as before. I plan to learn more Indian and develop a larger bakery in the future," she said.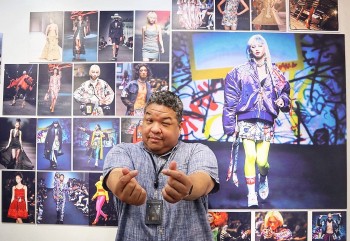 Viet's Home
Experience the striking colors and styles of Korea's fashion, captured by American photographer Dr. Michael Hurt.