First Vietnamese candidate earning a high award at American Mathematics Olympiads
Passing 370 contestants from 10 countries, Doan Van Hieu, a third-year student at the University of Information Technology, won the third prize in the International Microelectronics Olympiad (AMO).
Doan Van Hieu, a third-year student at the University of Information Technology, won the third prize in the International Microelectronics Olympiad (AMO).
A representative of the university said that this is the very first Vietnamese candidate earning such a high award at the AMO after 15 years of the organization.
Due to Covid-19, the competition was held virtually in December last year featuring as many as 370 candidates from Armenia, Argentina, Brazil, Egypt, Peru, Russia, Serbia, UAE, Ukraine, and Vietnam.
"I was so the excitement to be informed about the result, and the first persons I called then were my parents who are living in Binh Dinh", Doan Van Hieu shared.
Hieu said, he knew about AMO more than a year ago and found the competition very interesting and suitable for his major. After searching on the exam regulations, Hieu spent a year studying by himself, accumulating knowledge relating to microelectronics, including digital circuit design, digital theory design, object-oriented programming, digital system design with HDL ...
To participate in the world finals, contestants must participate in and top the national round where they represent. In Vietnam, the national round was held last September at the University of Information Technology with multiple-choice questions in English. This fourth-year student surpassed 110 candidates, becoming a Vietnamese representative to join AMO.
The final exam features 18 questions, each one is a problem to solve, candidates have three hours to complete. Hieu focused on completing sentences with familiar knowledge first and then returned to difficult questions. The hardest part of the contest was questions related to similar IC designs because that was the knowledge he had never had access to.
Hieu wrote everything he could think, then strung it and put it together to have a complete answer. "In addition to the correct answer, the candidates need to have a scientific and reasonable presentation to convince the judges", Hieu said. In the end, representatives of Vietnamese students answered 12 questions correctly.
After graduation, Hieu thinks that this award will be a plus to help him find a good job. Before that, he had applied internship and worked at a number of companies. Next term, the outstanding students will work as a teaching assistant at his university to accumulate more experience, and then decide on the future direction.
AMO is a contest organized by Synopsys, a leading corporation specializing in providing electronic design automation tools. The competition is held for engineers and technology students under 30 years old. Outside Vietnam, the 15th AMO awarded the first prize to a candidate from Serbia while the second prize went to an Armenia candidate and the third prizes were awarded to Brazil and Armenia.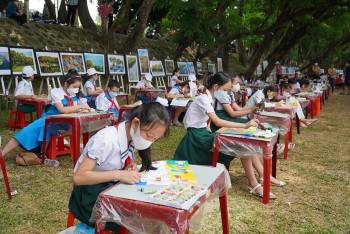 Viet's Home
Child labor exists in more and more sophisticated and unpredictable forms nowadays. In particular, the strong development of the technological revolution is increasing the risk of exploitation and abuse for children.