First Vietnamese Female Boxer to Claim WBO Belt
Excellently defeating Japanese former champion Etsuko Tada, Nguyen Thi Thu Nhi became the first WBO world flyweight professional boxing champion in the history of Vietnamese boxing.
Thi Thu Nhi Nguyen (5-0, 1 KO) won a ten-round unanimous decision to dethrone WBO female minimumweight champion Etsuko Tada (20-4-3, 7 KOs) on Saturday night at Wadong Gymnasium in Ansan, South Korea.
Nguyen built up an early lead and the 40-year-old Tada couldn't make up the ground. Scores were 96-94 across the board.
Nguyen Thi Thu Nhi is the first-ever female to win a belt for Vietnam. This is the first WBO World title for Vietnamese boxing, as well as the first professional title for a Vietnamese fighter.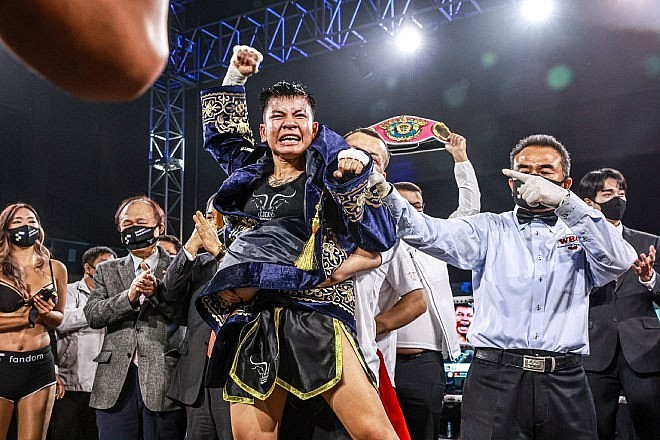 Nguyen Thi Thu Nhi receives the WBO World belt in South Korea on October 23, 2021. Photo: Nghia Phu
Throughout the 10 rounds, Nhi and Etsuko Tada put on a fantastic performance for the spectators. Despite having far less experience than Tada, Nhi battled to the end and triumphed.
The Vietnamese ace boxer had four professional fights under her belt before she entered the match. In her fourth fight, she won the WBO Asia-Pacific belt in February 2020.
After winning the Asia-Pacific WBO belt in February last year, Nhi planned to compete for the world title with Japan's Ayaka Miyao in June. However, the event was postponed due to the COVID-19 outbreak.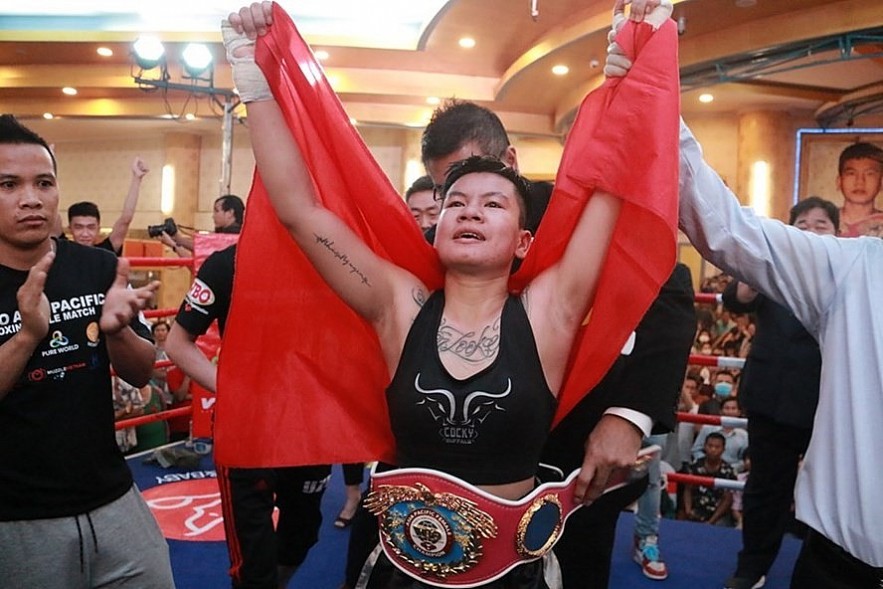 Nguyen Thi Thu Nhi wins the Asia-Oceania WBO belt in February 2020. Photo: World Boxing Organization
Tada, on the other hand, is the world's number one mini-flyweight fighter and the WBO world champion. Prior to meeting Nhi, the 40-year-old had 26 fights under her belt, winning 20, drawing three, and losing three.
In late 2020, Etsuko defeated Miyao to claim the world WBO belt. Nhi was supposed to fight Etsuko in April but the pandemic continued and the match was moved to October.
Etsuko, 32, won the world championship four times. Meanwhile, Nhi has only competed in four professional matches so far, winning all.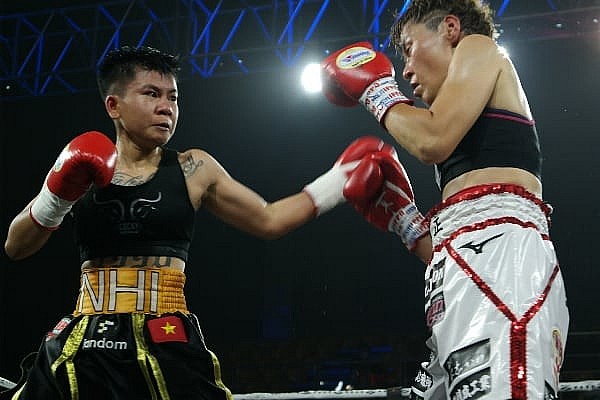 Thi Thu Nhi Nguyen (5-0, 1 KO) won a ten-round unanimous decision to dethrone WBO female minimumweight champion Etsuko Tada (20-4-3, 7 KOs) on Saturday night at Wadong Gymnasium in Ansan, South Korea. Photo: Cho, Eun-Sang
The two boxers took their time getting to know each other at the outset of the match. Nhi landed a hook in the third round, which Tada countered with a straight punch. Considering her lower stature and arm reach, Nhi is a skilled mover with powerful hooks.
In the fifth round, Tada sped things up with quick jabs, but Nhi also put up a good fight. After a hook in the tenth round, Tada caused Nhi's eye to bleed. Taking advantage of this, Tada continued to attack in the last round. Amidst her restricted visibility, Nhi remained on form.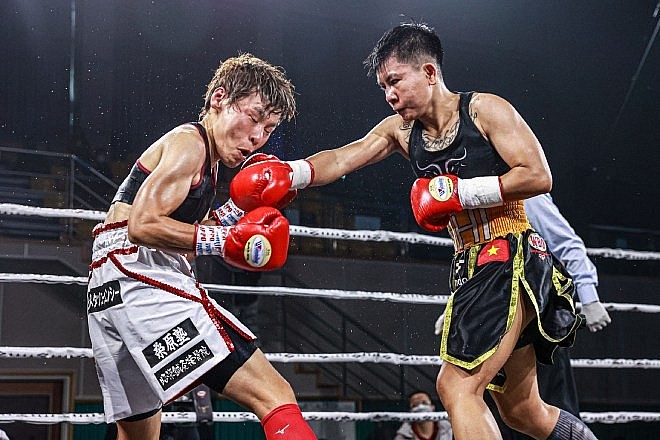 Thi Thu Nhi Nguyen strikes on Etsuko Tada. Photo: World Boxing Organization
Preparation for a historic moment
To prepare for this important title fight, Nhi went to Uzbekistan for training. She demonstrated her determination to conquer the goal that she has pursued for many years.
To prepare for this match, the Cocky Buffalo team organized for Nguyen Thi Thu Nhi and her teammates to go to Uzbekistan to train for 2 months. The group of boxers practices with the fighters of the Uzbekistan national team, including professional boxers and good players who have competed in the Olympics.
Kim Sang Bum - the owner of the Cocky Buffalo Club - spoke about the training trip in the midst of the COVID-19 epidemic season and the reasons for picking Uzbekistan as a preparation destination, emphasizing the benefits of the country, including the environment and the people.
"My boxer will be competing daily against the experts and Olympic athletes of Uzbekistan. This will help them improve their morale as well as regain the feeling of playing after a long break due to the impact of the pandemic," he said.
He also said that the National Training Center of Uzbekistan in Yangiabad, a mountainous area, was the perfect place for athletes' physical development.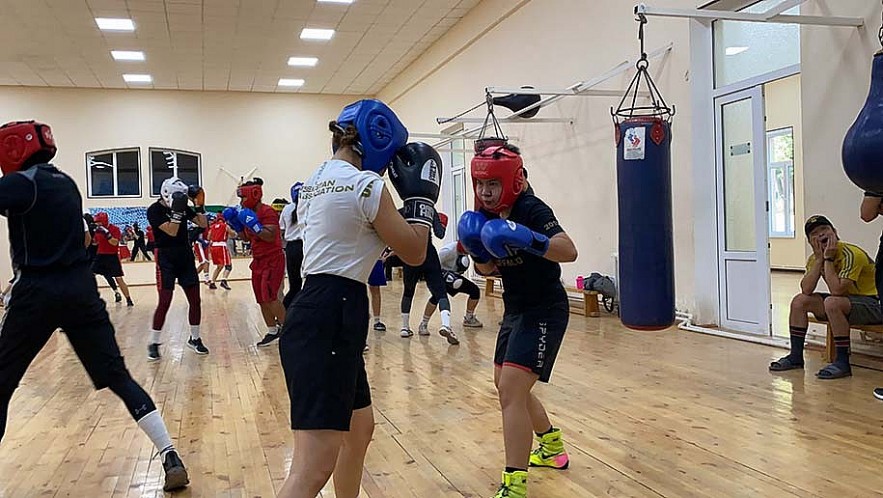 Thu Nhi and her teammates training intensively in Uzbekistan to prepare for the WBO World Championship event. Photo: Webthethao
This is the training ground of more than 30 top boxers in Uzbekistan, including two Rio 2016 Olympic champions, Shakhobiddin Zoirov and Hasanboy Dusmatov. Many national teams have come to Yangiabad in recent years to train, including countries with strong boxing backgrounds such as Cuba, England, Kazakhstan and Hungary.
On the journey to becoming the leading professional boxing champion in Vietnam, Thu Nhi went through a difficult time that seemed to make her give up.
Thu Nhi told in an interview with Webthethao: "When I first started practicing, I didn't like this subject very much, probably by chance. Before I finished practicing traditional martial arts, then my teacher took me to the boxing ring and has been with me since then. The passion began to gradually be cultivated through practice I had from when I was 13 to 18."
She added that it was financially difficult for her and her family to let her pursue this passion.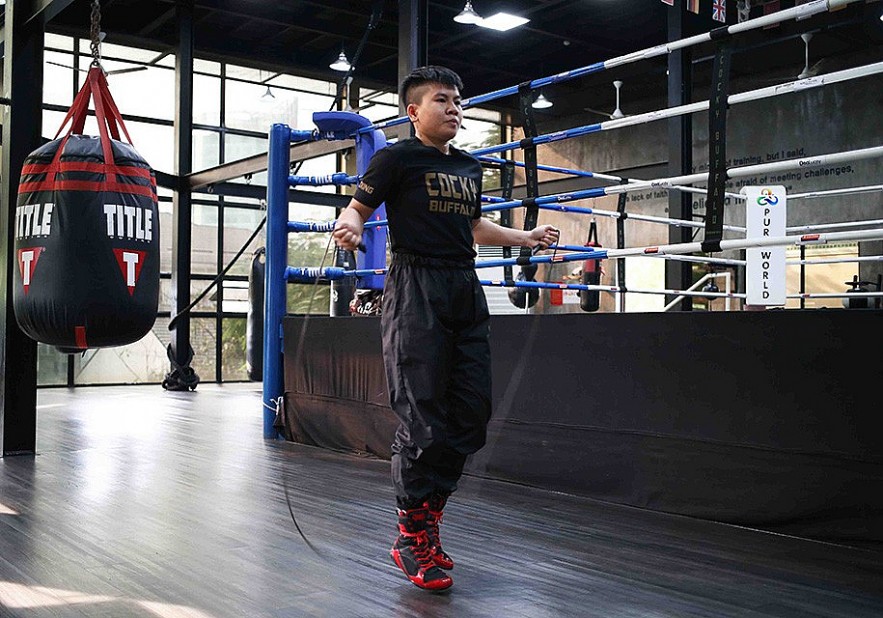 Nguyen Thi Thu Nhi practices for the historic match. Photo: Webthethao
"When I first started practicing, I didn't get into the team, I didn't have a salary, I didn't have an income, when I was young, my family faced a lot of difficulties. I also used to work part-time to make ends meet. However, practicing 2-3 times a day you do not have time to do anything. At that time, there was a thought of giving up to do something to have more money. And I also took a few months off to go to work" she said.
Then she decided to return and urged herself to follow her true passion. She didn't want to leave things unfinished.
"At that time I urged myself to consistently follow my passion. Because I have not gone anywhere when my career is still unfinished and I want to move on to see what the future holds. Tell yourself to try to follow until the end, until you can't follow anymore," Thu Nhi said.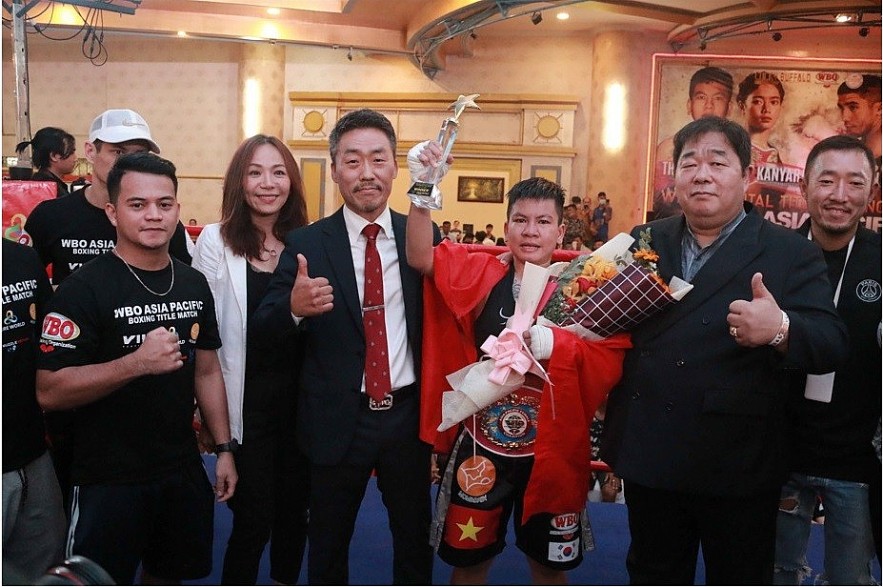 Thu Nhi shares her joy after winning the WBO Asia Pacific belt with boss Kim Sang Bum (3rd from left). Photo: Webthethao
When being interviewed on motivation and determination, Nguyen Thi Thu Nhi said:"In my opinion, first of all, when you are practicing and competing, you need to focus on your expertise and save money for later. Besides, I need to improve my knowledge, learn from other professions, learn more foreign languages."
"My motivation is that I am the first to compete for the world title. And I think, if I win that world belt, I will go down in Vietnamese boxing history. Because at present, Vietnam does not have that."
Now Nguyen Thi Thu Nhi has become the first Vietnamese female to earn the title and to prove the power of will and the power of Vietnamese Women.
Nguyen Thi Thu Nhi
Born: Oct. 22, 1996 (age 25 years), Ho Chi Minh City
Height: 1.58 m
Wins: 4
Division: Mini flyweight
Stance: Orthodox
At the age of 13, Nhi started practicing martial arts.
Nhi moved to boxing when she was 14.
The 24-year-old woman from the southern province of An Giang is a rising star in Vietnamese boxing.
Nhi won 3 gold medals in National Boxing in 2015, 2017, 2018, gold medals in the National Club Cup from 2015 to 2019.
In 2018, she began her professional career in the ring, defeated three-time world champion Filipino Gretchen Abaniel at the Victory 8 championship.
In February 2020, Thu Nhi defeated Thai boxer Kanyarat Yoohanngoh in Cambodia, winning the WBO Asia-Pacific belt.
In October 2021, Nguyen Thi Thu Nhi made history to be the first-ever female to win a World Boxing Organization belt for Vietnam.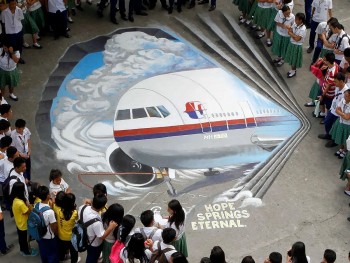 World
The world might never know what really happend when these planes went off the radar. Let's take a look at some of the unsolved mysteries of aircraft disappearances.