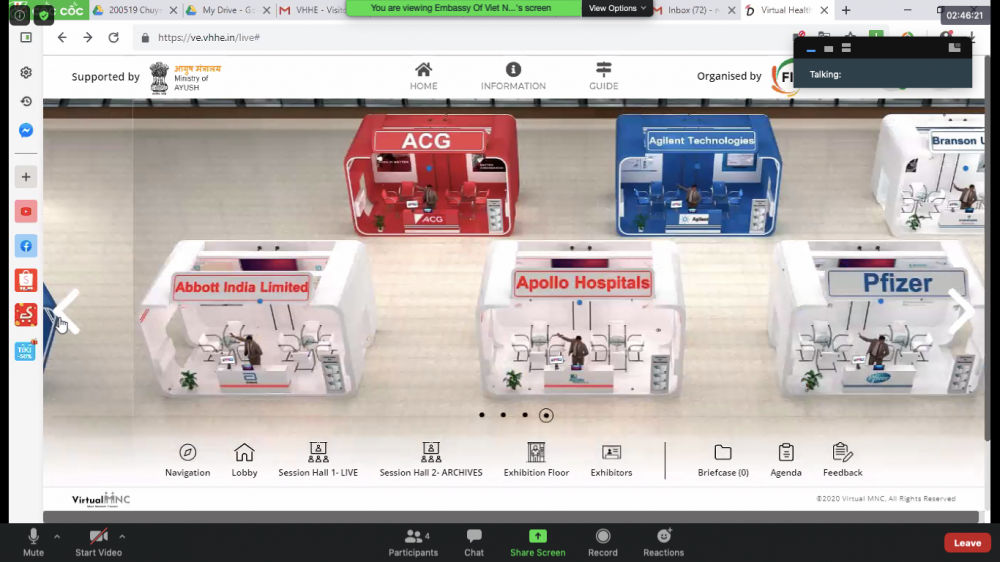 The stores of countries at the Virtual Healthcare and Hygiene Expo 2020 (Photo: International News)
The event was hosted by the Federation of Indian Chambers of Commerce and Industry (FICCI). Prominent guests include Mansukh Mandaviya, Minister of State (Independent Charge) for Shipping, Chemicals & Fertilizers, along with Pham Sanh Chau, the Vietnamese Ambassador to India, according to VOV.
This was the first virtual healthcare fair to be held in India, and is also one of the first worldwide. It took place while the novel coronavirus pandemic becomes a major obstacle in terms of production, business, and trade globally. This is mainly due to many countries implementing measures such as imposing lockdowns and travel restrictions.
Participating in the event were 150 firms, hospitals and healthcare centres of host India and other countries. Thousands of visitors from India and 120 nations and territories have signed up to participate and search for customers through the event, which is open round the clock and assessible anywhere in the world.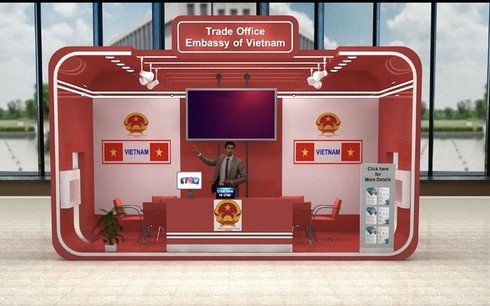 A virtual booth of Vietnam at Virtual Healthcare & Hygiene Expo 2020 in India (Photo: Vietnam Trade Office in India)
The expo served as a platform for firms to showcase a wide range of products, services, technology, machinery, and equipment in a number of areas. These include traditional medicine; functional foods, health care, and beauty; medicine and pharmaceuticals; medical equipment; normal and medical masks, medical protective gear; hand sanitizer, hygienic cosmetics, and other healthcare products.
According to Ambassador to India Pham Sanh Chau, the fair will mark the start of a new trend on trade promotion in the coming time. He added that virtual fairs are the best way for Vietnamese enterprises to approach world partners at a low cost amid the Covid-19 pandemic.
Viet A Technology Joint Stock Company, Thai Duong Star Joint Stock Company; Danameco Company, Memco Company, Giang San Investment Pte, Sun Health Trading and Manufacturing Company, Medpoint Healthcare Company, Viet Duc Import Export Services and Investment Co. Ltd. participated in the expo, reported by International News.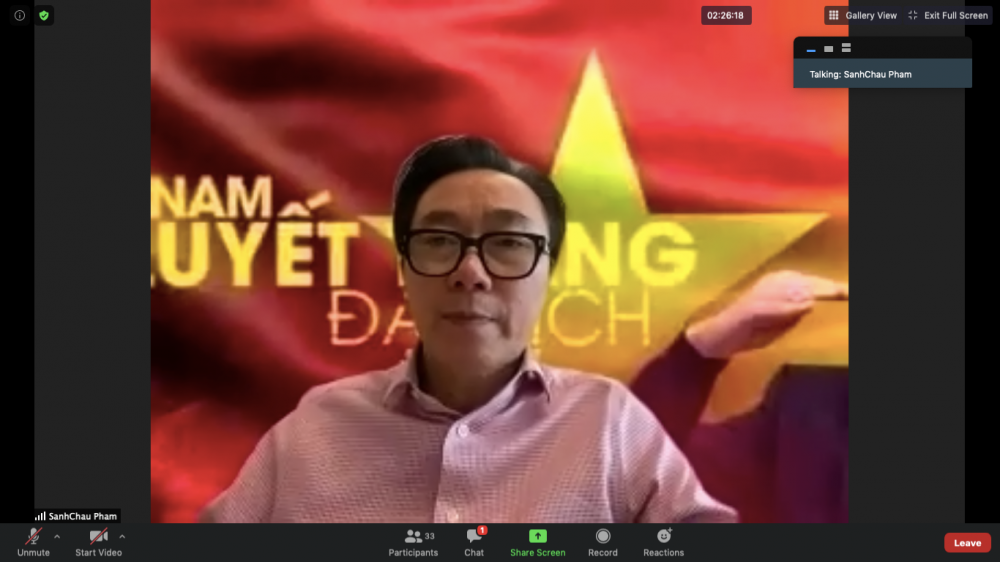 Vietnamese Ambassador to India Pham Sanh Chau visits the online store (Photo: International News)
Doctors at Vietnamese hospitals such as Army Hospital 175, Hospital 108, Viet Phap Hospital, Vinmec Hospital also attended the fair to learn about new technologies and future treatment trends.
The online expo applied virtual environment technology which operates on a cloud computing platform. Similar to a real exhibition, the virtual exhibition features an exhibition room, a displaying area, a corridor, a library, a hall, and a virtual introducer. Showcasing a very large virtual space, the online expo is open for 24 hours, letting participants access anywhere in the world.
Furthemore, this expo have subtitles in many different languages. Customers can chat via messaging apps such as Skype, Messenger, WhatsApp. Vietnamese companies interested in participating to seek partners and customers can register for free at https://vhhe.in/forms/visitor.php.
The fair will run until June 26. Webinars and business to business (B2B) meetings will be organized among Indian experts, researchers, companies and international partners to share information, experience and seek new cooperation opportunities, VNA reported.
Candy Lee