Foreign NGOs appreciate Vietnam's COVID-19 prevention measures
Despite its borders being very close to China, the Vietnamese Government has promptly implemented effective measures to prevent the spread of the COVID-19, foreign NGOs praise in a joint letter to Vietnamese leadership.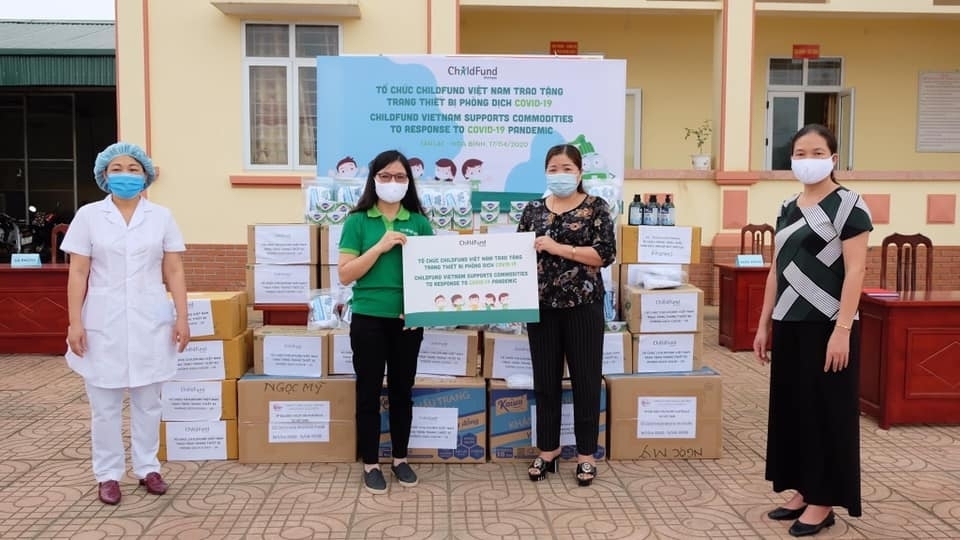 ChildFund Vietnam supports commodities to over 27,000 children and faimilies in respond to the COVID-19 pandemic.
Recently, 78 organizations including 77 foreign non-governmental organizations (NGOs) and the FNG Data Center have sent a joint letter to Vietnamese leaders and relevant agencies, to express their gratitude and at the the same time appreciate Vietnam's COVID-19 prevention measures.
To start the letter, the organizations expressed their deep gratitude and support to the National Steering Committee for COVID-19 Prevention and Control, the Vietnam Union of Friendship Organizations, the Committee for Foreign non-governmental organizations, the Vietnam Red Cross and relevant agencies, who have worked effectively to prevent the COVID-19.
The organizations said they were impressed by the measures that Vietnam has taken in the fight against the COVID-19 pandemic.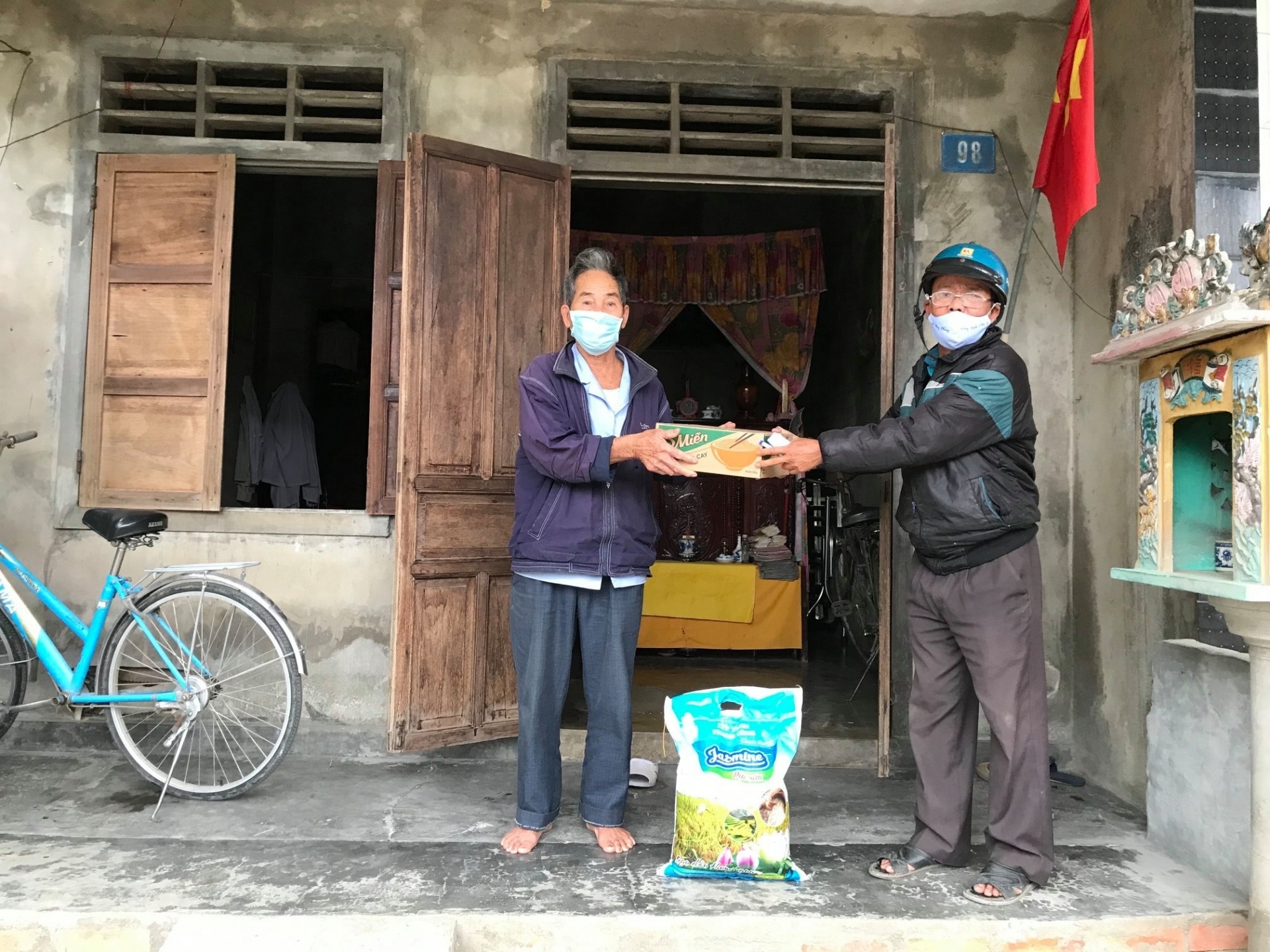 Plan International Vietnam, together with its project partner Cycad and Codes, has donated VND 66 million to support 431 disadvantaged households in Hue.
"Despite a population of over 95 million and being very close the world's pandemic centre, the Vietnamese Government has promptly implemented effective measures to prevent the spread of the COVID-19. These measures have been recognized and praised by countries around world. Hospitals and clinics in Vietnam have put health care and safety of people a top priority," the letter wrote.
The organizations briefly recalled the quick, drastic and sound solutions of the Vietnamese Government in the COVId-19 prevention and control. Everyone receives professional and dedicated health care services, no matter they are Vietnamese or foreigners.
The organizations affirmed that they would join hands with the Government in supporting the poor and underprivileged people who are most affected by the pandemic.
"We have maintained our work to support vulnerable communities since the COVID-19 outbreak. We will always accompany the people of Vietnam, ready to support the Government's efforts in the fight against COVID-19," they emphasized.
The organizations also pledged to continue to maintain international cooperation and solidarity in such unprecedented crisis. At the same time, be willing to provide Vietnam foreign aid not only during the COVID-19 pandemic but also the post-pandemic.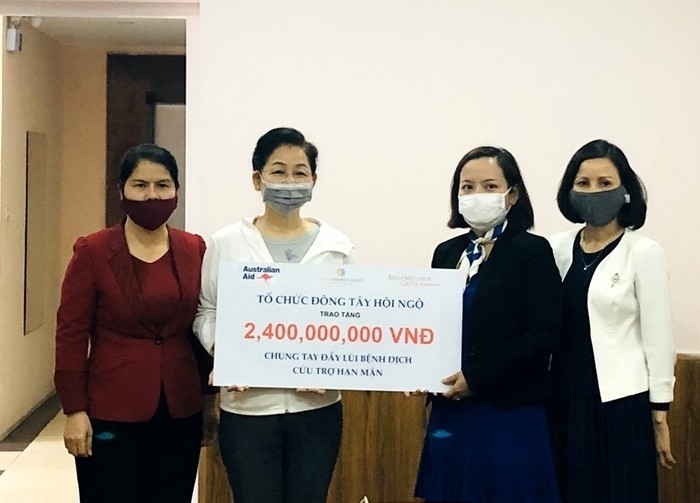 East Meets West Foundation (EMWF), in collaboration with the Central Vietnam Women's Union and the local authorities of 5 provinces of Hoa Binh, Thanh Hoa, Nghe An, Ha Tinh and Ben Tre, implemented a over VND2,4 billion aid package to help disadvantaged women access to clean water and sanitation, in response to the COVID-19 and salt drought.
NGOs included in the letter are:
Action on Poverty, ActionAid Vietnam, ADRA in Vietnam, Aide et Action Vietnam, American Red Cross Vietnam, Animals Asia, BIDMC-HAIVN, Bread for the World, Care for Children, CARE International in Vietnam, Catholic Relief Services Vietnam, CBM Vietnam, Chemonics International Inc. in Vietnam, ChildFund Vietnam, Clinton Health Access Initiative, CWS, DGRV German Cooperative and Raiffeisen Confederation, East Meets West Foundation, Eye Care Foundation, Fauna & Flora Interational, FHI360, Football for All in Vietnam, Foundation for International Development Relief, Friedrich Ebert Foundation Vietnam Office, German Red Cross, Golden West, Habitat for Humanity in Vietnam, Hagar International in Vietnam, Hannah's Promise Intemational Aid, Hanns Seidel Stiftung Vietnam, HealthBidge Foundation of Canada, Helen Keller International, HELVETAS Vietnam, Hope Unending, Hue Help, Humanity & Inclusion, Konrad-Adenauer-Stiftung, Loreto Vietnam, MAG Vietnam, MCC Vietnam, MCNV Vietnam, MDF Training & Consultancy Vietnam, Mekong Plus, Merry Year International, Netherlands Development Organization-SNV, Norwegian Mission Alliance Vietnam, Norvegian People's Aid, Operation Smile Inc., Asia Pacific, Orbis Intemational - Vietnam Office, Oxfam in Vietnam, PATH, Plan International Vietnam, PSI in Vietnam, Rikolto in Vietnam, Room to Read, Rosa-Luxemburg-Stiftung Southeast Asia Saigon Children's Charity CIO, Samaritan's Purse, Save the Children, Swiss Red Cross in Vietnam, Taiwan Fund for Children and Families, The Asia Foundation, The Fred Hollows Foundation in Vietnam, The International Center, The Woolcock Institute of Medical Research, TRAFFIC Vietnam, Union Aid Abroad APHEDA in Vietnam, Veterans For Peace Chapter 160, Vets With A Mission, VinaCapital Foundation, VNAH Vietnam Assistance for the Handicapped, VUFO-NGO Resource Centre, VVOB Vietnam, WCS Wildlife Conservation Society, Winrock International, World University Service of Canada, World Vision Vietnam, WWF Vietnam.
Read the article in Vietnamese:
https://thoidai.com.vn/78-to-chuc-pcpnn-danh-gia-cao-bien-phap-chong-dich-covid-19-trong-thu-chung-gui-lanh-dao-viet-nam-106801.html
NGO upgrades education facility in Thanh Hoa

The Korean non-governmental organization Good Neighbors International (GNI) Vietnam recently provided support to upgrade facility of Vinh Ninh Kindergarten and Primary school in Ninh Khang ...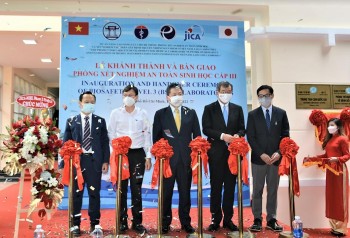 Friendship
The Pasteur Institute in Ho Chi Minh City (PI HCMC) hold an inauguration of its new Biosafety Level-3 Laboratory (BSL-3) on January 17th, 2022. For this new laboratory, the Japan International Cooperation Agency (JICA) has supported the main materials and equipment such as the air conditioning system, the wastewater treatment system, and the two-door autoclave, with a total value of 200 million yen (nearly 40 billion VND).